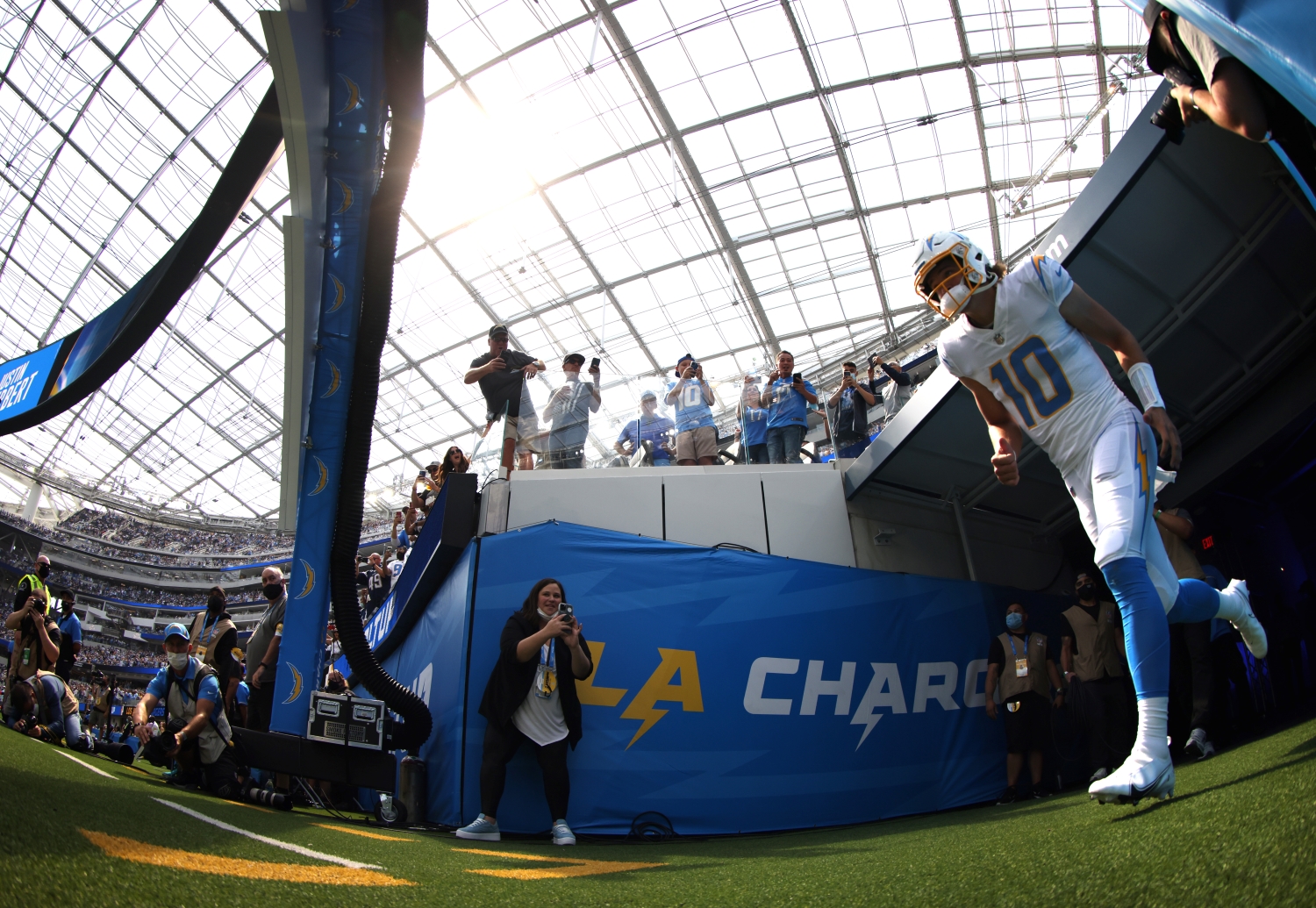 Justin Herbert Has Officially Made the Miami Dolphins' Worst Nightmare Come True
Justin Herbert has wasted no time making the Dolphins' worst nightmare come true. Can the talented quarterback help the Chargers earn their first playoff berth since 2018?
The Miami Dolphins had a chance to set themselves up for long-term success in the 2020 NFL Draft. Yet it hasn't taken long for fans of the AFC East franchise to question their favorite team for taking Tua Tagovailoa over another talented quarterback from that class. Given the former Alabama star's durability concerns and inconsistent play, their skepticism certainly seems warranted.
Unfortunately for Brian Flores and Chris Grier, their decision to pass on Justin Herbert looks like a franchise-altering mistake. In fact, the 23-year-old leader of the Los Angeles Chargers has officially made the Dolphins' worst nightmare come true.
Armed with the fifth overall pick of the 2020 draft, the Dolphins could have gone in multiple directions. Of course, they had to consider several factors when deciding which path to take.
While Herbert came with question marks about his ability to succeed outside of Oregon's offense, Tagovailoa faced doubts about his ability to stay healthy at the pro level. Ultimately, though, Miami bet big on the latter's upside, which allowed LA to land an exciting prospect of its own.
Although the Tagovailoa selection made sense given the way he performed against SEC competition, it still represented a major risk. After all, his college career came to an abrupt end courtesy of a gruesome hip injury. Plus, he fell well short of Herbert in terms of size, speed, and overall athleticism.
To make matters worse, Tagovailoa didn't come close to living up to expectations as a rookie. He got benched twice for journeyman Ryan Fitzpatrick, which raised obvious concerns about his chances of becoming the guy in Miami. Plus, offseason rumors about a potential trade for Deshaun Watson made the idea of moving on from a top-five pick a realistic possibility.
Unfortunately for Tagovailoa, his second season has not turned out as expected, either. He suffered fractured ribs in a Week 2 loss to the Buffalo Bills that landed him on injured reserve. At this point, it's entirely fair to wonder whether the 23-year-old is truly the long-term answer for the Dolphins.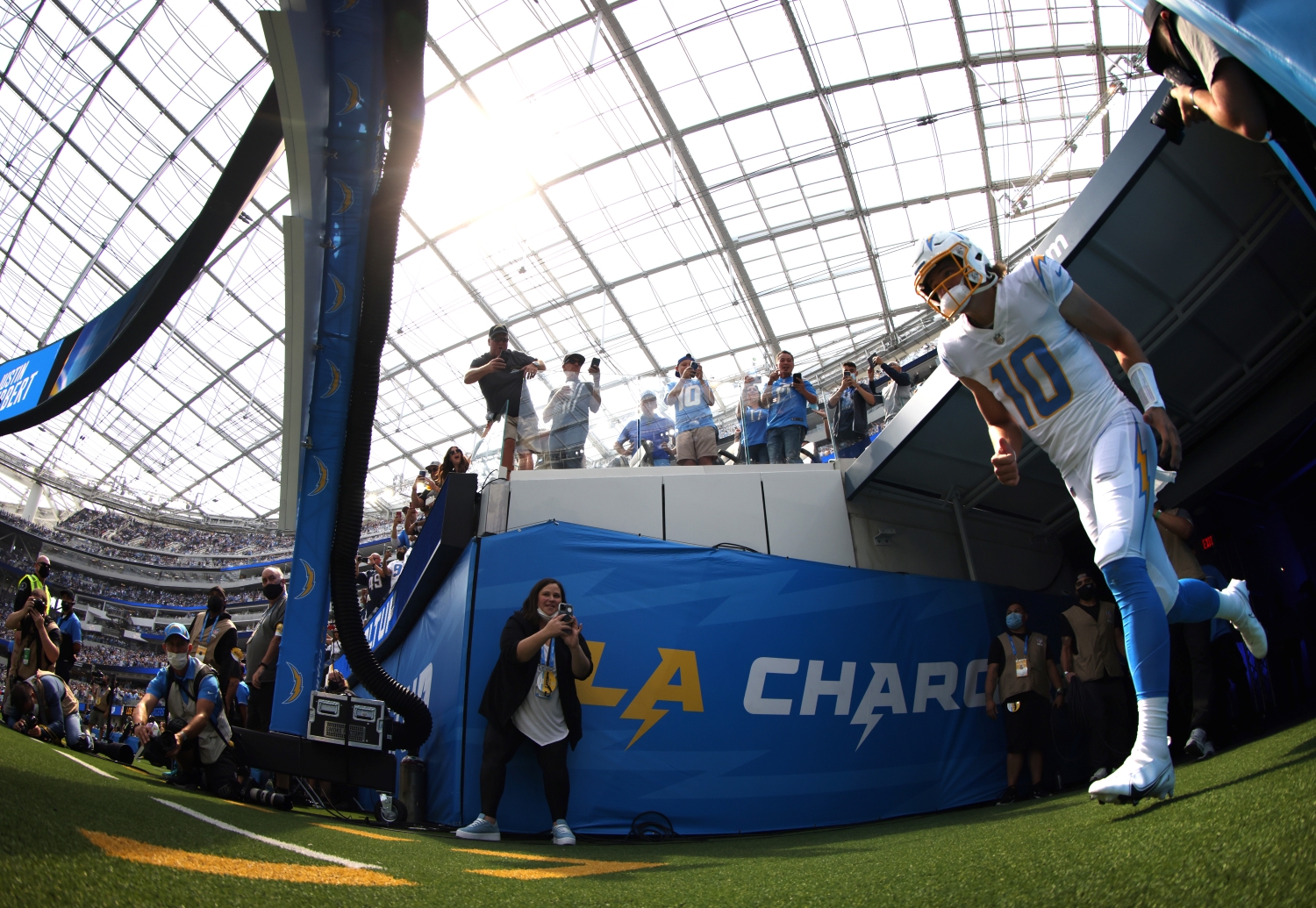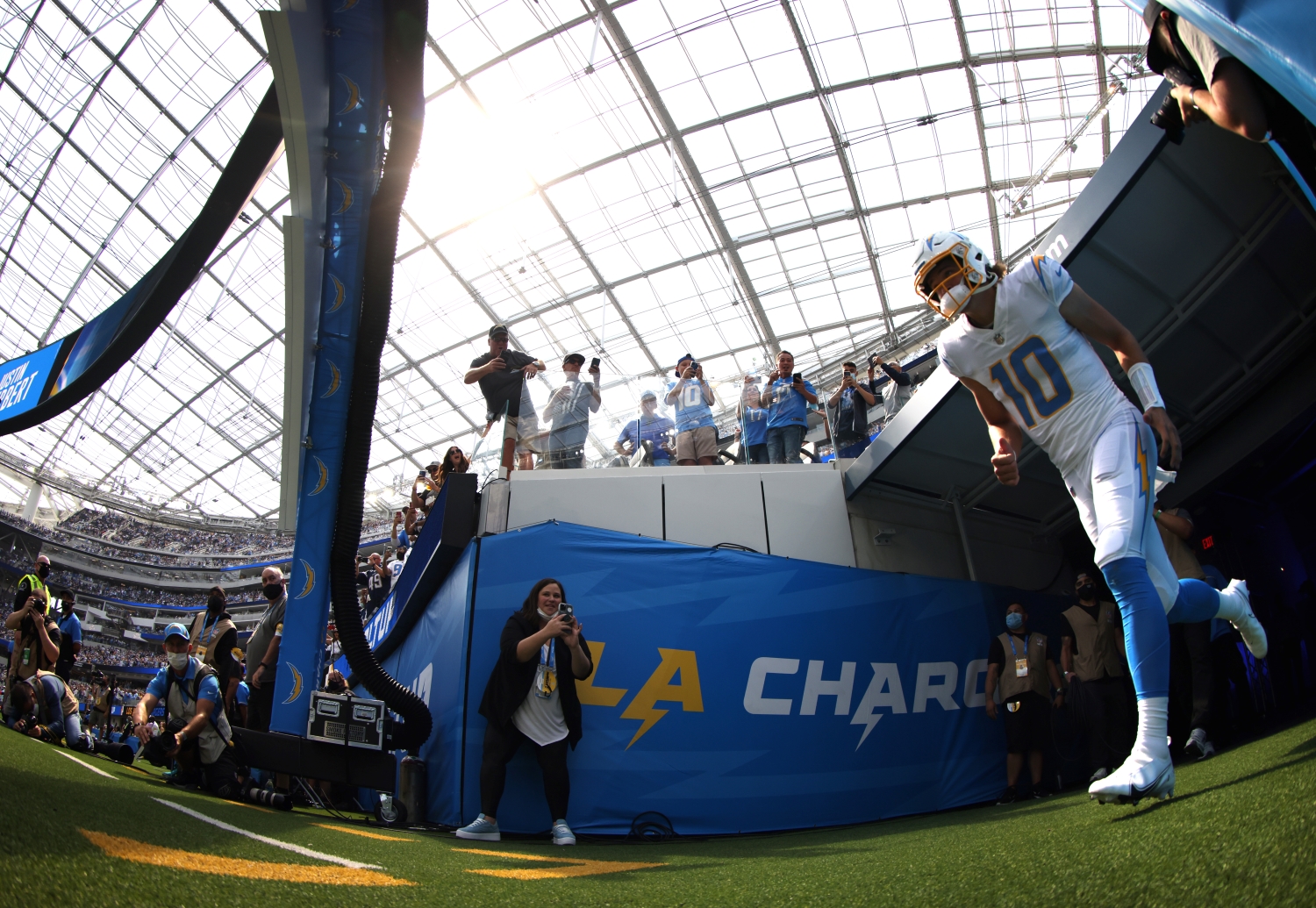 Think Miami regrets how it handled the most important decision in franchise history?
With the way Herbert looks in LA, there's no doubt Flores and Grier made the wrong call by taking Tagovailoa. In fact, the Chargers' young quarterback has officially made the Dolphins' worst nightmare come true.
Unlike the player selected one spot ahead of him, Herbert has quickly proven he deserved to become a top-10 pick. The 6-foot-6, 236-pound signal-caller captured Offensive Rookie of the Year honors by throwing a record-setting 31 touchdowns in his first NFL season. His ability to make every pass and extend plays with his legs stood out, especially given his team's offensive line issues.
Clearly ahead of Tagovailoa after one year, Herbert has undoubtedly cemented his status as the superior player. As the Dolphins wait for their "leader" to return from IR, the Chargers look poised to make a legitimate run at the Lombardi Trophy. Of course, the optimism surrounding Brandon Staley's chances of making the playoffs as a first-year head coach stems from the strong play of the team's second-year quarterback.
Herbert has completed nearly 69% of his passes for 1,178 yards, nine touchdowns, and three interceptions through four games. Coming off an up-and-down performance against the Dallas Cowboys, he completely picked apart the Kansas City Chiefs in a 30-24 victory. Herbert followed up by shredding the Las Vegas Raiders on Monday Night Football with three passing touchdowns in a 28-14 win at SoFi Stadium.
It has to hurt for the Dolphins to see him make such a rapid rise up the hierarchy of NFL quarterbacks. Instead of having a top-10 player at the position, they have an unproven commodity. For a franchise that's failed to find a true successor to Dan Marino, the fact Herbert looks like a future perennial All-Pro and Tagovailoa looks like he could get replaced reinforces how badly Miami botched the 2020 draft.
On the other hand, the Chargers have to feel ecstatic about what lies ahead. Herbert possesses all the tools to develop into a top-five quarterback, and he may not be that far away right now. The Chiefs obviously pose a major threat, but Staley's squad already showed it can topple the reigning AFC champions.
Meanwhile, Flores' team has a 1-3 record and ranks 31st in points scored and 25th in points allowed.
Could things turn around when Tua comes back?
Perhaps.
However, it would be foolish to just assume he will stay healthy and finally play up to his potential. Ultimately, the Dolphins may have to watch this nightmare unfold for the remainder of the season before determining which route to go at the most important position in sports.
Then again, maybe they won't wait that long to make Deshaun Watson the new face of the franchise.
All statistics courtesy of Pro Football Reference.