The Cleveland Browns Just Executed a Brilliant $57 Million Investment That Should Bring the Best Out of Baker Mayfield and Nick Chubb for Years to Come
The Cleveland Browns obviously didn't believe Odell Beckham Jr. provided enough production to justify his lucrative contract. However, it's clear they feel completely comfortable paying a premium price for a member of the offense who doesn't carry nearly the same name recognition.
Luckily for Baker Mayfield and Nick Chubb, the front office just executed a wise (albeit expensive) move to keep one of their most important teammates around for years to come.
Cleveland took care of an important piece of business by locking up star guard Wyatt Teller
Think the Browns value strong play in the trenches? Based on the deal they just gave Wyatt Teller, there's no doubt they're willing to invest significant financial resources to dominate the line of scrimmage.
Cleveland's starting right guard secured a well-deserved raise Tuesday by signing a four-year, $56.8 million extension that includes $28 million guaranteed. Tipping the scales at 6-foot-4, 314 pounds, the soon-to-be 27-year-old has developed into one of the best players at his position since he arrived via trade in 2019. Originally a fifth-round pick by the Buffalo Bills, Teller has started 29 games for the Browns, earning a reputation as an overpowering run blocker and sound pass protector.
The former Virginia Tech standout earned second-team All-Pro honors in 2020, and he looks poised to earn more individual accolades this season. Under contract through the 2025 season, Teller will continue to call Cleveland home for the rest of his prime.
The Browns' $57 million investment should bring the best out of Baker Mayfield and Nick Chubb for years to come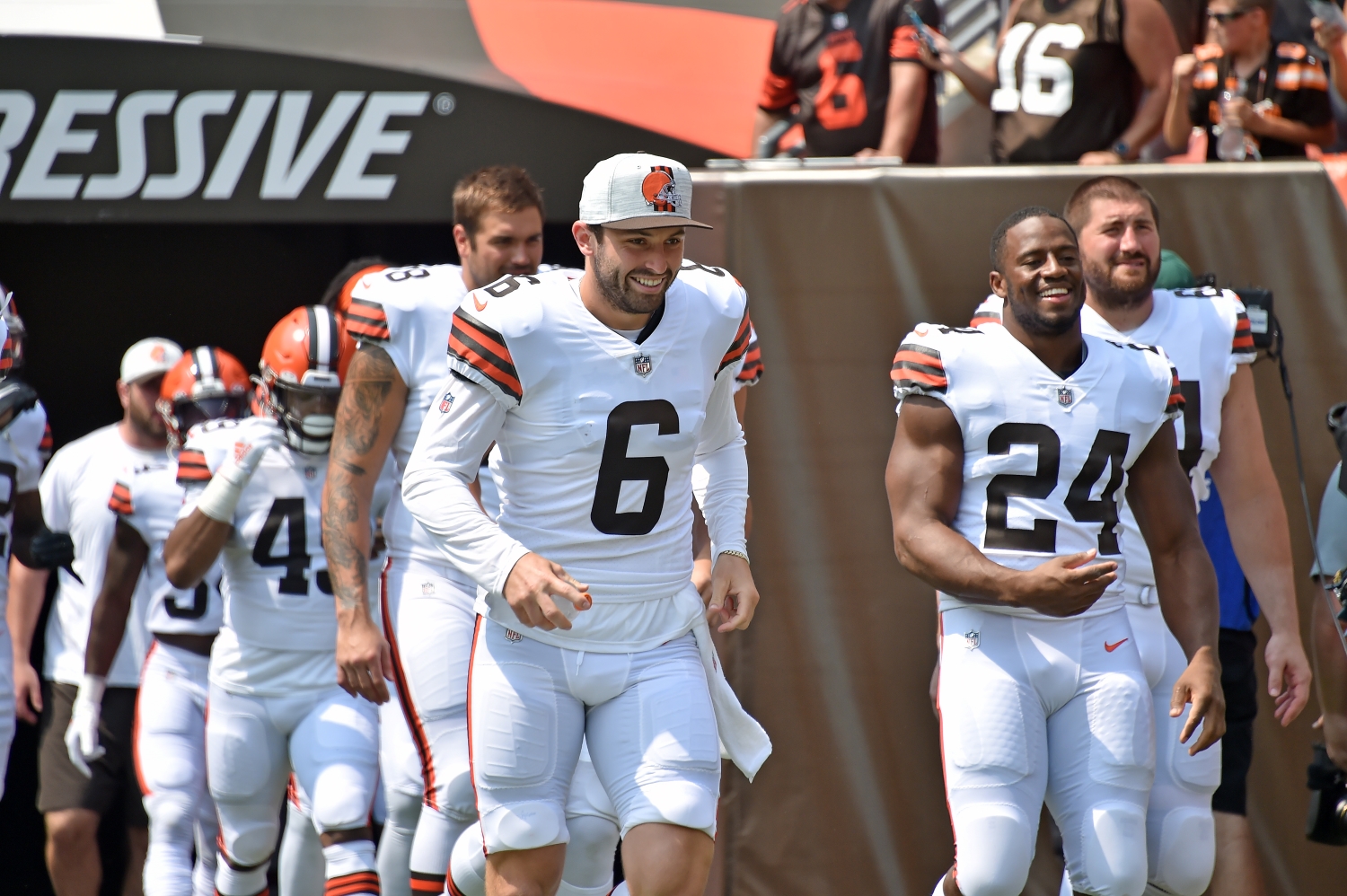 It certainly took a sizable chunk of change to ensure Teller will remain entrenched at right guard for the foreseeable future. However, the Browns made a brilliant investment by signing him to an extension that carries an average annual salary of $14.2 million. After all, the physically imposing lineman makes life much easier for the team's two most critical offensive players: Baker Mayfield and Nick Chubb.
While Teller garners praise for pulling and de-cleat defenders with relative ease, he also deserves credit for his work as a pass protector. According to Pro Football Focus, he's only allowed one sack this season — a testament to his ability to keep defensive tackles and blitzing linebackers at bay. As long as the fourth-year pro stays healthy, he should continue to keep Mayfield out of harm's way and give his quarterback time to make big plays in the passing game.
Moreover, Teller's extension also represents a massive win for Chubb. Cleveland's superstar running back has more than enough physical talent to run through and around defenders, but having sound blocking matters, too. You won't find many linemen with Teller's combination of explosive power, movement skills, and sound technique, so having him under contract through 2025 should allow Chubb to rack up prolific rushing numbers and justify his own expensive extension.
Andrew Berry deserves tremendous credit for assembling a dominant offensive line
While the Browns still have to prove they can handle business in the playoffs, general manager Andrew Berry has shown he knows how to put together a championship-caliber offensive line. In fact, the Teller extension serves as a stark reminder to the rest of the NFL of why it's critical to have a keen eye for scouting guards, centers, and tackles.
One of the most impressive aspects of Cleveland's rebuilding process has to be the construction of a dominant front five. Not only did the front office score a steal by acquiring Teller for a pair of late-round picks in 2019, but it also did well to land two top-tier tackles a year ago. By signing Jack Conklin to a three-year, $42 million free-agent contract and selecting Jedrick Wills Jr. 10th overall, the Browns shored up positions of need with blue-chip players.
Of course, the previous regime found valuable building blocks via free agency and the draft, too. J.C. Tretter came to Cleveland in 2017 on a three-year, $16.75 million deal. The rock-solid center signed a three-year, $32.5 million extension in the middle of the 2019 season, and despite being on the wrong side of 30, he remains at the top of his game. Currently rated seventh out of 40 centers in PFF's system, Tretter anchors one of the best units in football.
Plus, it's impossible to ignore the consistently excellent play provided by left guard Joel Bitonio. The 2014 second-round pick has earned second-team All-Pro honors in each of the last three seasons, which reflects his standing as an elite player at his position.
Overall, the Browns boast championship potential not only because of adept playmakers like Baker Mayfield, Nick Chubb, Myles Garrett, and Denzel Ward, but also because they've assembled arguably the best offensive line in the league. And if Wyatt Teller and Co. continue to overwhelm opposing front sevens, don't be surprised if Cleveland advances to its first AFC title game since 1989.
All statistics courtesy of Pro Football Reference. All contract data courtesy of Spotrac.