The Chiefs Have a $184 Million Problem on Their Hands That Deserves an Even Bigger Spotlight Than Patrick Mahomes' Surprising Struggles
There's no doubt Patrick Mahomes has underwhelmed over the first half of the 2021 season. His newfound penchant for turning the ball over certainly qualifies as perplexing given his track record of making smart decisions. But given his incredible natural skills and competitive spirit, he should rediscover his prime form at some point and remind everyone why the Kansas City Chiefs signed him to the largest contract in NFL history.
However, while Mahomes' struggles have understandably generated ample attention, the reigning AFC champions have a $184 million problem on their hands that deserves an even bigger spotlight.
Patrick Mahomes' sluggish start to the season has rightfully caused concerns about Kansas City's chances of winning a Super Bowl title
Chiefs fans certainly didn't expect to see their superstar quarterback surpass his 2020 interception total within six games. They also couldn't have imagined their beloved team being stuck behind both the Las Vegas Raiders and the Denver Broncos in the AFC West standings by Week 9.
However, with Patrick Mahomes tripling his interception rate and the offense not quite in sync, Kansas City looks less likely than ever to represent the conference in Super Bowl 56.
Despite overhauling their entire offensive line, the Chiefs have shown some struggles protecting their most important player. Meanwhile, Mahomes has displayed uncharacteristic ball-security and mechanical issues that can't be ignored, either. While he deserves credit for racking up nearly 2,400 yards and 19 passing touchdowns, he also deserves criticism for throwing 10 picks and committing five fumbles in eight games.
Luckily for the Chiefs, their 26-year-old leader possesses the physical skills and the competitive fire needed to overcome his up-and-down start. If his new-look offensive line continues to build chemistry and his weapons stay healthy, Mahomes should enjoy a far less frustrating second half of the season.
And in the grand scheme of things, his struggles should command less of a spotlight than a more concerning problem going on in Kansas City.
The Chiefs have a $184 million problem that deserves an even bigger spotlight than their star quarterback's struggles
Even though Mahomes only ranks 22nd in Pro Football Focus' grading system, there's little doubt he will finish the season much higher than that, further justifying why the Chiefs locked him up to a $503 million contract extension.
However, the back-to-back AFC champions invested roughly a third of that amount on two players who get paid to ruin quarterbacks' lives for a living. But based on their production, neither Chris Jones nor Frank Clark has come close to living up to their own lucrative deals.
The former signed a four-year, $80 million extension during the 2020 offseason and responded with a rock-solid season that resulted in second-team All-Pro honors. This season, though, Jones transitioned to defensive end, and his numbers have experienced a significant dip. After posting 7.5 sacks and 28 quarterback hits a year ago, the 2016 second-round pick has totaled just three sacks and six QBH in six games. Needless to say, that production doesn't match up with a $20 million average annual salary.
Meanwhile, Clark, who cost the Chiefs first- and second-round picks in a trade, hasn't consistently provided the pass-rush spark to justify his $104 million extension. After totaling 35 sacks and 72 quarterback hits in 33 starts for the Seattle Seahawks, he's only posted 15 and 21, respectively, across 31 starts for Kansas City.
The athletic defensive earned a 76.7 PFF grade during his final season in Seattle — a testament to how dominant he looked playing for Pete Carroll. But that mark dipped to 63.0 in 2019 before plummeting to 54.5 last year. Clark currently owns a 58.8 grade and ranks 85th out of 109 players at his position.
With their two highly paid defensive linemen delivering underwhelming numbers, it shouldn't be a surprise that Kansas City ranks 31st in Football Outsiders' DVOA metric. Only the Jacksonville Jaguars (3.7%) and Atlanta Falcons (4.7%) have recorded a lower adjusted sack rate than the Chiefs' mark of 4.9%.
Considering they're paying two players quarterback money specifically to bring down signal-callers, the Chiefs should be concerned about the return on their investment.
While Chris Jones should stick around, don't be surprised if Frank Clark finds himself playing elsewhere in 2022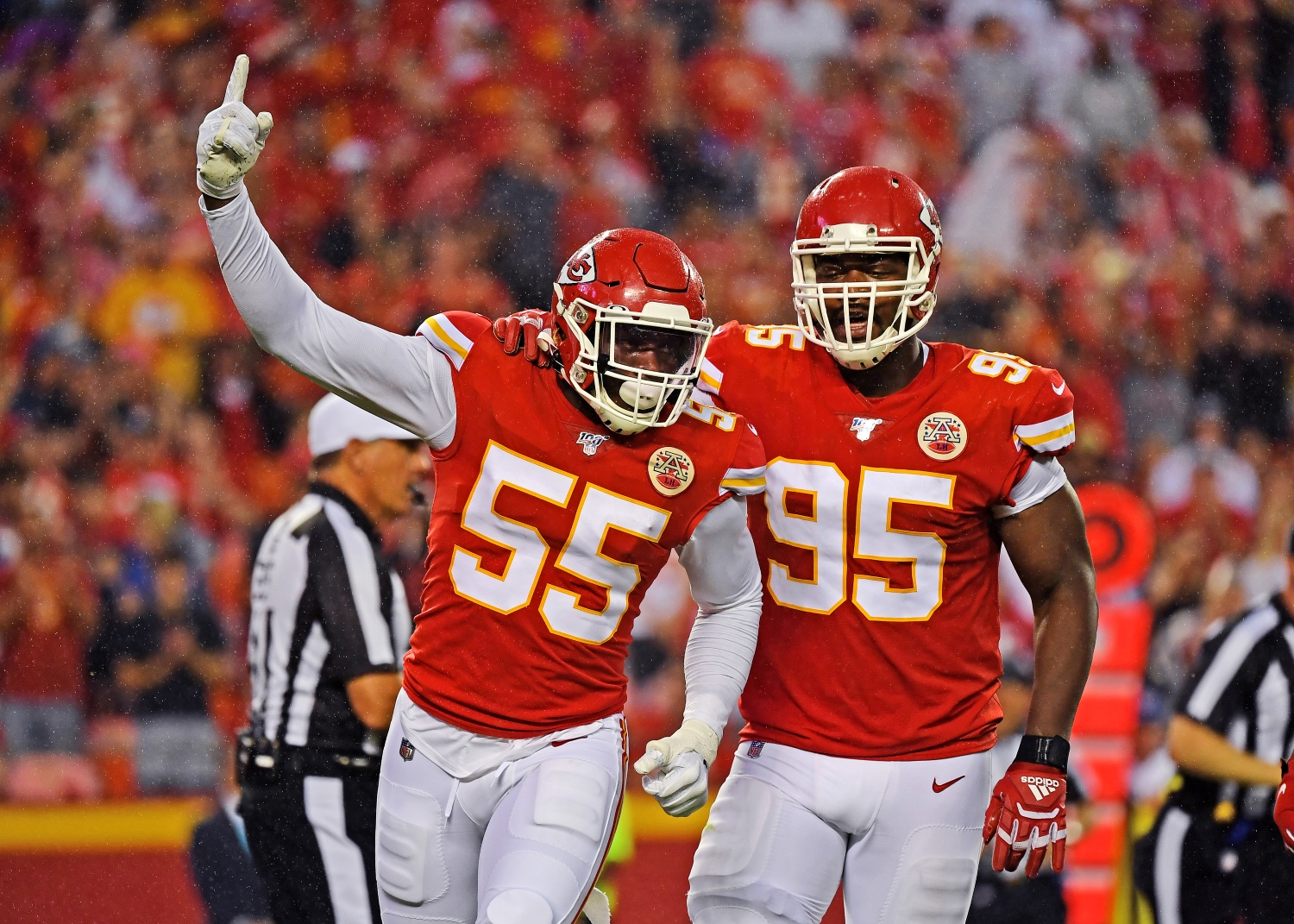 While Jones and Clark helped their team secure a Week 8 win over the New York Giants with timely sacks, it's impossible to look past their raw numbers and not come away disappointed. After all, they're both among the highest-paid defensive players in the NFL and somehow don't rank anywhere near the top of the league in sacks or pressures.
At the very least, Clark and Jones appear to be trending in the right direction from a health standpoint, and they came through in the clutch a week ago. Still, it's fair to wonder whether the Chiefs will move on from the former after this year.
They can cut ties with Clark this offseason if they're willing to absorb a $12.9 million dead-cap hit. Doing so would save the Chiefs from having to pay him roughly $40 million in cash between 2022-23.
Will that happen?
If Clark fails to build off his performance against the Giants, don't be surprised if general manager Brett Veach decides to move in a different direction. With Tyrann Mathieu, Orlando Brown Jr., and Charvarius Ward set to hit free agency, he must figure out how to allocate financial resources.
Unless Frank Clark becomes a Pro Bowl-caliber player again, the Chiefs should consider pulling the plug on an experiment that hasn't paid off as expected.
All statistics courtesy of Pro Football Reference. All contract data courtesy of Spotrac.