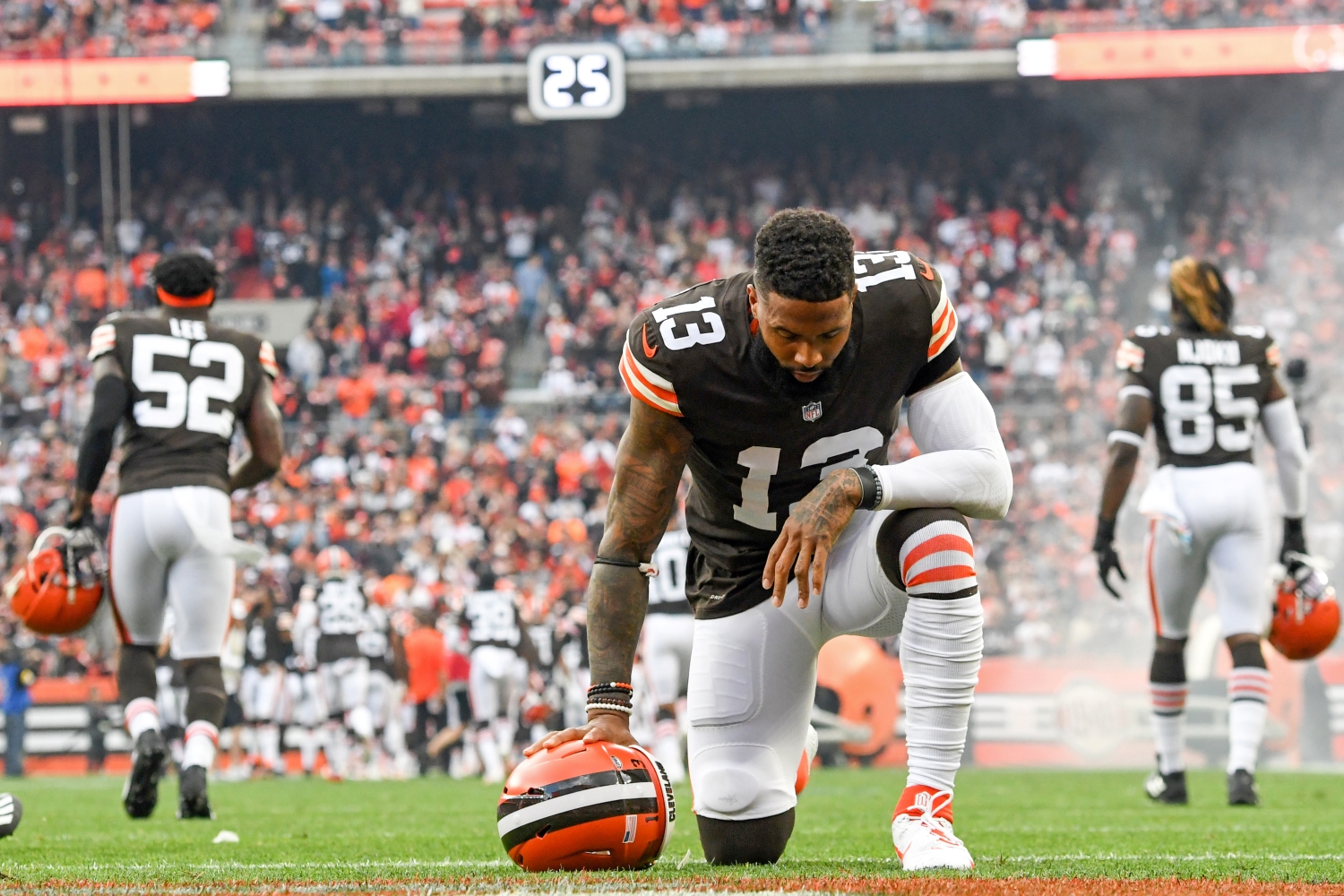 Odell Beckham Jr. Just Received a Life-Changing 29th Birthday Gift That Could Become His Worst Nightmare
Odell Beckham celebrated his 29th birthday by securing his freedom from the Browns. But that doesn't necessarily mean he will land in a better spot.
Odell Beckham Jr. celebrated another year of life Friday.
Ironically, though, his 29th birthday also represented the end of an era that can only be described as a massive disappointment.
Unfortunately for Beckham, he received a life-changing gift on his special day that could become his worst nightmare rather quickly. In fact, he may soon realize that playing for the Cleveland Browns wasn't so bad after all.
Odell Beckham Jr. celebrated turning 29 by securing his freedom from Cleveland
Although the Browns didn't get rid of Odell Beckham Jr. by the Nov. 2 trade deadline, they still found a way to make sure he won't be a distraction moving forward. Following months of speculation about the talented wide receiver's long-term future in Cleveland, the situation reached a turning point Friday.
"After days of negotiations, the Browns and Odell Beckham Jr. finally reached a settlement that will result in him being placed on waivers Monday, after which he can be claimed Tuesday at 4 pm, per league sources," ESPN's Adam Schefter tweeted. "As part of the settlement of the reworked contract before it is terminated, the Browns agreed to remove the final two years of Odell Beckham Jr.'s deal, meaning he now is scheduled to be a free agent after this season, per sources. Beckham had two years left on his deal."
Of course, Cleveland acquired the former New York Giants star in a costly trade during the 2019 offseason. However, Beckham never replicated the success he enjoyed with Eli Manning. The three-time Pro Bowler only recorded 114 catches for 1,586 yards and seven touchdowns in 29 games as a Brown.
With injuries and a lack of a clearly defined role factoring into his disappointing tenure in Cleveland, the physically gifted wideout faces a true make-or-break point. After all, while he commands respect based on his resume and big-name recognition, Beckham needs to prove he can still produce at an elite level.
The three-time Pro Bowler received a life-changing birthday gift that could become his worst nightmare
Unfortunately for OBJ, the gift he received for his 29th birthday could come back to haunt him. Sure, the Browns agreed to grant him his freedom, but that doesn't mean his life (at least, from a football standpoint) will be better moving forward.
On the contrary, things could get much worse.
Subject to the waiver-claim process, Beckham has zero control over his future. Instead, he's at the mercy of the franchises that can afford to absorb his $7.25 million salary for the remainder of the season.
While that list is short, the fact Urban Meyer's team ranks near the top should be highly concerning for OBJ. Fourth in the waiver order behind the Detroit Lions, Miami Dolphins, and Houston Texans and first in available cap space, the Jacksonville Jaguars have a prime opportunity to take a flyer on one of the most talented playmakers in NFL history. And with Trevor Lawrence in desperate need of a stronger supporting cast, why shouldn't they put in a claim for Beckham and see what happens?
That scenario would give the team's young quarterback a dangerous weapon. At the same time, though, Beckham would be forced to play for arguably the worst-run franchise in the league. If he felt frustrated in Cleveland, you can bet he wouldn't like being in Jacksonville, either. Instead of playing for a Browns organization that's trending upward, he would spend the rest of the season with a team that has zero shot at making the playoffs.
Plus, if Beckham gets claimed by the Jaguars, the organization could use the franchise tag to retain his rights and trade him elsewhere to land a draft pick. So, he could potentially have to play for Meyer for half a season and still face an uncertain future.
Beckham's football future looks more uncertain than ever
Should OBJ even command such widespread attention at this point? He certainly hasn't delivered highlight-reel plays on a consistent basis in quite some time, and he comes with durability concerns, too.
At 29 years old, he doesn't have Father Time on his side. Receivers tend to fall off the proverbial cliff in their early 30s, so Beckham faces an uphill battle to re-establish himself as an elite player.
Obviously, where he ends up will have a drastic effect on his production and overall outlook. If the Jaguars or Philadelphia Eagles claim him (both teams have the cap flexibility to do so), he will be stuck in the midst of a rebuilding process.
On the other hand, if he clears waivers and has a chance to choose his own fate, Beckham can set himself up for success by joining a team with Super Bowl aspirations. Plus, with his contract set to expire after the season, he needs to put up numbers to prove he deserves to get paid (again).
Only time will tell whether Odell Beckham Jr. still deserves to be mentioned among the league's top receivers. And depending on what happens early next week, his life could go in complete opposite directions.
All statistics courtesy of Pro Football Reference. All contract data courtesy of Spotrac.