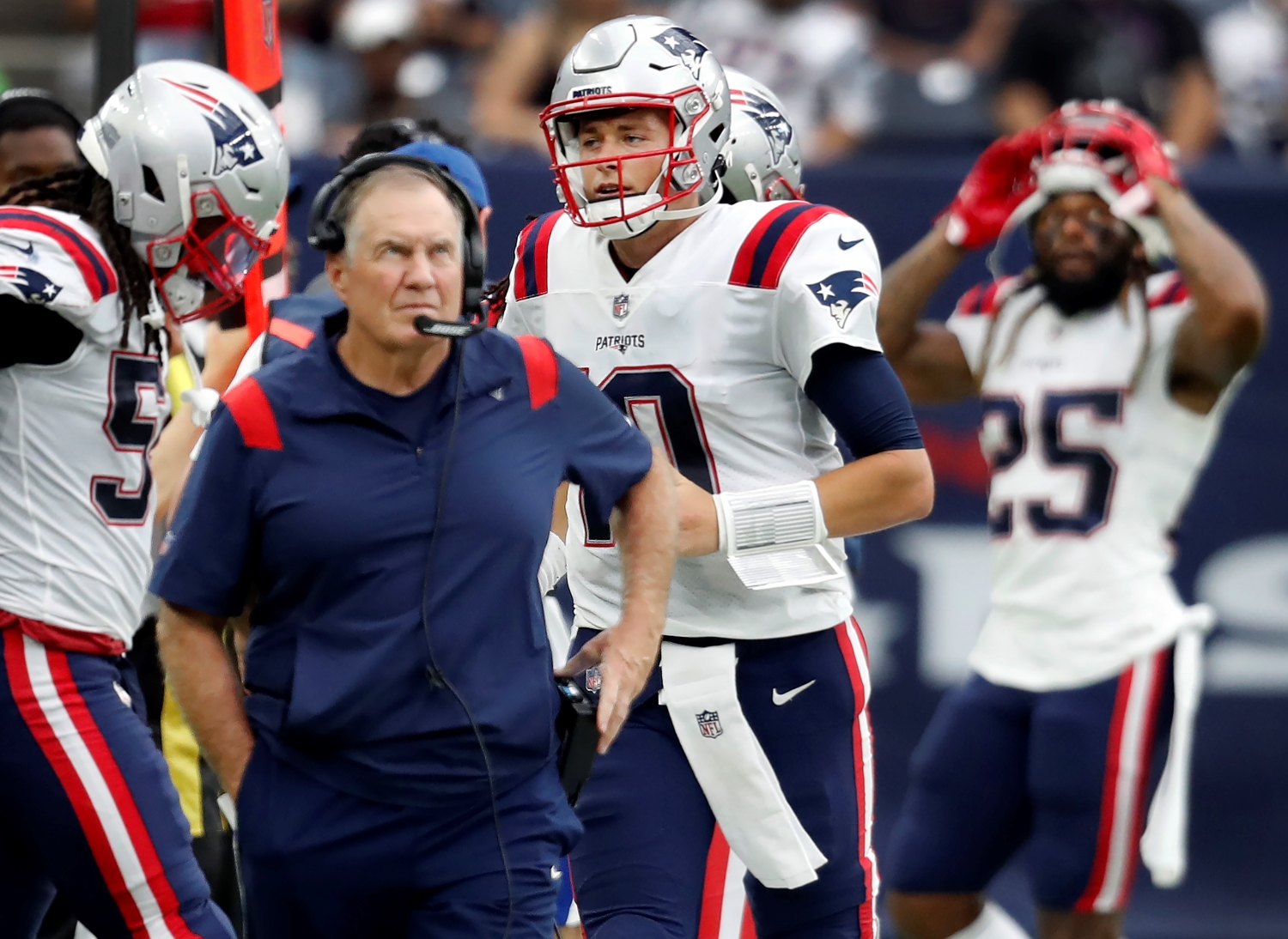 A Tempting Opportunity Should Convince Bill Belichick to Take a Calculated Risk for the Sake of Mac Jones' Future
Bill Belichick needs to give in to temptation if the opportunity to add an elite talent arises. After all, how else will Mac Jones deliver a Super Bowl title?
Temptation can lead to trouble.
It can also lead to success.
That's the nature of risk vs. reward — a concept NFL personnel executives must take into account with every roster-related decision. After all, some players possess such rare natural skills that it's worth ignoring potential problems for their incredible potential. Obviously, though, bold moves can backfire, leading to uncomfortable press conferences, public contract disputes, and unceremonious exits.
Unlike most of his contemporaries, Bill Belichick serves as general manager and head coach, which gives him incredible power and responsibility. Over the years, he's certainly shown no hesitation about pulling off stunning transactions, including acquiring Randy Moss, trading Richard Seymour, and sending Jimmy Garoppolo to San Francisco.
Some paid off. Others didn't. But Belichick deserves credit for taking calculated risks in what he always describes as "the best interest of the football team."
And if the architect of the most successful dynasty in NFL history wants to set his young franchise quarterback up for future success, he needs to be willing to finally give in to the temptation to bring Odell Beckham Jr. to Foxborough.
Given Belichick's well-documented history of struggling to draft quality receivers, the idea of a Beckham trade has always made sense. Yet even with the three-time Pro Bowler's name surfacing in trade rumors on what seems like an annual basis, the New England Patriots have never pulled the trigger.
However, even though Belichick didn't pair OBJ with TB12, he should unite the talented receiver with his new starting signal-caller.
The Cleveland Browns look to be in the midst of an ugly divorce with Beckham, who they acquired via trade during the 2019 offseason. Injuries have played a major role in his disappointing production, but he also has struggled to find a role in Kevin Stefanski's run-oriented offense. No longer practicing with the team and with the Nov. 2 trade deadline come and gone, Beckham's future with the franchise remains up in the air.
To no surprise, money complicates what's clearly a complicated situation. The 28-year-old wideout has a $14.5 million base salary this season and two years remaining on the five-year, $90 million extension he signed in 2018. The Browns could waive Beckham, which would pave the way for a team to claim his current contract. However, if he passes through waivers, he would be free to sign anywhere.
While an offseason trade would also lead to a resolution, Cleveland may not be able to afford to let the problem become an even bigger distraction. As a team with legitimate Super Bowl aspirations, holding on to Beckham just to render him inactive every week would do more harm than good. Ultimately, cutting ties and moving on seems like the only way to bring the drama to a swift end.
Ultimately, though, whether Beckham gets waived in the coming days or he remains a Brown through the remainder of the season, Belichick needs to find a way to bring him to Foxborough for the sake of Mac Jones' future.
Sure, the Patriots spent a sizable chunk of change on Nelson Agholor and Kendrick Bourne this offseason. But neither player possesses anything close to the upside of a healthy, motivated version of Beckham. At best, both are No. 2 receivers.
At his peak, OBJ was arguably the best wideout in the NFL.
Is a true No. 1 WR necessary for a quarterback to have success?
Not necessarily.
Tom Brady proved that by winning six Super Bowls as a Patriot without ever featuring a truly dominant receiver. (Although Randy Moss came awfully close to capturing a championship with TB12.)
However, it would certainly help if Jones had a better No. 1 option than the drop-prone Agholor. Let's not forget he shined at Alabama while throwing to Heisman winner DeVonta Smith and talented playmaker Jaylen Waddle — both of whom became top-10 draft picks. Why not give the former Crimson Tide star an elite-level talent like Beckham and let offensive coordinator Josh McDaniels work his play-calling magic?
While the Patriots would have to orchestrate some salary-cap magic to absorb the disgruntled wideout's contract via the waiver claim process, the opportunity to add a player of his caliber cannot be overlooked. Beckham has base salaries of $13.75 million in 2022 and 2023, which don't look so bad when you consider Agholor signed a two-year, $22 million deal in free agency.
Moreover, if the Patriots pass on putting a claim due to the roughly $8 million in salary Beckham would be owed and he makes it through waivers, that should fully convince Belichick to pounce on the opportunity to sway him to join forces with Jones.
New England could offer Beckham the chance to rehab his value playing for an organization with a rich history of winning led by a quarterback teeming with potential. Plus, he would get to work with two excellent coaches in Belichick and McDaniels.
Most importantly, though, landing Beckham by whatever means necessary would provide the Patriots' most valuable asset with a potential superstar sidekick. Jones would instantly become a more dangerous quarterback simply because of the talent around him. And the offense would certainly become more difficult to defend with the addition of a 29-year-old receiver who still shows flashes of greatness despite being stuck in a shaky situation.
Bill Belichick went bold this spring by spending more of Robert Kraft's money than ever before. He needs to operate with that same aggressive approach with the situation going on in Cleveland. If the past two decades showed us anything, it's that no one knows how to maximize a player's talents like him.
And if New England's 69-year-old head coach wants to put his first-year quarterback on a path for long-term success, he should make Odell Beckham Jr. his latest reclamation project.
All contract data courtesy of Spotrac.