Odell Beckham Jr.'s Disappointing Browns Career Could Be Coming to an End
The Cleveland Browns swung for the fences by making a blockbuster deal for Odell Beckham Jr. However, at this point, it's entirely fair to question their decision to send a substantial package of draft picks and players to the New York Giants for a receiver who hasn't brought anything close to the home-run ability that helped him become a household name.
While the costly trade hasn't stopped the Browns from becoming one of the top teams in the AFC, there's no doubt Beckham has fallen short of expectations. And even though he's signed through 2023, his time in Cleveland could come to end well before his contract expires.
The Odell Beckham Jr. era in Cleveland has been a major disappointment
Although he began his NFL career with three consecutive seasons of at least 1,300 receiving yards and double-digit touchdowns, Beckham has failed to match that level of production in subsequent years. In fact, after hauling in 35 touchdown receptions during that stretch, he's totaled only 16 since 2017.
Once viewed as one of the most dangerous playmakers in the league, the 5-foot-11, 198-pound receiver has not provided that type of impact in Cleveland.
Does Beckham deserve all of the blame?
Not necessarily.
After all, a Week 7 ACL tear brought his 2020 season to an abrupt end and set the stage for a lengthy rehab process. Plus, Baker Mayfield's inconsistencies and the way the Browns run their offense have factored into his underwhelming numbers.
Still, for someone who makes an average of $18 million a year and cost a pretty penny to acquire, it's safe to say Beckham has not provided a great return on Cleveland's investment.
Beckham's days with the Browns could be numbered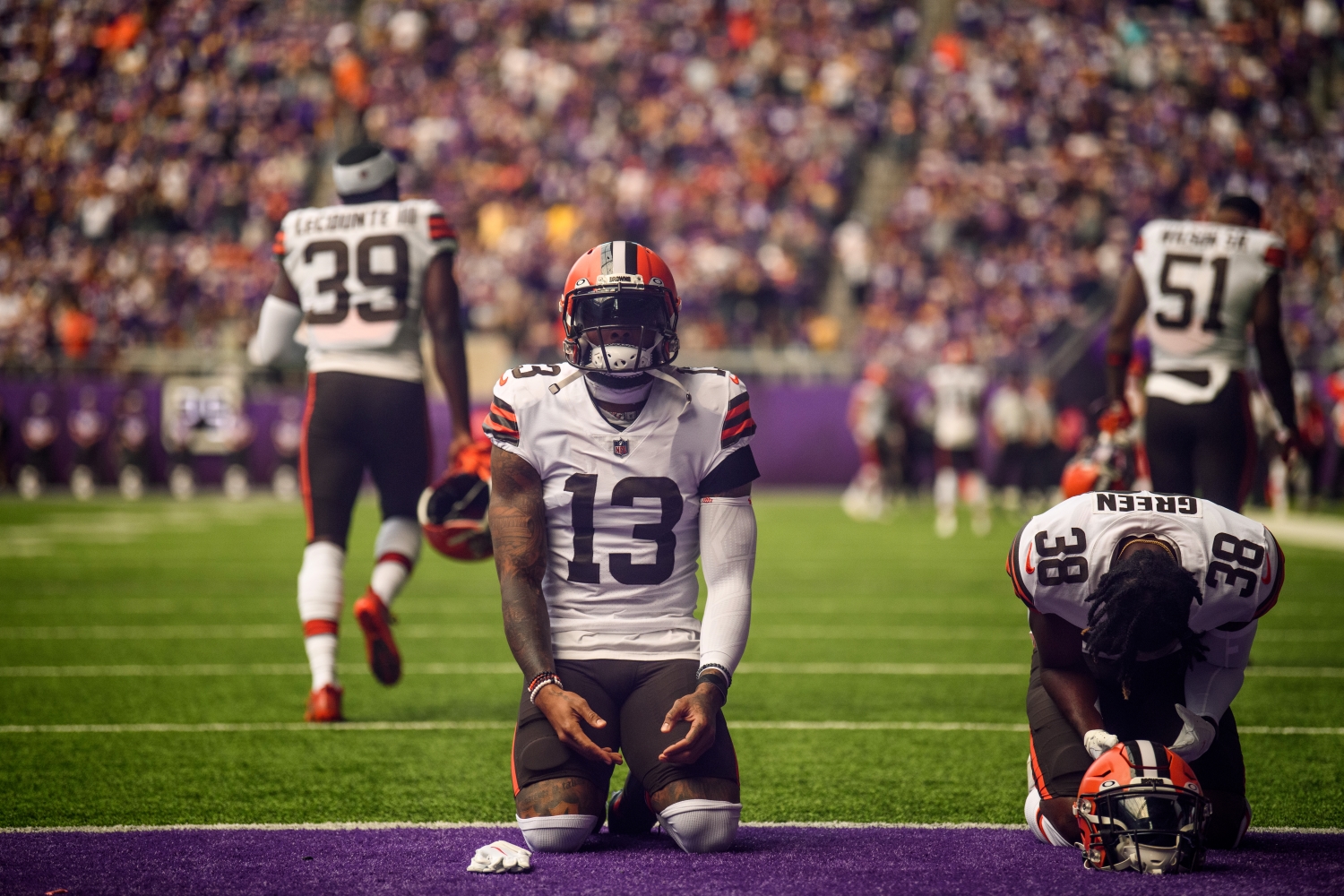 Don't be surprised if the Browns' receiver depth chart looks much different in 2022.
"It's possible Odell Beckham Jr. could be on the move again," Jeff Howe of The Athletic reported Thursday. "Sources familiar with the Cleveland Browns' thinking suggested this could be the wide receiver's final season with the team."
The soon-to-be 29-year-old wideout should stick around for the remainder of 2021 due to financial reasons. However, because Beckham's contract contains no guaranteed money in 2022 or 2023, the Browns could gain valuable breathing room by dealing him in the offseason. A trade would create $15 million in 2022 cap space — a significant number for an organization that still has to sign its franchise quarterback to an extension.
Speaking of Mayfield, he surprisingly has posted better numbers without the big-name receiver in the lineup. According to Howe, in nine full games with Beckham on the field over the last two seasons, the 2018 No. 1 overall pick has completed 60.2% of his passes for 1,801 yards, 13 touchdowns, and six interceptions. In 12 games without him, Mayfield has compiled a 66.3% completion rate, 3,002 passing yards, 17 touchdowns, and four interceptions.
Obviously, the Browns hope Beckham can shake off any rust and become a more consistent force moving forward. Whether that happens remains a complete mystery given his up-and-down tenure with the team.
"Beckham's performance could change the narrative over the next few months," Howe wrote. "But right now, there are signs pointing toward this being Beckham's final stretch run in Cleveland."
Which NFL teams should consider trading for the three-time Pro Bowler?
A change of scenery might be best for everyone involved. The Browns spent third- and fourth-round picks in the 2021 draft on receivers, and 2020 sixth-rounder Donovan Peoples-Jones boasts tremendous upside. Getting younger at the position and re-allocating financial resources on other positions of need certainly would not be the worst idea for a franchise that has to prove it can win on a consistent basis.
As for Beckham?
It may not have worked out as expected in Cleveland, but he could experience a resurgence in another system. And despite the fact his stock is lower than ever, don't be surprised if at least a few teams put in offers.
The New England Patriots desperately need a No. 1 receiver, so they stand out as an obvious potential trade partner for the Browns. Bill Belichick whiffed badly on N'Keal Harry, and the team's current cast of pass catchers includes a bunch of solid but unspectacular options. Giving Mac Jones a proven commodity like Beckham could allow the young quarterback to take the next step in his development.
Meanwhile, if the Detroit Lions want Jared Goff to have any chance to succeed, they better find a way to get him better weapons. Sure, Beckham may not be the same player he was in New York, but he's certainly better than anyone on the Lions' current roster.
Sticking in the NFC, the New Orleans Saints seem like a solid fit, too. Not only would Odell Beckham Jr. get a chance to return to his home state of Louisiana, but he would also have an opportunity to play for one of the most brilliant offensive minds in football.
Then again, after dealing with all the Michael Thomas drama this summer, maybe Sean Payton will have no interest in adding another high-maintenance receiver to his roster.
All statistics courtesy of Pro Football Reference. All contract data courtesy of Spotrac.
RELATED: Deshaun Watson's Time With the Texans Could Soon Come to an End if a Troubling Trend Continues in Carolina