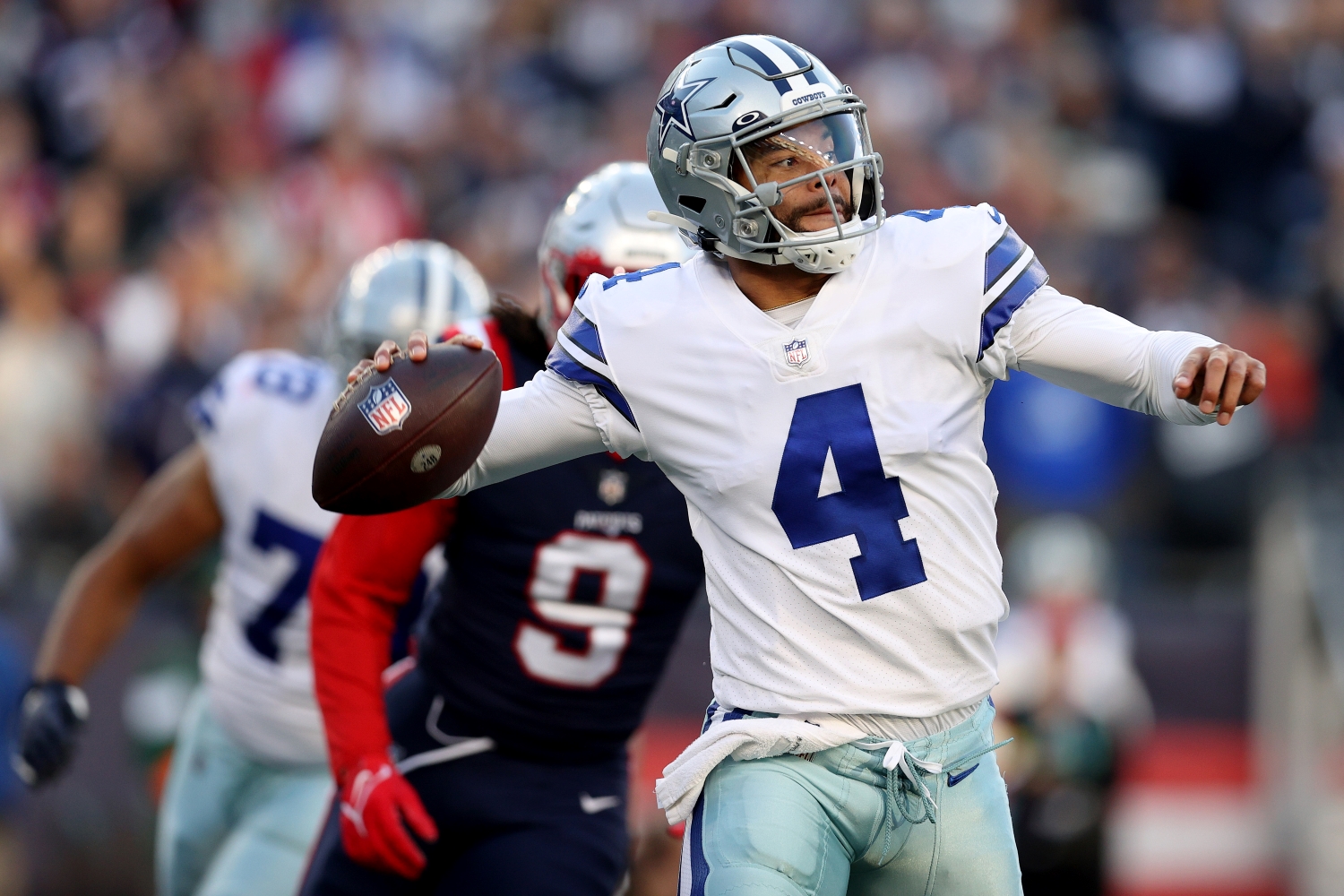 Dak Prescott Just Proved Jerry Jones Knows How to Spend $160 Million Much Smarter Than Bill Belichick
Dak Prescott just proved exactly why Jerry Jones is a smarter general manager than Bill Belichick. After all, the Cowboys made $160 million go a lot further than the Patriots.
Spending money doesn't necessarily lead to Super Bowl titles, but, in theory, it should put a team in a stronger position to bring home the Lombardi Trophy.
Unfortunately for Bill Belichick, his expensive shopping spree has not transformed the New England Patriots into a championship contender. Coming off their first losing season since 2000, the six-time Super Bowl winners still haven't figured out how to play consistently good football.
Considering Belichick handed out a whopping $160 million in guaranteed money on free agents, it's safe to say New England fans expected more from a team that looks better on paper than it did in 2020.
However, despite having an undoubtedly better roster than they did a year ago, the Patriots have fallen short in key situations, leading to a disappointing 2-4 record and plenty of questions about what the future holds for Robert Kraft's franchise. Of course, Sunday's crushing 35-29 loss to the Dallas Cowboys caused Belichick to come under even more scrutiny as both a coach and a general manager.
After all, with total control over personnel and in-game decisions, he has the power to propel the Patriots in any direction he wants.
On the other hand, a GM who's faced plenty of well-deserved criticism over the years suddenly looks like the smartest man in the NFL. For Jerry Jones, his most recent trip to Foxborough certainly had some stressful moments, but he ultimately went back to Texas with a smile thanks to a record-setting investment he made in March.
Although the deal raised some eyebrows at the time, Dak Prescott's $160 million contract extension looks like a home-run move by Jones. Fully healthy and motivated to prove he deserved such a lucrative raise, the sixth-year quarterback started the season by going toe-to-toe with Tom Brady in a close loss to the reigning champs. While Prescott continued to play at an extraordinarily high level in Weeks 2-5, he delivered one of the most impressive performances of his career against the Patriots.
The star quarterback completed 36-of-51 passes for 445 yards, three touchdowns, and one interception, carving up a New England defense that got picked apart by Houston Texans rookie Davis Mills the week prior.
Prescott may not have been perfect — he turned the ball over twice, including on a goal-line rushing attempt — but he made a number of clutch throws that swung the game in Dallas' favor.
For Jones, watching his most important player dominate Belichick's defense had to be particularly satisfying. While the Cowboys hold the title of "America's Team," the Patriots enjoyed far more success over the last two decades, which put them in the spotlight. But with Robert Kraft's team struggling to string together victories and Jones' beloved franchise off to a hot start, the situation seems to be changing.
While Mac Jones seems to have a bright future ahead of him, he's certainly nowhere close to Prescott's level at the moment. And if there were lingering doubts about Dallas' decision to give the two-time Pro Bowler a $160 million deal with $126 million guaranteed, the New England game should have silenced them.
Jerry Jones waited longer than he should have to lock up Prescott, but he smartly made sure not to let the most valuable asset in sports walk out the door. With a true franchise quarterback under contract through 2024 and a roster featuring young, homegrown stars, the Cowboys can compete for championships right now.
Meanwhile, one year after letting the greatest quarterback of all time take his talents elsewhere, Belichick guaranteed $160 million in free-agent contracts, none of which went to a new signal-caller.
And what has he gotten out of his record-setting haul?
Let's just say Belichick should have some serious buyer's remorse after six games.
Desperate for any semblance of production from the tight end position, New England signed Jonnu Smith and Hunter Henry to contracts with an average annual salary of $12.5 million. The former has been an abject disaster, totaling a mere 16 catches for 124 yards and one touchdown. The latter has at least proven reliable with 22 receptions for 241 yards and three touchdowns on 28 targets.
Needless to say, the Patriots don't look particularly smart for paying Smith and Henry the same amount of money ($25 million) as Tom Brady makes with the Buccaneers.
Speaking of disappointing pass catchers, Nelson Agholor, who joined the team on a two-year, $22 million deal with $16 million guaranteed, has hauled in only 56.7% of his targets. The inconsistent wideout committed a costly drop in overtime against the Cowboys on a perfectly thrown pass that could have led to a significant gain, or even a touchdown. It sure seems like the Patriots signed the drop-prone version of Agholor who didn't pan out with the Philadelphia Eagles rather than the one who averaged 18.7 yards per catch with the Las Vegas Raiders last season.
As for all the defensive upgrades Belichick made?
Matt Judon has easily been the Patriots' best player on that side of the ball, which shows exactly why he landed a four-year, $56 million deal. However, defensive tackle Davon Godchaux (two years, $16 million) ranks 65th out of 122 players at his position in Pro Football Focus' grading system. Jalen Mills, who also flamed out in Philadelphia like Agholor, ranks 77th out of 118 corners, and he got burned by CeeDee Lamb for the game-winning touchdown.
Did Belichick pay B-level players A-level money?
It's difficult to say otherwise based on the early results.
Meanwhile, it's obvious Jones paid an A-level player exactly what he deserved. Oh, and the 79-year-old owner/GM assembled a rock-solid roster by hitting consistently in the draft — something Belichick hasn't done in quite some time.
Ultimately, Prescott proved his boss knows how to spend $160 million in a smarter manner than the architect of the NFL's most successful dynasty. He made the difference in the game, and he will continue to put his team in a position to win by playing at such an elite level. Jones deserves credit for taking care of a critical piece of business, especially after Prescott suffered a season-ending injury.
Belichick deserves criticism for dishing out big contracts to players who don't exactly move the needle. Outside of Judon, none of New England's free-agent additions have lived up to expectations. Then again, considering he's the only one who's made the Pro Bowl before, should that really be a surprise?
If the Patriots continue to underwhelm, it will be interesting to see if changes occur during the offseason.
After letting Bill Belichick do things his way for so many years, perhaps it's time for Robert Kraft to shake things up in Foxborough.
All statistics courtesy of Pro Football Reference. All contract data courtesy of Spotrac.