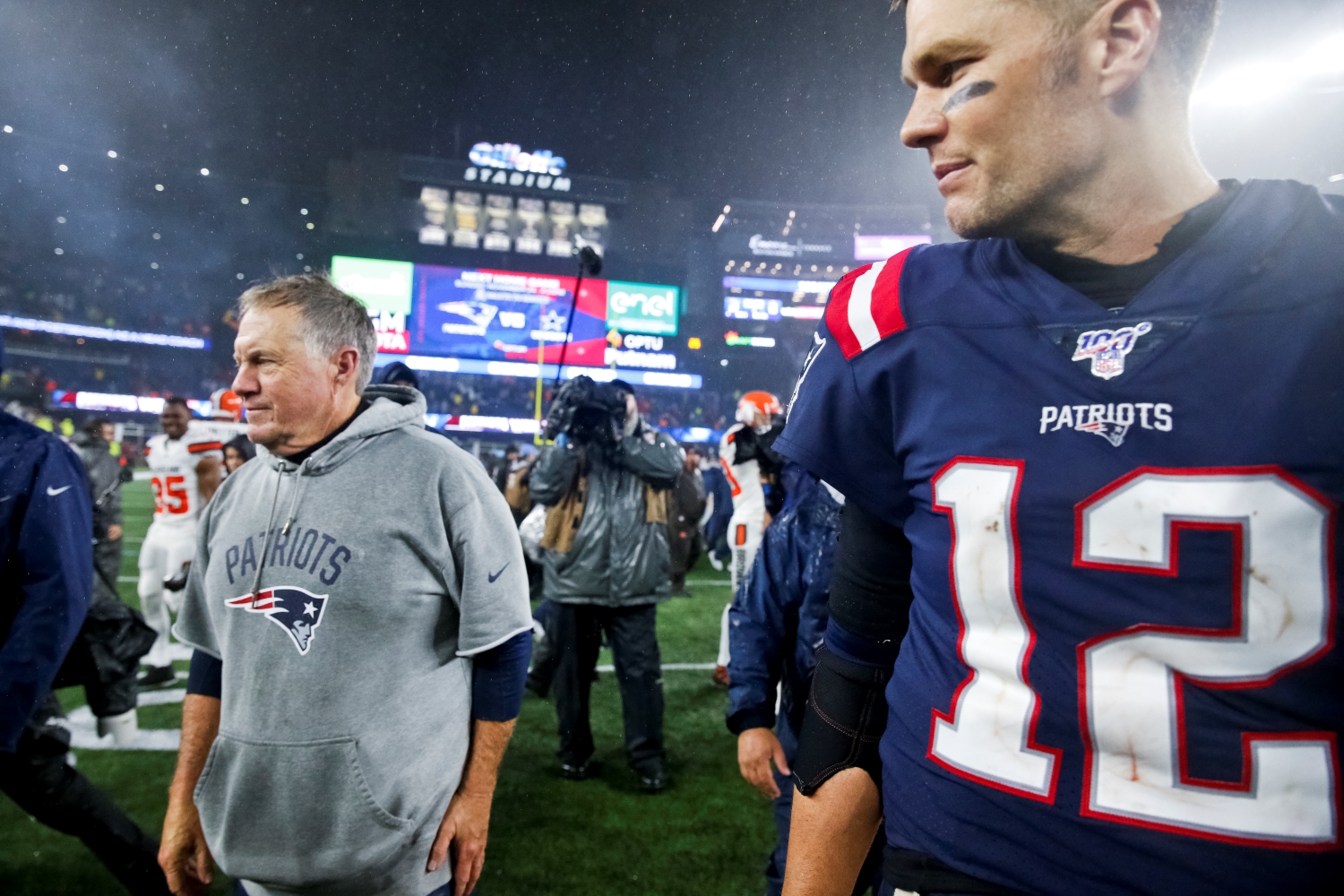 Bill Belichick is Attempting to Sell an Obvious Lie to Patriots Fans About Tom Brady
Bill Belichick wants the public to think the Patriots made a real effort to retain Tom Brady, but it's clear he's trying to sell an obvious lie to fans of Robert Kraft's team.
No NFL coach chooses his words more carefully than Bill Belichick. But just like Tom Brady, he seems to have a knack for not always telling the whole truth.
After all, New England Patriots fans have heard him explain obvious contract-related moves as doing what's "in the best interest of the team" even though they clearly made the roster worse. And given his obsession over the most minute details involved in winning a football game, it's certainly not a stretch to say Belichick hasn't been completely honest about his role in Spygate and Deflategate.
However, the legendary coach's latest words take things to a whole other level. In fact, it's abundantly clear Belichick is trying to sell an obvious lie to Patriot Nation.
It shouldn't be a surprise that the topic of how Brady ended up in Tampa has generated quite a bit of recent buzz. With the iconic quarterback set to take on his old team later this week, his much-discussed departure continues to dominate headlines in some form or fashion.
What should be surprising, though, is how Belichick went about trying to explain why No. 12 no longer calls Foxborough home.
After stating for years that there was no other quarterback he'd rather have than Brady, Belichick was asked when that perspective shifted during his weekly interview on WEEI's "The Greg Hill Show."
"It never changed," he said.
That response should have raised eyebrows based on how Belichick treated his star quarterback like an expendable asset. But he had more to say that didn't add up.
"I think we've been through all the dynamics of that. There were a lot of things there," Belichick explained. "He looked at his options and made his decision. We weren't as good an option as Tampa. You'd have to ask him about that, but it wasn't a question about not wanting him, that's for sure."
Belichick clearly had no interest in taking one ounce of the blame for the Patriots not having the GOAT under center. And while Brady ultimately made the decision to sign on the dotted line with the Buccaneers, that doesn't mean that was his No. 1 preference. If you take a step back and look at what transpired during his final years in New England, there's no doubt TB12 could still be playing his home game at Gillette Stadium.
Brady defied the odds and outlasted Jimmy Garoppolo. He took his game to new heights at an age when most NFL players are a few years into retirement. Yet despite all of his accomplishments, which included winning three Super Bowl titles between 2014-18, he never received the respect he felt he deserved in the form of a contract extension.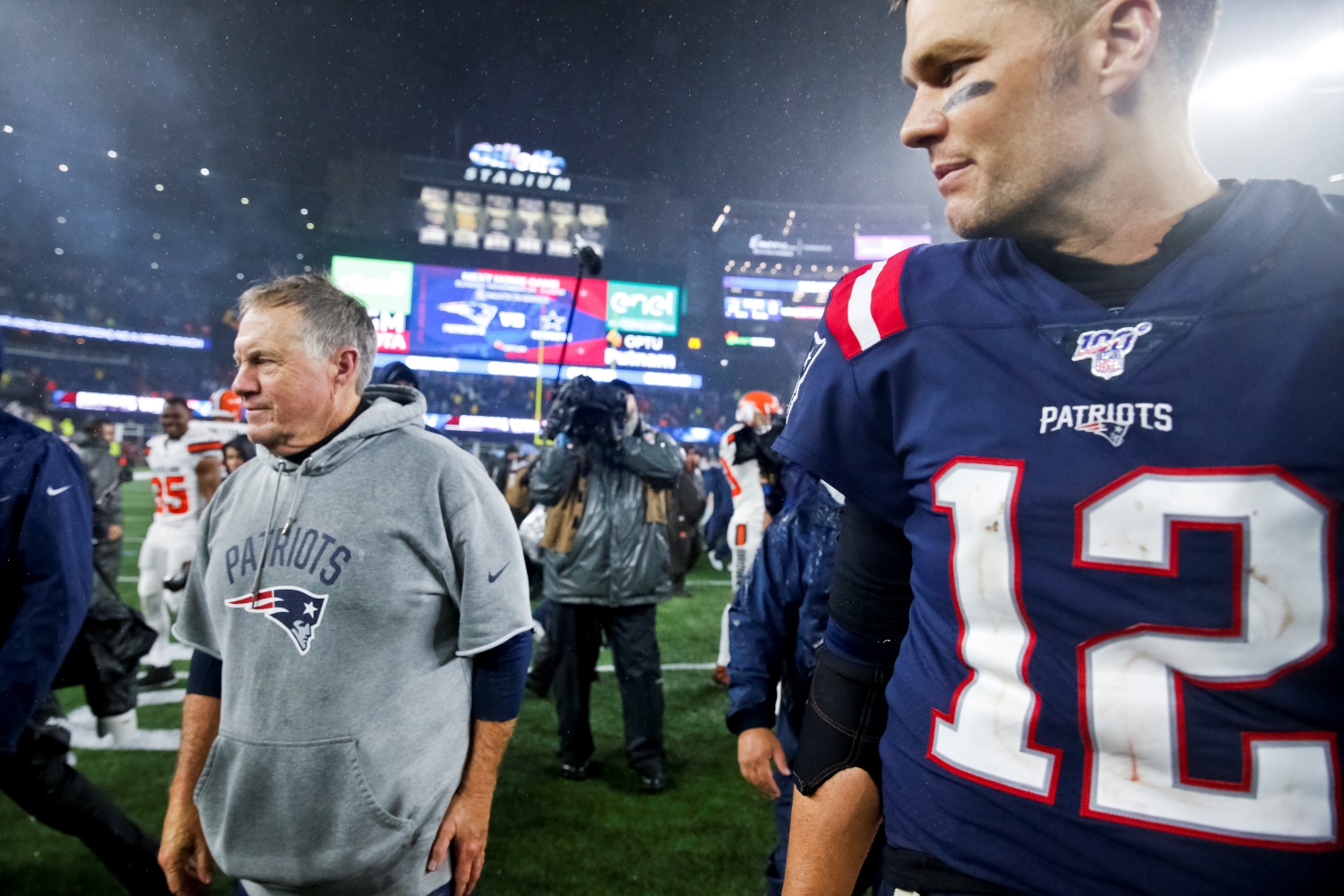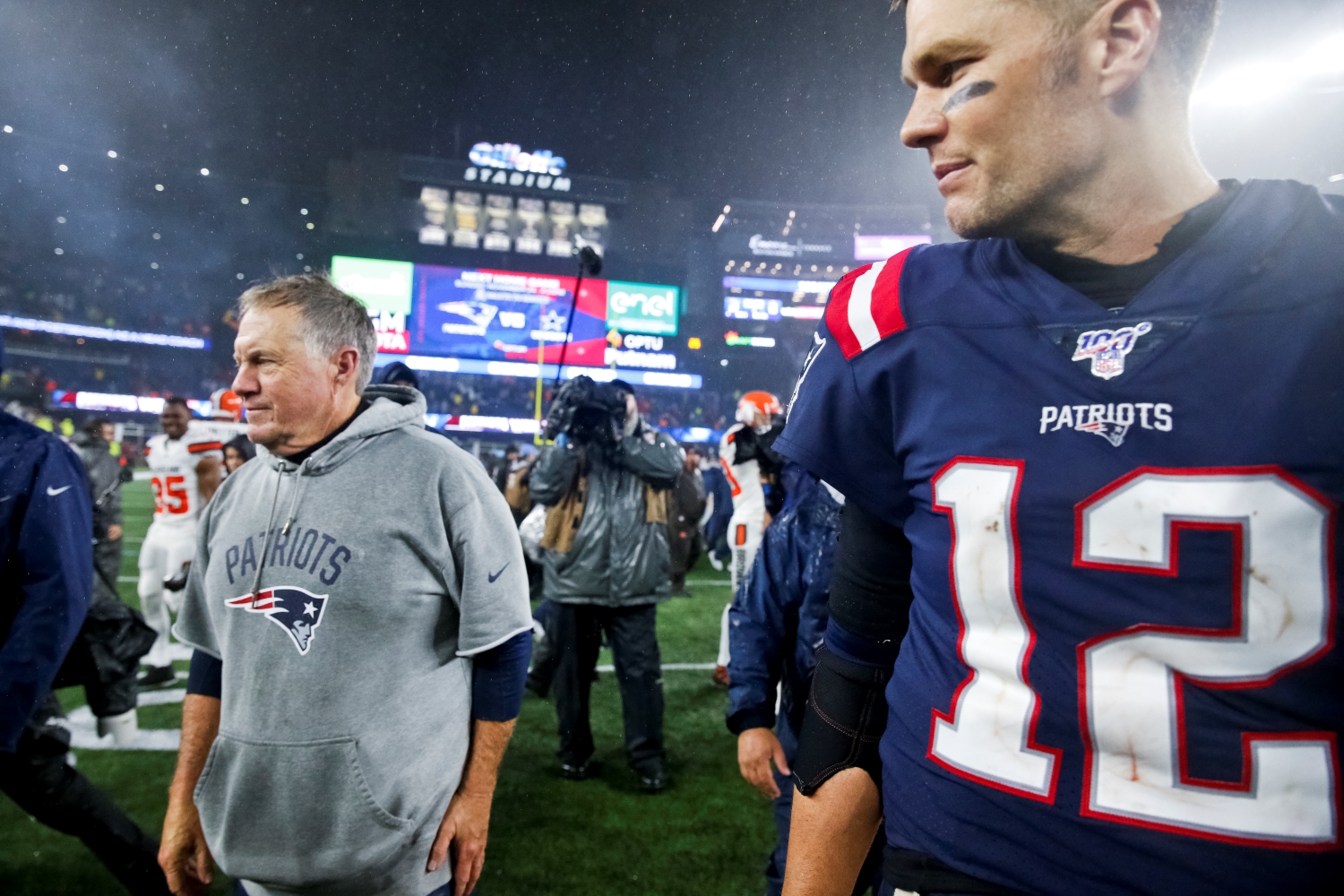 As the person in charge of making all football-related decisions in Foxborough, the fact Brady never got a long-term deal falls squarely on Belichick's shoulders. He could have set his ego aside and signed the greatest quarterback of all time to a multi-year deal that would have cemented his status as a lifelong Patriot.
Instead, Belichick gave Brady the opportunity to walk by letting him become a free agent after the 2019 season. But let's not pretend like the concept of the five-time Super Bowl MVP having "options" really existed.
At least, not the way Belichick is trying to spin it.
Shortly after Brady signed a two-year, $50 million contract with the Buccaneers, Ian Rapoport of the NFL Network provided clarity on what went down in New England.
"The #Patriots likely would have done this contract, though Tom Brady never came to them with his desire to return. So there was no offer from NE. In the end, only the #Bucs and the #Chargers made offers. The #Raiders sat it out, as well, never offering Brady a deal," Rapoport tweeted.
If the Patriots never made Brady an offer, what option did he actually have that would have kept him in New England? Sure, he reportedly didn't come to the team "with his desire to return," but why did it even get to that point? Belichick let the situation play out exactly as he wanted, and he showed Brady everything he needed to know by refusing to make an exception for perhaps the best athlete in the history of team sports.
Did the superstar signal-caller want a change of scenery?
After dealing with Belichick for two decades, perhaps that was the case.
On the other hand, Brady seemed on board with finishing his career in a Patriots uniform before his head coach essentially showed him the door. At the end of the day, Belichick had ample opportunity to admit he was wrong and invest in TB12's future. If his perspective never changed, then why didn't he maintain continuity at the most important position in sports and give his best player a well-deserved extension?
As much as he wants to make it look like it's Brady's fault for the way things unfolded, that's a flat-out lie. It didn't have to be this way if Belichick had taken a different approach to handling a living legend.
And until he figures out how to win without Tom Brady, Bill Belichick will continue to face criticism and scrutiny for a decision that's proved costly on so many levels.
Like Sportscasting on Facebook. Follow us on Twitter @sportscasting19.