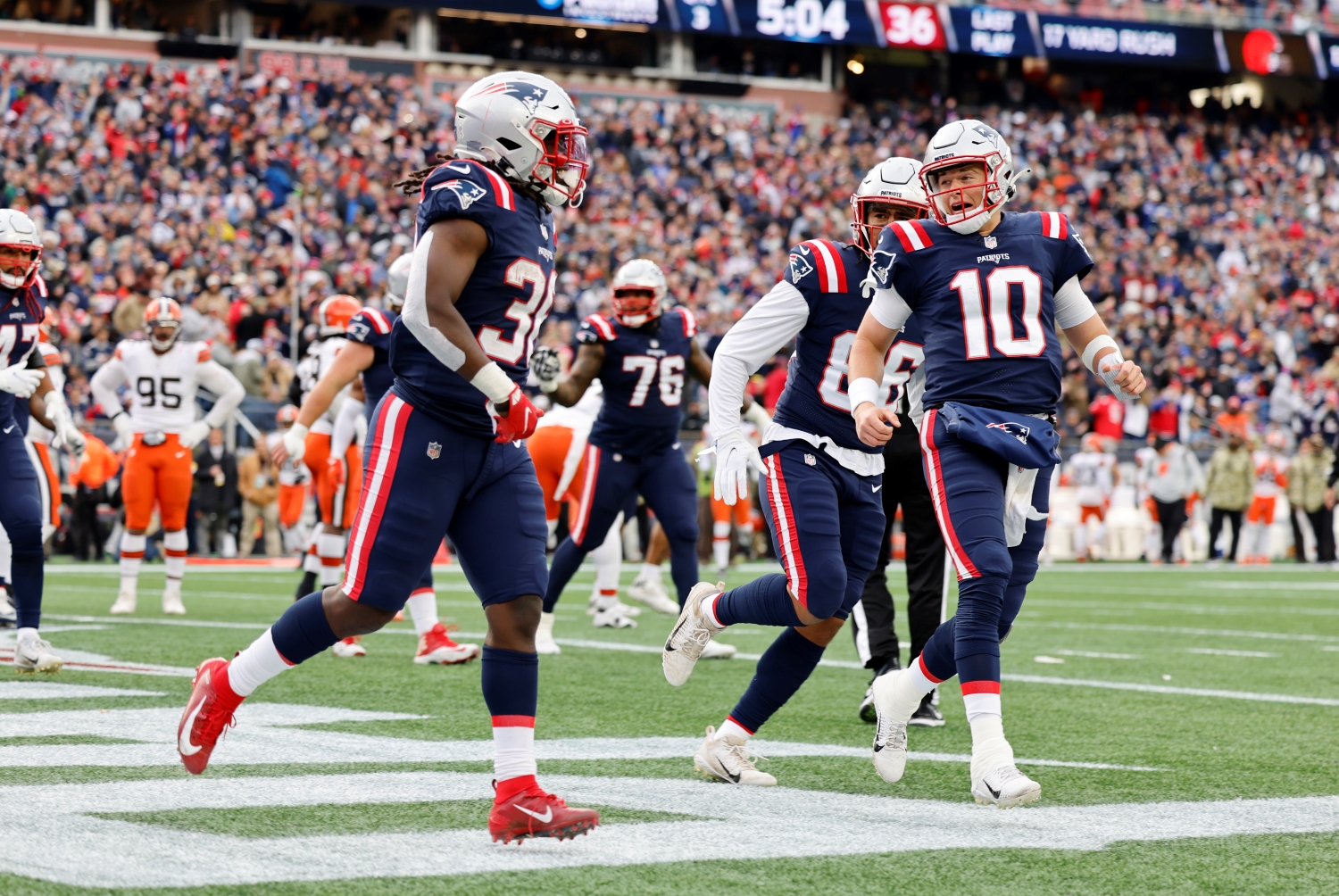 Bill Belichick Can Thank a Talented Trio For Transforming the Patriots From Pretenders to Legitimate Super Bowl Contenders
A talented trio of first-year players has drastically altered the future of football in Foxborough. Can the Patriots win a Super Bowl sooner than expected?
Bill Belichick invested significant financial resources this offseason to bring a few new faces to Foxborough. To this point, outside linebacker Matthew Judon (9.5 sacks, 19 quarterback hits) has been worth every penny of his four-year, $56 million deal. Meanwhile, tight end Hunter Henry has provided excellent early returns on his three-year, $37.5 million deal by hauling in a team-high seven touchdowns on 42 targets. Plus, former San Francisco 49ers wideout Kendrick Bourne, who currently paces all Patriots pass catchers with 520 receiving yards, looks like a savvy signing, too. 
But as much help as those veterans have provided, New England suddenly seems more dangerous than ever thanks to a talented trio of rookies. 
Although Belichick has made some poor draft decisions in recent years, it's abundantly clear he and his staff put together a franchise-altering class in April by securing three instant-impact prospects who've transformed the Patriots from pretenders to legitimate Super Bowl contenders. 
A four-game winning streak has drastically changed the course of the Patriots' season 
Remember when the Patriots seemed on track to miss the playoffs for the second straight year? 
Just over a month ago, the odds of Belichick coaching a big game in January didn't look promising. However, following a 2-4 start that included hard fought losses to the Tampa Bay Buccaneers and Dallas Cowboys, New England has been arguably the hottest team in the NFL. 
Winners of four straight, the six-time Super Bowl champions have climbed up power rankings and the AFC East standings. With defensive-driven road wins against the Los Angeles Chargers (27-24) and Carolina Panthers (24-6) sandwiched between high-powered home victories over the lowly New York Jets (54-13) and Cleveland Browns (45-7), the Patriots have shown they can come out on top in different ways. 
In the driver's seat to earn a Wild Card berth, they still have to face the Buffalo Bills twice, making it entirely possible for the division crown to end up in the hands of Belichick's squad. 
Of course, the team wouldn't be in such a strong position to contend for a title without three terrific rookies.
New England's talented rookie trio deserves credit for helping the team become a contender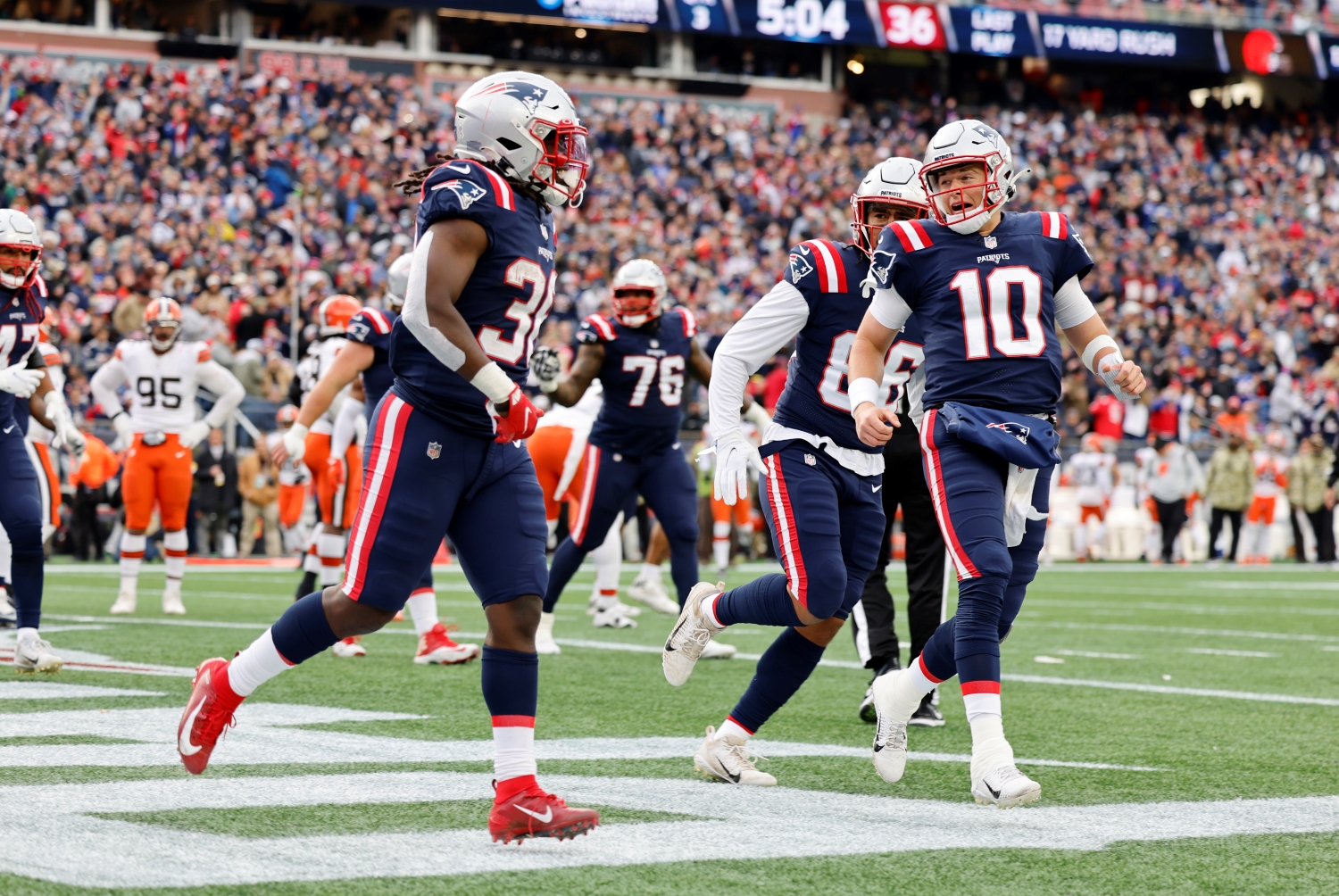 Have the Patriots benefitted from free-agent additions? 
Absolutely. 
Judon's ability to harass quarterbacks, Henry's penchant for getting open in the red zone, and Bourne's explosive athleticism have all factored into New England's 6-4 record. 
However, it's impossible to ignore the contributions from three talented players who officially became professional athletes just over six months ago. 
Despite being the fifth quarterback selected in the opening round of the 2021 NFL Draft, Mac Jones has easily been the best of the bunch. Widely viewed as a pro-ready passer with plus accuracy and underwhelming measurables, the 6-foot-3, 217-pound signal-caller has quickly shown why Nick Saban entrusted him to run Alabama's offense. After a solid but unspectacular start to the season, Jones has shown marked improvement, which shouldn't be a surprise given the improved play of the offensive line. 
Ironically, the Patriots have undergone a total transformation over the last month or so due in large part to another ex-Crimson Tide standout. Christian Barmore may have slipped in the draft due to work ethic concerns, but he's quickly become a game-wrecking force by doing his job and making strides on a weekly basis. Tipping the scales at 6-foot-4, 314 pounds, the big-bodied defensive tackle has used his rare combination of size, strength, and explosive power to ruin running plays and disrupt the passing game. 
In addition to the dynamic duo out of Alabama, another first-year player from a big-name program has shown impressive development thus far: Rhamondre Stevenson. A physically gifted running back with excellent size (6-foot, 226 pounds) and uncannily quick feet, he's made a major impact both as a runner and as a pass-catching option out of the backfield. The fourth-rounder out of Oklahoma has totaled 236 rushing yards, 111 receiving yards, and three touchdowns on 66 touches. 
In Sunday's win over the Browns, the promising rookie stepped up for a Patriots team that didn't have starting running back Damien Harris available due to a concussion. Even though Stevenson didn't practice all week because of a concussion he suffered against the Panthers, he showed no ill effects.
In fact, he delivered a dynamite performance that ensured he will remain a key part of the offense moving forward. 
The development of young players should have Patriots fans excited about what lies ahead
Between Jones, Barmore, and Stevenson, the Patriots appear to have found a franchise quarterback, an anchor for the middle of their defense, and an every-down running back.
Needless to say, they assembled quite a 2021 draft class. 
Looking head, it's hard not to get excited about the potential of this team. Jones and the offense continue to grow more comfortable, and the return of Trent Brown makes the unit even more formidable. With Josh McDaniels firing on all cylinders and finding creative ways to utilize the team's array of skill players, don't be surprised if New England finishes the year as a top-five offense. 
Meanwhile, it's no coincidence the defense has taken a massive leap step forward as Barmore's role has increased. He's added a different dimension to a front seven that largely features strong, physical players who lack elite quickness and speed. And if the rookie continues to progress during the second half of the Patriots' schedule, it's scary to envision what the defense could look like come playoff time. 
Ultimately, if Bill Belichick wants to add another Super Bowl ring to his collection, he needs battle-tested veterans like Devin McCourty, Dont'a Hightower, Kyle Van Noy, and David Andrews to provide leadership and clutch plays in key situations. He needs recent additions like Judon, Henry, and Bourne (plus Jonnu Smith and Nelson Agholor) to be consistent contributors and trust the coaching staff to put them in positions to succeed. And he needs new faces like Jones, Barmore, and Stevenson to keep progressing and making plays on a weekly basis. 
Will all that happen this year? 
Only time will tell. 
But with how things have gone since a Week 6 loss to the Cowboys, it's clear the Patriots are building something special. 
All statistics courtesy of Pro Football Reference.