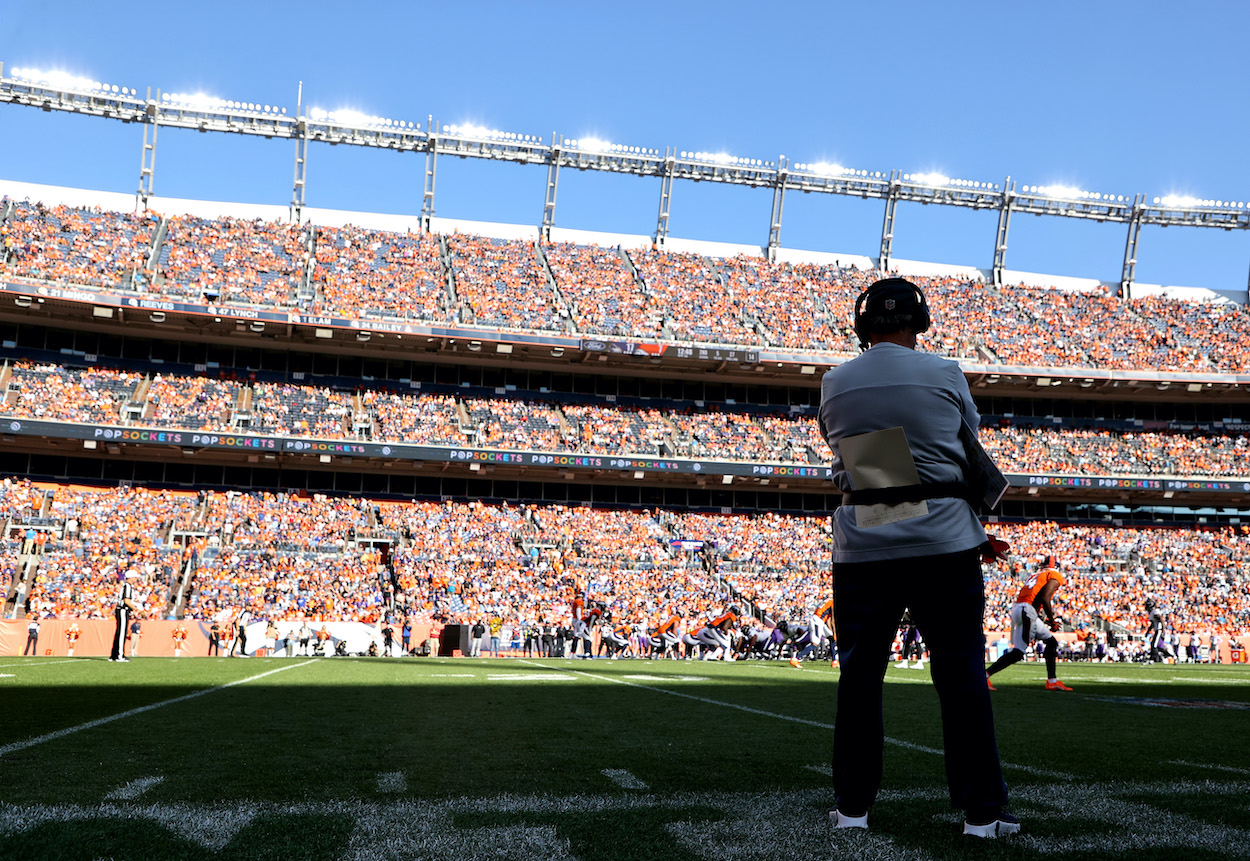 ESPN Analyst Dan Orlovsky is on a Hot Streak Predicting Which NFL Coaches Will Be Fired Next, and That's Bad News for 1 AFC Head Man
Former NFL QB and ESPN analyst Dan Orlovsky has predicted several NFL head coach firings, and he thinks a certain AFC coach may be next.
As the losses pile up for head coach Vic Fangio and the Denver Broncos, his seat is becoming increasingly hot. He currently is among the NFL coaches with the best odds to be fired next. Even worse for Fangio might be that ESPN analyst Dan Orlovsky thinks he could get canned. The former pro quarterback has an impressive track record recently of calling which coaches will lose their jobs of late.
The Denver Broncos started fast but have struggled of late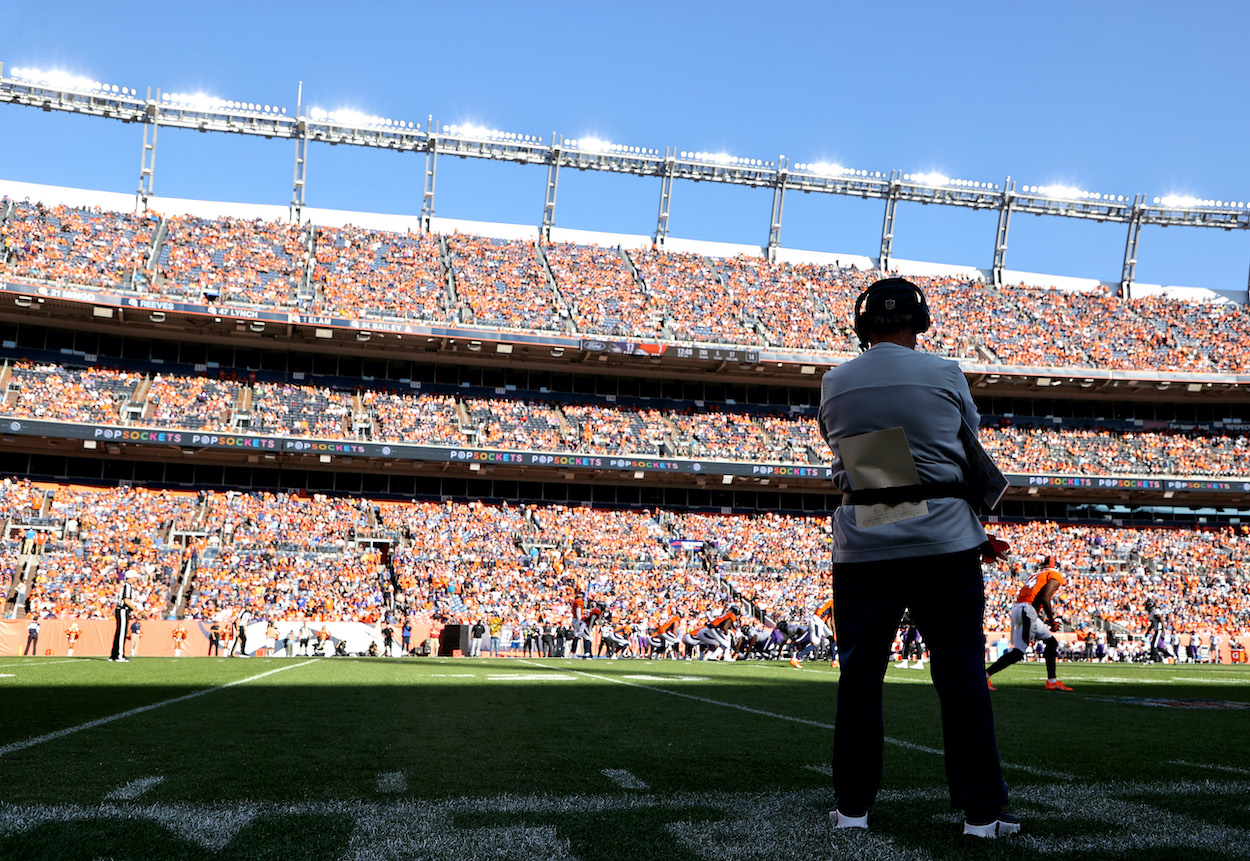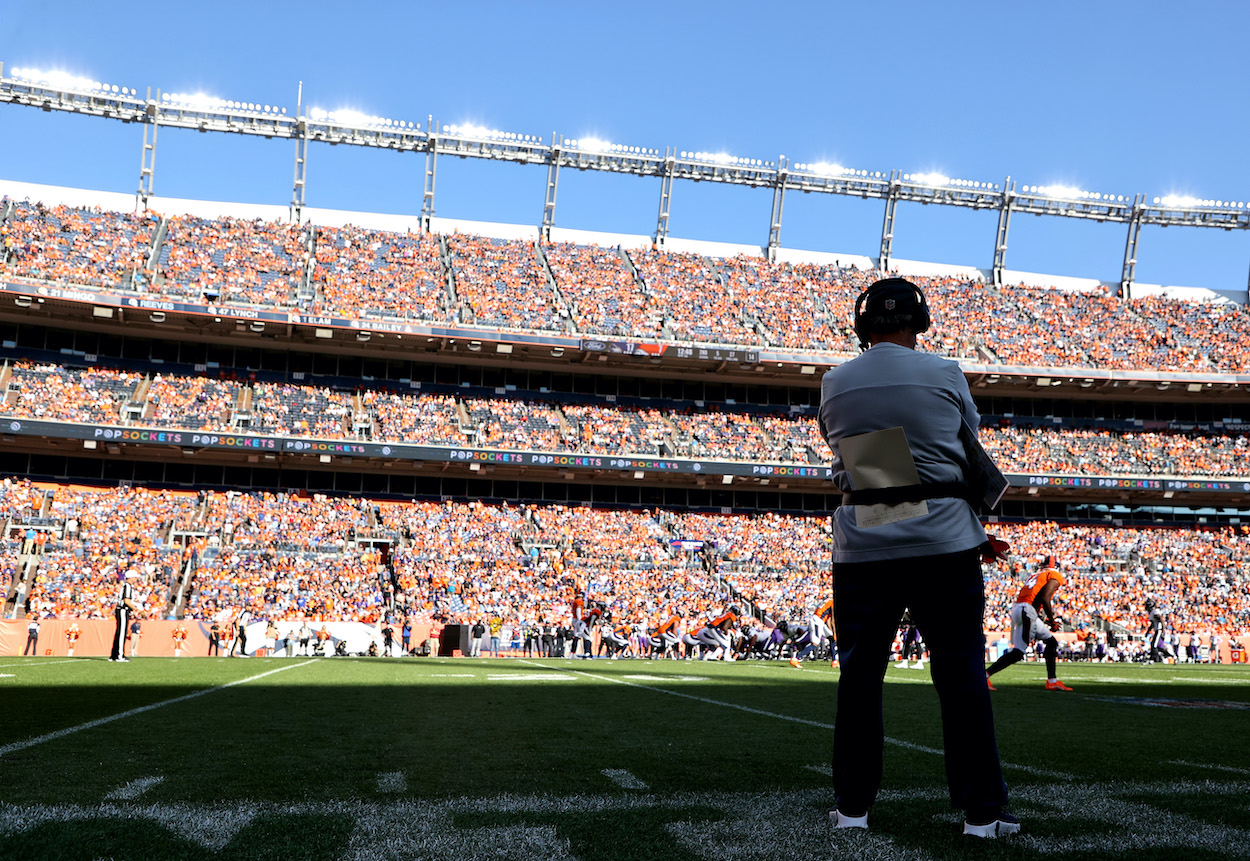 The Denver Broncos started the 2021 season looking great. After the first three games of the season, the team was undefeated.
Denver's fast start was a bit of a mirage, though. The three teams that the Broncos beat were among the three worst teams in the NFL. The victories came over the New York Giants, Jacksonville Jaguars, and New York Jets.
After this early-season cakewalk, the schedule got much harder for head coach Vic Fangio's squad. The more difficult scheduled included the Baltimore Ravens, Pittsburgh Steelers, Las Vegas Raiders, and Cleveland Browns. This stretch produced four straight losses for Denver.
Now at 3-4, the Broncos went from the top of the AFC West to last place.
Prior to Thursday's loss to the Browns, Denver was 23rd in the league in scoring offense. And, while they were in the top 10 in both scoring defense and yards allowed, the highly-regarded D is in the bottom third in takeaways with just six on the season.
In his third season as head coach, Fangio's record has now dropped to 15-24, a 38.5% winning percentage.
After having just three head coaches in 28 years between 1981 and 2008 (Dan Reeves, Wade Phillips, Mike Shanahan), the franchise has had five in the last decade (Josh McDaniels, John Fox, Gary Kubiak, Vance Joseph, and Fangio).
Like many NFL teams, the Broncos organization has become more impatient than ever recently. That's something that Fangio should worry about, according to ESPN analyst Dan Orlovsky.
Orlovsky thinks Denver Broncos coach Vic Fangio could be next 
Former NFL QB and current ESPN analyst Dan Orlovsky joined the Pat McAfee Show on Friday, following the Denver Broncos loss to the MASH unit that is the Cleveland Browns.
Orlovsky broke down the Broncos' loss to the banged-up Browns on Thursday Night Football. He admitted that injuries to wide receivers Jerry Jeudy and K.J. Hamler hurt the team, as did missing key linebackers, Baron Browning and Aaron Patrick.
However, he also submitted that "if Vic Fangio is going to continue to be the head coach and defensive coordinator, the defense has gotta play better." He also noted that "Vic Fangio's calling card had been defense, and it's not getting done."
After that analysis, Pat McAfee told the former UConn Husky, "I'm happy you didn't just take to the internet last night and go, 'fire Vic Fangio.' That's kind of been your move this season."
Orlovsky responded by touting his impressive record of predicting NFL coach firings:
Well, I was right on Matt Nagy. He fired himself that week as a play-caller. I was right when I said you gotta fire Freddie Kitchens. They fired him. I was right when I said fire Adam Gase. They fired him. I was right with the Jon Gruden stuff, unfortunately. That's not a bragging thing. They had to move on from him. Everyone knew that.

Dan Orlovsky on the 'Pat McAfee Show'
This all sounds like bad news for Fangio.
Who will be the next NFL coach fired?
If Vic Fangio is not the next NFL coach fired (or first coach fired since Gruden technically resigned), then who is?
Coaches like Arizona's Kliff Kingsbury, Cincinnati's Zac Taylor, and the preseason betting favorite, Dallas' Mike McCarthy, all have their teams playing exceptionally well and are no longer in the running to get the in-season boot.
According to OddsShark, Jacksonville's Urban Meyer (+100 — who finally got his first NFL win two weeks after his scandal broke — is the current favorite to become the next ex-NFL coach. There are two other coaches ahead of Vic Fangio (+900) as well. These coaches are Chicago's Matt Nagy (+250) and New York Giants head coach Joe Judge (+400).
The next group is interesting. Although they have longer odds, both have a real chance of getting fired prior to Week 18. Minnesota's Mike Zimmer (+1200) is 3-3, but social media lights up with #FireZimmer tweets after every Vikings game, win or lose. Miami's Brian Flores (+1800) should be safe, even at 1-5, because of the QB situation. However, with impatient owner Stephen Ross, you never know when the hammer could fall.
While the next coach fired will likely come from the names above, what the Gruden scandal taught us is that, in 2021, you just never know what could come out that costs an NFL coach their job.
All stats courtesy of Pro Football Reference