Vic Fangio Sees a Little Bit of Tom Brady in the Broncos' Likely Starting Quarterback
The Denver Broncos are a step – in the pocket, of course – closer to learning for themselves which Teddy Bridgewater they're getting on their two-deep: The guy who might not have been as good as the 11-5 record with the Minnesota Vikings suggested in 2015 or the one who was almost certainly better than the 4-11 mark with last season's Carolina Panthers.
Teddy Bridgewater is moving closer to the Broncos' starting job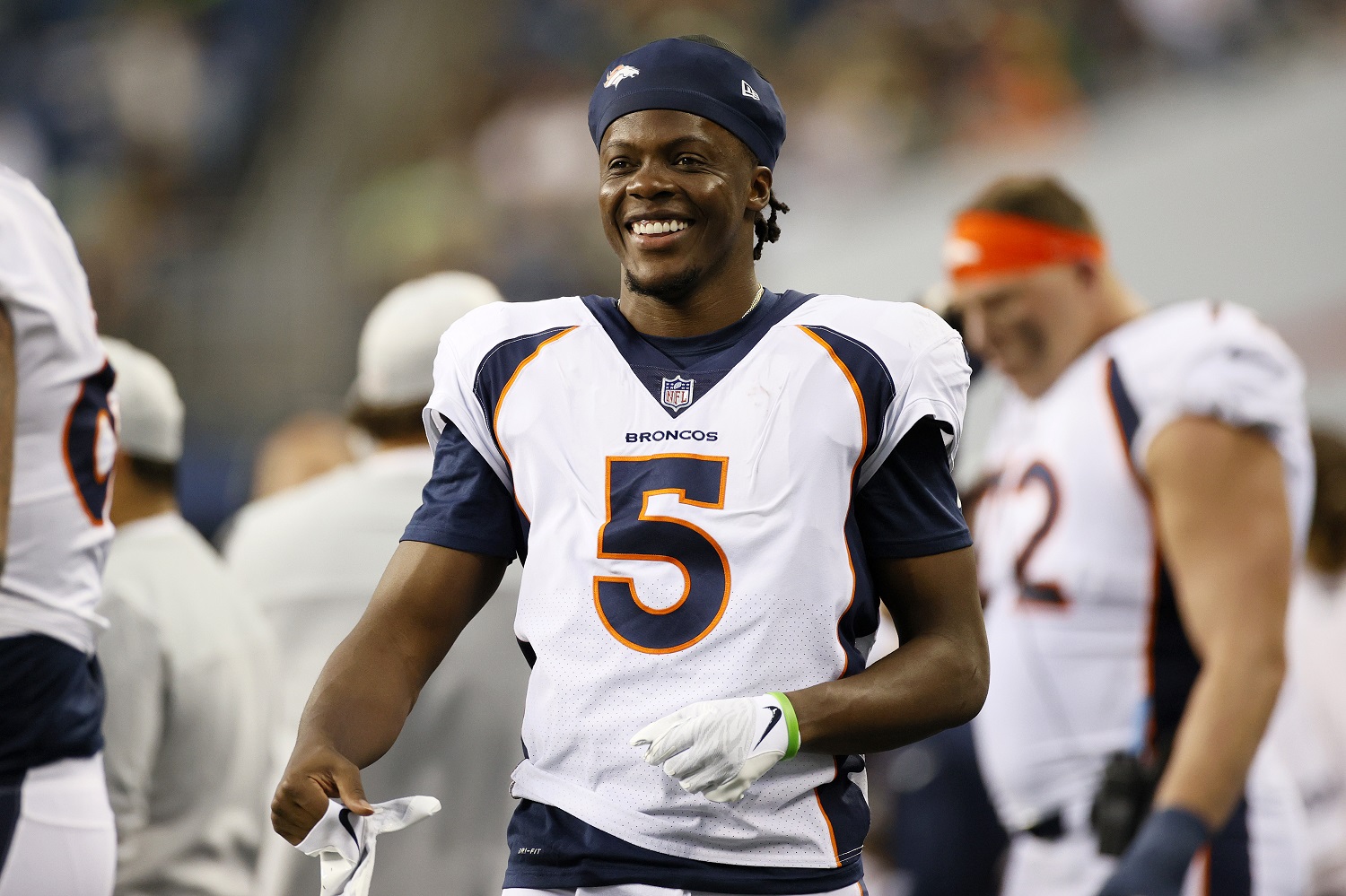 Bridgewater only played two series in the Broncos' 30-3 dismantling of the Seattle Seahawks in the second full weekend of the NFL preseason. He completed 9 of 11 passes for 105 yards and a score, directing Denver to a pair of touchdowns against what passed for a first-string defense.
Drew Lock, the other contender for the starting job, completed 9 of 14 attempts for 80 yards after shaking off back-to-back sacks. He's trying to erase memories of his 2020 season, during which the Broncos' second-round pick in the 2019 NFL Draft threw a league-worst 15 interceptions.
Bridgewater fell out of favor one season into a three-year, $63 million contract. His ratio of 15 touchdowns to 11 interceptions wasn't great, but any honest evaluation of his work should include the fact that Bridgewater stayed on his feet (31 sacks in 15 games) and compiled a 92.1 passer rating.  If the Panthers were failing in the red zone, it's not like he alone suddenly forgot what was working along the other 80 yards of the field.
Vic Fangio sees a little bit of Tom Brady in Teddy Bridgewater
"Teddy played well, obviously. You guys saw it," third-year Broncos head coach Vic Fangio said following the preseason game. "Some of his good plays were hard quarterback plays, where he had to manipulate the pocket, step up, step laterally, wait for something to come open late. I thought he did really well."
Bridgewater is the likely favorite to start at quarterback in Week 1 at the New York Giants on Sept. 12, though Fangio isn't committing just yet.
Still, a point that Fangio raised after Saturday's victory bears remembering.
"There's two types of elusive quarterbacks – ones that run around, and there's the other ones that manipulate the pocket to buy time. The best of that in the past 20 years has been Tom Brady, and (Bridgewater's) got a little of that in him, as far as manipulating the pocket."

Vic Fangio
The last time we looked, it has been a long time since Tom Brady came out on the losing end of a quarterback competition.
The smart money is on the veteran
There's no rule that says he has to keep the job throughout the season, but Bridgewater makes sense as the Week 1 starter. Though the Panthers are picking up more than $7 million of the tab, he is earning $11.5 million this season. As such, the Broncos will want to see enough of him in live action to decide what to do with Bridgewater in 2022.
If Bridgewater bombs, Denver can cut him loose and will only be out a sixth-round pick while still having Lock under contract for next season. But Bridgewater, 28, has put the catastrophic knee injury shortly before the 2016 opener behind him. If he proves himself this fall, then the Broncos should will their money on him rather than Lock.
Like Sportscasting on Facebook. Follow us on Twitter @sportscasting19.