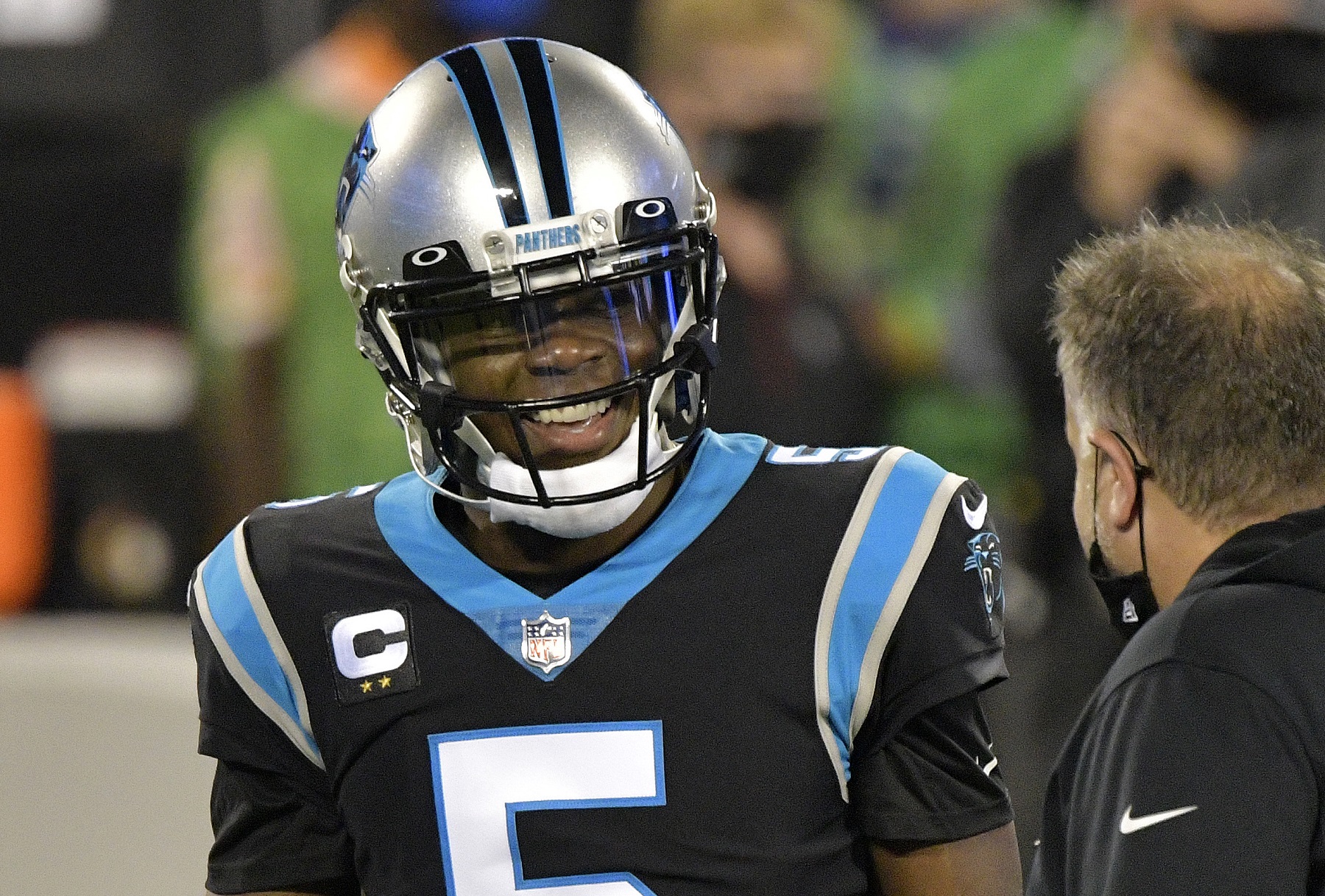 Teddy Bridgewater Began His NFL Career With a $1 Million Mistake
A decision about his pro-day workout at the University of Louisville may have cost Teddy Bridgewater a lot of money in 2014.
One would be hard-pressed to find a man who has more NFL players and fans pulling for him than Teddy Bridgewater. The seventh-year pro quarterback has pulled off one of the most startling comebacks in recent memory and has given Carolina Panthers reason to believe they can compete for a playoff berth this fall.
Teddy Bridgewater has succeeded at every level
Teddy Bridgewater went 32-8 as the quarterback at Northwestern High in Miami, consistently one of the best large-school football programs in Florida. Widely regarded as among the nation's best dual-threat quarterbacks, he accepted a scholarship to the University of Louisville.
Bridgewater's improvement from 2011-13 could be seen in his statistics. His completion percentage and passer rating crept up each season while interceptions fell from 12 to eight to four. He threw for 3,970 yards and 31 touchdowns as a junior, and his final effort was a 447-yard game against the University of Miami, his hometown school, in the Russell Athletic Bowl.
Bridgewater passed up his final season of college eligibility to enter the 2014 NFL draft. The Minnesota Vikings, ready to move on from three unsettled seasons after Brett Favre's departure, made Bridgewater the final pick of the first round.
Bridgewater won the job as the starter early in his rookie season, and the pattern the growth that his Louisville coaches witnessed continued. He threw for 2,919 yards as a rookie and then 3,231 in 2015 while leading Minnesota to its first playoff appearance in three years. His interception rate dropped by 33% between seasons.
Sadly and shockingly, that was the end of his career with the Vikings for all practical purposes. Bridgewater sustained a serious non-contact injury to his left knee at practice a week before the 2016 season, tearing the ACL and dislocating the joint. Realizing that Bridgewater would be lost for at least a year, the Vikings made a trade with the Philadelphia Eagles for Sam Bradford.
Bridgewater wouldn't make it back onto the field again until a brief appearance late in the 2017 season, but it marked the end of his Vikings career.
The rehabilitation was a success
The New York Jets signed Teddy Bridgewater as a free agent in 2018 but traded him to the New Orleans Saints shortly before the season. He started one game that year before being called upon to make five starts in 2019 while Drew Brees recovered from an injury. Bridgewater won those five games and threw for 1,384 yards and nine touchdowns for the season to set himself up as a coveted free agent.
Having decided that they wouldn't stick with Cam Newton following an injury that limited him to two games in 2019, the Carolina Panthers signed Teddy Bridgewater for $63 million over three years, with more than half of it guaranteed.
Although Carolina started the season with four losses in seven games, the Bridgewater acquisition looks like a great move. Bridgewater, 27, is completing 72.2% of his passes for 1,930 yards with eight touchdowns. He has been doing much of the damage minus Christian McCaffrey, who hasn't played since Sept. 20 because of injuries.
The $1 million mistake in Teddy Bridgewater's career
If he could change one thing about his career other than the knee injury that nearly ended his career, Teddy Bridgewater would probably want a do-over for his pro day at the University of Louisville.
It goes against convention, but Bridgewater has worn high-grip gloves on both his slightly smallish hands since shortly after arriving at Louisville. Realizing that NFL scouts and coaching staffs were accustomed to barehanded throwers, Bridgewater discarded the gloves for his pro day and did not perform well.
Coupled with his sub-par times in the 40-yard dash at the NFL Scouting Combine, the decision to not wear the gloves arguably dropped Bridgewater out of the top half of the first round. The Vikings, who saw him throw with gloves in a private workout, took him with the last pick of the first round.
How much did that pro day cost Teddy Bridgewater?
Though Blake Bortles was rated the rest of the 2014 quarterback crop and went No. 3 overall to the Jacksonville Jaguars, Johnny Manziel was easily the biggest name among signal-callers following his thrill-a-minute career at Texas A&M. The Cleveland Browns selected Manziel at No. 22 – a decision that they would come to regret fairly quickly – and signed him to a four-year contract valued at $8.24 million.
Bridgewater landed in Minnesota 10 picks later and signed for $6.85 million over four years. He may not have gone to the Browns, but it's likely a team – perhaps even the Vikings – would have moved into the first 20 or so picks to take Bridgewater had the pro day not scared them off.
All stats courtesy of Pro Football Reference.