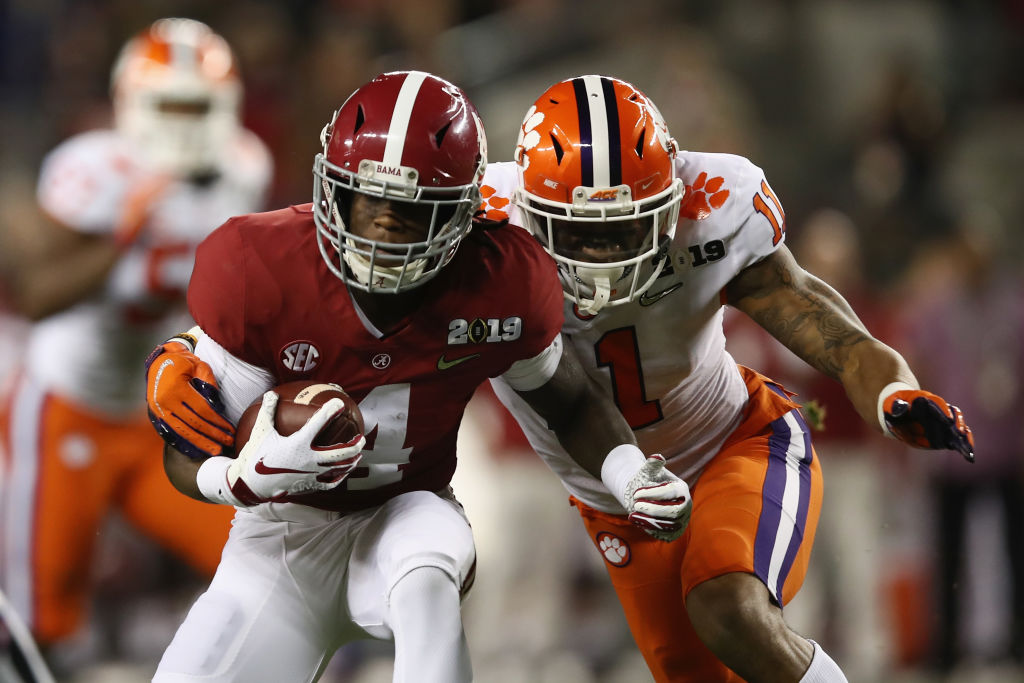 The Minnesota Vikings Need a Receiver in the NFL Draft in the Worst Way
Trading Stefon Diggs last month leaves the Minnesota Vikings with the need for a top receiver like Jerry Jeudy of Alabama in the NFL Draft.
NFL quarterbacks threw for 68 miles and change during the 2019 season as the passing game remained alive and well. If the Minnesota Vikings are going to participate in that facet of the offense this fall, then they would be best advised to take at least one top wide receiver in the NFL Draft next week.
The Minnesota Vikings made a savvy trade, but …
The Minnesota Vikings decided that Stefon Diggs had to go. As talented as the wide receiver is, he was becoming a headache with his social media posts hinting at dissatisfaction with the organization, which has moved toward a run-centric scheme featuring Dalvin Cook.
Diggs was given a lucrative contract extension in 2018 and mostly played up to it with back-to-back 1,00-yard seasons and 15 total touchdowns. That at least left the Vikings in position to command a premium once the decision was made to put Diggs on the market.
The found a generous trade partner in the Buffalo Bills, who gave up four draft picks, including their first-rounder next week, for Diggs plus a seventh-rounder that one can speculate was thrown in by the Vikings out of a sense of guilt.
Now comes the tough part. Buffalo's first-, fifth-, and sixth-round draft picks this year will come in handy, but the Vikings already had holes to fill on both of their lines. And now the list of needs includes a ready-to-start wide receiver and another who can be their No. 3 or 4 guy.
What's left on the Minnesota Vikings' depth chart?
Salary-cap relief was a secondary motive for the Minnesota Vikings to trade Stefon Diggs in the offseason. Between Diggs and Adam Thielen, the team had more than $20 million tied up in receivers at a time in which running back Dalvin Cook's legs are at least as valuable to them as quarterback Kirk Cousins' throwing arm.
Thielen will turn 30 by the start of his seventh NFL season and has plenty of tread left on his tires despite an injury that led to him missing six games last season. He caught a combined 204 balls in 2017-18 and is presumably good for 75 or more this fall as the de facto No. 1 receiver.
The concern for Vikings fans as the NFL Draft approaches is that the receiving corps behind Thielen looks thinner than a Girl Scouts mint cookie. Minnesota signed former Tennessee Titans receiver Tajae Sharpe to a bargain-basement deal – one year for $1 million – last month, but his career-best 522 yards as a rookie in 2016 qualifies him as backup equipment at best.
Plenty to choose from in the NFL Draft
The Vikings have to be in the market for at least one top rookie receiver early in next week's NFL Draft. Luckily, this year's crop of receivers is the deepest that anyone can recall, and they currently possess the 22nd, 25th, 58th, 89th, and 105th picks. Seven other picks over the final four rounds given them additional currency.
Draftniks think that five or six wideouts can be selected in the first round next week. But with first-round demand for quarterbacks and offensive tackles also high, at least one of the four-best receivers could still be there when it's time for Minnesota to make its first selection.   
The four receivers at the top of most draft lists seem to be CeeDee Lamb of Oklahoma, Justin Jefferson of LSU, and Alabama's Jerry Jeudy and Henry Ruggs III. Various mock drafts have also placed Denzel Mims (Baylor), Brandon Aiyuk (Arizona State), K.J. Hamler (Penn State), and Jalen Reagor (Texas Christian) in the first round.
Lamb be available long enough for the Vikings to grab him. But if Jeudy or Jefferson lasts that long, then the Vikings seemingly have to use a first-rounder for a receiver.
Jeudy averaged 17.1 yards on 145 catches and scored 24 touchdowns for the Crimson Tide over the past two seasons. Jefferson caught 111 balls and scored 18 touchdowns in his final season at LSU and would pose a matchup problem for opposing defenses as a slot receiver.