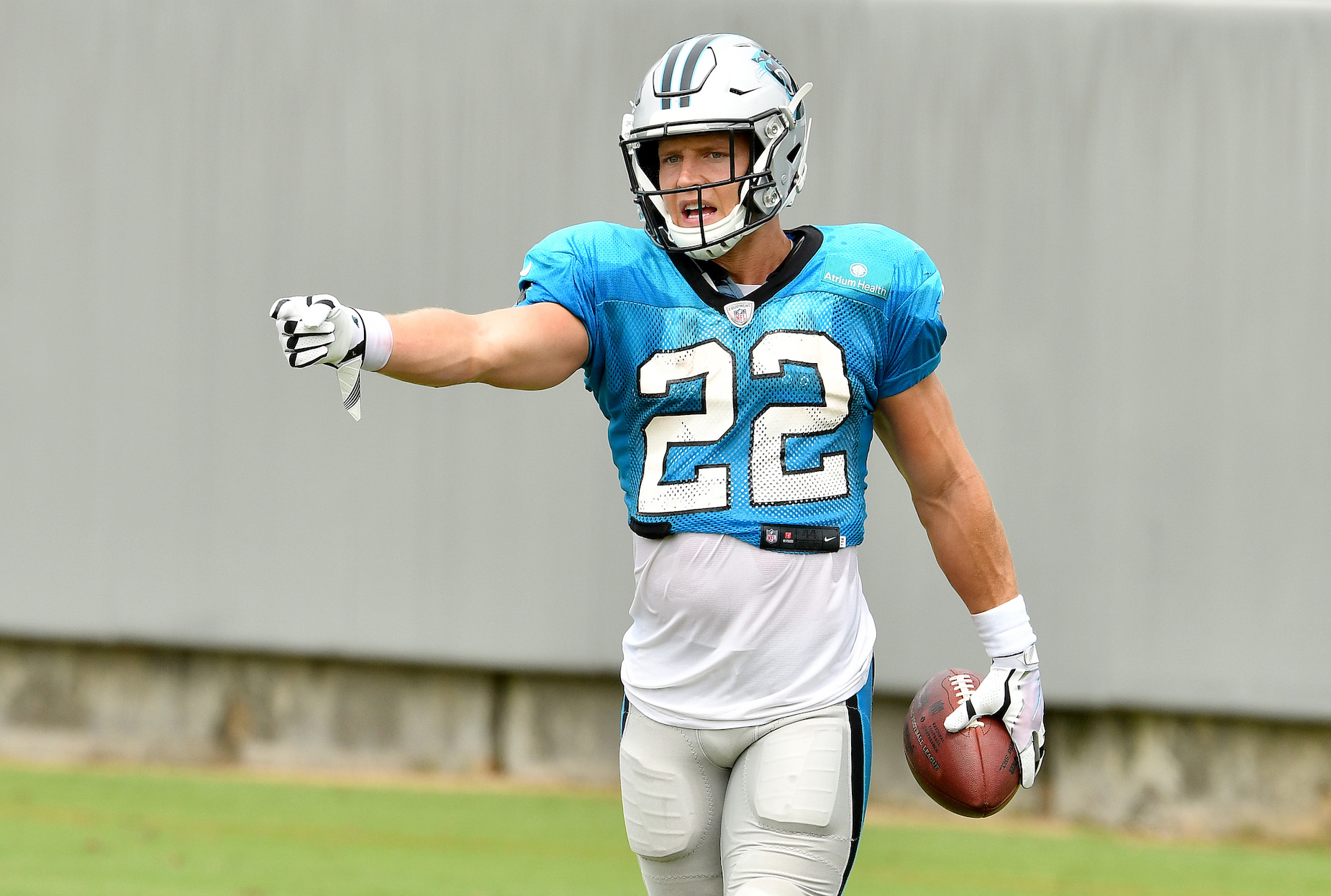 Christian McCaffrey 'Loved Quarantine' During His Offseason of Isolation
2020 was a year filled with social distancing, face masks, and isolation. Panthers running back Christian McCaffrey, however, came to love quarantine.
During the 2019 NFL season, Christian McCaffrey took the league by storm. While running backs have become less central to modern NFL offenses, no one told the Carolina Panthers star; he carried the ball and caught passes with equal ease, single-handedly keeping his team relevant and dominating the fantasy football landscape. Then, the coronavirus spread across the planet, becoming a pandemic.
Although offseason routines were placed on hold and social distancing became the norm, Christian McCaffrey didn't mind. In fact, the Panthers running back "loved quarantine" during his summer at home.
Christian McCaffrey's rise to NFL stardom
For years, Cam Newton was the face of the Carolina Panthers franchise. Last year, however, Christian McCaffrey announced himself as a legitimate star.
As the son of some supremely talented athletes, McCaffrey seemed destined for greatness. He made a name for himself as a football player and sprinter in high school; after graduation, he headed to Stanford.
While he didn't make many headlines as a freshman, McCaffrey exploded during his second season on campus. The running back did it all for the Cardinal 3,864 all-purpose yards and 18 total touchdowns; he posted strong numbers again as a junior, before entering the 2017 NFL draft.
McCaffrey joined the Panthers as the eighth-overall pick and quickly slotted into the lineup. He didn't get many carries out of the backfield, he still broke the 1,000-yard plateau thanks to receptions and kick returns. Come 2018, however, he stopped fielding kicks; his numbers promptly increased.
During the 2019 campaign, however, McCaffrey took his game to the next level. With Cam Newton out of the lineup, he shouldered the Panthers' offensive load; 1,387 rushing yards, 1,005 receiving yards, and 19 total touchdowns. His team rewarded him with a four-year, $64 million contract extension, making him the highest-paid running back in NFL history.
Coming to love quarantine
After becoming the highest-paid running back in league history, though, Christian McCaffrey didn't get to have a normal offseason. The coronavirus pandemic struck, keeping him away from his teammates.
According to a GQ feature by Drew Magary, McCaffrey split his lockdown between his Charlotte condo and his parents' Colorado home. Despite the less-than-ideal circumstances, he made the best of a tough situation. "When it came to training," the running back explained, "it was the best thing ever because I had no travel, so I was never interrupted."
In Colorado, McCaffrey would head to a local park and work out with his brothers; together, they worked through the finer parts of Matt Rhule's offense. The Panthers star even grew fond of his new, socially distanced lifestyle. "I started getting to the point where I loved quarantine," he explained. "Part of me has been trying to social distance myself for a long time now."
"I had never considered that upside for famous people during all this," Magary added. "For once, everyone has to leave them the f–k alone."
Even quarantine couldn't slow Christian McCaffrey down
Given the unconventional offseason, it would be understandable if NFL players were a bit slow during Week 1 of the regular season. Despite the Panthers' loss, Christian McCaffrey didn't miss a beat.
On Sunday, the running back was, unsurprisingly, at the heart of the Panthers' offense. He carried the ball 23 times, recording 96 rushing yards and two touchdowns; he also added three receptions for another 38 yards. It wasn't enough to secure a win, but, if one game is any indication, McCaffrey isn't slowing down after his break-out year.
It goes without saying that 2020 hasn't been the easiest year for anyone. Christian McCaffrey, however, made the best of a bad situation during quarantine; after working out in solitude over the summer, he's ready to put those efforts to good use.
Stats courtesy of Sports-Reference and Pro-Football-Reference