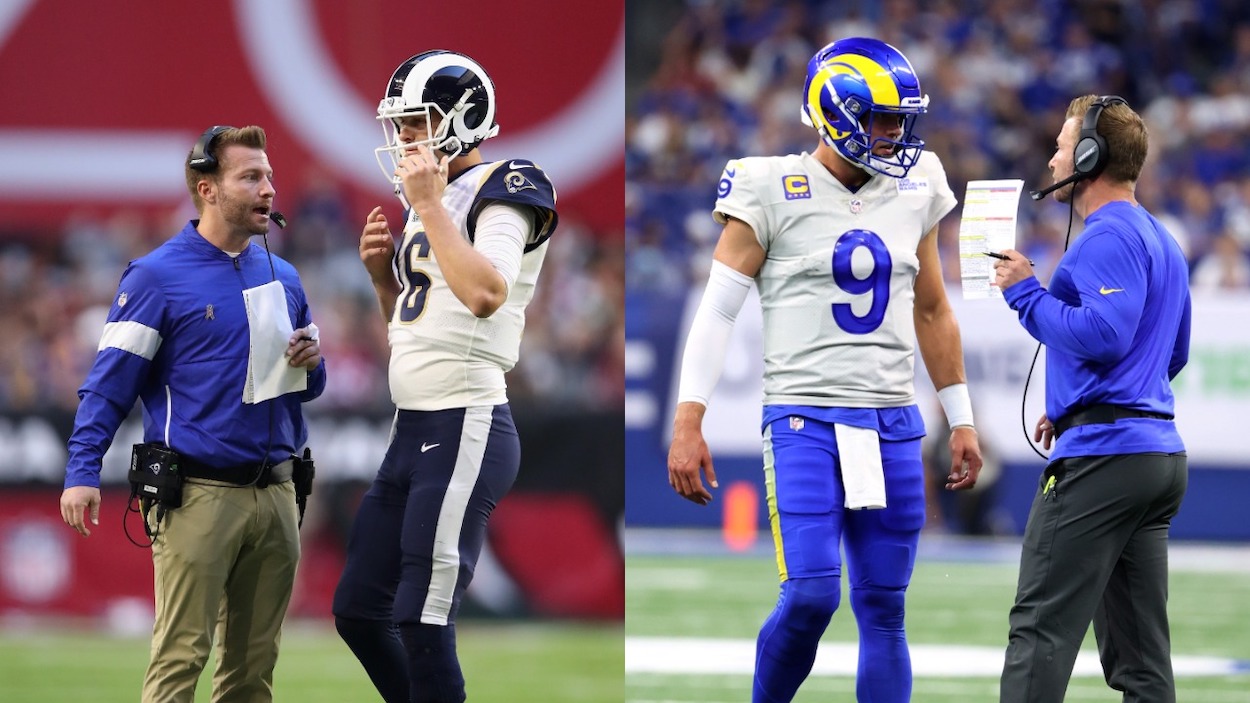 A Hollywood Reunion, an AFC Grudge Match, and Young Team's Gut Check: The 3 Most Intriguing Matchups of NFL Week 7
There are a lot of good teams on their bye this week but that doesn't mean there aren't some fascinating matchups on the NFL Week 7 slate.
Some of the league's best and most exciting teams are on a bye this week, with the Buffalo Bills, Dallas Cowboys, Jacksonville Jaguars, Los Angeles Chargers, Minnesota Vikings, and Pittsburgh Steelers all sitting out. This makes the NFL Week 7 schedule chock-full of matchups that only a true NFL fan could love. 
While most weeks provide storylines, drama, and head-to-head grudge matches, you have to dig pretty deep into this week's schedule to find the exciting tidbits. That said, there are still some games that warrant extra attention, so here are the three most intriguing matchups of NFL Week 7. 
Detroit Lions vs. Los Angeles Rams – Sunday, October 24, 4:05 p.m. EST, FOX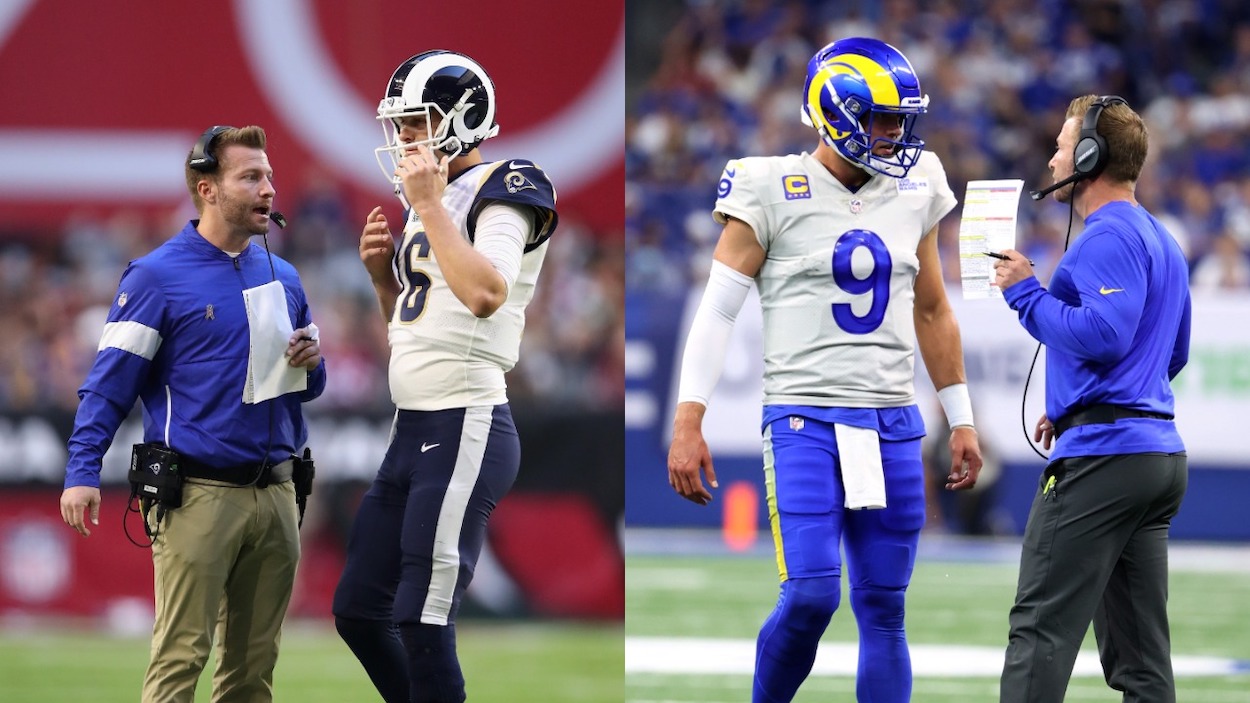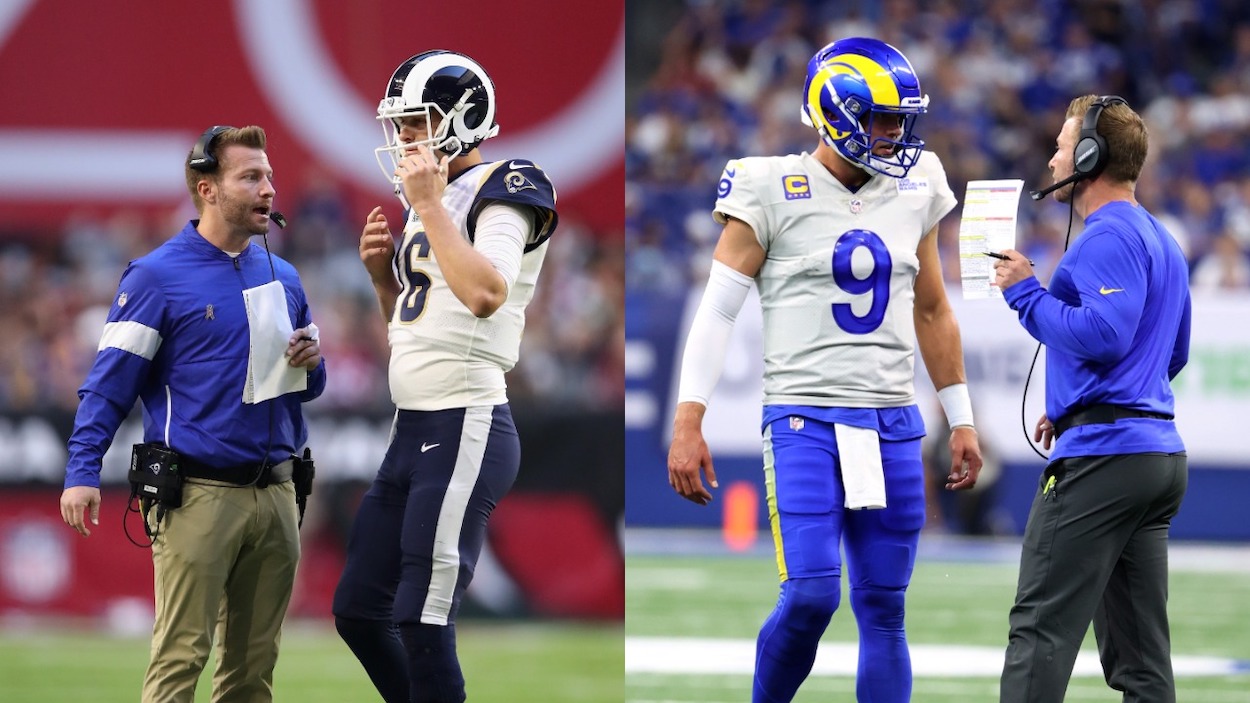 How does a 5-1 LA Rams team taking on a 0-6 Detroit Lions become one of the most intriguing matchups of the NFL Week 7 schedule? 
Well, the NFL is a coach and quarterback league, and the coaches and quarterbacks involved in this game are exceedingly interesting. 
The QBs switched spots in the offseason and changed the fates of two franchises. With Matthew Stafford leaving the Motor City and the below-average Jared Goff coming in, the Lions went from a lousy team that Stafford alone could drag to mediocre to just a flat-out bad team. 
On the other side of the equation, Stafford now turned the Rams from a team that won in spite of its signal-caller to a team that can win by dominating on both sides of the ball (and win when one side is struggling like the Rams D has been in early 2021). This makes LA a true Super Bowl contender. 
As far as coaches go, Sean McVay is the offensive boy genius who finally has a passer worthy of his play-calling brilliance. Plus, Goff has never won an NFL game away from McVay. 
On the other sideline, you have the new Motor City Mad Man, first-year Lions head coach Dan Campbell. Two weeks ago, he was crying for his team. Last week, he threatened Goff's starting spot. 
What will he do this week? There's no way of knowing, which makes this NFL Week 7 matchup all the more fascinating.
Cincinnati Bengals vs. Baltimore Ravens– Sunday, October 24, 1:00 p.m. EST, CBS
After a stunning overtime, Week 1 loss to the Las Vegas Raiders, the Baltimore Ravens have won their last five games. Ravens QB Lamar Jackson has been phenomenal in these last few games and is a top candidate to win his second NFL MVP Award. 
In short, Jackson and the Ravens are for real.  
Baltimore's AFC North rival Cincinnati Bengals are 4-2, just one game behind Jackson and company. With second-year sensation Joe Burrow, rookie phenom Ja'Marr Chase, and a (relatively) healthy Joe Mixon, the Bengals are off to their best start since 2018. 
That season is interesting because after the Bengals started 4-2, the team turned back into the "Bungles" and went 2-8 in their last 10 games. This team is different, and the offense — currently ranked 11th in the NFL — is dynamic. However, the Bengals are still the Bengals, right? 
This is a big-boy divisional game for Burrow and his squad. If they hope to challenge the Ravens for the division title or even vie for a playoff spot with the other top teams in the AFC, Cincinnati has to show up at The Bank in Baltimore this Sunday and, if not win, play well enough to show that they belong in the conversation. 
This NFL Week 7 matchup will go a long way to telling us more about the Bengals and determine whether the AFC North will be a battle or a Ravens walk. 
Kansas City Chiefs vs. Tennessee Titans – Sunday, October 24, 1:00 p.m. EST, CBS
Prior to the season, many football fans probably circled this NFL Week 7 matchup on their calendar. It features last season's 11-5 AFC South champs in the Tennessee Titans and the 14-2 AFC Super Bowl representative Kansas City Chiefs. 
Now, the matchup has lost some of its shine, but that just makes it more intriguing. 
The Chiefs are shockingly 3-3 and at the bottom of the AFC West. This season, they've taken care of lesser teams like the Cleveland Browns, Philadelphia Eagles, and Washington Football team. But, they've struggled and lost to the cream of the AFC crop: the Baltimore Ravens, LA Chargers, and Buffalo Bills. 
After an understandable loss to the still-undefeated Arizona Cardinals and an inexcusable loss to the lowly New York Jets, the Tennessee Titans may finally be rounding into form. Derrick Henry rumbled for 143 yards, and the defense held strong in big spots last week to beat the Bills. Coach Mike Vrabel's team might be back to their 2020 form. 
If Tennessee is indeed back for another playoff run, beating Kansas City will go a long way toward showing that. 
For KC, this is a must-win game. If Patrick Mahomes' squad drops to 3-4, they will be in real trouble, and the "what's wrong with the Chiefs?" questions will reach a fever pitch. That possibility alone makes this NFL Week 7 matchup worth tuning into. 
All stats courtesy of Pro Football Reference