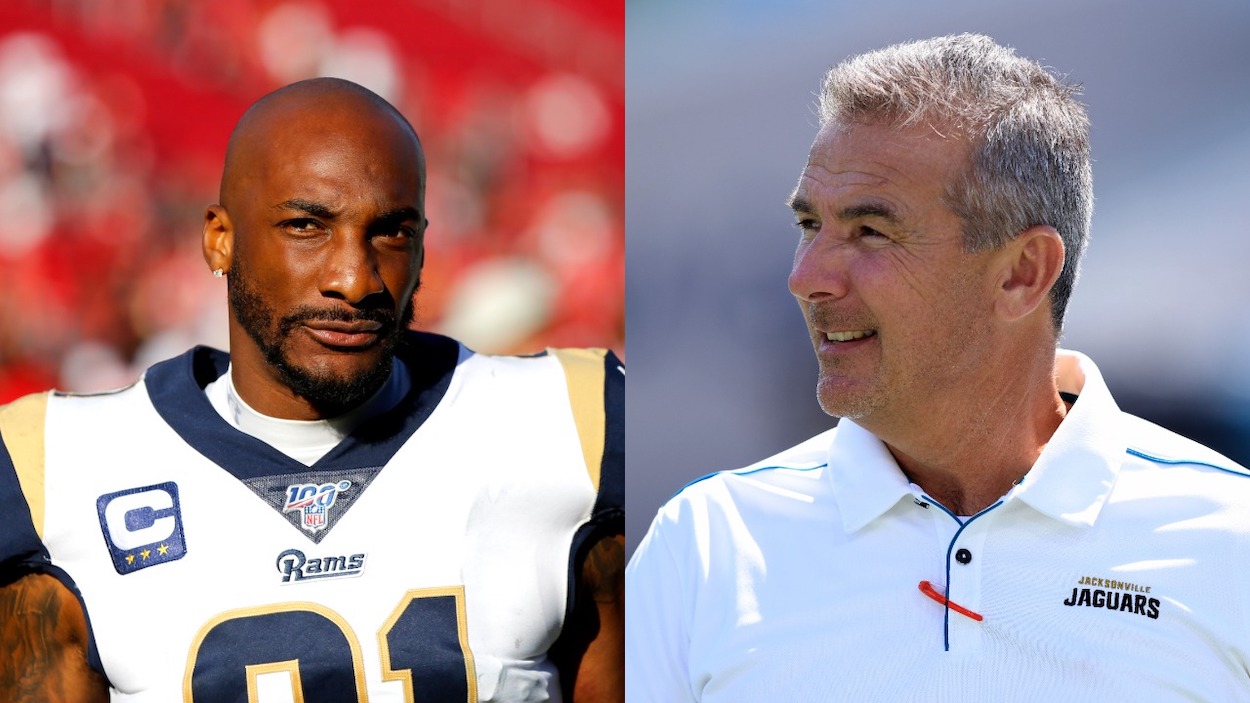 Aqib Talib Sticks up for Urban Meyer Staying on as Jacksonville Jaguars Head Coach: 'He Had a Drunk Night at a Bar, Man'
Aqib Talib is one of the most unique commentators in the NFL, so its no surprise he has a one-of-a-kind take on the Urban Meyer scandal.
Aqib Talib was a 12-year NFL player, a five-time Pro Bowl cornerback, and no stranger to controversy. Now, as a color commentator paired up with the electric Gus Johnson for FOX NFL games, Talib is once again proving the doubters wrong and finding success. Never one to shy away from the zag when everyone else zigs, the former Kansas Jayhawk offered an interesting take on the Urban Meyer scandal that differs from the usual finger-wagging coming from most NFL media.
Aqib Talib found his fair share of controversy during his NFL career
Aqib Talib and trouble are well-acquainted. He once told the Courier-Journal, "I did my things in high school. I got in my trouble I was gonna get in, been in my fights and altercations and stuff."
The trouble continued in college at Kansas. In Lawrence, he was a passenger in a car that ran over a man pointing a gun at them (the man was charged with felony aggravated assault while Talib and the driver weren't charged). Head coach Mark Mangino also suspended Talib for the first two games of the 2006 season for undisclosed reasons.
After the Tampa Bay Buccaneers selected the shutdown corner at No. 20 overall in the 2008 draft, Talib continued to cause controversy on and off the field.  
Talib was arrested in 2009 and 2011. The former involved charges of simple battery and resisting arrest without violence after he allegedly punched a taxi driver, while the latter came with second-degree felony charges of aggravated assault with a deadly weapon after he allegedly firing a gun at his sister's boyfriend. In 2009, the then-Buccaneer attended a pretrial diversion program and anger management classes after reaching a financial settlement with the driver. In 2012, prosecutors dropped charges from the 2011 incident.
On the field, Talib served three different NFL suspensions during his career. In 2012, he missed four games following an admission that he took Adderall without a prescription. He also poked tight end Dwayne Allen in the eye in 2015 and snatched wide receiver Michael Crabtree's chain during a fight in 2017. He missed one game for each of these incidents.
In 2016, Talib shot himself in the leg in Dallas, Texas, during the offseason. He recovered in time to play the season for the Denver Broncos and made the Pro Bowl.
The All-Pro CB has an interesting take on the Urban Meyer scandal
Aqib Talib recently appeared on The Ringer's Kevin Clark's Slow News Day video series. They covered a wide range of NFL coaches during the appearance, including Jon Gruden, Sean McVay, and Bill Belichick.
Clark also asked Talib if he thought Jacksonville Jaguars head coach Urban Meyer could keep his job after the scandal he's dealt with for the last two weeks. As the great cover man often does, he gave a take on the situation that differed from what most sports media pundits are saying.
Clark asked Talib if he would fire Meyer after the videos that emerged of the coach acting inappropriately in a bar with a woman who wasn't his wife. Talib answered:
Nah, I think it's early, man. He had a drunk night at a bar, man. I think every guy in that building can say they've done that. I don't know, I don't think it was bad enough to fire him, and they haven't fired him, so I don't think it was bad enough to fire him.

Aqib Talib on Urban Meyer
Conventional wisdom is that Meyer committed cardinal football sins by not flying back with his team and not being completely honest about his transgressions. However, Talib knows what he's talking about. His views seem like they could be similar to the average Jacksonville player's, who may not think the Urban Meyer scandal is as big a deal as the media does.
And to his point, as long as Meyer stays the coach of the Jaguars, it seems like Talib might be right.
Talib is drawing rave reviews for his announcing style
Aqib Talib retired following the 2019 NFL season, and in 2020, FOX hired him as a color commentator.
Paired with the always-excitable Gus Johnson, the duo quickly became a fan-favorite combination in the booth. In 2021, with Johnson still the lead college football announcer on the network, he and Talib are again together for a handful of NFL games.
Talib sounds different than most of the highly-polished former players-turned-color analysts who sit in the booth today. When he and the one-of-a-kind play-by-play man, Johnson, get together, the result is magic.
Sports Illustrated's Jimmy Traina says "Talib is raw and refreshing" behind an NFL broadcast microphone, and Shalise Manza Young of Yahoo! Sports praises him because he "doesn't look or sound like pretty much anyone else in sports broadcasting booths right now."
And those are the thoughtful, measured compliments for Talib and his partner. Anytime they do a game, the Twitterverse goes wild.
Talib is also currently contributing to Amazon's NFL coverage and hosting the NFL Machine on Twitch. Hopefully, these new gigs signal that the unique former corner's presence will continue to expand throughout the game.
All stats courtesy of Pro Football Reference