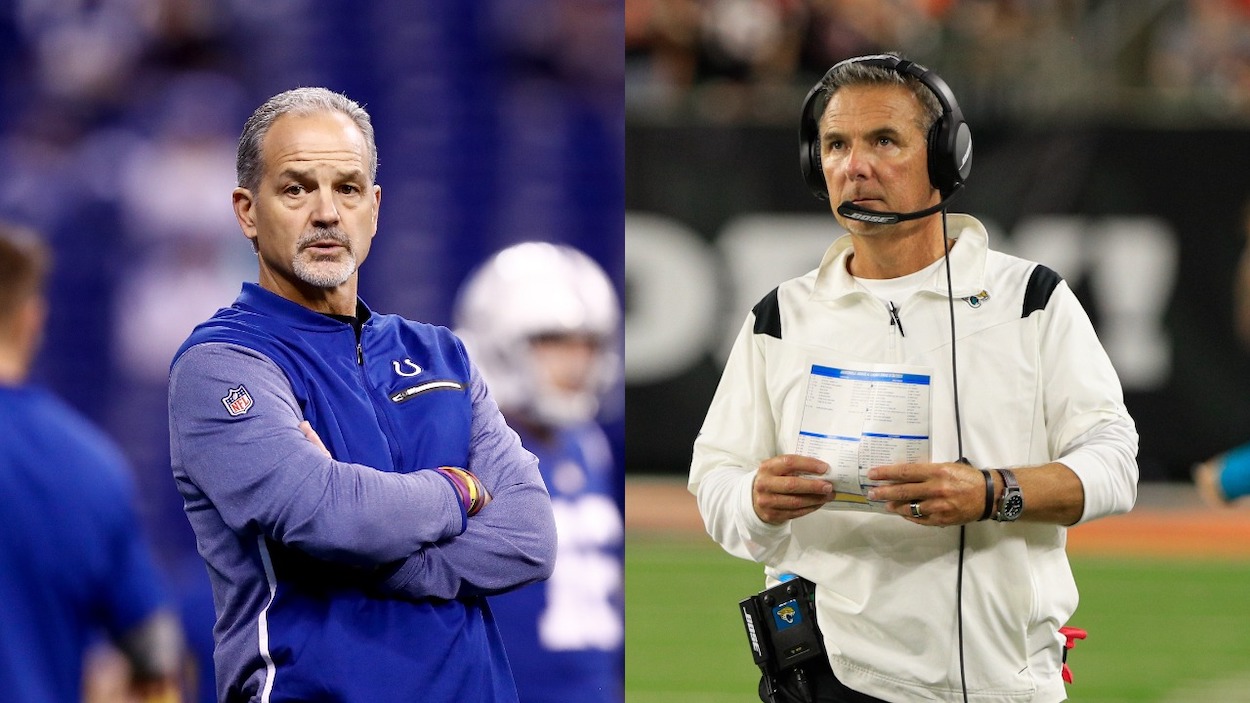 Former NFL Head Coach Chuck Pagano Warned His Team About 5 Things After a Thursday Night Game but Says Urban Meyer Didn't Get the Message: 'A Lot of Those Things Were Broken There'
Former NFL head coach Chuck Pagano would tell his team to avoid five things during breaks, and Urban Meyer broke a least three of these rules.
The most nerve-wracking time for any NFL franchise is when players have extended time off during the season. That's why coaches try their best to lay out ground rules for players to follow so that these young men don't get in trouble during their time away from the team facility. Longtime NFL coach Chuck Pagano had five of these rules about things to avoid during extended breaks that he always shared with his teams.
On Wednesday, he joined former player Pat McAfee's show to share these rules and talk about how embattled Jacksonville Jaguars head coach Urban Meyer broke more than one of them last week.  
Former NFL head coach Chuck Pagano warned his team about five things before a long week off
Pat McAfee, the former NFL punter who now hosts the popular sports talk show The Pat McAfee Show 2.0, welcomes in his old Indianapolis Colts head coach Chuck Pagano on a weekly basis.
The former coach talks about the hottest NFL topics of the day, and this week, that topic was the Urban Meyer scandal.
Pagano asked McAfee if he remembered the five things the coach and his staff told players to stay away from heading into a bye week or following a Thursday night game. The former West Virginia Mountaineer was a little hazy on the details. So, Pagano refreshed his memory on the five things "that could get you sideways," which are:
Alcohol
Drugs
Firearms
Women
Staying out late
To illustrate that last point, Pagano used the old cliché, "nothing good happens after midnight." He then noted that for the Urban Meyer scandal to happen, "A lot of those things were broken there."
Urban Meyer seemingly broke several of Pagano's rules and more
Before Meyer started breaking Pagano's post-Thursday night game and bye week rules, he made his first critical mistake when he didn't fly back with the team.
Plenty of long-serving sports media figures have pointed out how unusual this is. The Athletic's Stephen Holder tweeted that he "can't recall a situation remotely similar" in his 16 years covering the NFL and that Meyer staying in Ohio following the loss "blew my mind."
Amy Trask, also of The Athletic, wrote that Meyer not being on the team plane represented the coach "deserting his team and abandoning his responsibilities." And ESPN's Courtney Cronin tweeted that not flying back was "pretty bizarre."
Meyer compounded his issues, after making the mistake of not boarding the team plane, by seemingly breaking at least three of Pagano's five rules.
Social media photos and videos from that night seem to leave no doubt that alcohol and women were involved in Meyer's ill-fated trip to the bar. And while we don't know what time of the evening all this took place, just by putting himself in that situation following a family dinner means he violated at least the spirit of Pagano's "nothing good happens after midnight" rule.
The former Colts coach says Meyer's final mistake was that he didn't "own it"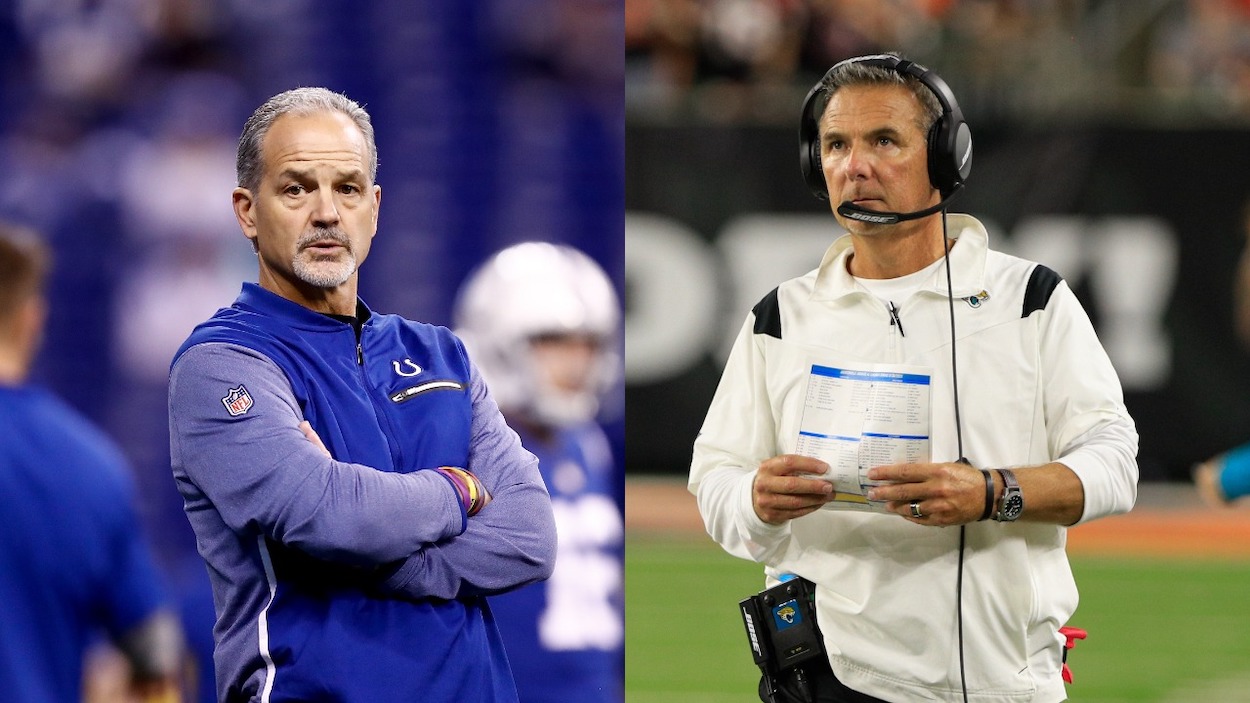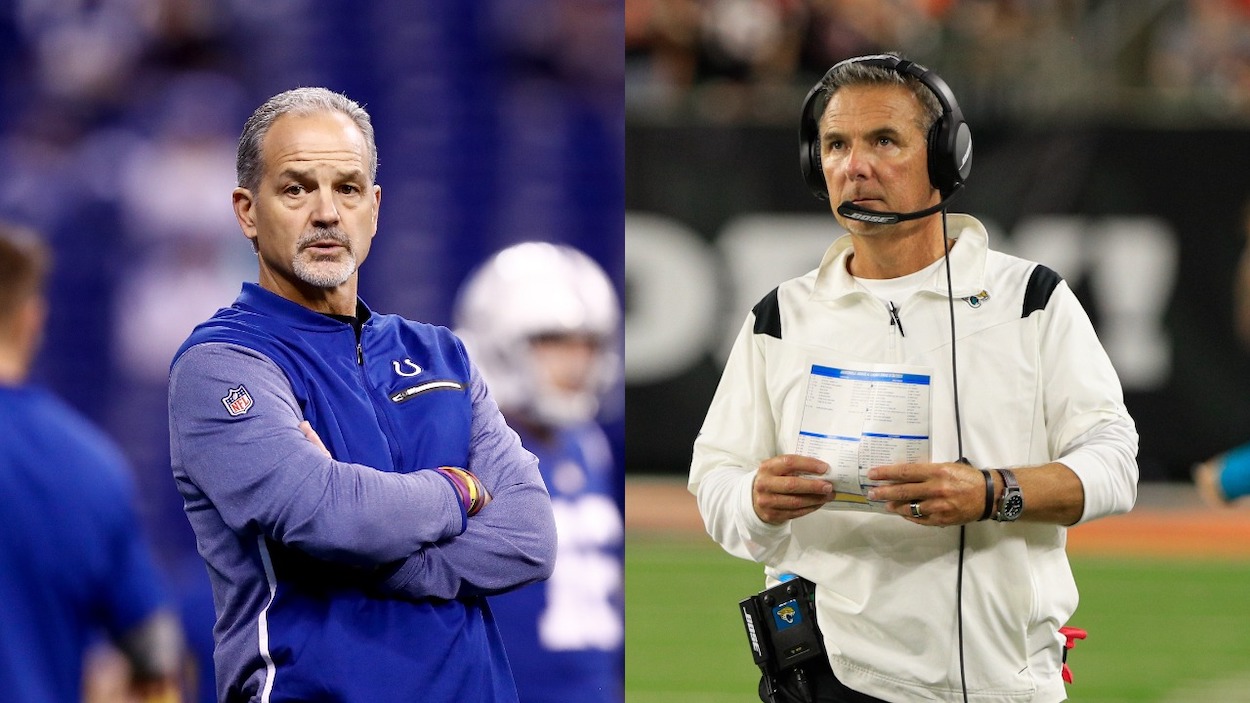 After Pagano laid out his laws and speculated that Urban Meyer broke several of them, he told McAfee and company that, after the fact, the Jaguars coach made one more horrible mistake.
He should have walked right in [to the Jaguars' facility] and, forget 'I wanted to eat dinner here. My family's right across the street, got pictures,' bull — no. You just go in, and you own that s***, and you just tell the guys, 'Hey, I f'ed up big time.' … You just gotta go in and own it and hope that time will heal all wounds. We can win some games and earn these guys' trust back.

Chuck Pagano on Urban Meyer
Pagano also noted that Meyer's journey back to trust and respectability would be difficult, especially for a coach who is telling players not to do things like this. Also, it is even more difficult during the ongoing COVID-19 pandemic as coaches and organizations have tightened the reins while trying to control players' outside activities.  
The former Baltimore Ravens and Chicago Bears defensive coordinator summed up the whole situation by bringing it back to his own experiences and telling McAfee, "Man, I don't even know how I could walk back through that building."
Like Sportscasting on Facebook. Follow us on Twitter @sportscasting19