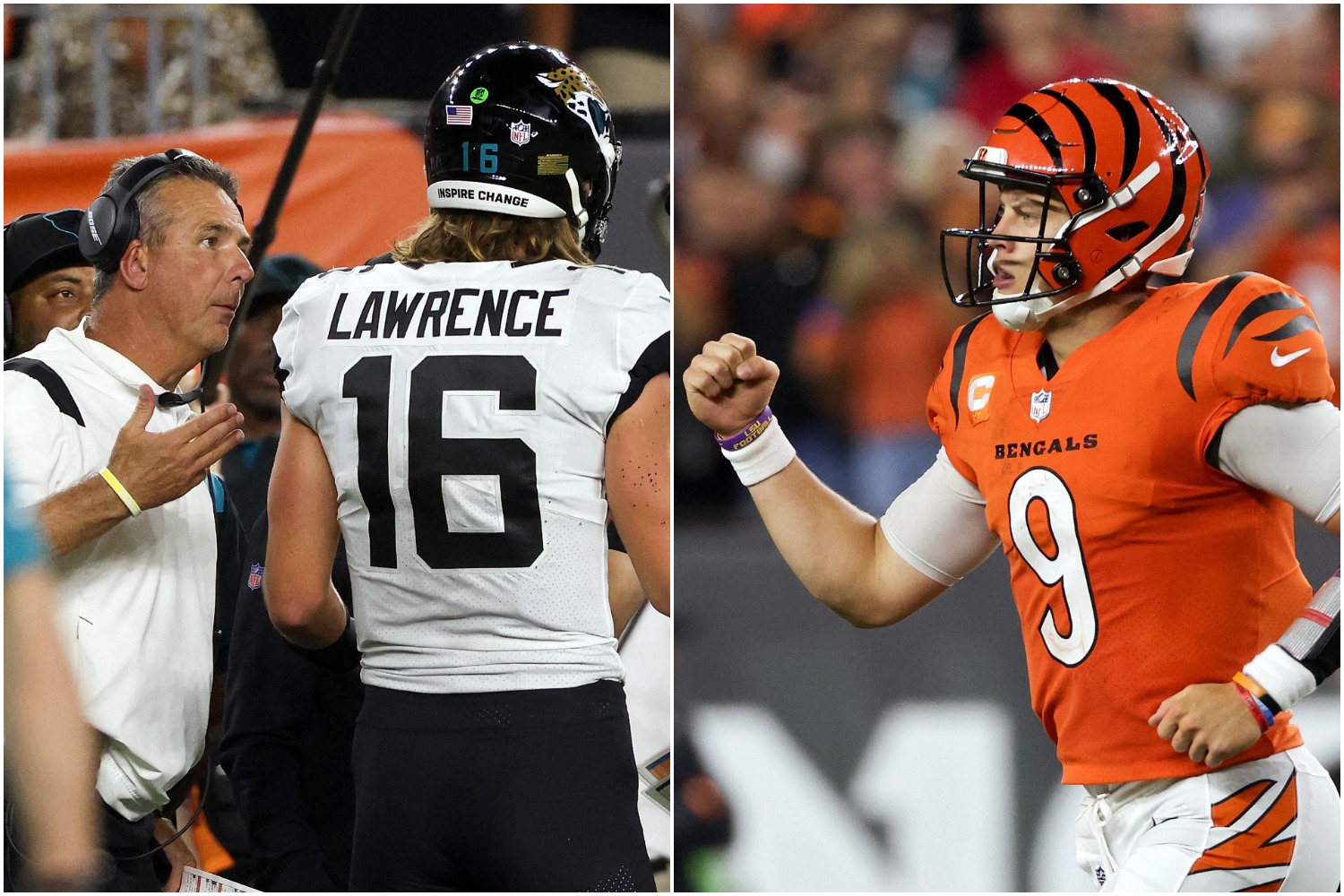 Joe Burrow Just Helped Urban Meyer and Trevor Lawrence Achieve Personal Milestones That Prove the Jaguars Are a Complete Mess
Joe Burrow's sensational performance against the Jaguars helped Urban Meyer and Trevor Lawrence achieve personal milestones that show how bad things are going in Jacksonville.
The Jacksonville Jaguars put forth a valiant effort against the Cincinnati Bengals, but that wasn't enough to prevent Urban Meyer and Trevor Lawrence from starting their respective NFL careers with four straight losses. Even though the top pick of the 2021 NFL Draft played arguably his best game of the season, Joe Burrow, the first overall pick in 2020, delivered a brilliant performance of his own.
And by leading the Bengals to their third victory, the former LSU star helped Meyer and Lawrence make history for all the wrong reasons. 
Joe Burrow helped the Bengals capture their third win by carving up the Jaguars
The Week 4 edition of Thursday Night Football featured a matchup between the two most recent No. 1 overall picks. Unfortunately for Lawrence, his older adversary emerged victorious. 
Burrow reminded everyone why he won the Heisman Trophy by picking apart an overmatched Jaguars defense. The 6-foot-4, 221-pound quarterback relied primarily upon tight end C.J. Uzomah (five catches for 95 yards and two touchdowns) and veteran Tyler Boyd (nine receptions for 118 yards). Plus, Burrow continued to display a strong connection with college teammate Ja'Marr Chase, who totaled six catches for 77 yards. 
Meanwhile, Lawrence fared well by completing 17-of-24 attempts for 204 yards. The talented signal-caller showed off his athleticism by carrying the ball eight times for 36 yards and a touchdown. Ultimately, though, his rock-solid outing did not lead to different results for the Jaguars. 
Burrow staged an impressive fourth-quarter drive that put Evan McPherson in a position to kick a game-winning 35-yard field goal. The Bengals moved to 3-1 by handling business at home. But thanks to Burrow's sensational night, Lawrence and Meyer achieved feats neither will be particularly proud of. 
Trevor Lawrence and Urban Meyer set personal milestones that prove how bad things are in Jacksonville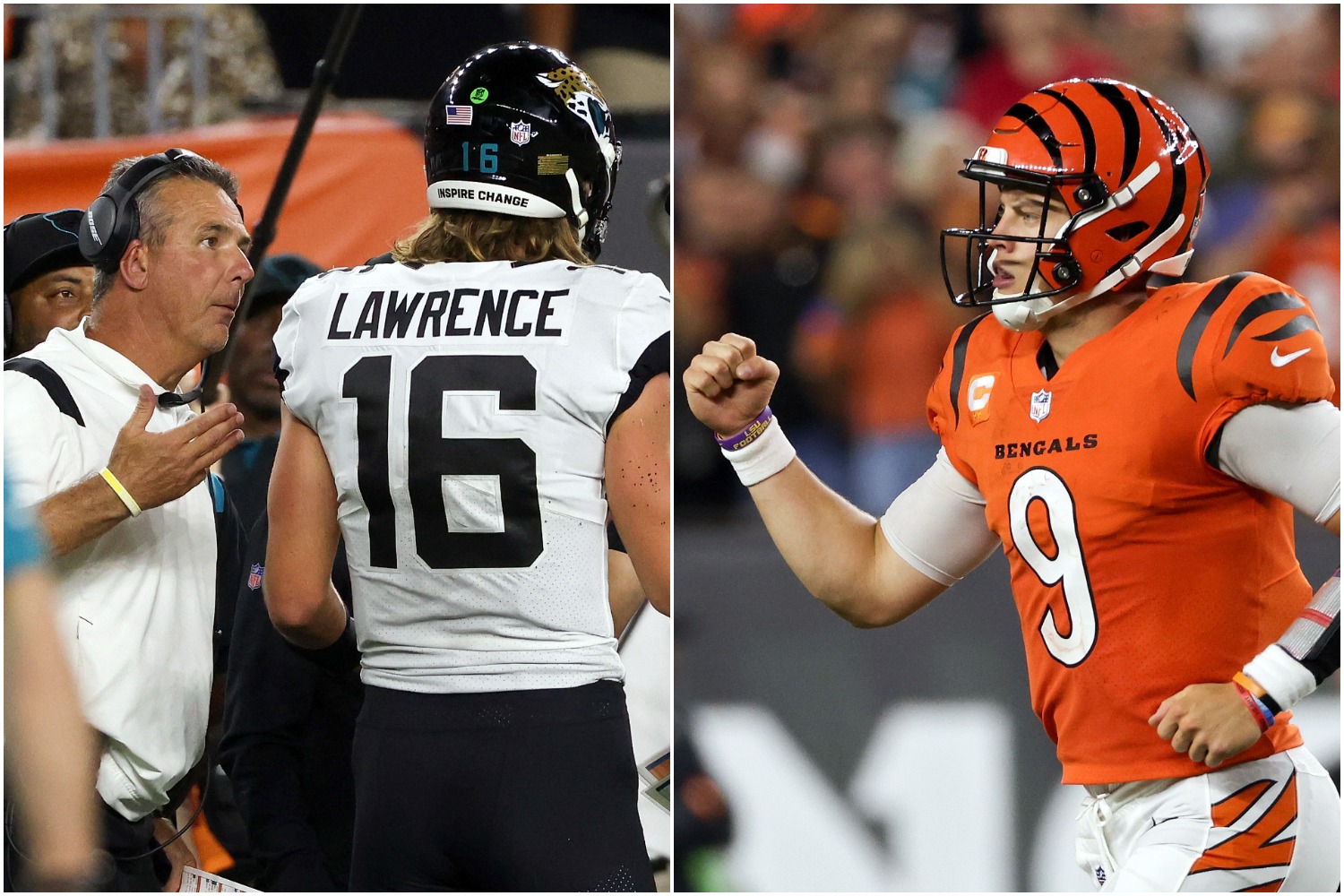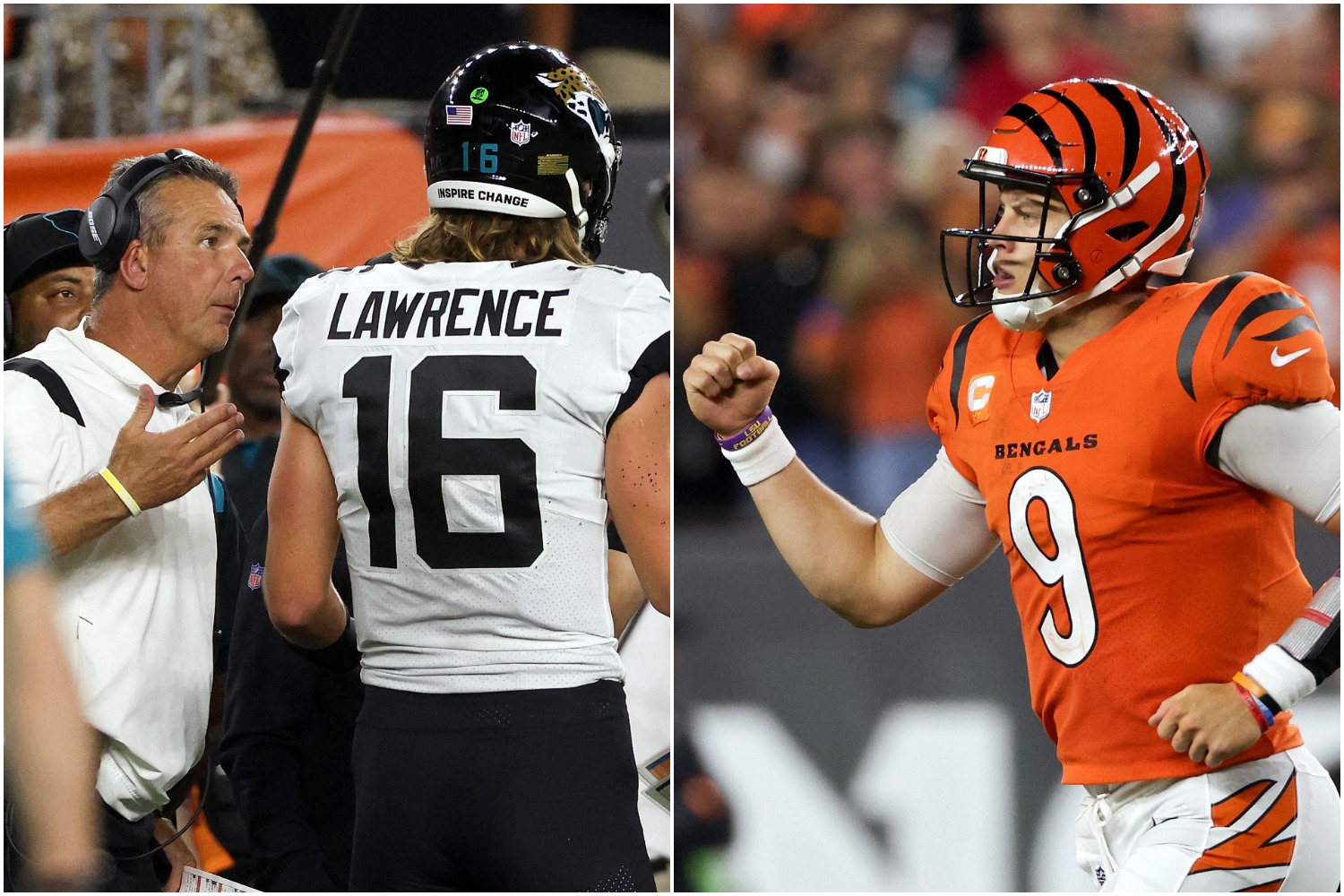 For anyone who questions whether it's more difficult to win in college or the NFL, just take a look at what's going on in Jacksonville. After all, both of the big names the Jaguars brought in this offseason have gone from dominating at the amateur level to struggling in the pros. 
Despite having three national championships on his resume, Meyer has yet to win a single game as an NFL head coach. Meanwhile, Lawrence has already thrown seven interceptions after totaling only 17 in 35 games at Clemson. 
Will things improve over the course of the season? Jaguars fans surely hope so. However, the personal milestones Lawrence and Meyer set Thursday show how much of a mess Jacksonville is. 
According to a tweet from ESPN's Adam Schefter, Lawrence has already lost the same number of games (four) that he did in high school and college. Given the success he experienced before he started getting paid to play football, not winning has to be a strange feeling for the 6-foot-6, 213-pound quarterback. 
With Burrow guiding the Bengals to a narrow victory, Meyer achieved a milestone of his own. He never lost more than three games in a row as a college head coach, but he now has a four-game losing streak on his resume. And given the Jaguars' issues on both sides of the ball, it wouldn't be a surprise if that number grows. 
Fans of both franchises should still feel confident about the future of the most important position in sports 
Despite the fact Lawrence remains winless, Jacksonville fans shouldn't worry too much about what lies ahead for the supremely skilled 21-year-old. From a pure talent perspective, he has every tool needed to dominate defenses for years to come. Plus, he seems mature and tough enough to handle adversity and push through challenging times. 
Of course, Lawrence's future success hinges on who's coaching him. Meyer doesn't look like the long-term answer, so don't be shocked if the franchise moves in a different direction after the season. This time, though, the Jaguars better have a more effective plan than hiring a head coach with a history of bailing on programs and making bad decisions. 
As for Burrow? 
The Bengals still have a long way to go, but they certainly deserve credit for getting off to a hot start. Zac Taylor's team boasts plenty of scoring potential, especially given the obvious chemistry between Burrow and Chase. Still, Cincinnati has to prove it can slow down opposing offenses on a consistent basis before it can be considered a viable playoff contender. 
Then again, if Joe Burrow keeps ascending, maybe the Bengals won't need to be great on defense after all. 
All statistics courtesy of Pro Football Reference.