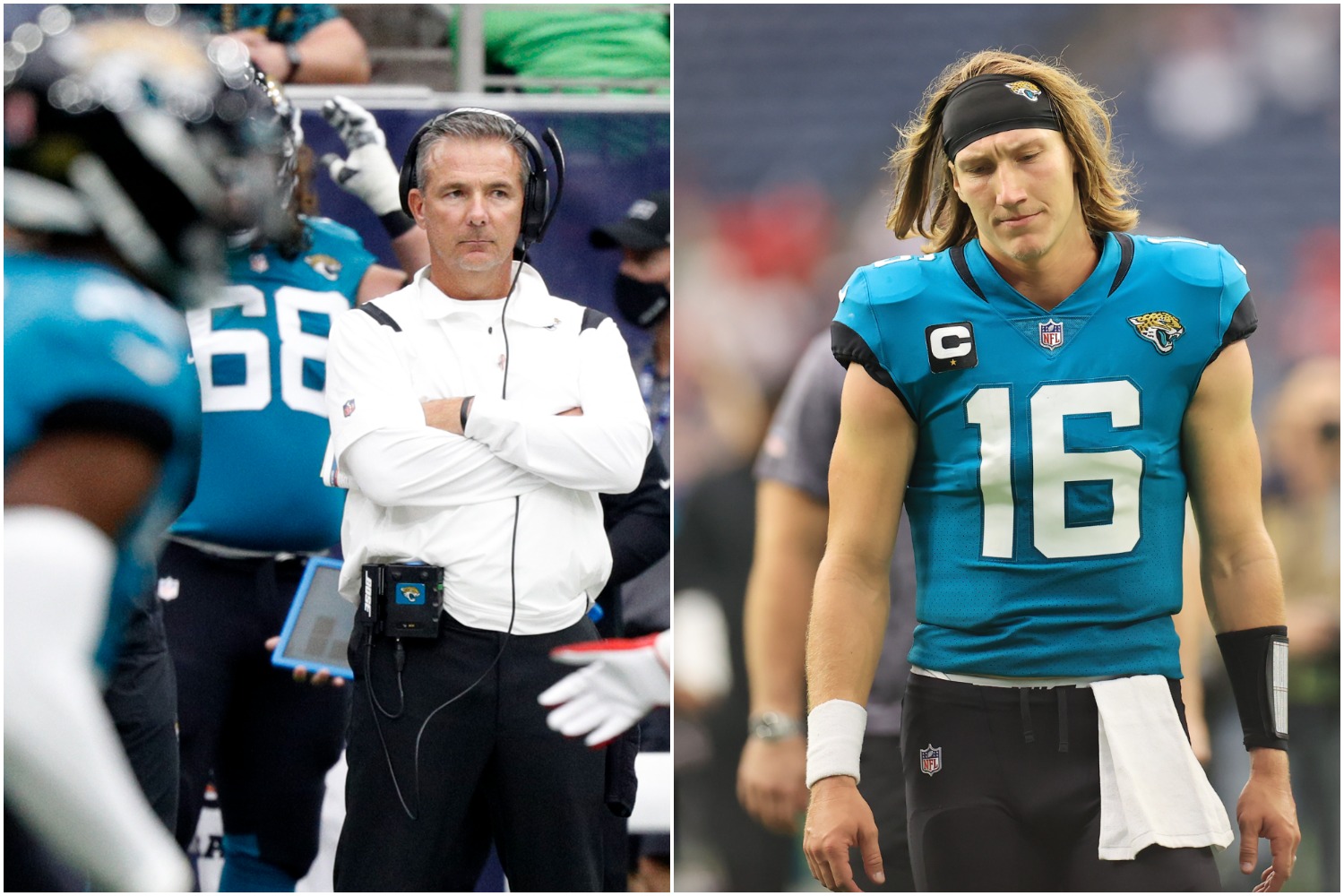 Shocking Urban Meyer Report Should Force Trevor Lawrence to Consider Pulling the Ultimate Power Move Against the Jaguars
A stunning report on Urban Meyer's career plans should force Trevor Lawrence to consider pulling the ultimate power move against the Jaguars. Should the talented QB want to remain in Jacksonville?
The Jacksonville Jaguars knew exactly what they signed up for when they brought Urban Meyer aboard.
On one hand, they hired a head coach with three national championships and a track record of producing high-scoring offenses on his resume.
On the other hand, they hitched their wagon to a man who has a history of bailing on programs and making questionable decisions.
To no surprise, it hasn't taken long for Meyer's long-term future in Jacksonville to come into question. And with speculation swirling about what lies ahead for his controversial coach, Trevor Lawrence needs to consider pulling the ultimate power move against the Jaguars to save his own NFL career.
Urban Meyer suddenly seems like he's bound to follow in Nick Saban's footsteps
When Jacksonville announced the Meyer hire back in January, many questioned whether the franchise made a wise decision. After all, he raised eyebrows by stepping down at the University of Florida and Ohio State, which raised doubts about whether he would ever return to coaching.
Despite his history of quitting on big-time college programs, the Jaguars still put him in charge of rebuilding a team that desperately needs to find some semblance of direction.
But don't be surprised if Meyer makes another fanbase miserable by backing out of his commitment.
Just a day after the 57-year-old watched his team get blown out by the Houston Texans, a shocking report officially made the idea of the Jaguars having to find a new coach a realistic possibility. According to a tweet from the official Reddit college football account, Meyer is considering resigning from his position because his "heart's just not in it."
The fact USC — long considered one of the top programs in college football — fired Clay Helton that same day only added more fuel to the rumors that Meyer may have his eye on the Trojans' head coaching vacancy. Although he told reporters Wednesday that "I'm here and committed to try to build an organization," his tone and body language didn't inspire much confidence that he gave an honest answer.
Could Meyer pull a Nick Saban and go back to college?
Based on how things have gone over the last nine months, that wouldn't be a surprise at all.
And that's why the No. 1 pick from the 2021 NFL Draft needs to bail on the Jaguars, too.
Trevor Lawrence needs to consider pulling the ultimate power move against the Jaguars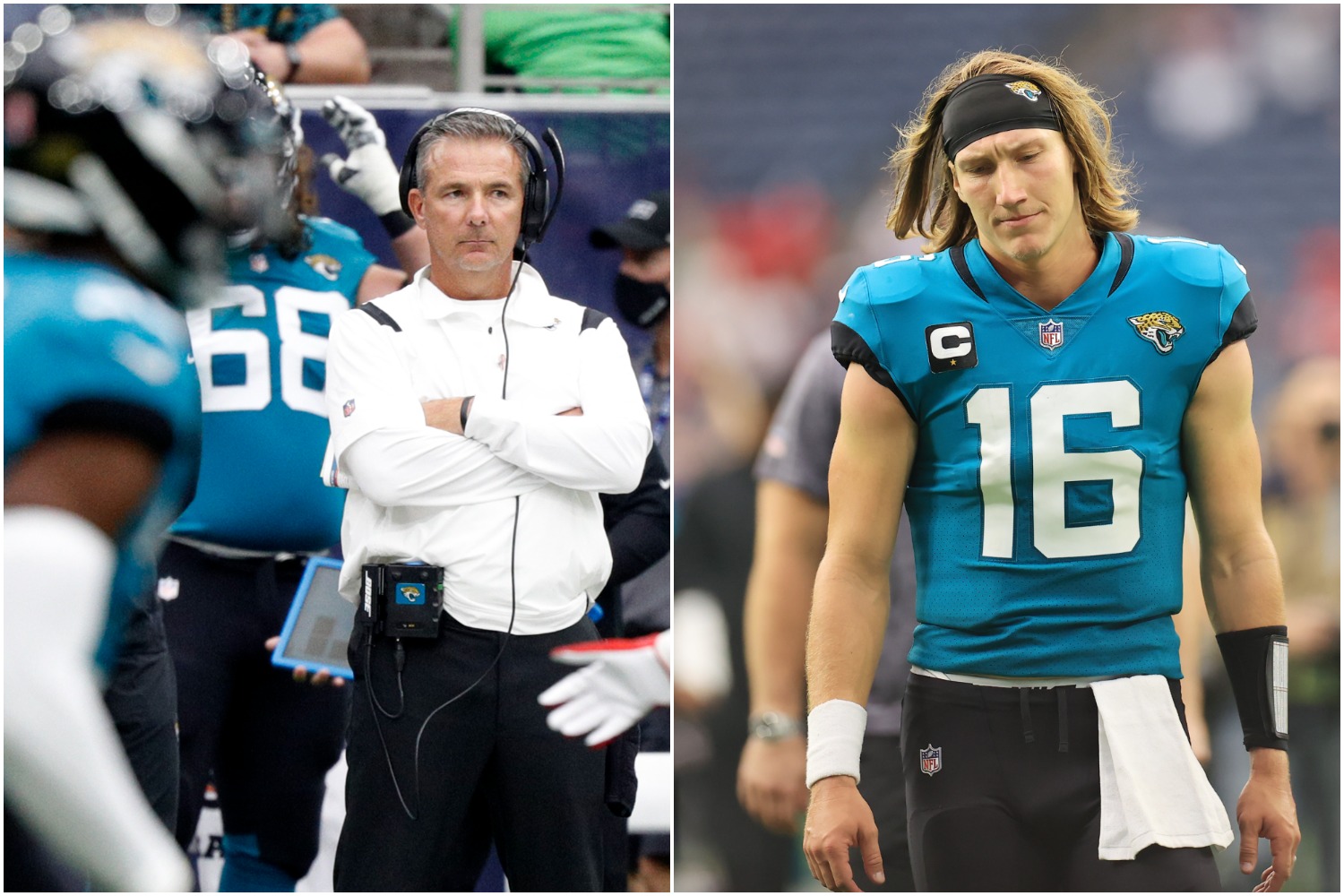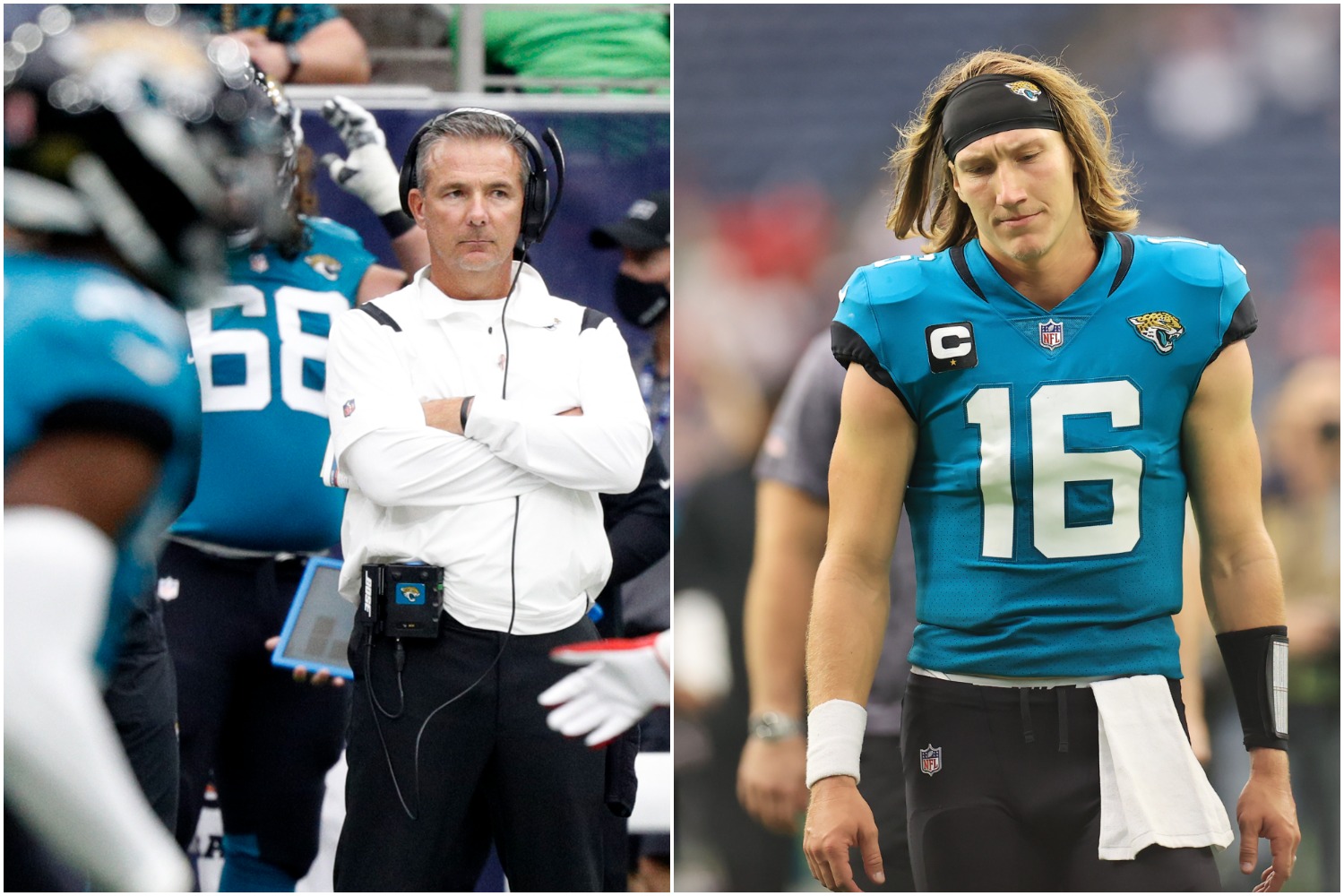 Think Trevor Lawrence had some influence on Urban Meyer's decision to try his hand at coaching in the NFL? Everyone knew Jacksonville would take the former Clemson star first overall, so there's no doubt the chance to work with a generational talent played a factor in Meyer making the leap from college to the pros.
However, Jacksonville didn't have to hire him. The franchise could have easily gone in a different direction that didn't involve placing Lawrence's future in the hands of someone with such a shaky background.
Yet here we are.
Meyer already looks like a likely one-and-done candidate, which means the Jaguars could enter the 2022 offseason searching for his replacement. Instead of having a dynamic coach-quarterback duo for years to come, they seem destined to hit the reset button at one of those positions.
And if Lawrence wants to live up to his All-Pro potential, he should force Jacksonville to completely start from scratch.
Why should he want to remain with a franchise that continues to make massive mistakes? Why should he put his body on the line for an organization that has a well-documented history of running stars out of town? And why should he waste his prime years playing for a team that has no chance of competing for championships anytime soon?
Lawrence needs to consider demanding a trade for his own sake. He has all the talent in the world, but the Jaguars have a bottom-of-the-league roster and don't appear bound for a turnaround in the near future. If a 37-year-old Aaron Rodgers essentially got the Packers to agree to trade him, shouldn't a 21-year-old quarterback who boasts Hall of Fame upside have some sort of leverage?
Obviously, holding out and demanding to get dealt would be a bold move for Lawrence. But if he cares about his career longevity and overall success, he needs to think long and hard about getting out of Jacksonville before it's too late.
Is Jacksonville officially the worst-run franchise in the NFL?
Should the Jaguars be considered the worst franchise in the NFL?
At this point, it's hard to argue otherwise.
They hired a head coach who may not last a full season, let alone his entire contract. That coach (along with general manager Trent Baalke) decided to spend a first-round pick on a running back when the team already found a 1,000-yard rusher after the 2020 draft ended. Plus, Meyer (briefly) hired controversial strength and conditioning coach Chris Doyle and brought unnecessary drama to Jacksonville by signing Tim Tebow.
Let's not forget that the Jaguars were already trending downward before he arrived.
This is a franchise that went from nearly beating the New England Patriots in the 2017 AFC Championship to winning a total of 12 games across the last three seasons. Cornerstone players like Jalen Ramsey, Allen Robinson II, and Yannick Ngakoue left due to contractual issues, and the Jaguars have not found capable replacements via the draft.
Oh, this is the same team that took Blake Bortles third overall in 2014 and chose Leonard Fournette over Patrick Mahomes and Deshaun Watson three years later.
Sorry to bring up painful memories, Jaguars fans, but the truth hurts when you look at the totality of what's gone on in Jacksonville.
Like Sportscasting on Facebook. Follow us on Twitter @sportscasting19.