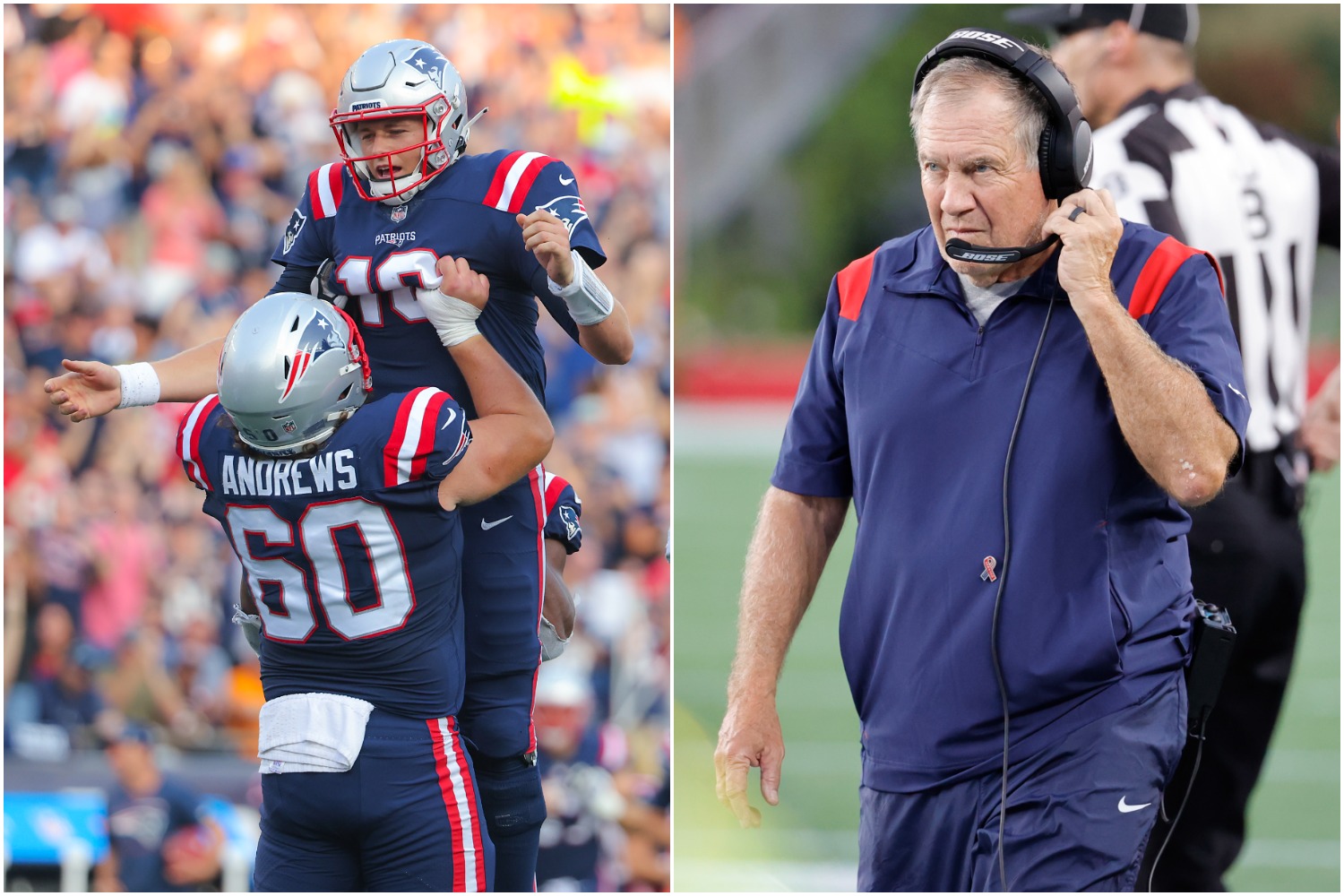 Despite Mac Jones' Sensational Debut, Bill Belichick Still Has Several Reasons to Worry About What Lies Ahead for the Patriots
Even though Mac Jones played like a seasoned pro during the Patriots' season-opener, Bill Belichick still has a few reasons to be concerned about what lies ahead for his team.
A one-game sample size seems small, but Mac Jones most certainly looked like a starting-caliber NFL quarterback during his first official start for the New England Patriots. Unfortunately for the talented rookie signal-caller, his impressive outing against the Miami Dolphins did not result in a victory. Instead, Bill Belichick's team committed costly penalties and turnovers that allowed Brian Flores' squad to leave Foxborough with a 1-0 record.
On one hand, Jones' Week 1 performance gave Patriots fans hope about a brighter future for the franchise. But even though Belichick appears to have found a legitimate successor to Tom Brady, he still has a few reasons to be concerned about what lies ahead for his team.
Can New England keep Mac Jones protected?
Jones has the best offensive line out of the five first-round rookie quarterbacks. At least, it looks that way on paper. But the Patriots simply didn't do a great job of protecting their top draft pick during Sunday's loss to the Dolphins.
Right tackle Trent Brown left the game early with a calf injury. 2020 sixth-rounder Justin Herron struggled so badly that he got benched for Yasir Durant, who arrived via trade on Sept. 1.
Meanwhile, right guard Shaq Mason did not look like his normal self, and the line gave up far too much pressure.
Jones doesn't have great mobility, size, or overall athleticism, so New England can't afford to let him get hit so often. Belichick and Josh McDaniels must do everything possible from a schematic and personnel standpoint to ensure their 22-year-old quarterback remains upright and comfortable in the pocket.
Are the Patriots capable of scoring touchdowns in the red zone?
For a team that signed two tight ends to deals averaging $12.5 million per season, the Patriots would seem to be in a terrific position to take care of business in the red zone.
Yet that didn't happen in Week 1.
In fact, scoring touchdowns from inside the 20-yard line has been a problem dating back to Brady's final season in New England. Whether that's had more to do with inadequate personnel or play calling remains up for debate, but Jonnu Smith and Hunter Henry should make life much easier in the red zone. Plus, 227-pound rookie running back Rhamondre Stevenson seems like a solid short-yardage option.
However, the Patriots must prove they can consistently convert opportunities into touchdowns. They failed to do so in Week 1, so it will be interesting to see if their red-zone struggles continue with a new quarterback and upgraded weapons.
Will Dont'a Hightower and the rest of the front seven figure out how to stop the run?
Belichick's defense got gashed against the run in 2020. He responded by spending an unprecedented amount of money to add proven veterans to a defense that lacked starting-caliber players a year ago. And besides signing Matt Judon, Kyle Van Noy, and Davon Godchaux, he also got Dont'a Hightower back.
Unfortunately for Belichick, the Patriots' revamped front seven still struggled to control the line of scrimmage during the first game of the season. Hightower looked a step behind, the defensive line got pushed around, and the Dolphins ran the ball effectively despite having an offensive line that nobody would describe as elite.
On paper, the Patriots should be able to stop the run. Godchaux, Lawrence Guy, and Henry Anderson have the size and strength to tie up blockers, and Hightower, Van Noy, and Judon have the physicality and instincts to blow plays up in the backfield.
Will that happen, though? If New England doesn't iron out its issues against the run, the defense will stay on the field longer and wear down over the course of the season. Plus, the secondary will be under even more pressure to be as perfect as possible without its best player.
Does a Stephon Gilmore-less secondary have the ability to slow down elite passing attacks?
Tua Tagovailoa has yet to prove he's a franchise quarterback. But for all his faults, the second-year pro made the Patriots pay when it mattered.
And that's exactly why Belichick should be concerned about how his defense will perform moving forward.
If Miami managed to make plays in the passing game against a Stephon Gilmore-less secondary, what will better offenses do when they face New England? J.C. Jackson has No. 1 corner ability and Jonathan Jones excels out of the slot, but the rest of the group is completely uninspiring.
Can Belichick count on free-agent signee Jalen Mills? Based on the preseason and Week 1, it looks like the former Philadelphia Eagles defensive back faces an uphill battle to justify his four-year, $24 million million contract.
What about 2019 second-round pick Joejuan Williams? Given his draft pedigree, he would seem like a logical candidate to start on the perimeter. Yet it's hard to get excited about a player who looked in danger of getting released or traded this summer.
With Gilmore unavailable and possibly on his way out, the Patriots need their front seven to get after the quarterback more than ever. But even if they succeed in that regard, the secondary still has to show it can cover and make plays on the ball.
There's certainly plenty of time for the defense (and the offense) to improve. And no coach understands the importance of the long game better than Bill Belichick.
Only time will tell whether all the pieces he's assembled will come together in time to make the playoffs.
All statistics courtesy of Pro Football Reference.