After Stealing Cam Newton's Job, Mac Jones Faces a Daunting Challenge to Bring a Troubling Trend to an End
When the New England Patriots selected Mac Jones with the 15th overall pick of the 2021 NFL Draft, it represented a massive step forward for a franchise in desperate need of a permanent replacement for Tom Brady. After all, Cam Newton did nothing to inspire confidence about his ability to play the position at an adequate level during his first year in Foxborough.
Despite his rookie status, Jones convinced Bill Belichick to go with a rookie over a former league MVP. However, even though Patriots fans are understandably optimistic about the future, the team's promising first-year quarterback faces a daunting challenge to bring a troubling trend to an end.
The Mac Jones era is off to an impressive start
Patriots fans spent the last few months hearing Belichick back Newton as his starter.
That idea officially came to an end on Tuesday.
In a move that caught most people off guard, Belichick cut ties with a quarterback who never seemed like an ideal fit in the first place. Releasing Newton opened the door for Mac Jones to take over the top spot on the depth chart. While it may have been a surprise to see the Patriots completely move on from their incumbent starter, anyone who watched the rookie perform in practice and preseason games could see the upside in making a swift transition at the most important position in sports.
Jones gives offensive coordinator Josh McDaniels the ability to run the full scope of his playbook. Although the first-year pro doesn't have a particularly impressive physique or powerful arm, he brings tremendous accuracy, quick processing speed, and a high degree of intelligence to the table. It's certainly not a stretch to say that Jones has some of the same qualities that made Tom Brady successful in New England.
However, whether he lives up to the "franchise quarterback" remains to be seen.
In fact, even though he stole Newton's job, Jones must defy history to bring a troubling trend to an end.
The former Alabama star faces a daunting challenge to end a troubling trend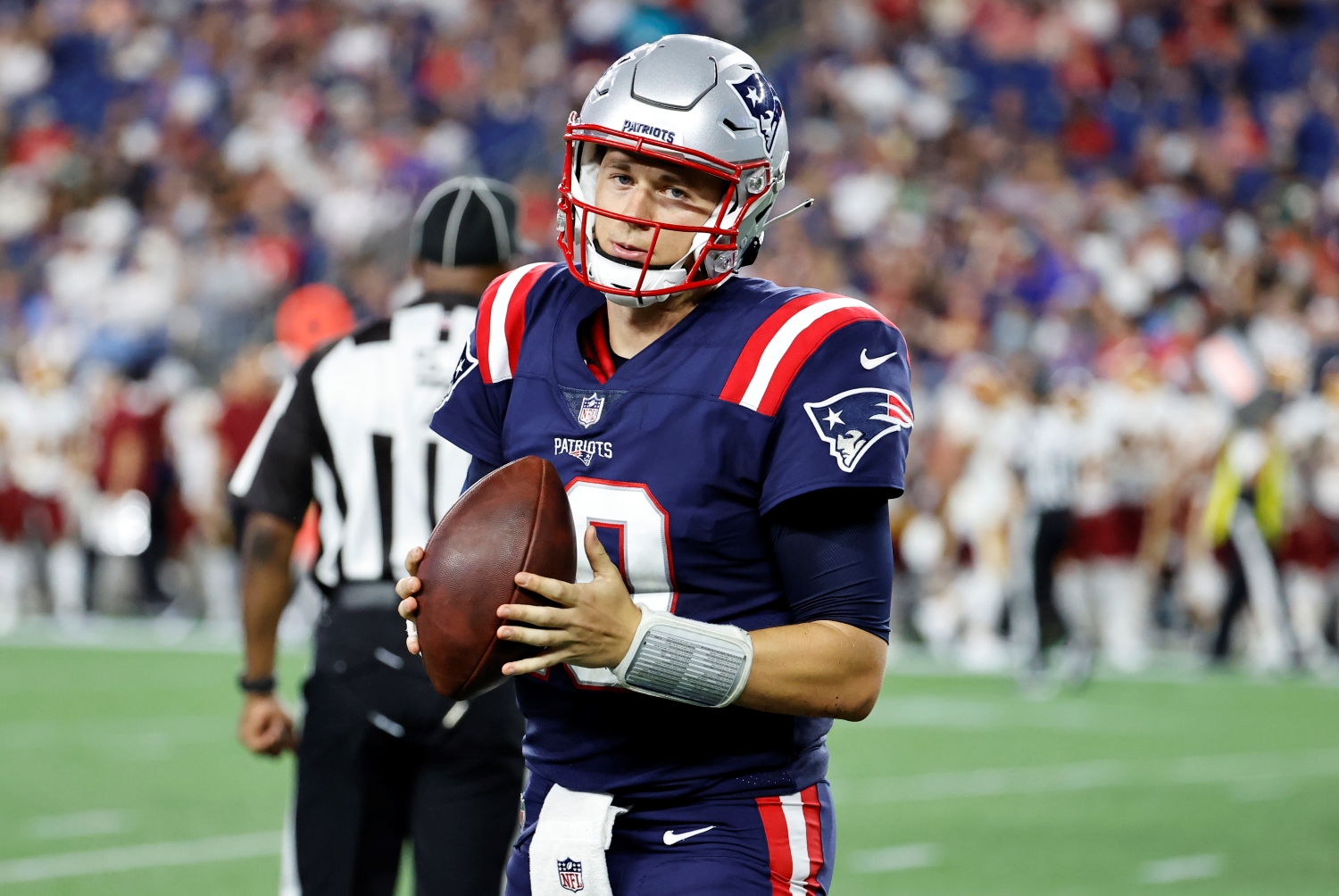 Playing at Alabama put Jones in a position to win a national title. At the same time, he starred for a school that has a surprisingly thin track record of producing starting-caliber NFL quarterbacks.
For all the success the Crimson Tide have achieved under Nick Saban, they simply don't have many success stories to speak about when it comes to pro-level signal-callers. When you look at how Alabama QBs have turned out since leaving college, it's hard to be impressed:
Greg McElroy (2009-10): Selected by the New York Jets in the seventh round of the 2011 NFL Draft, he retired in 2014 after appearing in two games.
A.J. McCarron (2011-13): The 2013 Heisman runner-up and three-time national champion went 164th overall in the 2014 NFL Draft. He has only appeared in 17 games (four starts).
Blake Sims (2014): The two-time national champion and 2014 second-team All-SEC selection went undrafted in 2015 and has bounced around between multiple professional football leagues.
Jake Coker (2015): The Florida State transfer led the Crimson Tide to a national title, went undrafted, and retired from football in 2017 after undergoing knee surgery.
Jalen Hurts (2016-17): After putting up big numbers as a freshman, he eventually transferred to Oklahoma and nearly won the Heisman Trophy. However, the 2020 second-round pick only completed 52% of his passes during his rookie season with the Philadelphia Eagles.
Tua Tagovailoa (2018-19): Led Alabama to a come-from-behind win against Georgia and looked poised to become the No. 1 overall pick in the 2020 NFL Draft before a hip injury brought his junior season to an abrupt end. He had an up-and-down first year with the Miami Dolphins that included getting benched twice for Ryan Fitzpatrick.
Will Jones buck the trend and actually become a top-flight starter? Or will he join a long list of quarterbacks who won national titles at Alabama but failed to do much at the NFL level?
Luckily for him, he has a strong supporting cast in New England that includes an elite offensive line and a deep group of running backs led by former Alabama standout Damien Harris. Plus, the Patriots have a chance to finish as a top-five defense thanks to Belichick's offseason investments. History may not be on his side, but Jones appears to have the pieces around him that he needs to succeed.
What does the future hold for Jones, Tua Tagovailoa, and Jalen Hurts?
With Jones, Hurts, and Tagovailoa set to open the 2021 season as starters, it certainly will be interesting to see which former Crimson Tide signal-caller shines the most. Interestingly, all three bring unique qualities to the table.
Jones doesn't have great athleticism, but he diagnoses defenses well, delivers the ball with supreme accuracy, and has uncanny poise for a 22-year-old. The Patriots run a timing-based passing game that seems like a picture-perfect fit for his skill set.
Meanwhile, Hurts provides the Eagles with a dual-threat option at quarterback. However, his smaller stature (6-foot-1, 223 pounds) and inconsistencies as a passer could force Philadelphia to make a change after the season. And with Deshaun Watson looking like a prime trade candidate, it wouldn't be a surprise if general manager Howie Roseman makes a run at the Houston Texans star.
Of course, Hurts isn't the only ex-Crimson Tide quarterback who could get replaced by Watson. Despite taking Tagovailoa sixth overall a year ago, the Dolphins still look like one of the most likely landing spots for one of the NFL's top passers.
Then again, if their young quarterback rediscovers his pre-injury form, Miami may be set at the position after all.
And you can bet Mac Jones will be eager to face the quarterback he replaced at Alabama twice a year for the foreseeable future.
All statistics courtesy of Pro Football Reference.