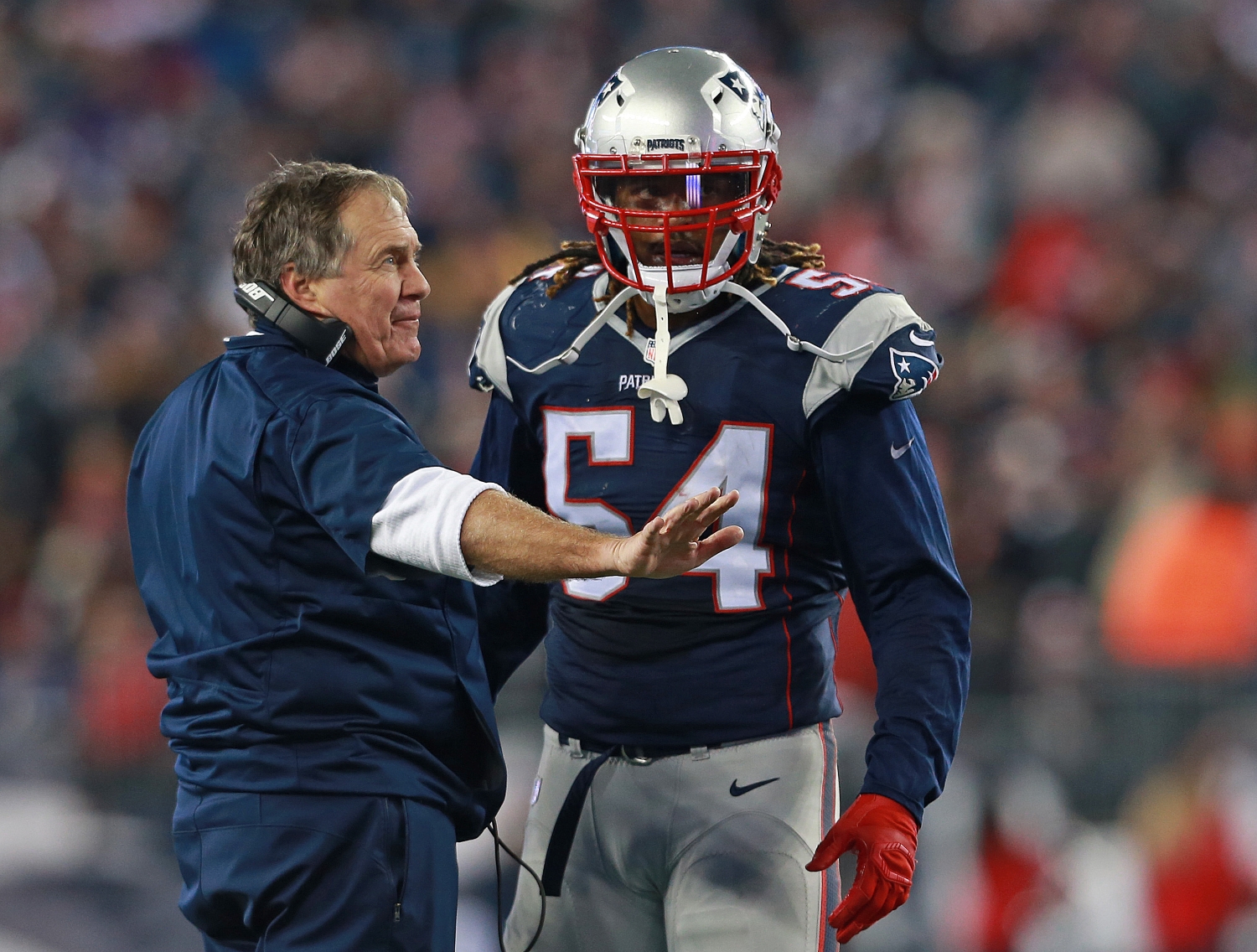 A Familiar Face Has Finally Joined Forces With Bill Belichick and the Patriots Again
Patriots fans didn't get a chance to see Dont'a Hightower in 2020. But with the veteran linebacker returning to practice, Bill Belichick finally has his defensive leader back in place.
Bill Belichick spent the last few months infusing his roster with fresh blood. And for the sake of Robert Kraft's wallet, the New England Patriots better hope their free-agent additions play up to expectations.
But for Belichick, the return of a familiar face may have a bigger impact than any signing he made this offseason.
New England will feature plenty of new faces on the field this season
To put it bluntly: The Patriots didn't have a playoff-caliber roster last season. Sure, the offensive line played well, and Damien Harris and Jakobi Meyers both flashed intriguing playmaking potential. But New England's lack of talent at critical positions (quarterback, wide receiver, defensive line, and linebacker) played a major role in the team missing the playoffs for the first time since 2008.
Belichick responded by spending more money in free agency than ever before.
Doing so allowed him to fill major holes on both sides of the ball. Thanks to Belichick's aggressive approach, the Patriots completely overhauled their tight end room by signing Jonnu Smith and Hunter Henry to contracts averaging $12.5 million per year. Plus, they upgraded at receiver with the additions of Nelson Agholor and Kendrick Bourne.
Meanwhile, the Patriots got bigger, faster, and more physical on defense by securing commitments from Matthew Judon, Davon Godchaux, Jalen Mills, and Henry Anderson.
Belichick also landed several high-upside prospects in the 2021 NFL draft. Quarterback Mac Jones, defensive tackle Christian Barmore, and outside linebacker Ronnie Perkins all have the potential to fill prominent roles for New England. And based on their talent and production in college, it wouldn't be surprising if those three earn playing time as rookies.
Ultimately, even if Belichick sticks with the status quo at quarterback, the Patriots will still feature several new starters on offense and defense this season.
Bill Belichick finally has his defensive leader back
Belichick brought back a familiar face this offseason by signing Kyle Van Noy. Luckily for the versatile linebacker, he will get a chance to play alongside one of his close friends again.
On Thursday, longtime defensive leader Dont'a Hightower took the field for the first time since the 2019 season. The three-time Super Bowl champion opted out last year, which left a huge hole in the middle of New England's defense. However, by participating in practice, Hightower seems ready to get back to tackling running backs and blitzing quarterbacks for a living.
So how did the 31-year-old look on his first day back to work?
According to The Athletic's Jeff Howe, Hightower looked "very lean" and "clearly kept himself in shape" during his year away from football.
"He worked as the defensive play-caller when he was on the field and was the mayor of Foxboro on the sideline, spending quite a bit of time with Kyle Van Noy and Jerod Mayo, among other teammates and coaches," Howe reported.
For Belichick, getting Hightower back represents yet another step in the right direction. The battle-tested linebacker has made a number of big postseason plays (including a strip-sack against Matt Ryan in Super Bowl 51), and he commands respect from teammates and coaches for his leadership abilities. And now that a slimmed-down Hightower is in the fold, the Patriots look much more dangerous on defense.
The return of Dont'a Hightower gives the Patriots even more flexibility along the front seven
Don't expect the Patriots to have many bad days on defense this season. At least, that's the way things appear based on their current depth chart.
After getting bullied in the trenches a year ago, New England looks poised to dominate the line of scrimmage in 2021. Defensive tackles Lawrence Guy, Godchaux, and Barmore bring much-needed size, strength, and power to the front seven. On the edge, Van Noy and Judon have the versatility to hold up against the run, rush the passer, and drop into coverage.
At linebacker, Hightower headlines a group full of young players looking to prove themselves.
Will 2020 second-round pick Josh Uche harness his physical tools in time to earn a starting job? Or can 2018 fifth-round pick Ja'Whaun Bentley fend off the explosive former University of Michigan star? Speaking of ex-Wolverines, what does the future hold for Chase Winovich? The 2019 third-rounder has yet to earn a full-time role, so it will be interesting to see how the Patriots deploy him moving forward. Plus, Raekwon McMillan and Terez Hall are competing to make the final roster at linebacker.
With a deep front seven and a stacked secondary, Belichick has all the pieces needed to field a championship-caliber defense. But will everything come together this season?
After all, too many new faces could lead to some communication breakdowns and smashed Microsoft Surface tablets.
Then again, Hightower's return may have erased that concern altogether.