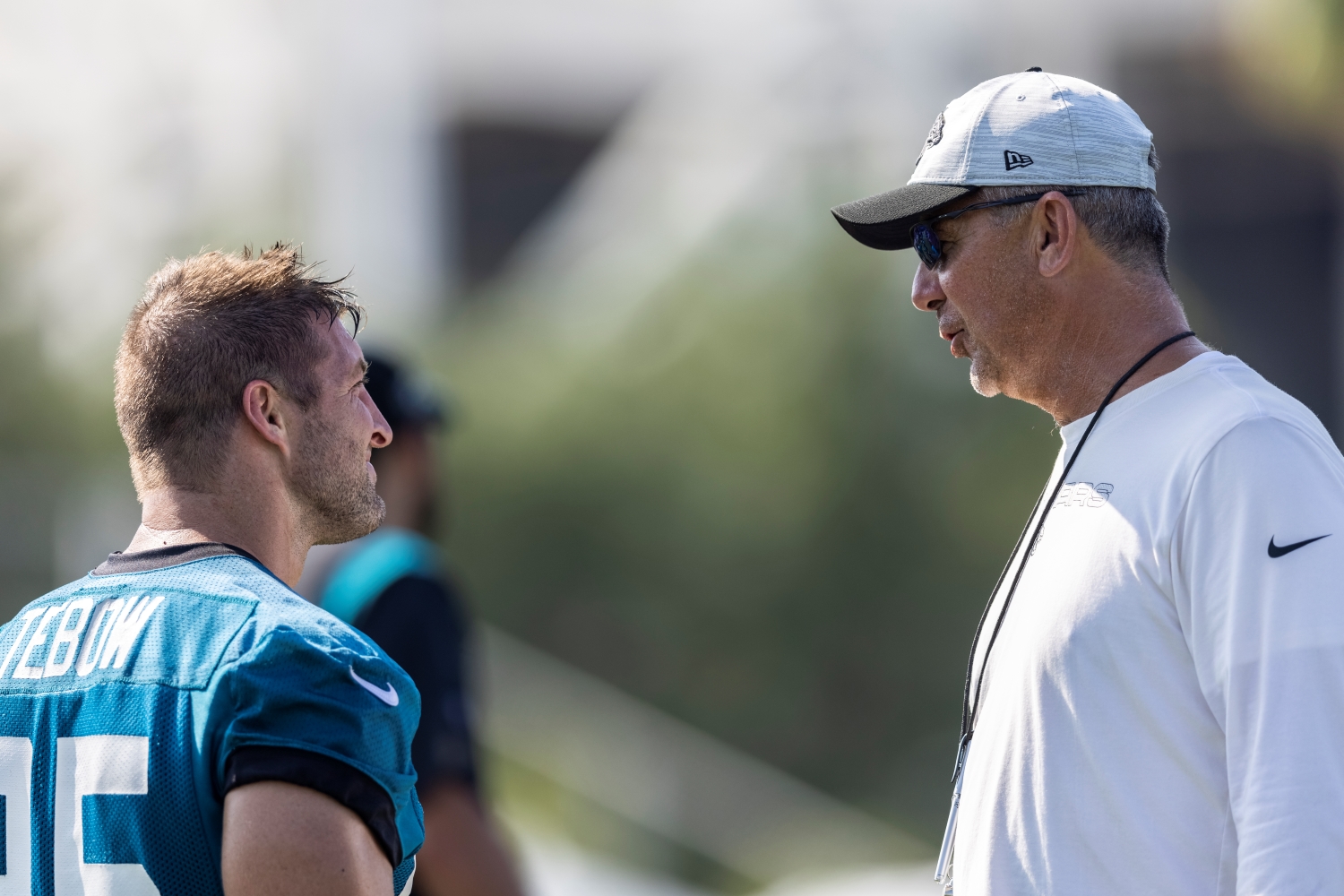 Urban Meyer Just Dealt a Knockout Blow to Tim Tebow's NFL Career
Urban Meyer gave Tim Tebow a chance to make a living as an NFL player again. However, the Jacksonville Jaguars head coach just dealt a knockout blow to the 34-year-old's NFL career.
Urban Meyer won two national championships and became a college football icon largely because of Tim Tebow. However, once the 2007 Heisman Trophy winner made the leap from the SEC to the NFL, he never came close to replicating the success he enjoyed under Meyer at the University of Florida. In fact, Tebow's struggles as a passer eventually led him to trade in his helmet and shoulder pads for a glove and bat.
But once the Jacksonville Jaguars hired Meyer in January, it quickly became apparent that he wanted to give the quarterback-turned-outfielder another chance to make a living as an NFL player.
Unfortunately for Tebow, the same person who gave him an opportunity for resurrection just dealt a knockout blow to his pro football career.
Urban Meyer made a bold move by bringing Tim Tebow to Jacksonville
The Jaguars made headlines by hiring Urban Meyer.
In turn, he created quite a buzz by making a bold decision of his own.
Meyer raised eyebrows around the league by bringing Tim Tebow to Jacksonville. Of course, it shouldn't have been a total shock that the former University of Florida head coach gave the Gators legend a chance to resurrect his career. What was surprising, though, was that the Jaguars signed Tebow to play tight end. After all, despite receiving suggestions to switch positions a decade ago, the 2010 first-round pick refused to give up on his dream of playing quarterback.
At least, that proved to be the case until he put football on pause for baseball.
But thanks to Meyer, Tebow got an opportunity to put on a helmet and shoulder pads again. However, the first-year head coach also opened himself up to criticism by signing a 33-year-old player whose last NFL snap came in 2012. Some viewed the move as a PR stunt designed to drive ticket and jersey sales. Others saw it as a sign that Meyer did something that clearly wasn't in the team's best interest.
Tebow's comeback bid also took some of the spotlight off of the Jaguars' new franchise quarterback, Trevor Lawrence. However, the No. 1 overall pick should receive all the attention moving forward.
Meyer just dealt a knockout blow to Tebow's NFL career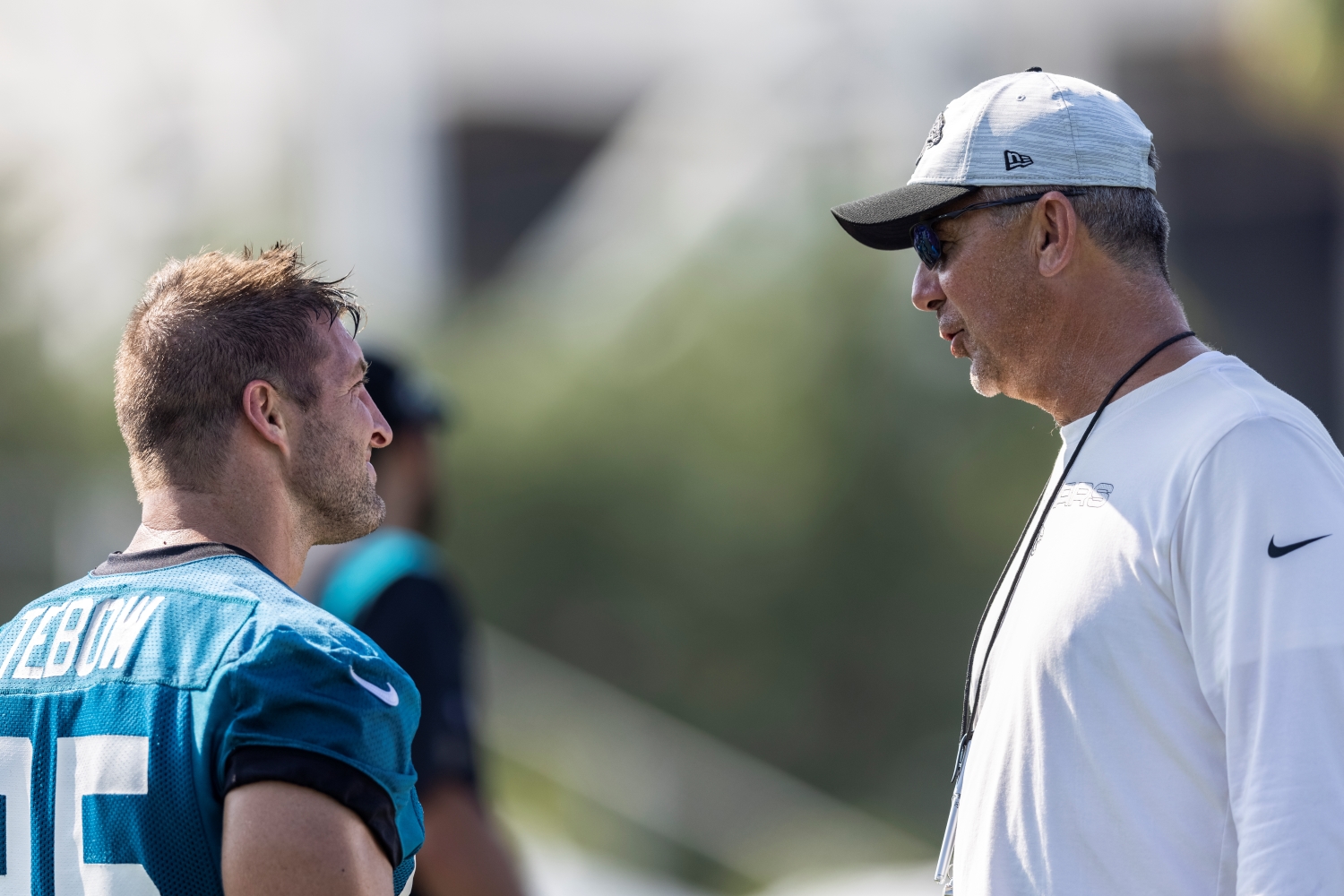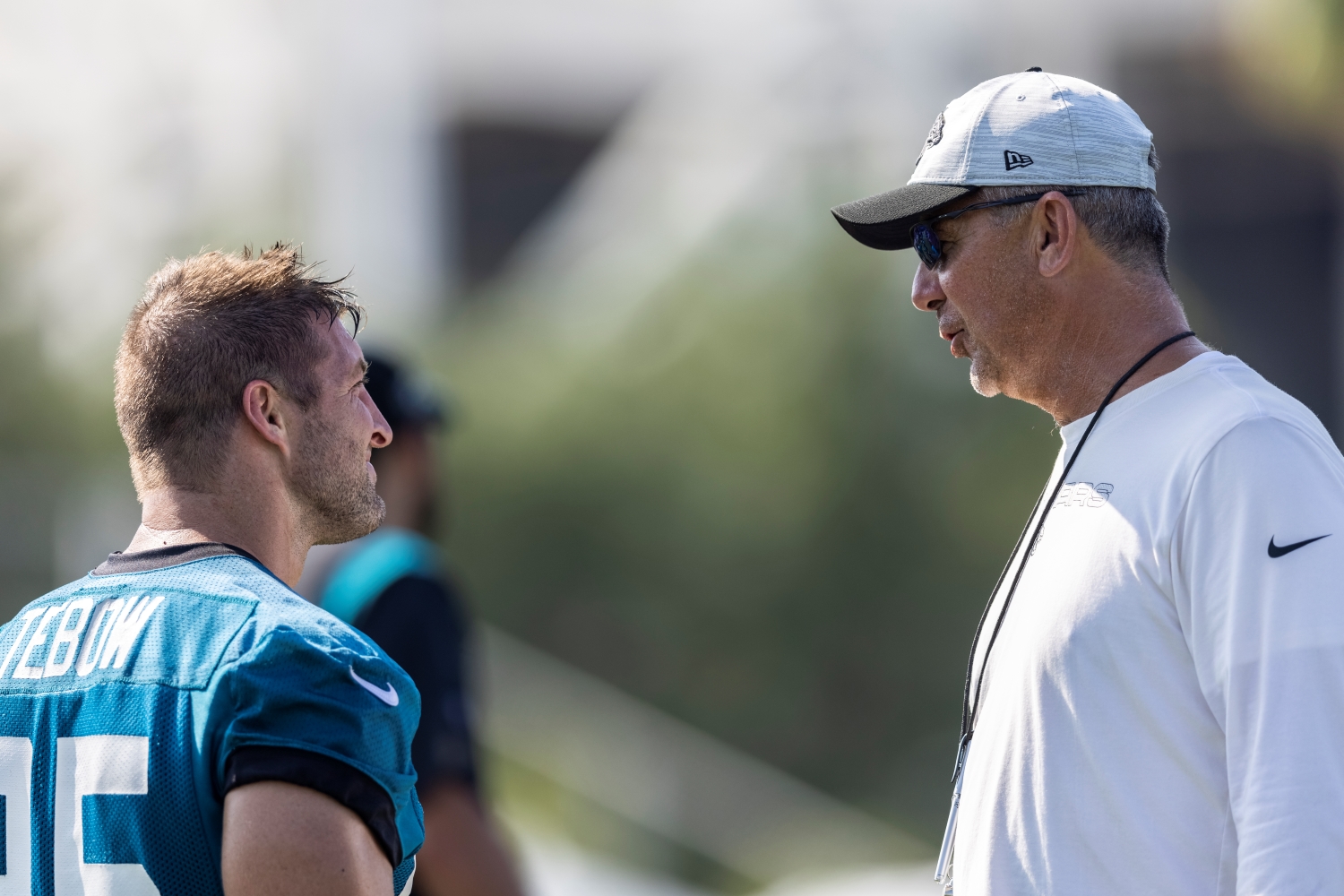 When the Tebow signing got announced, many questioned his ability to make an NFL roster as a tight end. Although he has a well-respected work ethic, a sculpted physique, and a no-quit attitude, he officially needs to find a new line of work.
Despite his close relationship with Tebow, Meyer dealt a knockout blow to the failed baseball pro's NFL career on Tuesday. The Jaguars released the quarterback-turned-tight end in a move that seemed like only a matter of time. Tebow undoubtedly made progress, but he got exposed in Jacksonville's preseason opener against the Cleveland Browns.
Ultimately, his comeback bid unsurprisingly got cut short well before the conclusion of training camp.
At this point, Tebow looks bound for another career path. If Meyer deemed him unworthy of a roster spot, it's difficult to envision another coach entertaining the idea of signing a player who couldn't earn a spot on a Jaguars team coming off a 1-15 season. Given his age, he seems destined to never play another NFL down.
To no surprise, Tebow handled his release with class.
"Thankful for the highs and even the lows, the opportunities, and the setbacks. I've never wanted to make decisions out of fear of failure and I'm grateful for the chance to have pursued a dream…," he tweeted. "Thank you to the @Jaguars organization and everyone who has supported me in this journey. And we know that…God works all things together for good. Romans 8:28."
The Jaguars deserve criticism for signing a player who doesn't belong in pro football
By bringing the Tebow experiment to an end, the Jaguars admitted they made a mistake. All the hype about a potential Taysom Hill-like role in Meyer's offense turned out to be a waste of time.
And that's exactly why Jacksonville's head coach deserves criticism for creating an unnecessary distraction.
Meyer should have focused all of his attention on doing everything possible to set his 22-year-old quarterback up for success. Instead, he had the Tebow storyline hanging over his head for months.
Considering the 34-year-old couldn't last beyond one preseason game, it's clear the Jaguars shouldn't have tried to sell their fans on the idea of Tim Tebow actually becoming a useful NFL player.
Luckily for them, at least they can look forward to having a generational talent under center for years to come.
All statistics courtesy of Pro Football Reference.