Urban Meyer is Foolishly Trying to Sell an Obvious Lie to Jaguars Fans About Trevor Lawrence
Urban Meyer didn't return to coaching because the Jacksonville Jaguars have a rich tradition of winning. After all, the AFC South franchise has a reputation for losing games, blowing first-round picks, and ruining relationships with homegrown stars.
So, why did Meyer finally make the leap to the NFL?
The 57-year-old got back into the coaching profession because of one person: Trevor Lawrence. With an opportunity to work with a generational talent, it made perfect sense for Meyer to make the transition to pro football. However, that hasn't stopped the controversial coach from trying to sell an obvious lie to Jaguars fans about the team's most talented player.
The Jaguars finally have hope for a brighter future with Trevor Lawrence as the new face of the franchise
Jaguars fans haven't had much to cheer about the last three years. After Jacksonville came agonizingly close to defeating the New England Patriots in the 2017 AFC Championship Game, the team has completely fallen apart. A defense once stocked with blue-chip talent finished 31st in points and yards allowed during the 2020 season. Meanwhile, an offense previously built around Blake Bortles fell from 26th to 30th in scoring while starting Gardner Minshew, Mike Glennon, and Jake Luton at quarterback.
At the very least, though, Jacksonville's ineptitude put the franchise in a position to land one of the most coveted prospects in NFL draft history. And by making Trevor Lawrence the No. 1 overall pick, Urban Meyer unsurprisingly bet his future on the former Clemson star.
The Jaguars may not threaten for a playoff spot in 2021, but they certainly have one reason to feel optimistic about what lies ahead. Lawrence's impressive game film, elite physical tools, and mental makeup give him All-Pro upside, and he could easily earn that honor sooner than later. For an organization that's struggled mightily to find a long-term answer at the most important in sports, it seems like the search for a starting quarterback should be over.
However, someone apparently forgot to tell Meyer that.
Urban Meyer is foolishly trying to sell an obvious lie to Jacksonville fans about the rookie quarterback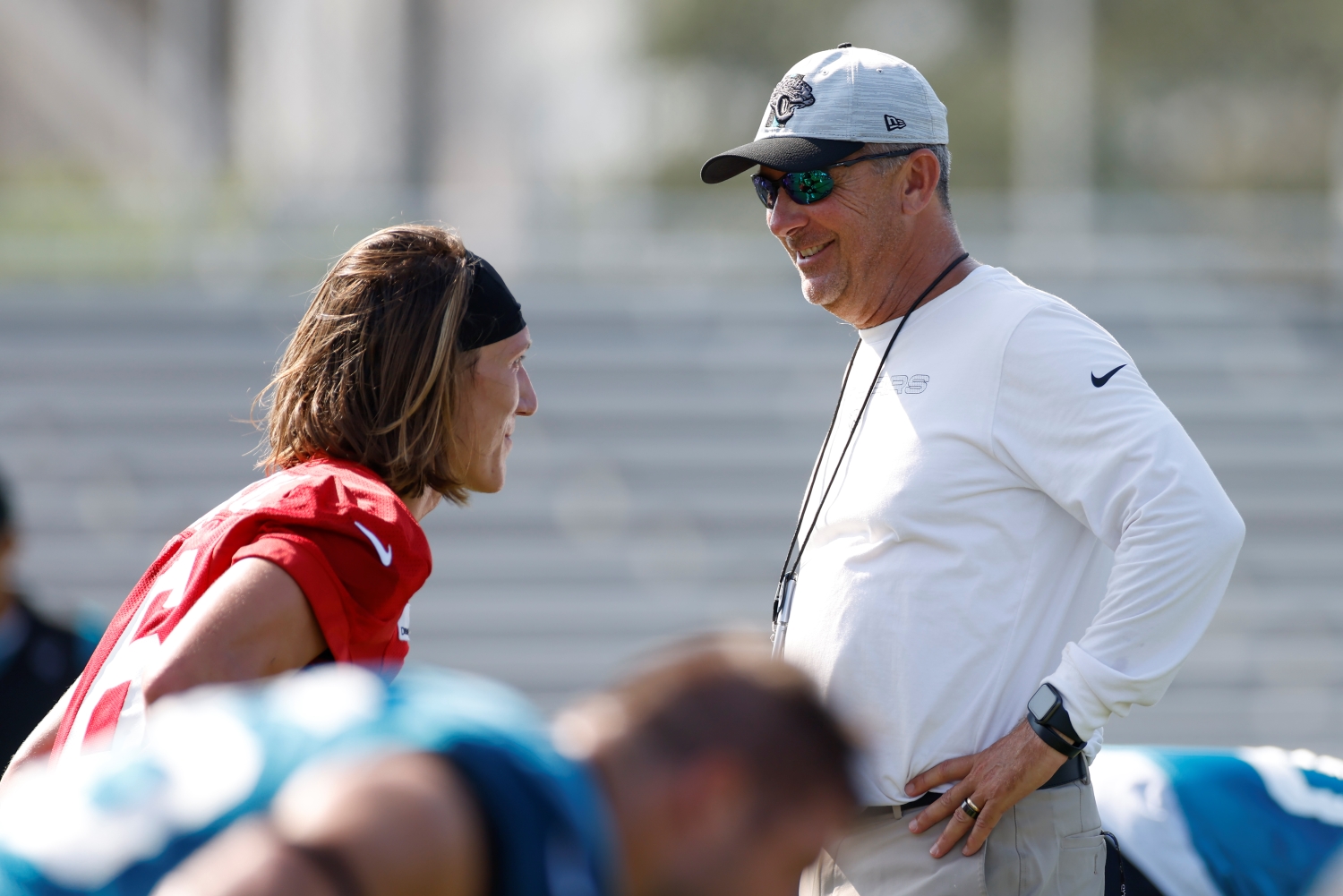 Even before Roger Goodell announced the pick, everyone knew Lawrence was heading to Jacksonville. After all, the 6-foot-6, 220-pound signal-caller pretty much wrapped up the No. 1 spot in the 2021 NFL Draft after his freshman season at Clemson in 2018. And based on everything he did for the Tigers, Lawrence seems destined to enjoy success with the Jaguars.
Of course, he'll need to get on the field first.
Even though it seems completely foolish to raise any doubt about Lawrence's role, Urban Meyer is trying to sell an obvious lie to Jaguars fans.
Jacksonville's initial depth chart lists Minshew or Lawrence as the starting quarterback, and the team's first-year head coach confirmed during his Thursday press conference that there's an open competition between the two. As much as Meyer may want to avoid naming Lawrence the starter, it makes little sense to not fully commit to playing the No. 1 overall pick. While top prospects still have the potential to flame out, there's no doubt Lawrence possesses far more talent than Minshew. The 21-year-old could have made the leap to the NFL years ago, so why waste any more of his athletic prime by even entertaining the idea of not starting him in Week 1?
If anything, Lawrence would benefit from playing right away. He could gain valuable experience running an NFL offense that has some intriguing pieces in place. Considering the Jaguars used the franchise tag to retain left tackle Cam Robinson, it would make sense for the team to have done so with the idea of letting him protect their new franchise quarterback. Plus, Meyer drafted hybrid running back/receiver Travis Etienne, who played alongside Lawrence at Clemson.
Why not put both collegiate stars on the field and let them showcase the skills that made them first-round picks?
Ultimately, the idea of selecting and sitting Lawrence is absolutely absurd. For Meyer to suggest that Minshew has a chance to start over arguably the best quarterback prospect of the last 20 years seems like a foolish attempt to create unnecessary speculation and drama. If the Jaguars plan on winning more than a few games, their best bet is to go all-in on the youth movement and hand the keys to the offense to Lawrence.
Gardner Minshew deserves a change of scenery just as much as Lawrence deserves the starting job
If anything, Meyer's insistence on the starting quarterback position remaining up for grabs may inspire a team to pursue a trade for Lawrence's mustachioed teammate. In fact, trying to sell the idea of a "competition" between the 2021 No. 1 overall pick and the 2019 sixth-rounder might be an attempt to drum up interest in Minshew, who's shown flashes of playmaking brilliance.
Unfortunately for the 25-year-old quarterback, his career arc took a dramatic turn once Lawrence officially became a Jaguar. Despite showing intriguing potential, Minshew clearly didn't do enough to cement his case as the guy in Jacksonville. By investing in Lawrence, the Jaguars obviously plan on building around him, so their incumbent starter shouldn't expect to see the field much.
At this point, Minshew deserves a fresh start with a franchise that offers him a legitimate shot at earning a starting job. He's certainly not perfect, but he operates with a confident approach that should appeal to at least a few coaches around the league.
Let's see if Urban Meyer hyping up a quarterback with no apparent future in Jacksonville leads to some trade action. After dealing with a disastrous situation for two years, Gardner Minshew deserves a change of scenery.
All statistics courtesy of Sports Reference and Pro Football Reference.