The New Orleans Saints Can Solve Their Michael Thomas Problem and Fill a Glaring Roster Hole in 1 Phone Call
Think the New Orleans Saints regret giving Michael Thomas a record-setting deal? Although he's under contract through 2024, the All-Pro receiver has raised serious doubts about his future with the franchise this offseason. Surprisingly, the Saints' best bet may be to part ways with a player who doesn't seem to be on the same page with the organization.
Luckily for general manager Mickey Loomis, he can solve his Thomas problem and fill a huge roster hole by making one phone call.
Michael Thomas no longer looks like a long-term fixture in New Orleans
The Saints secured a future star in the second round of the 2016 NFL Draft by selecting Thomas with the 47th overall pick. Despite not having elite speed, the big-bodied wideout showcased the ability to consistently make plays in the passing game right off the bat. Thomas led the Saints in catches (92) and touchdown receptions (nine) as a rookie.
Of course, that simply set the stage for some mind-boggling statistical achievements.
Thomas earned first-team All-Pro honors in both 2018 and 2019 by catching 274 passes for 3,130 yards and 18 touchdowns. However, the record-breaking receiver didn't come close to earning any individual awards last year.
An ankle injury limited Thomas to 40 receptions for 438 yards across seven games. His name even got discussed in trade rumors — a shocking turn of events for a player who signed a five-year, $100 million contract extension in July 2019.
Unfortunately for Saints fans, the situation involving the team's star receiver hasn't improved at all. At this point, the odds of Thomas playing for another franchise in the near future look stronger than ever. The fallout from his costly decision to delay his ankle surgery has caused problems for the Saints on multiple levels. From an outsider's point of view, Thomas certainly seems like a strong candidate to get traded.
The Saints can resolve the situation and address their biggest weakness in a single phone call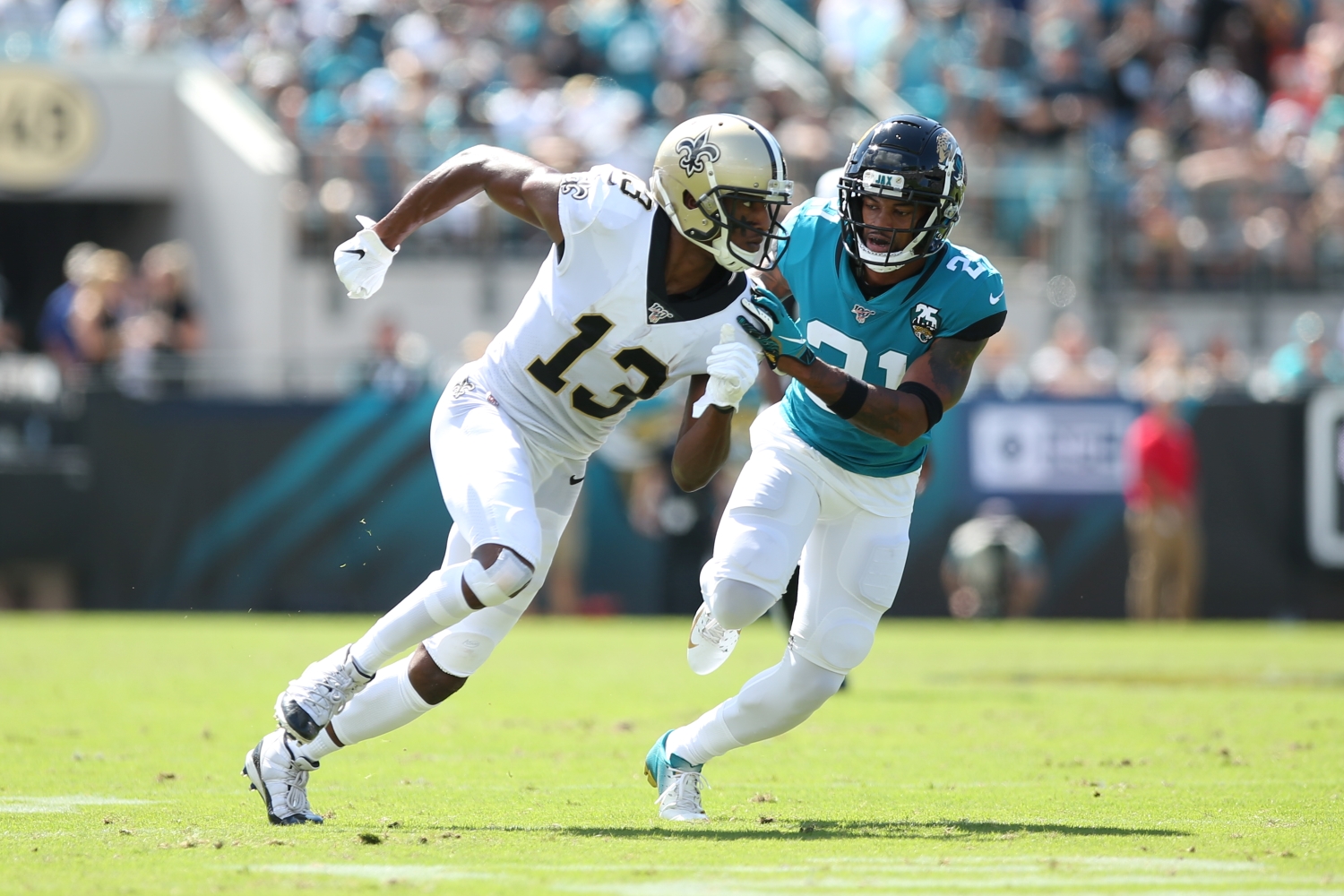 It's clear that the Saints and their No. 1 receiver don't seem to be on the same page. And that might not be anything new given how the 2020 season went.
New Orleans can resolve the Thomas situation by trading him for a high draft pick. Or, the franchise can take a different route that doesn't revolve around acquiring a future asset. In fact, as long as the Saints are willing to deal with the salary-cap ramifications of trading their highly-paid wideout, they shouldn't hesitate to dial up the Jacksonville Jaguars.
After all, the AFC South franchise can take Thomas off their hands and help them shore up a glaring weakness in a single transaction.
Although it makes little sense on the surface, the Jaguars have reportedly made 2020 first-round pick C.J. Henderson available. The talented cornerback got selected ninth overall after showcasing elite coverage skills at the University of Florida. However, Urban Meyer apparently doesn't believe Henderson has a long-term future in Jacksonville.
Jeff Duncan of The Times-Picayune tweeted Monday that the Saints are "exploring available options in the trade market for a cornerback." Henderson's name got mentioned as a potential solution.
Swapping Thomas for the 22-year-old corner seems like a win-win scenario for everyone involved. The accomplished receiver would get a chance to catch passes from Trevor Lawrence instead of Jameis Winston or Taysom Hill. And the Saints wouldn't have to worry about further distractions caused by the All-Pro wideout. Most importantly, they would get to pair Henderson with three-time Pro Bowler Marshon Lattimore. It's hard not to get excited about the potential of a cornerback duo comprised of two high first-round picks.
As for the Jaguars?
Trading Henderson (along with a draft pick) for Thomas would solidify their offense. Adding him to a group that already includes DJ Chark, Laviska Shenault Jr., and Marvin Jones would provide Lawrence with a terrific collection of receivers with varying skill sets. If getting Henderson off the roster is their ultimate goal, the Jaguars could do a whole lot worse than dealing him for the 2019 NFL Offensive Player of the Year.
Which NFL teams should consider trading for Thomas besides the Jaguars?
Jacksonville looks like an ideal trade partner for New Orleans.
But if Thomas gets put on the trading block, the Saints should expect to receive at least a few phone calls from general managers around the league. Which teams stand out as logical suitors for his services?
Don't count out the New England Patriots from making a run at Thomas. Even after his expensive free-agent shopping spree, Bill Belichick doesn't have a true No. 1 receiver on the roster. If he wants to set Mac Jones up for future success, why not trade for a proven star who should have plenty of motivation to prove his doubters wrong?
Sticking in the AFC, the Los Angeles Chargers could make Justin Herbert's life easier by trading for Thomas. Keenan Allen and Mike Williams would certainly benefit from defensive coordinators having to dedicate their attention to stopping another big-bodied wideout.
Plus, you can't forget about Brett Veach and the Kansas City Chiefs. Not only could they use an upgrade at receiver behind Tyreek Hill, but they also have a history of going after marquee players. From signing Tyrann Mathieu to trading for Frank Clark to acquiring Orlando Brown Jr. this offseason, the Chiefs certainly aren't afraid to make a splashy move.
And pairing Patrick Mahomes with Michael Thomas would certainly qualify as that.
All statistics courtesy of Pro Football Reference.