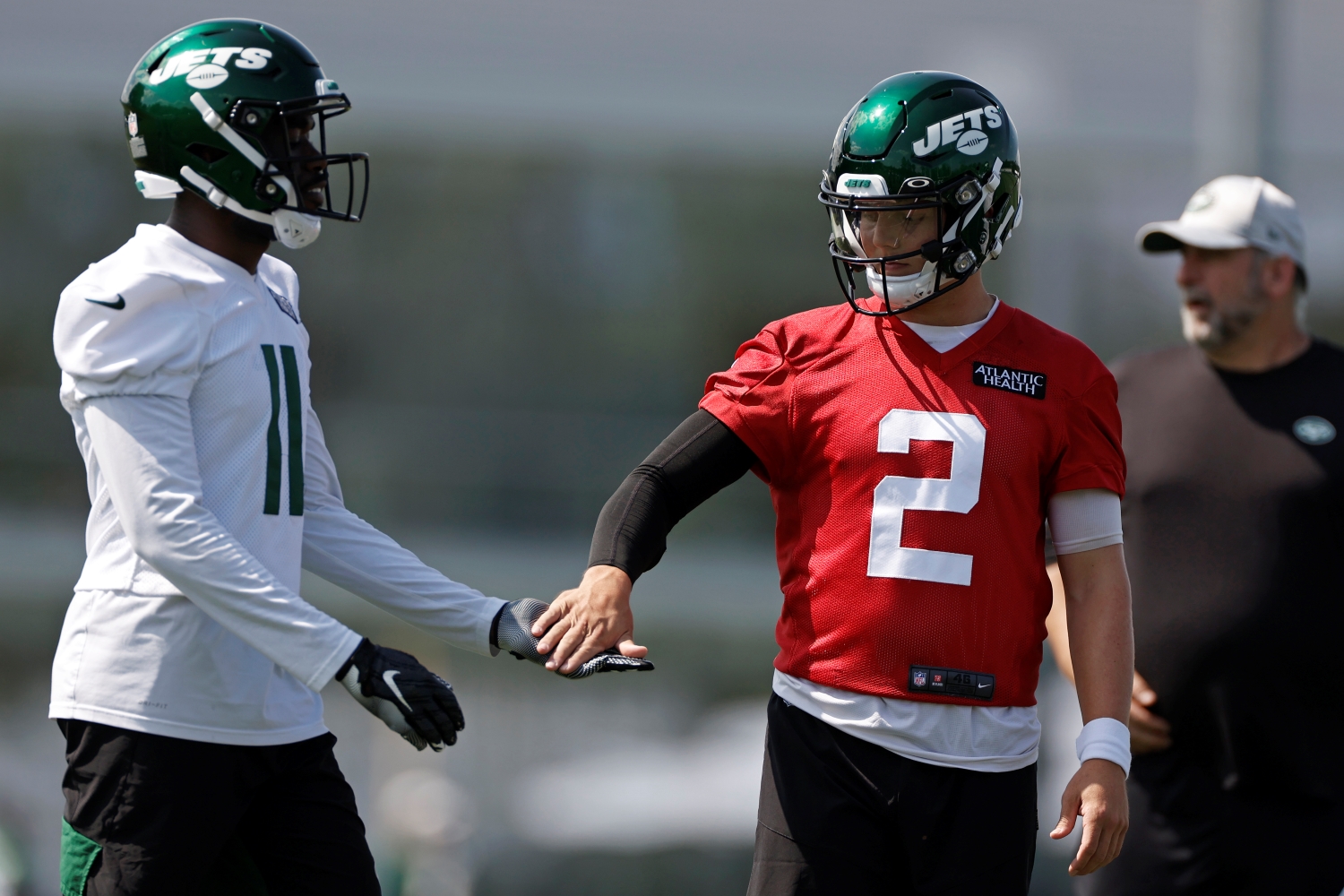 After Giving Up on Sam Darnold, the New York Jets Are Officially in Danger of Having Another Epic NFL Draft Bust on Their Hands
The New York Jets already gave up on Sam Darnold. Will 2020 second-round pick Denzel Mims become New York's latest NFL draft bust?
The New York Jets thought they addressed the most important position in sports when they took Sam Darnold with the third overall pick of the 2018 NFL Draft. Obviously, though, the talented quarterback didn't live up to expectations with the AFC East franchise. While Darnold's lack of development can be heavily attributed to disappointing former head coach Adam Gase, the fact the team moved on from the former USC star after three up-and-down seasons undoubtedly makes him a poor use of draft capital.
However, it looks like another player who recently arrived as a high-round pick could soon play for another franchise. Months after giving up on Darnold, the Jets officially appear in danger of having another epic NFL draft bust on their hands.
Sam Darnold became the latest high-profile prospect who failed to pan out in New York
The Jets sure know how to mess up in the draft, right?
From blowing three straight first-round picks on Quinton Coples, Dee Milliner, and Calvin Pryor to burning a second-rounder on Christian Hackenberg, New York has done a masterful job of butchering the process.
Of course, the Sam Darnold selection stands out as the most recent questionable move made by the Jets.
The 24-year-old entered the 2018 NFL Draft as a high-upside prospect who some regarded as the best quarterback on the board. Others viewed him as more of a boom-or-bust pick due to his penchant for turning the ball over (Darnold threw 22 interceptions in 27 games at USC) and his lack of experience.
After surrendering a huge haul to acquire the No. 3 overall pick, the Jets hitched their wagon to the California native.
The experiment lasted 38 games before general manager Joe Douglas found a new home for Darnold.
Sure, Gase's abysmal coaching and poor protection played a role in the young quarterback's struggles. But Darnold certainly didn't impress by throwing 39 interceptions and completing less than 60% of his passes. By trading him to the Carolina Panthers in early April, the Jets admitted defeat and made it clear that they would go after Zach Wilson in the 2021 NFL Draft.
Incredibly, several months after throwing in the towel on Darnold, New York looks poised to do the same thing with another underwhelming early-round pick.
The Jets are officially in danger of having another epic NFL draft bust on their hands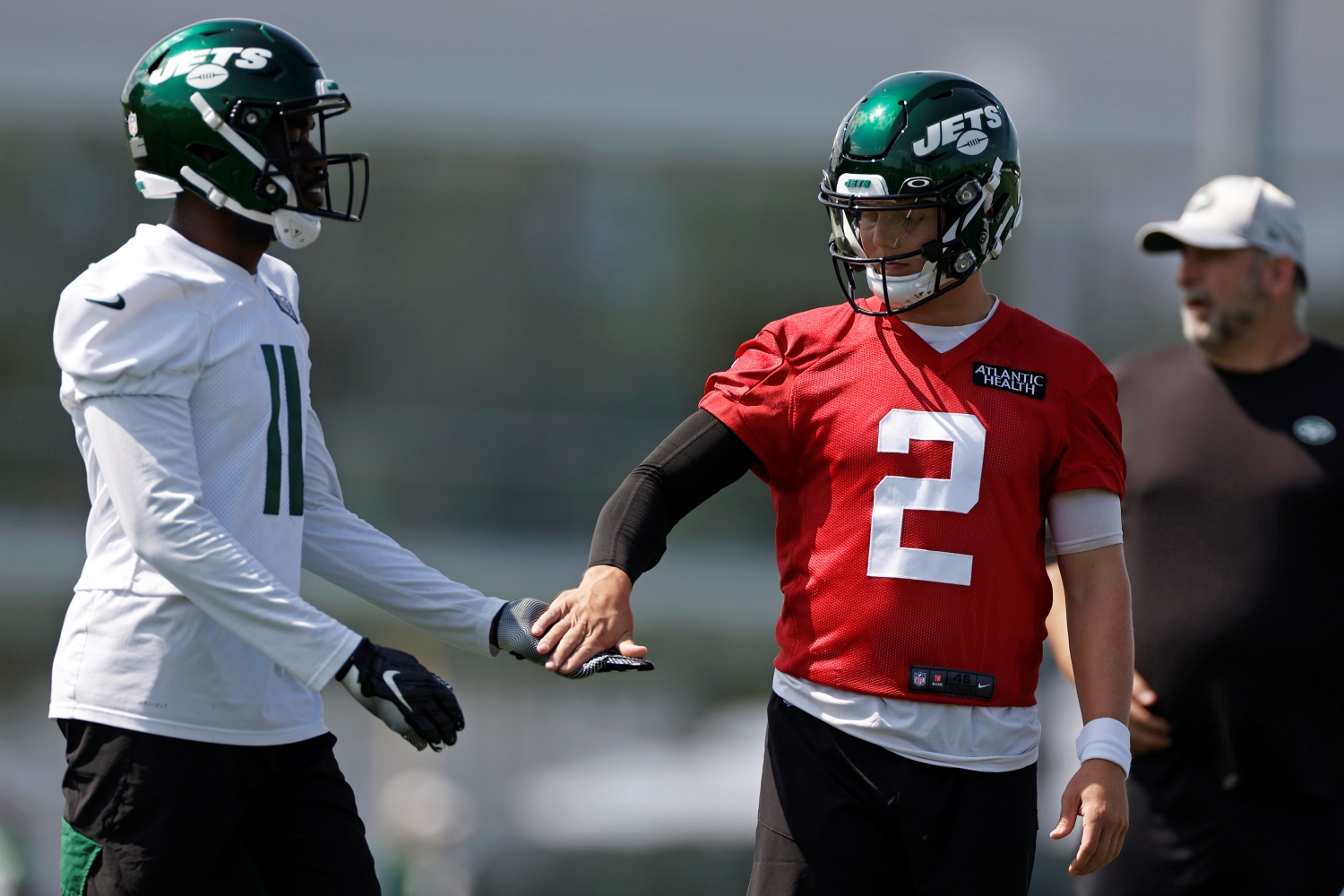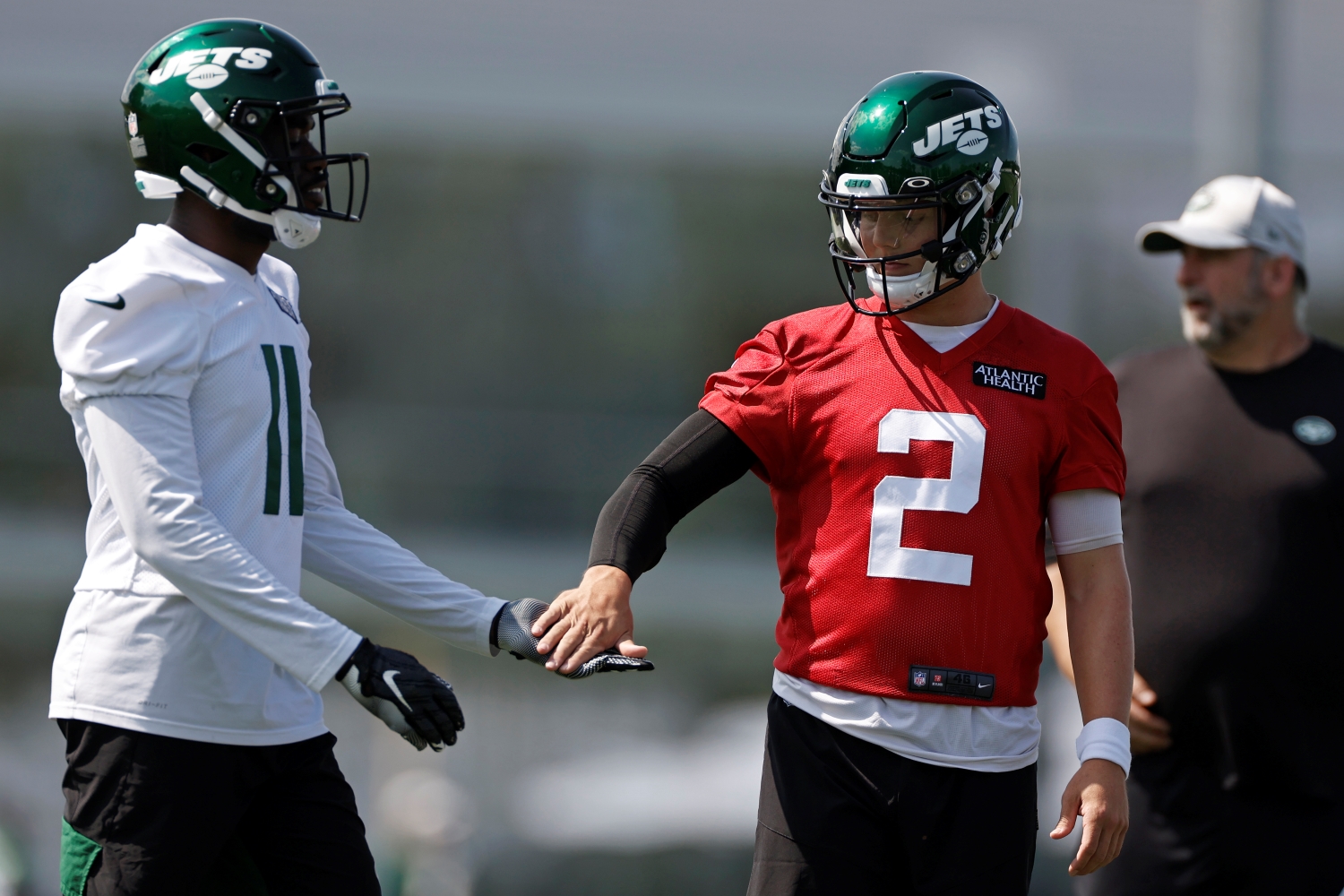 The Jets tried to get Darnold some help in the 2020 NFL Draft by taking Denzel Mims with the 59th overall pick. Considering he caught 186 passes for 2,925 yards and 28 touchdowns in college, it made sense for New York to use a second-round selection on the former Baylor star.
A tall, fast, and physical wideout with big-play ability, Mims caught 23 of 44 targets for 357 yards in nine games during the 2020 season. However, despite flashing intriguing potential as a rookie, the 6-foot-3, 207-pound wideout no longer looks like a long-term building block for the Jets.
In fact, Mims seems closer to earning the "draft bust" label than a starting position.
According to Rich Cimini of ESPN, the second-year pro is currently sixth or seventh in the hierarchy of Jets receivers.
"Leapfrogged on the depth chart by three offseason additions, Mims is finding his way in an offensive system that might not be suited to his skill set," Cimini wrote.
Cutting the 2020 second-round pick seems out of the question, but a trade does not. After all, Mims falls behind high-profile free-agent addition Corey Davis, exciting rookie Elijah Moore, and veterans Keelan Cole and Jamison Crowder on the depth chart.
Given the fact they spent a second-round pick on him a year ago, it certainly doesn't seem encouraging that the Jets might deal Mims. A new system might not cater to his strengths, but Douglas is the one who signed off on taking the talented pass-catcher in the 2020 draft. If Mims gets dealt, it won't be a good look for an organization that has a history of botching decisions at every level.
Should the Denzel Mims situation cause concerns for Jets fans about what lies ahead for Zach Wilson and Co.?
To go from starting as a rookie to being no higher than sixth on the depth chart doesn't bode well for Mims' future in New York. The fact a trade is even a remote possibility should make Jets fans nervous about what lies ahead.
Should they trust a front office that may get rid of a player who arrived 15 months ago as a Day 2 pick? Should they feel confident about the oft-injured Davis living up to his three-year, $37.5 million contract given his durability issues?
Better yet, what about Wilson? Sure, he flashed exciting potential at BYU. However, he doesn't have great size, he basically was a one-year wonder, and it's not like the Jets have a promising track record of developing starting-caliber quarterbacks.
That being said, there are a few reasons to remain optimistic about New York's long-term outlook. Robert Saleh represents a massive upgrade over Gase. The offensive line looks much better with the presence of first-rounders Alijah Vera-Tucker and Mekhi Becton. Plus, Jets fans should be excited to see the dynamic duo of Carl Lawson and Quinnen Williams wreak havoc on opposing quarterbacks.
Ultimately, though, this is a team with too many question marks to consider as a playoff contender. And until the Jets start drafting players who can make it through their rookie contracts, that won't change.
All statistics courtesy of Pro Football Reference. All contract data courtesy of Spotrac.