Michael Thomas' Shocking Injury News Could Derail the New Orleans Saints Season
The New Orleans Saints are already preparing for life without Drew Brees. Now, the team found out that the beginning of the 2021 season will include life without superstar wide receiver Michael Thomas as well. 
News broke just days before training camp that the All-Pro wideout will miss at least the first few weeks of the coming season. This is a major blow that has left coach Sean Payton and the Saints scrambling for alternative options. 
Michael Thomas is one of the best wide receivers in the NFL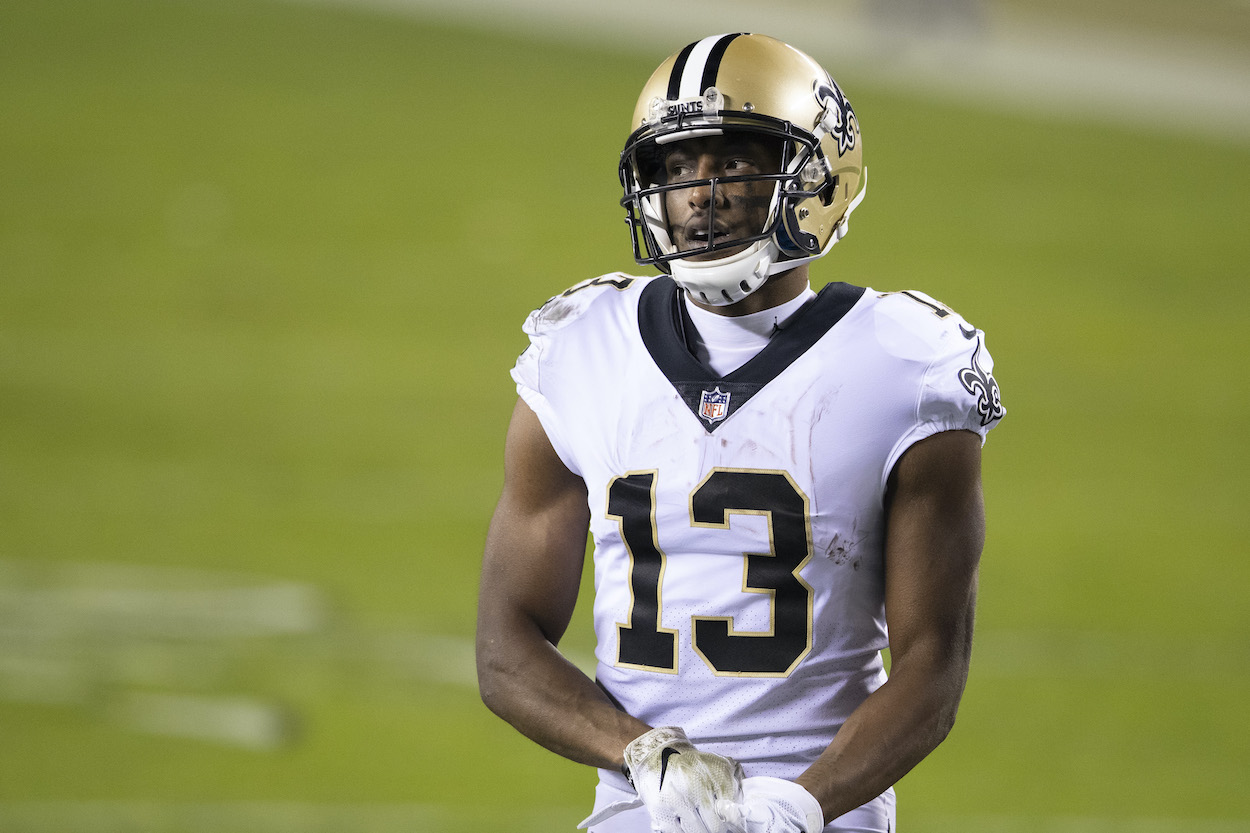 The New Orleans Saints picked Michael Thomas No. 47 overall in the 2016 NFL draft. The Ohio State pass-catcher caught 113 balls for 1,602 yards as a Buckeye and scored 18 touchdowns. 
The 6-foot-3 playmaker was productive right out of the gate in New Orleans. His rookie season ended with 92 receptions and 1,137 yards. Thomas improved on both these numbers in each of his next three seasons. 
He became a Pro Bowler for the first time in 2017 and was named All-Pro in 2018 and 2019. In his first All-Pro season, he led the league in receptions with 125. The following year, he was first in the NFL in receptions (149), yards (1,725), and yards per game (107.8). 
An ankle injury cost the former second-round pick most of his 2020 season. He played in Week 1, missed the next six games, then played in Weeks 8 through 13 before the Saints put him on Injured Reserve to end his season. All told, he only played 32% of the Saints' offensive snaps last season. 
Thomas will miss several weeks of the 2021 NFL season
NFL Network's Ian Rapoport broke the news on Friday, July 23, that Thomas would miss significant time again in 2021. 
His report said that Thomas had "surgery to repair the ligaments in his ankle in June" and that recovery would be around four months. That puts his absolute earliest return at New Orleans' Week 4 matchup at home against the New York Giants. 
Rapoport appeared on the Pat McAfee Show 2.0 podcast after he broke the news to discuss the situation. He told the host: 
Here's what we know about Michael Thomas. The plan was for him to have a minor ankle clean-up right after the season. What I found out – actually late last night – was that in June, he had a major ankle surgery. It was to repair torn ligaments in his ankle, about a four-month recovery. So, what you're looking at is missing the first several weeks of the season – maybe five, six, seven, something like that – if everything goes well. 

Ian Rapoport on Michael Thomas
The most interesting part of the conversation is that even the plugged-in Rapoport didn't know whether this was a second surgery or if Thomas purposefully put the procedure off, knowing it would cost him games. 
"Either, he put it off, put it off and had surgery in June," Rappaport explained. "Or, he's had two surgeries. One was early, and the other was in June."
Whatever the case, the real scoop on Thomas' injury and the timing around the surgery will likely come out soon. 
Who are the best free-agent wide receivers left in 2021? 
In conjunction with the Thomas injury news, another NFL Network reporter, Mike Garafolo, tweeted that the Saints will be dipping back into the free-agent pool to look for additional wide receiver depth. 
Unfortunately for the Saints, the free-agent receiver market isn't as good as it was earlier in the offseason when players like Kenny Golladay (New York Giants), Corey Davis (New York Jets), Marvin Jones (Jacksonville Jaguars), and Emmanuel Sanders (Buffalo Bills) were available. 
Now, Larry Fitzgerald leads the free-agent market, but he'll likely retire or return to Arizona. That leaves names like Golden Tate, Danny Amendola, Dez Bryant, Kenny Stills, Dede Westbrook, Marquis Lee, and D'Anthony Thomas as the best receivers available. 
None of these receivers are overly exciting, but they could compete for playing time in a wideout group that currently features Tre'Quan Smith, Marquez Callaway, and Deonte Harris, none of whom are household names. 
This could be a significant issue for a Saints team without a true No. 1 QB that is already trying to reinvent itself in its first season without the best player in franchise history. The first few weeks especially will be a massive test of Payton's coaching acumen, which many believe to be among the best in the league.  
All stats courtesy of Pro Football Reference and contract information courtesy of spotrac