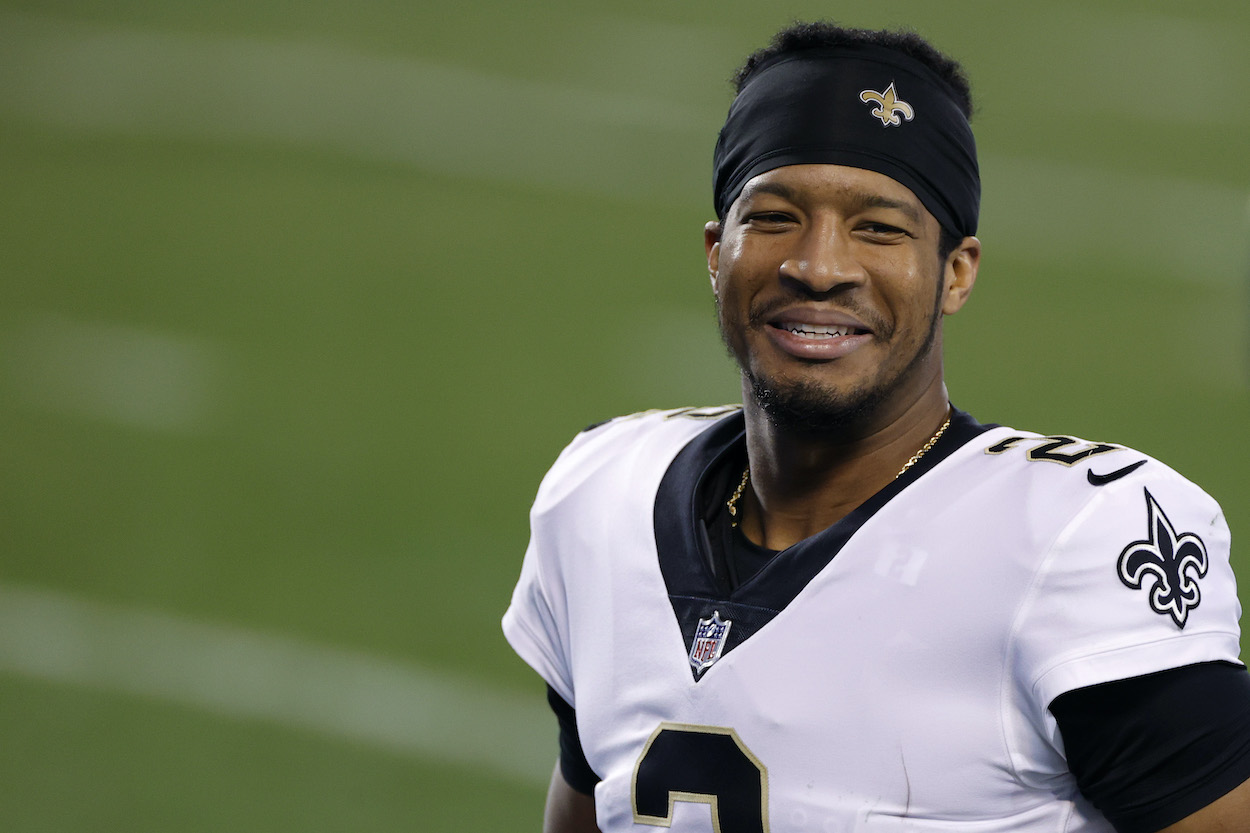 Jameis Winston Getting Beat Up in a Workout Is Video Saints' Fans Will Love to See
New Orleans Saints quarterback Jameis Winston was shown getting beat up in a social media video, but the aggressive training session highlighted Winston's physical gifts. Saints fans should expect him to be named the starting QB for the 2021 season over the team's jack-of-all-trades, Taysom Hill.
Most NFL fans absolutely do not want to see someone beating up their quarterback. That isn't true for New Orleans Saints fans, though. Many fans had a positive reaction after seeing a social media video of a trainer "beating up possible starting QB Jameis Winston.
If the Saints see more of what Winston showed in that video, the team might not miss retired legend Drew Brees as much as they expect to in 2021. 
Winston signed with New Orleans Saints in 2020 but didn't see much action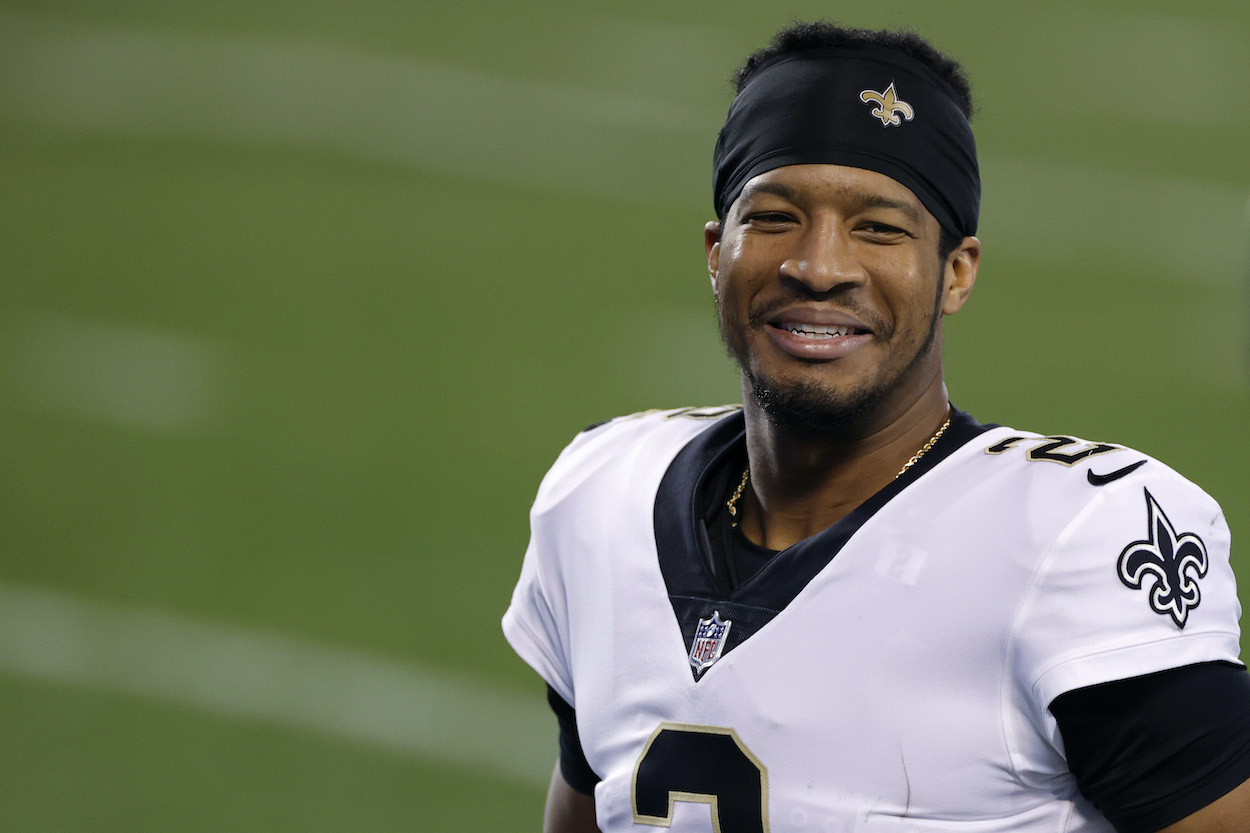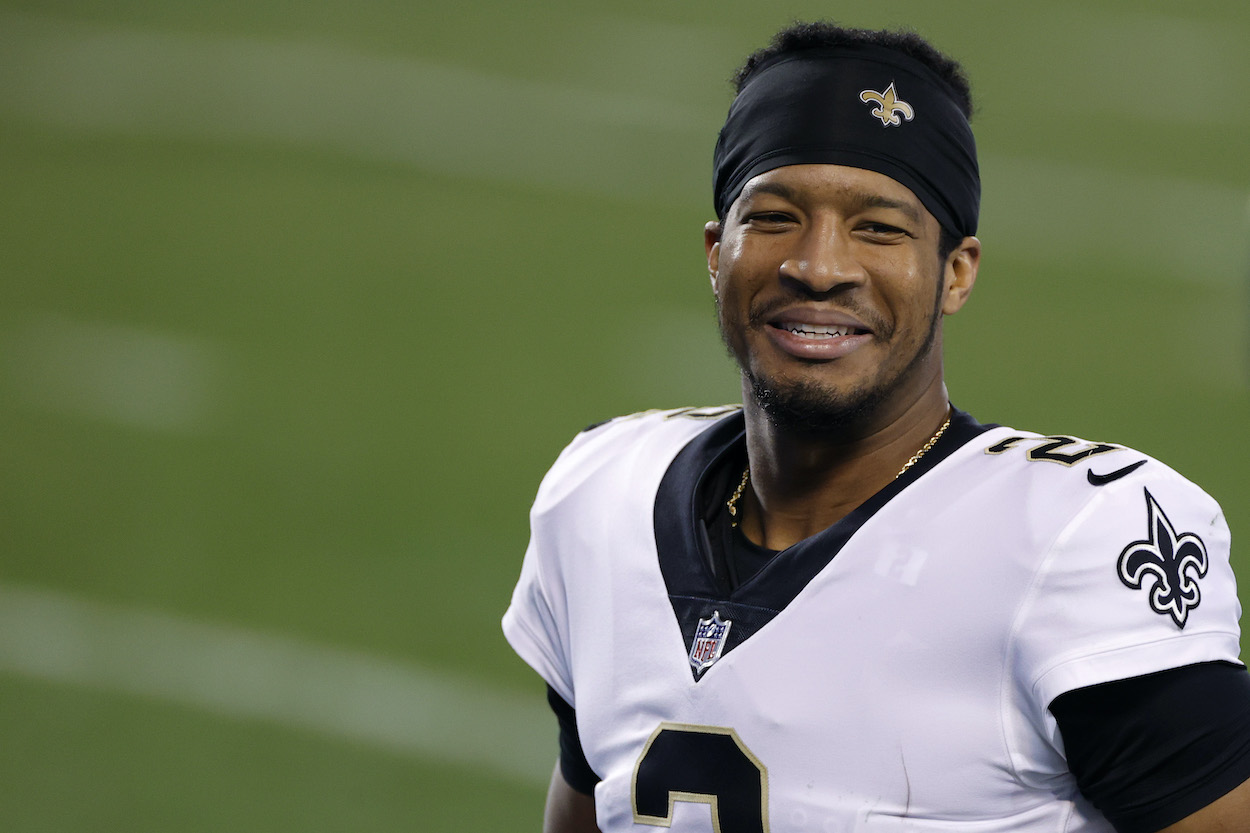 The No. 1 overall pick of the 2015 NFL draft spent the first five years of his career with the team that drafted him, the Tampa Bay Buccaneers. After posting a 28-42 career record and leading the league with 30 interceptions in his last season there, Tampa Bay released Winston. 
The New Orleans Saints signed the former Heisman Trophy-winning Auburn Tiger for one year and $1.1 million prior to the 2020 NFL season. 
It was not entirely clear if Winston was the backup or the third-string QB until Brees missed four games with broken ribs and a collapsed lung. During that stretch, do-it-all QB Taysom Hill started in Brees' stead. 
All told, Winston only appeared in four games for the Saints last season, completing seven passes for 75 yards. 
However, Brees retired in the offseason, and the Saints re-signed Winston to a one-year, $5.5 million deal for 2021. Head coach Sean Payton hasn't committed yet to Hill or Winston as the starting QB for the upcoming season. 
The Saints QB stayed focused while brushing off blows in a training session
While we may not know whether Winston will be the new QB1 for the Saints in 2021, we do know he is working hard trying to be. 
A video on social media recently showed Winston working out. While sliding back and forth between tacking dummies, Winston barked out numbers. The entire time, an enormous man with boxing mitts was aggressively slapping at the ball. 
The focus and strength that Winston showed in the video were impressive. However, social media users differed on how they felt about the workout post. Some commented about their excitement for Winston in the new season. Still, others called the video frustrating since Winston's considerable physical gifts don't always translate on a football field. 
Another question many had is who the trainer is that towered over the 6-foot-4 QB. The man in the video smacking Winston around is his trainer and former NFL defensive end, Otis Leverette. The 6-foot-7 Leverette played four seasons in the NFL with the now-Washington Football Team, then-San Diego Chargers, and San Francisco 49ers from 2001-2004. 
Leverette currently runs ModernDay Fitness in Birmingham, Alabama, and has trained and mentored Winston since the QB's time in high school, per Bleacher Report. 
Will Taysom Hill or Jameis Winston start for the Saints?
Social media videos won't determine the Saints' starting quarterback. Training camp will. Although while Payton says he hasn't decided yet, the smart money is on Winston to take the reins to start 2021. 
According to ProFootballTalk, Winston is the heavy favorite to win the job. The odds of the former No. 1 overall pick being under center Week 1 is -200, while Hill as the starter will payout better at +145 odds. 
If you really want to make some dough, you can put a few dollars down on the long-shot rookie from Notre Dame, Ian Book, who has +3300 odds. 
The thought process behind Jameis Winston starting is that with him primarily under center, Payton and the Saints can continue to utilize Hill's unique skills. Also, Hill takes a lot of punishment on gadget plays, so he is more likely to get injured. An injury to the starting QB could seriously hurt the Saints' chances to win. 
All stats courtesy of Pro Football Reference and contract figures courtesy of spotrac