Urban Meyer's Latest Comments Don't Sound Promising For Tim Tebow's NFL Future
Does Tim Tebow have a future as an NFL tight end? Or will the former Denver Broncos quarterback have to find another way to earn a living?
While nobody knows the answers to those questions right now, how Tebow performs in training camp will go a long way toward clearing up any uncertainty about his future in pro football. But based on the latest comments from Urban Meyer, Jacksonville Jaguars fans shouldn't feel too confident about the chances of Tebow ever making an impact for the franchise.
Tim Tebow faces the most pivotal stretch of his pro sports career
The next few months will determine whether Tebow deserves to stick around the NFL. Of course, it's been quite some time since he got paid to play football.
Tebow's last NFL appearance came in 2012 as a member of the New York Jets. While he had brief stints with the New England Patriots and Philadelphia Eagles, he eventually put his NFL career on pause to play pro baseball. But after spending the latter half of the last decade toiling away in the minor leagues, Tebow officially stepped away from the game in February.
To no surprise, the former Florida Gators star reunited with his college head coach. With Meyer running the show in Jacksonville, Tebow received an opportunity to resurrect his career with a franchise in desperate need of a facelift. However, his path to earning a roster spot with the Jaguars looks particularly daunting. After all, he has to master a new position and prove his 33-year-old body can withstand the physical toll of playing tight end.
Given his inexperience as a pass-catcher and blocker and his almost decade-long layoff from the NFL, even the hard-working Tebow seems like a longshot to make the team. If he doesn't impress in training camp and preseason games, his comeback story will likely have a sad ending.
Urban Meyer's comments don't sound promising for Tebow's future
Meyer understands Tebow better than most people. They won two national championships together at Florida, and the veteran coach can attest to the 2007 Heisman Trophy winner's relentless work ethic and leadership skills. Yet, even though Meyer has a close relationship with Tebow, he won't just hand him a job.
In fact, after acknowledging the difficulty of having to trim the final roster from 90 players to only 53, Jacksonville's head coach raised serious doubts about Tebow's future.
"To me, he's one of the 90. He's a guy that's, what's the difference between him and the other 40 guys trying to make the team?" Meyer told Mackenzie Salmon of USA Today Sports. "To me, it's all the same. This is their livelihood, this is a job, this is a way to make a living. And the reality is that a good percentage of your roster is going to get cut or transitioned out of here."
Not exactly an encouraging statement if you're Tebow, right?
Meyer referring to him as "one of the 90" may seem like a slight, but it reflects the reality of the situation. Tebow has zero experience as a tight end, and it's not like he impressed as a quarterback in his previous NFL stint. Even if Meyer wants to make Tebow the Jaguars' version of Taysom Hill, it's fair to wonder if the soon-to-be 34-year-old has the athleticism and skill set to make an impact as a runner, receiver, and thrower.
As much as Jacksonville wants the experiment to work out, Tebow has to prove he undoubtedly deserves a roster spot over players who've actually played football within the last eight years. But based on Meyer's categorization of Tebow and his comment about moving on from a significant chunk of the roster, the future does not look particularly bright for the man buried at the bottom of the tight end depth chart.
Will the Jaguars become the next NFL team to feature a quarterback-turned-tight end on their roster?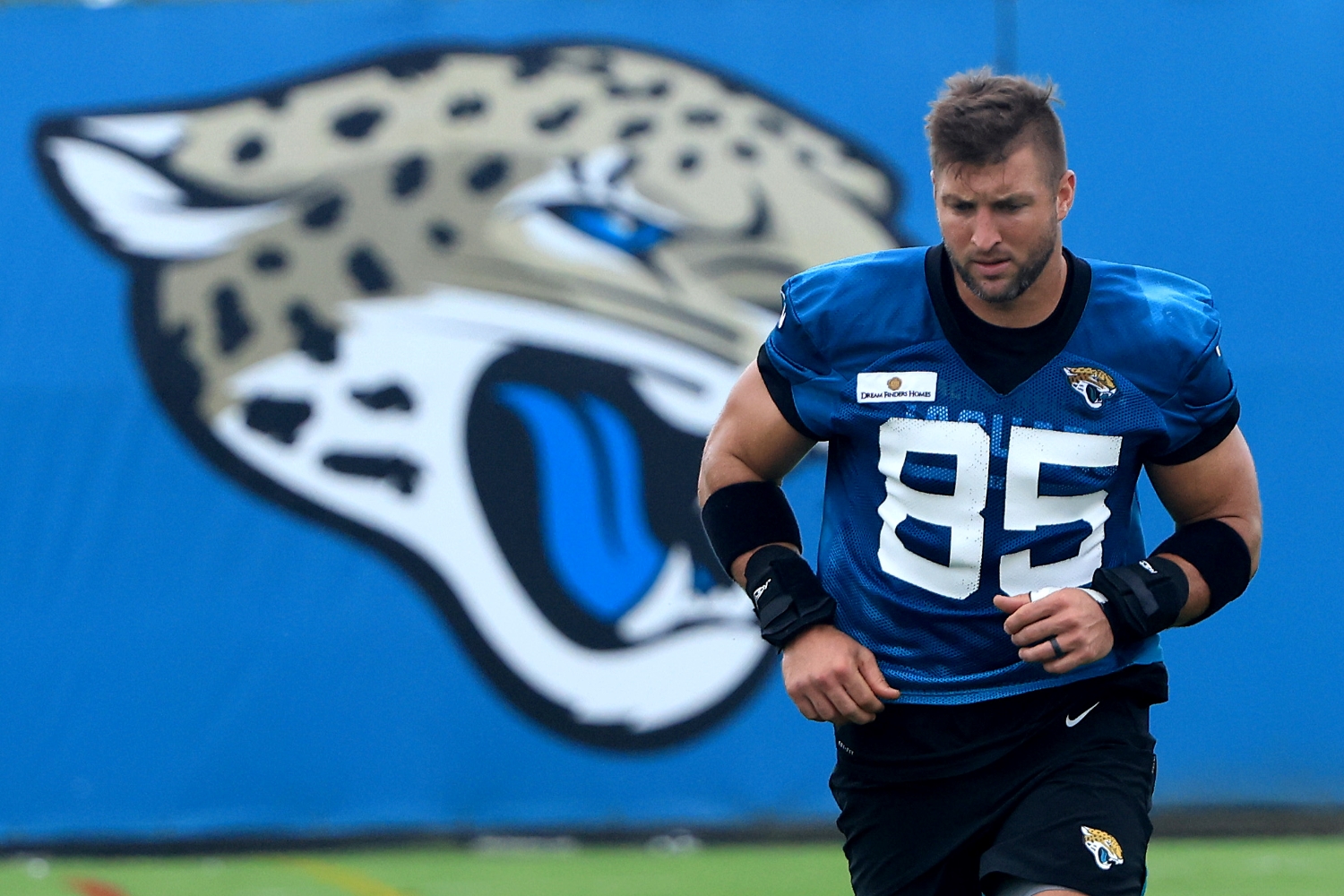 Will Tebow step up once the pads come on? Or will he fail to live up to the hype this summer?
On one hand, it's hard to completely count him out based on his connection with Meyer and his dedication to his craft. He's clearly in excellent shape, and he wouldn't be the first NFL signal-caller to make the transition to tight end.
Logan Thomas entered the NFL in 2014 as a fourth-round pick by the Arizona Cardinals. The 6-foot-6, 250-pounder showed intriguing potential in college as a dual-threat quarterback, but he ultimately gave up on playing that position at the pro level. Instead, Thomas made the switch to tight end in 2016 — a move that allowed him to take advantage of his unique athletic tools. He played a part-time role in Buffalo and Detroit before breaking out with 72 catches for 670 yards and six touchdowns last season with the Washington Football Team.
Unfortunately for Tebow, he doesn't measure up to Thomas from a physical standpoint. He's three inches shorter and at least a step or two slower. After all, Thomas ran a 4.61 40-yard dash at the 2014 NFL Scouting Combine. Tebow ran a 4.72, but he registered that time more than a decade ago. It seems safe to assume he no longer has the same top-end speed or overall athleticism that he did when he became a first-round pick in 2010.
If Thomas continues to improve and make a big impact on the field, perhaps other teams will consider trying to turn athletic college quarterbacks into tight ends.
Just don't expect Tebow to become the next success story.