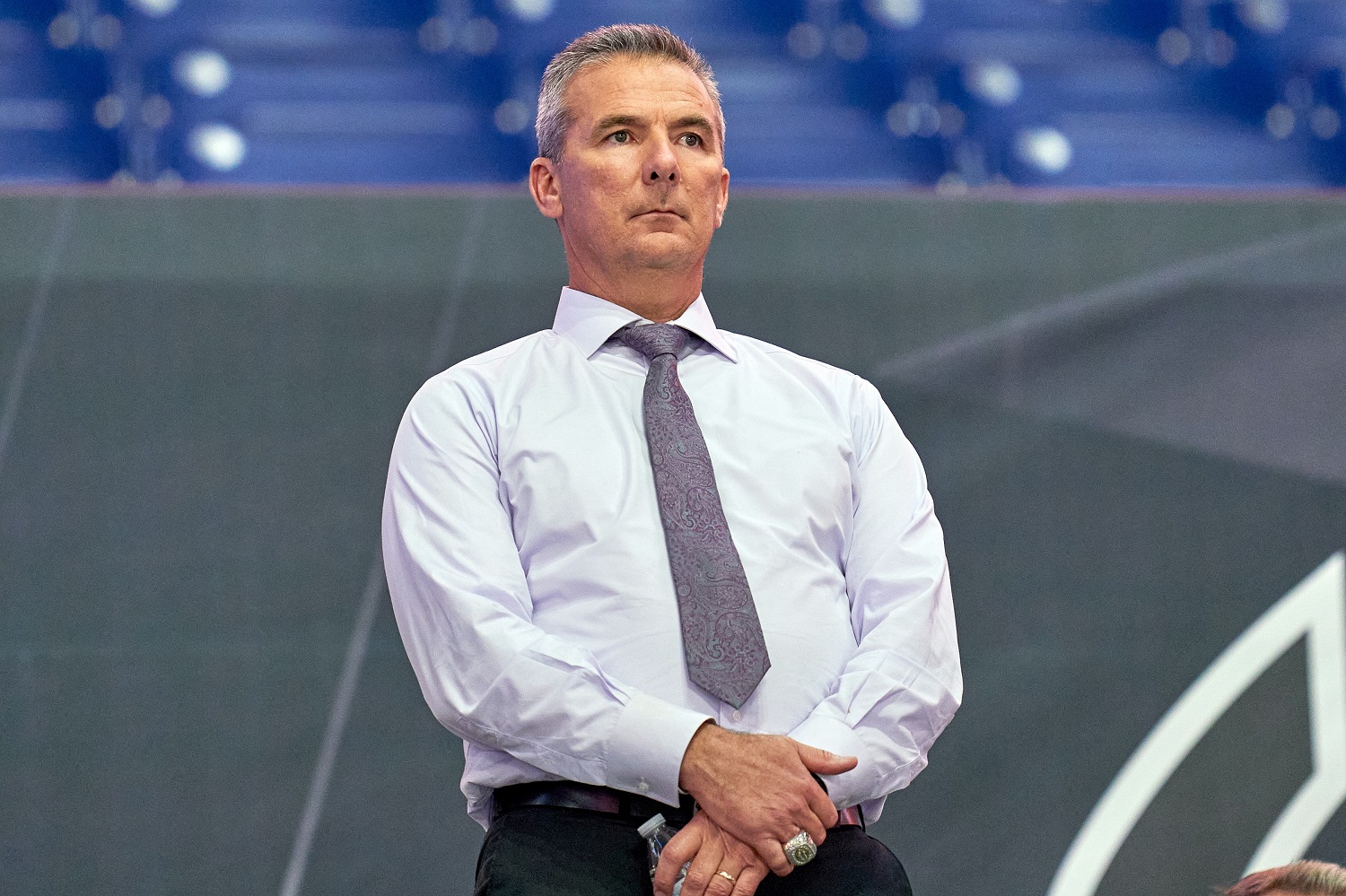 Urban Meyer Has Learned a Harsh NFL Lesson
Urban Meyer just learned a lesson that he cannot make decisions in the NFL with the same ease with which he operated at Florida and Ohio State.
Urban Meyer's success as a college football coach drew the occasional comparison to Bill Belichick for his work in the NFL. Now, Meyer has learned a harsh reality about the professional ranks as one of his first hires as coach of the Jacksonville Jaguars didn't even last as long as Belichick did with the New York Jets.
Chris Doyle resigned from the Jaguars late on Friday, probably not long after receiving a phone call from Meyer saying he had to go because the new head coach doesn't have nearly the same clout he had at the University of Florida or Ohio State.
Chris Doyle resigned from the Jacksonville Jaguars
When a company has embarrassing news, they prefer to announce it late on a Friday because executives know most people are too busy over the weekend to notice. Consequently, it becomes a non-story by Monday. The public relations world refers to it as putting the trash out to the curb.
One day after announcing his hiring, the Jaguars set Chris Doyle's career out at the curb late on Feb. 12. The team's news release announced that Doyle had resigned as Jacksonville's director of sports performance. New head coach Urban Meyer's statement said Doyle "did not want to be a distraction." Meyer conceded that the Jaguars should have anticipated how Doyle's hiring "affected all involved."
Doyle had most recently worked at the University of Iowa, where he was the nation's highest-paid strength and conditioning coach at $800,000, according to ESPN. He was forced out in June 2020 amidst multiple allegations over his treatment of Black players that included accusations of racist language.
Doyle strenuously defended himself on social media, but the university placed him on administrative leave on June 6 and announced his departure the following week.
Urban Meyer badly miscalculated with the hire
Urban Meyer news has been hard to miss of late. Mentioned prominently late last year as a potential coach at the University of Texas even before Tom Herman had been fired, Meyer became tied to several NFL teams with vacancies. The Jacksonville Jaguars hired him in mid-January, and Meyer set off to begin pulling a staff together.
He selected Chris Doyle to oversee strength and conditioning after his controversial exit from the University of Iowa late last spring. Meyer said that he was aware of the circumstances surrounding Doyle at Iowa. He claimed to have researched him and to have held extensive conversations.
"I vet everyone on our staff, and like I said the relationship goes back close to 20 years and a lot of hard questions asked, a lot of vetting involved with all our staff," Meyer said. "We did a very good job vetting that one."
That may have been true, but Meyer badly underestimated the blowback the Jaguars would receive from outside sources.
"At a time when the NFL has failed to solve its problem with racial hiring practices, it is simply unacceptable to welcome Chris Doyle into the ranks of NFL coaches," said Rod Graves, executive director of the Fritz Pollard Alliance. "Doyle's departure from the University of Iowa reflected a tenure riddled with poor judgment and mistreatment of Black players. His conduct should be as disqualifying for the NFL as it was for the University of Iowa."
Urban Meyer learns a harsh NFL lesson
Urban Meyer had near-total control over his programs at Florida and Ohio State, where he was a combined 148-24 with three national championships. That record of success of the field put fans in the stands, games on TV, and alumni donations in the bank. The success of his football teams bankrolled the athletic departments, and administrators found it easy to discount a lengthy list of arrested players.
The NFL is a different animal. Jimmy Johnson and a few others have been outliers, but it's been shown time and time again that college success does not necessarily translate to success in the NFL, where coaches are held accountable for what happens on the field on Sundays and for their decisions off it.
Meyer may have been a BMOC because of the wins that translated into money for the universities. However, NFL owners aren't swayed by that cause-and-effect for a simple reason: Fox, NBC, and ESPN pour enough TV money into each of the 32 franchises so that the ledger doesn't change much regardless of whether a team finishes 4-12 or 12-4.
Meyer just learned the hard way that he's playing in a league in which he isn't always going to get his way.
Like Sportscasting on Facebook. Follow us on Twitter @sportscasting19