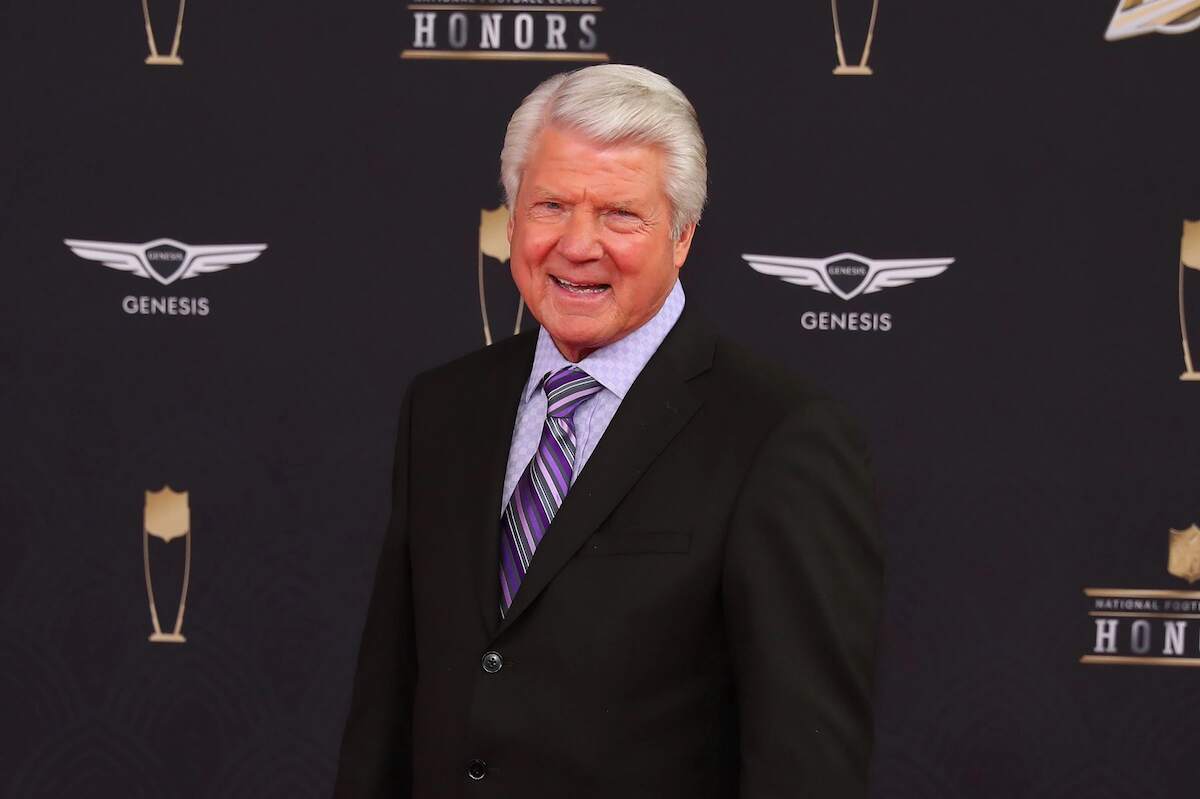 Jimmy Johnson Bullied a Future Rock Music Legend in High School
Before coaching the Miami Hurricanes and Dallas Cowboys to championships, Fox Sports analyst Jimmy Johnson was bullying future music legend Janis Joplin in a Texas high school.
Jimmy Johnson has won an FBS national championship while coaching the University of Miami and a pair of Super Bowls with the Dallas Cowboys. The accomplishment is close to unique, but Barry Switzer and Pete Carroll have come along since to pull off the Fox Sports personality's college/pro double.
On the other hand, you'll have a tough time finding another singer in rock music with the voice possessed by the woman who Johnson bullied in high school six decades ago. If Janis Joplin wasn't one of a kind, then she was certainly close to it.
Jimmy Johnson's football life began in Port Arthur, Texas
Jimmy Johnson attained fame as a title-winning college and NFL coach before joining Fox Sports. But his career started in the same fashion as that of so many of his peers: as a high school star in the South.
Johnson grew up in Port Arthur, Texas, which hit its population peak of about 66,000 right about when he graduated in 1961 from Thomas Jefferson High, half an hour southwest of the birthplace of Bum Phillips, another notable NFL figure who coached Earl Campbell's Houston Oilers.
A 1992 profile by Sports Illustrated said Johnson possessed the book smarts to breeze through math problems and write term papers effortlessly. He had grown up playing pick-up football games in the neighborhood, and Johnson blossomed into a solid guard and linebacker on the high school team.
College recruiters came calling, and Johnson picked the University of Arkansas in the state where his parents had grown up. It was there that Johnson met Jerry Jones, a teammate with the Razorbacks. They reunited a quarter of a century later to transform the Dallas Cowboys into a mini-dynasty.
An impressive coaching career followed
Jimmy Johnson's coaching career began in 1965 as an assistant at Louisiana Tech, where he met young quarterback prospect Terry Bradshaw, who would go on to a Super Bowl-winning career with the Pittsburgh Steelers and later team with Johnson on Fox Sports' NFL pregame show.
Johnson worked his way up through the ranks until being hired as the defensive coordinator at Arkansas in 1973 and Pitt in 1977. Two years later, Oklahoma State made Johnson its head coach. His record there was a modest 29-25-3, but an 8-4 mark and a bowl victory in his fifth season landed Johnson an interview at the University of Miami.
The school hired Johnson to replace Howard Schnellenberger, who had transformed the Hurricanes into one of the top programs in the country. They went just 8-5 in Johnson's first year, but 44-4 in the four seasons after that with a national championship in 1987.
When old friend Jerry Jones bought the Dallas Cowboys, he installed Johnson as the coach to replace Tom Landry, and they went on to win a pair of Super Bowls together before a falling out.
Jimmy Johnson bullied future rock music legend Janis Joplin
Jimmy Johnson succeeded in coaching in large part due to a sharp defensive mind and his persuasive recruiting pitches. If he was silver-tongued as a recruiter and later on Fox Sports, then Johnson was sharp-tongued as a teen. He spent his share of time in high school picking on a female student a year behind him.
The girl's name was Janis Joplin, who would merely go on to a brilliant music career tragically cut short at age 27 by a drug overdose. Joplin is widely acclaimed for having possessed one of the great voices in rock music. In 2003, Rolling Stone ranked her Me and Bobby McGee as the 148th greatest song in music history. Seven years later, the magazine ranked her No. 28 on the all-time list of singers.
In high school in Port Arthur, Texas, however, Joplin was a hippie in a largely conservative community, opening her up to ridicule, particularly from the jocks.
In Johnson's own 1994 book, he admitted to singling Joplin out. "Janis looked and acted so weird that when we were around her, mostly in the hallways at school, we would give her a hard time," he wrote.
A 2019 book on Joplin by Holly George-Warren alleged that Johnson and others groped Joplin and spread unflattering rumors about her because she "looked and acted weird."
According to the author, Joplin laughed off the insults, reports Page Six. And, of course, she enjoyed great fame that her schoolmates couldn't have envisioned or attained before her death in 1970.
Like Sportscasting on Facebook. Follow us on Twitter @sportscasting19.