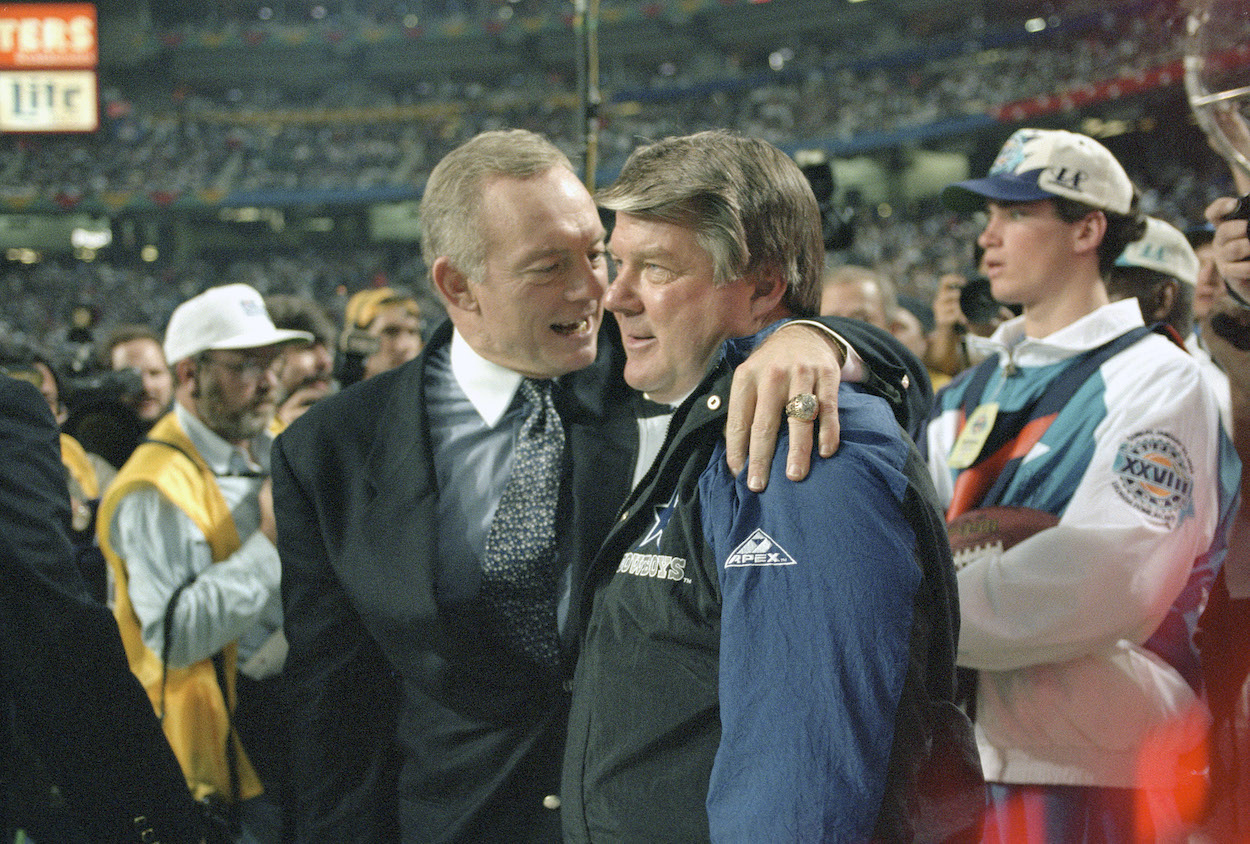 Jimmy Johnson Gets Surprising Dallas Cowboys Ring of Honor Invitation From Jerry Jones on Live Television and Offers Hilariously Candid Response
Jimmy Johnson received a surprise invitation from Jerry Jones to join the Dallas Cowboys Ring of Honor.
It was the moment Dallas Cowboys fans had waited to see for decades. Jerry Jones and Jimmy Johnson publicly together and finally showing genuine respect and love for one another during an appearance on the NFL on Fox Pregame Show. The reunion was years in the making after an incredible journey and one of the most successful chapters in franchise history together that, unfortunately, has been overshadowed for decades by the ugly divorce that effectively ended their personal relationship and the success of America's Team.  
The momentous occasion on live television concluded with an invitation from Jones, followed by a hilariously candid response from Johnson.
Jerry Jones fires Jimmy Johnson
Dallas Cowboys owner Jerry Jones and head coach Jimmy Johnson were at the top of the NFL food chain in February 1994 after winning back-to-back Super Bowl titles over the Buffalo Bills. It was a remarkable turnaround. After Jones hired Johnson in 1989, the team skyrocketed from worst to first in a matter of three seasons. 
A month after capturing the second title in as many seasons, Jones had a night out on the town and included a visit with a Dallas Morning News reporter, who Jones told, "there are 500 coaches who could have won the Super Bowl with our team." 
Johnson was understandably unhappy with the remark. 
Tensions rapidly escalated, and both men employed the media to get out their respective messages. Jones made headlines one day. Johnson answered a couple of days later. Eventually, everything came to a head, and Jones and Johnson parted ways, with the coach receiving a $2 million severance package.   
Their lifelong friendship, which had started when they were teens at Arkansas, effectively ended. And the decline of the Dallas Cowboys started.
Jerry Jones invites Jimmy Johnson into Dallas Cowboys Ring of Honor
Dallas Cowboys fans have looked forward to this moment since it was announced last season that Jimmy Johnson was a member of the 2020 Pro Football Hall of Fame class. Finally, on stage together, the two men sat beside each other, with Troy Aikman sitting next to his former coach.
"I'm just glad to see you two together right now. It's good for all Cowboys fans to be watching this," Aikman said with a big smile on his face.
On the opposite end of the table, Terry Bradshaw jumped in. 
"Let me step out of the comfort zone just a touch here," the former Steelers great opened. "Both of you are so loved as Cowboys owner and coach. I agree with Troy; seeing the two of you, it's almost like y'all want to grab and kiss one another because there truly is love and affection and a respect between the two of you. And all the Cowboys fans are asking right now, 'Jerry, when are you going to put Jimmy in the Ring of Honor?'"
"Well, I think that's fair to say. Shall we do it right here?" Jones sincerely asked. 
"You've got time," the show's main host Curt Menefee offered. "We've got plenty of time," Bradshaw added. 
"I think we've got some great days ahead of us. We are going to certainly be recognizing what's happening here with the Hall of Fame," Jones said. "Tex Schramm, who started that Ring of Honor, said Jerry, 'Keep it kind of limited with people but make sure it wasn't just about the plays they made; make sure they contributed to the story of the franchise.' That's kind of hard to not recognize this contribution to the story of the franchise." 
"So are we making an announcement here?" Menefee asked. 
"Well, we can be," Jones answered. "He will be in the Ring of Honor." 
"There we go," Michael Strahan said. "Love it."
"While I'm alive?" Johnson joked, which drew a big laugh from all of those on set.
"Are you going to be able to make it through this Hall of Fame ceremony?" Jones asked while laughing. 
"I hope I can," the former coach chuckled. 
Worthy of Pro Football Hall of Fame and Cowboys Ring of Honor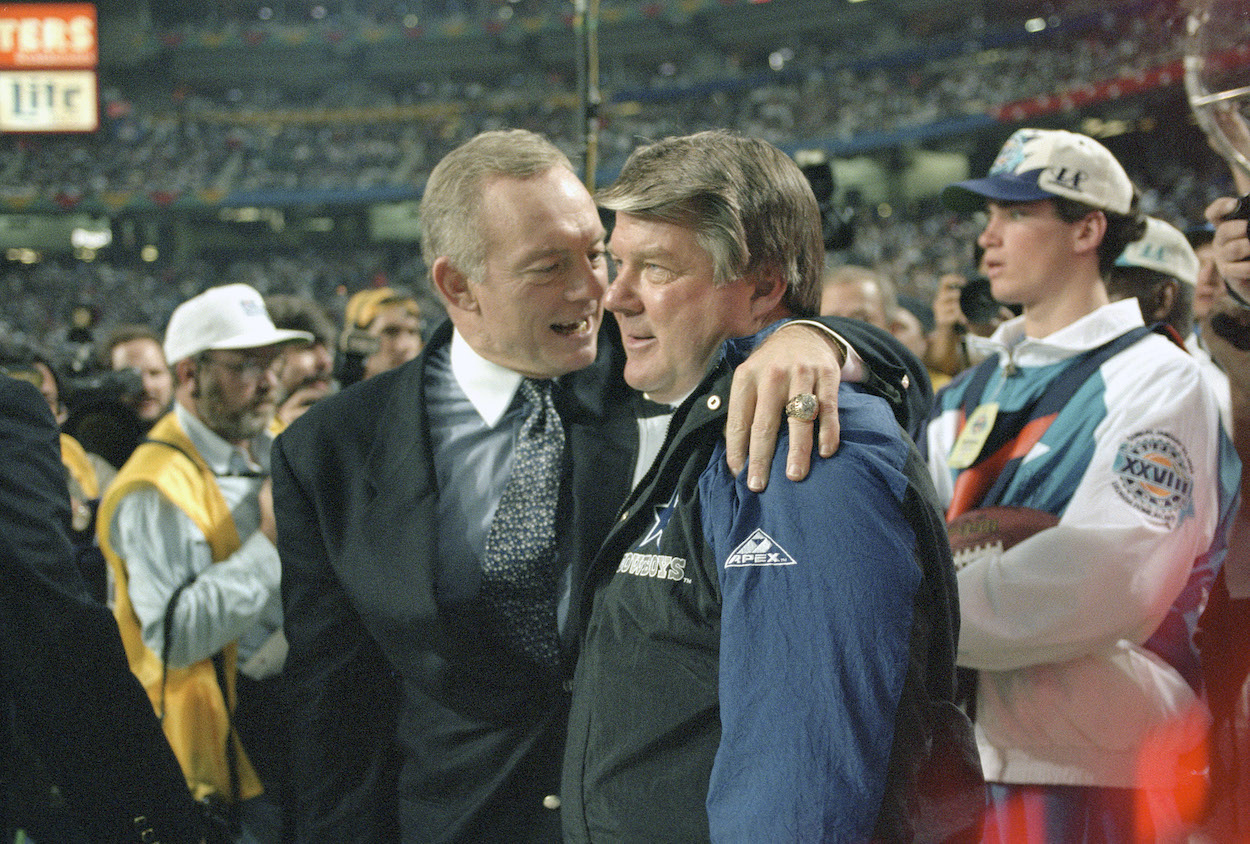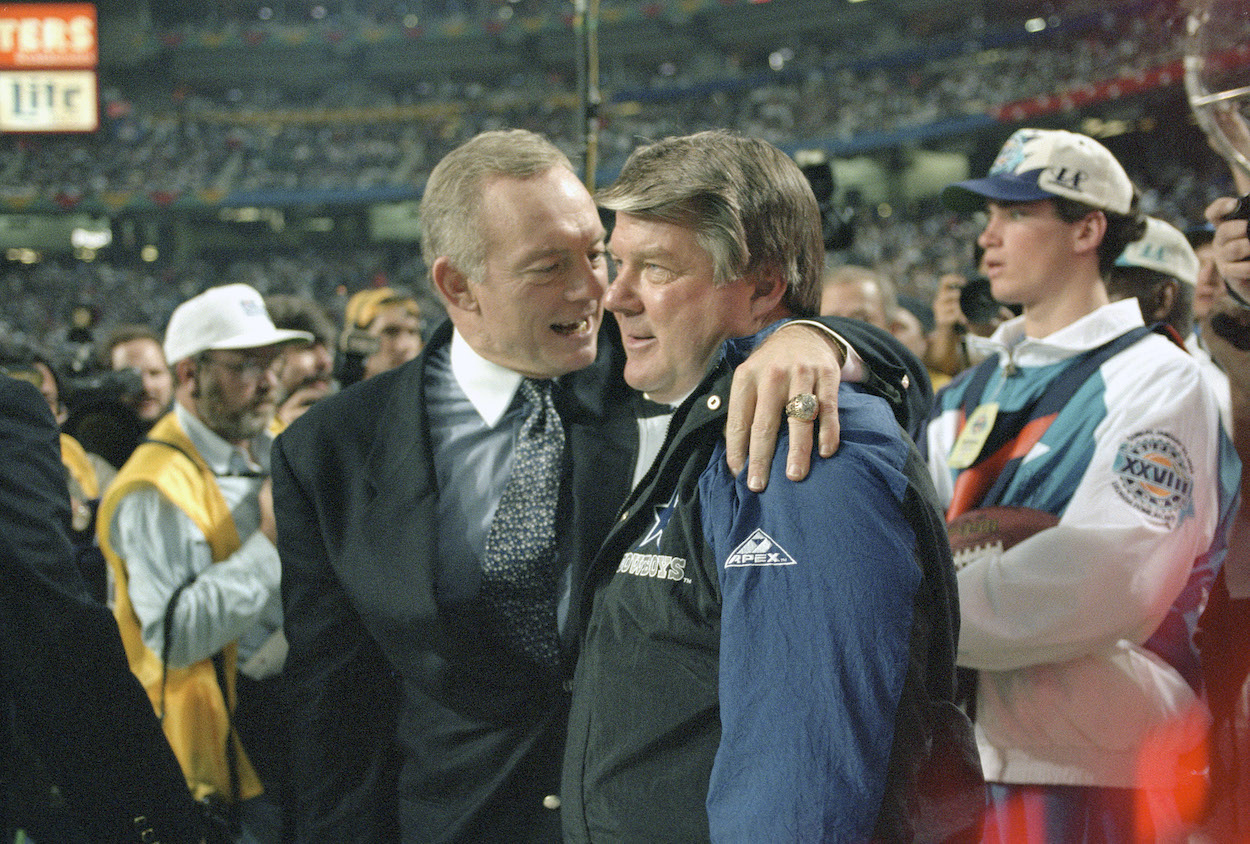 Jimmy Johnson will be forever linked to the Dallas Cowboys. His hiring by Jerry Jones in 1989 didn't sit well with a lot of fans because he was replacing the only coach the franchise had ever known in the legendary Tom Landry.  
Within three seasons, Johnson hadn't made Cowboys fans forget about Landry, but his team's performance helped remind them of why Jones hired him in the first place. After a 1-15 season in 1989 with rookie quarterback Troy Aikman, Dallas quickly turned things around and just two years later lost to the Detroit Lions in the divisional round of the playoffs.
Johnson and Aikman then guided the Cowboys to a pair of Super Bowl titles over the Buffalo Bills, and the future looked incredibly bright. Then Jones met a reporter after a few drinks. 
Now, 27 years later, the two long-time friends have reunited on pro football's biggest stage. Johnson is going into the Cowboys Ring of Honor. For Cowboys fans, it just feels right. 
Like Sportscasting on Facebook. Follow us on Twitter @sportscasting19.