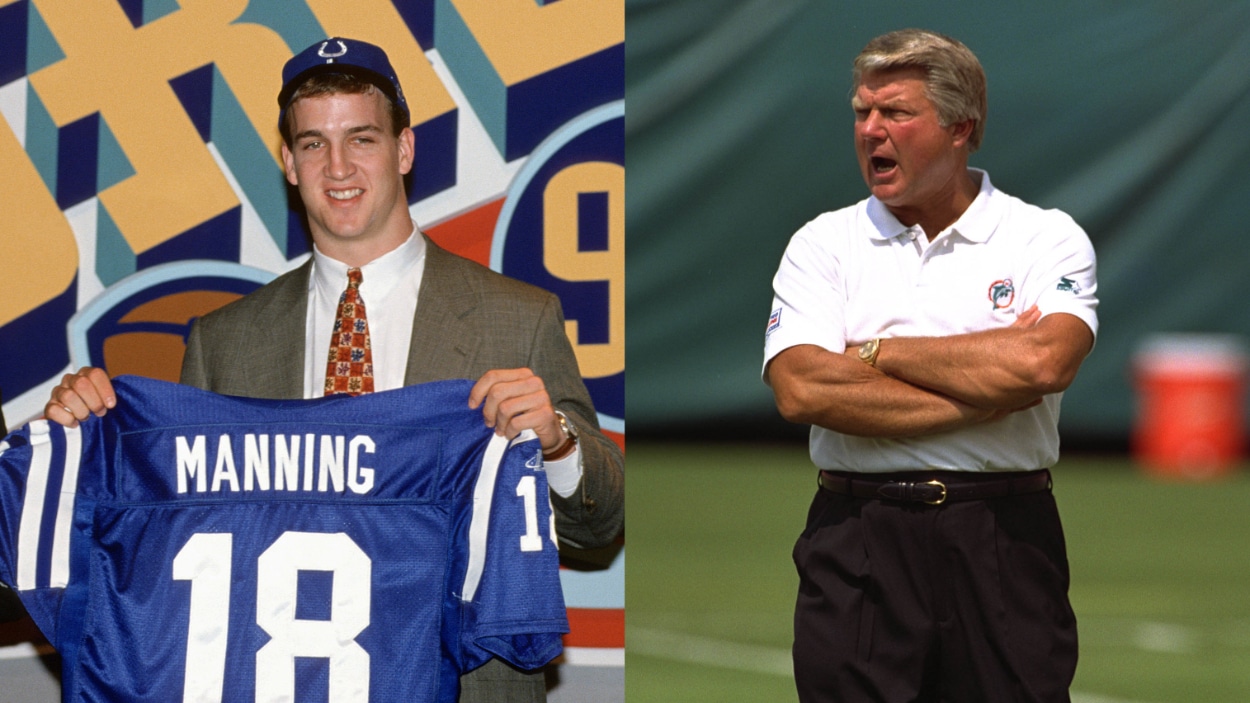 Jimmy Johnson Tried to Trade up to Draft for Peyton Manning but Failed for 1 Reason
Jimmy Johnson trading up for Peyton Manning to replace Dan Marino on the Miami Dolphins would have changed the course of NFL history.
In the 1998 offseason, legendary NFL coach Jimmy Johnson was halfway through his tenure as Miami Dolphins. The two-time Super Bowl winner had full control over personnel decisions with the franchise as he tried to make the best of Hall of Fame quarterback Dan Marino's last few years in the NFL.
During the 1998 NFL Draft, Johnson tried to make a bold move that, in hindsight, may have prolonged his coaching career. With future Hall of Famer Peyton Manning the consensus No. 1 overall pick, Johnson tried to trade up to bring Manning to Miami. However, as he recently revealed on ESPN's Monday Night Football Manningcast, he just "didn't have enough ammunition."  
Jimmy Johnson reveals why he failed to trade up for Peyton Manning in 1998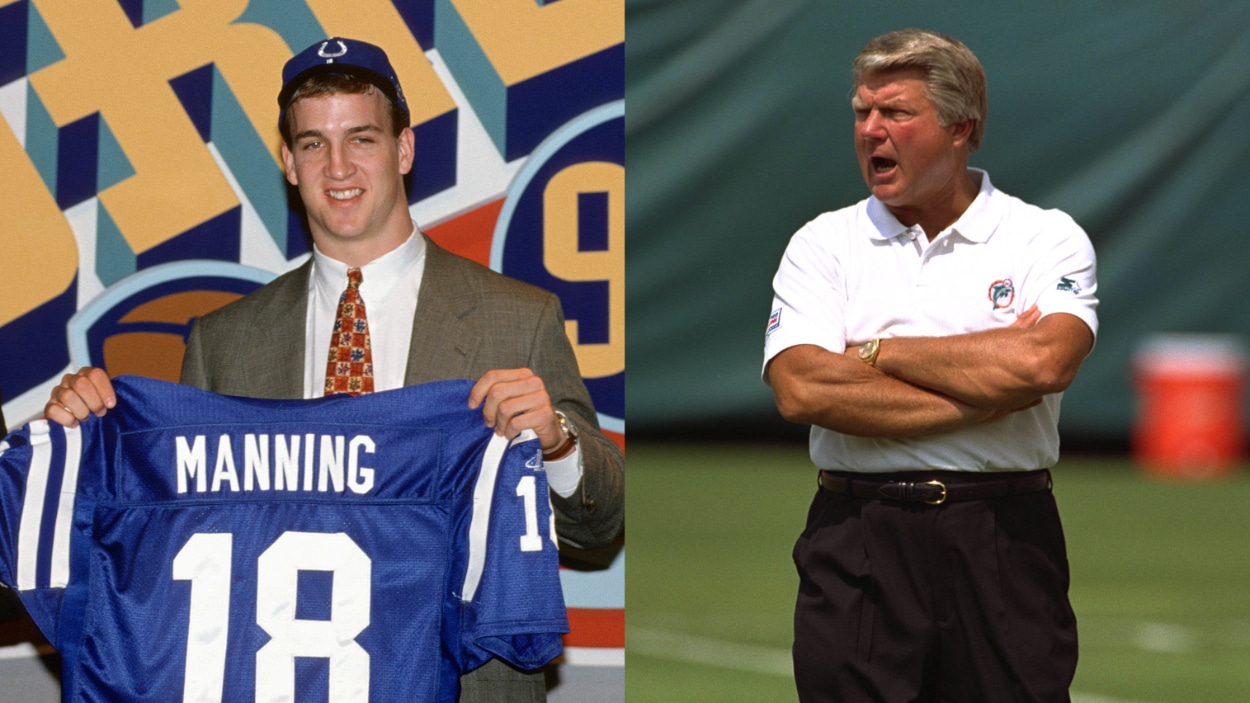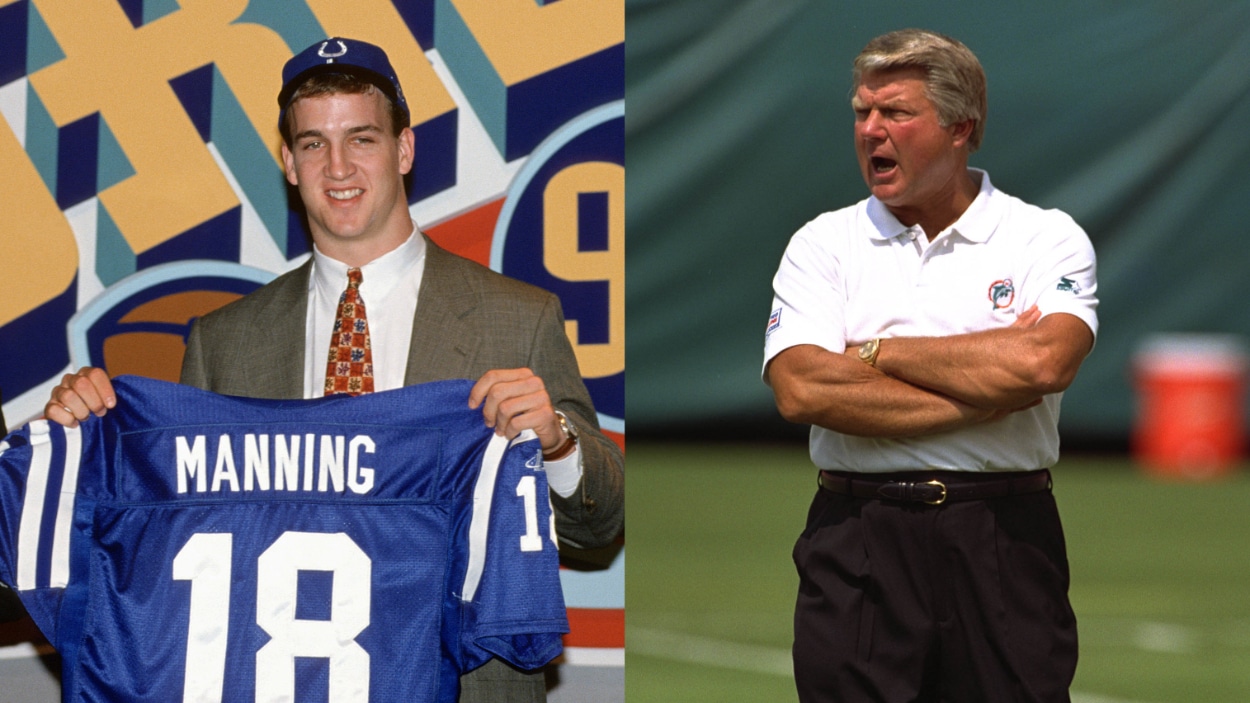 The story of Jimmy Johnson trying to trade up for Peyton Manning to replace Dan Marino on the Miami Dolphins has been out there in the NFL ether for a while now. However, Johnson has never fully revealed what stopped him from doing so.
During Week 3 of the 2022 NFL season, the New York Giants and Dallas Cowboys faced off on Monday Night Football. As part of ESPN's Manningcast, Eli and Peyton Manning welcomed Jimmy Johnson as their first guest.
Toward the end of the appearance, Eli Manning noted the story about Johnson trading up to draft his brother in 1998 and asked sarcastically, "Do you think Peyton would have been able to handle your always calm coaching style there?"
I would have loved to have gotten Peyton, and I gave it a long thought, but we didn't have enough ammunition to move up in the draft to get Peyton. But it crossed my mind, and I tried to do it, but I didn't have enough draft picks.
It's a fascinating "what if?" scenario for Johnson, Peyton, and the Colts and Dolphins franchises. However, if Johnson says he didn't have the draft picks to do it, he's probably right. That's because he is the coach who (kind of) created the draft pick value chart that teams still use to this day in draft day trades.
The former Dolphins and Cowboys coach draft pick trades guide is still used today
In 1991 Jimmy Johnson and Jerry Jones wanted to create a draft pick trade chart that gave a value to every pick in the draft. This way, the Dallas Cowboys brain trust — who traded Herschel Walker and four late-round picks to the Minnesota Vikings in 1989 for eight picks, including six first- and second-rounders — would know exactly what they were getting or giving when they traded on draft day.
The chart is now called the Jimmy Johnson draft pick trade value chart, even though Jerry Jones' gas and oil business partner Mike McCoy actually came up with the values, according to Sam Fortier of the Washington Post.
No matter who came up with it, the chart helped the Dallas Cowboys gain a competitive drafting advantage in the early 1990s. And despite massive changes to the NFL landscape in the last thirty years, general managers still use it as a baseline today.
The chart assigns the No. 1 pick a value of 3,000 points, and the values go down from there. These values change slightly each year based on the total number of compensatory picks in that year's draft.
However, using the 2022 chart, we can get an idea of what it would have taken for Johnson to go up and get Peyton Manning in 1998.
To make the deal, Johnson would have needed 3,000 points worth of draft capital to make a deal with the Colts work. And, given the special nature of the Tennessee QB as a prospect, Miami may have needed even more.
In 1998, the Dolphins had the following picks at approximately these values, per drafttek.com's 2022 value chart :
Round 1, pick 18: 900
Round 2, pick 49: 410
Round 3, pick 82: 180
Round 4, pick 112: 70
Round 5, pick 142: 35
Round 6, pick 171: 21.4
Round 7, pick 210: 5.8
That adds up to 1,622.2 points, which is just about half of what Johnson and the Dolphins would need to go up and get Manning. And with Dan Marino still in place and a solid squad in Miami, even giving up next year's first-, second-, and third-round picks, the values still probably didn't add up.
And the rest, as they say, is history.
Manning went to the Colts, produced a 141-67 record with the team, and won a Super Bowl there. Johnson and Marino both retired after the 1999 season. The Dolphins have only made four playoff appearances since and haven't won a single playoff game.
Like Sportscasting on Facebook. Follow us on Twitter @sportscasting19 and subscribe to our YouTube channel.