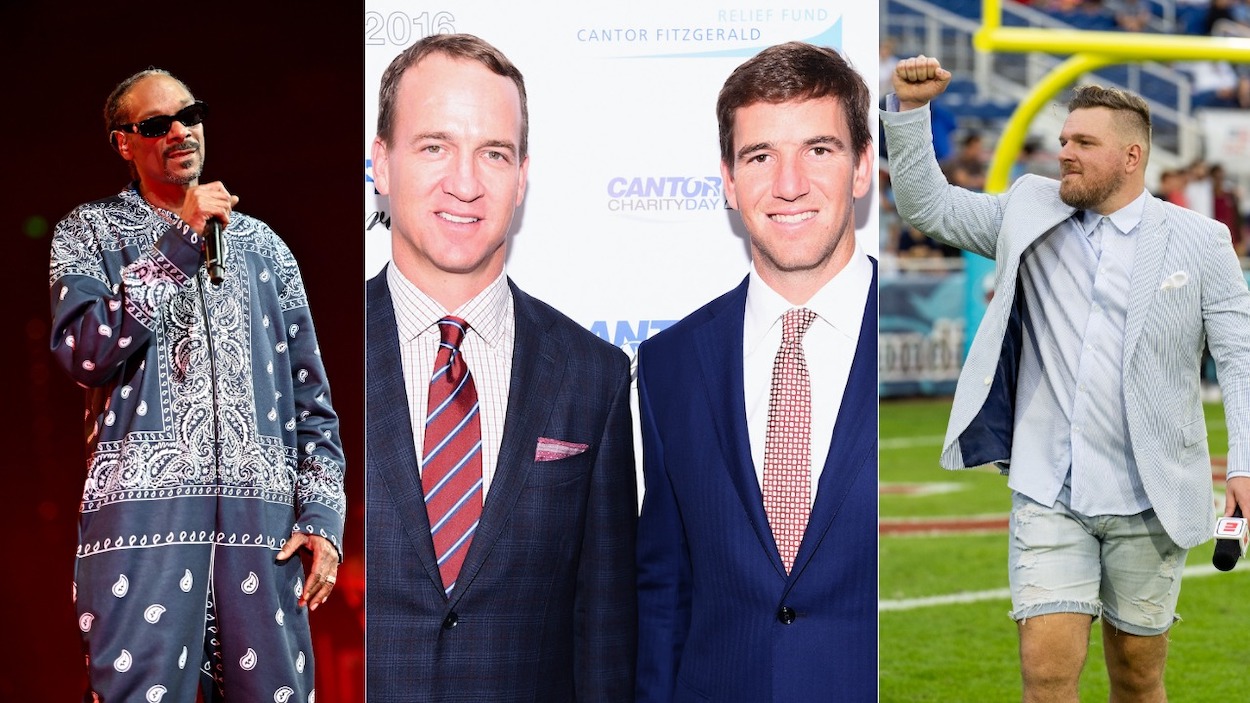 Ranking the 10 Best Manningcast Guests During Eli and Peyton Manning's First Season
With the first season of the Monday night Manning Cast in the books, here are the 10 best Manning Cast guests of the season, ranked.
The first season of the Manning Cast is now in the books. The innovative alternate Monday Night Football broadcast on ESPN2, hosted by former NFL quarterbacks Peyton Manning and Eli Manning, finished its inaugural run with the first-ever Monday night Wild Card game. Now, we'll look back at the season that was and rank the 10 best Manning Cast guests from the show's maiden voyage.
Manning Cast guest list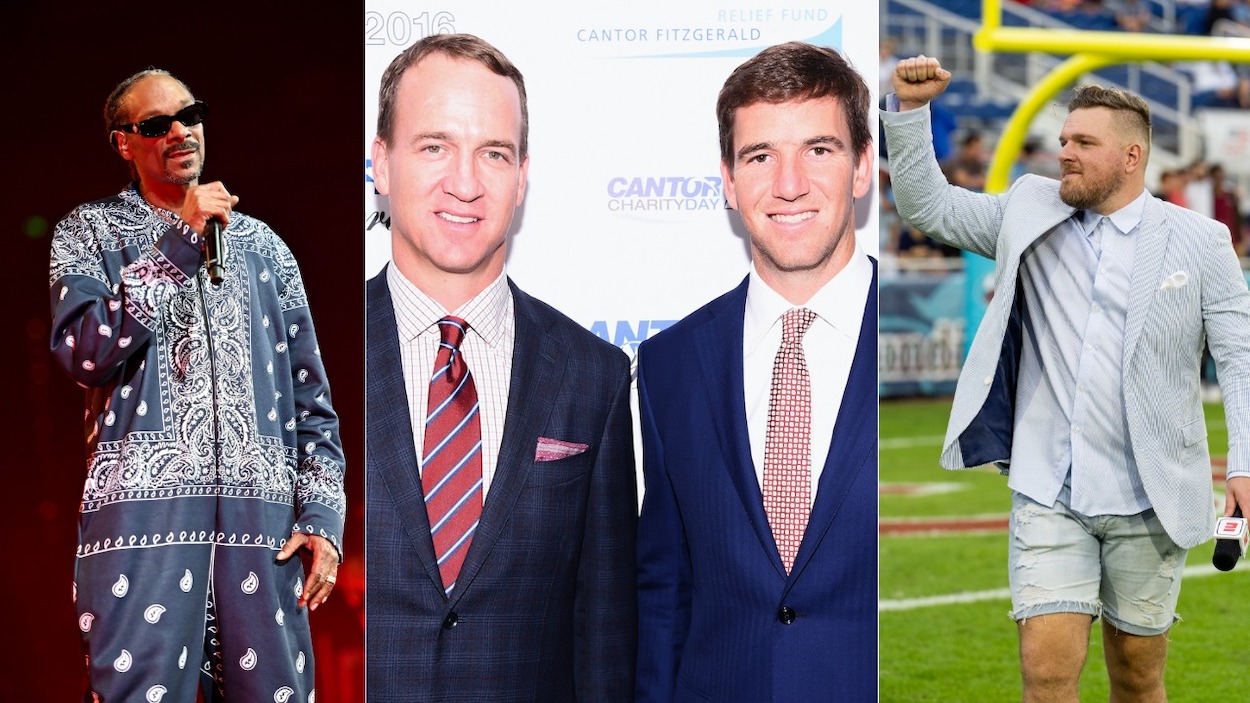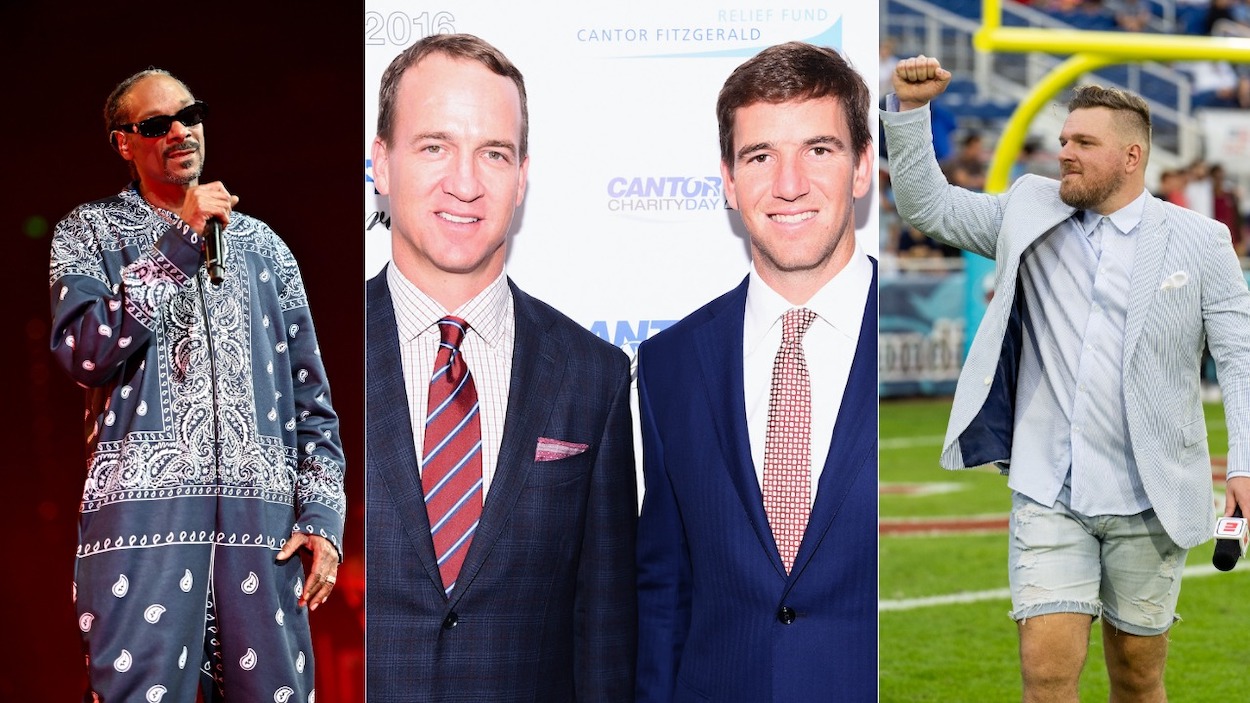 When Peyton Manning's production company, Omaha Productions, announced its partnership with ESPN for a new type of football broadcast, no one knew what to expect. What followed was an exciting, hilarious, awkward, fascinating, and sometimes profane new football-watching experience.
Peyton and Eli's brotherly relationship was at the show's core. However, the people who truly made the venture special were the guests. Some guests were good, some guests were, let's say, less than good, and a few were simply superb.
Here are all the guests who appeared on the Manning Cast this season:
| | | |
| --- | --- | --- |
| WEEK | GAME | GUESTS |
| Week 1 | Las Vegas Raiders 33, Baltimore Ravens 27 | Charles Barkley, Ray Lewis, Travis Kelce, Russell Wilson |
| Week 2 | Green Bay Packers 35, Detroit Lions 17 | Brett Favre, Rob Gronkowski, Patrick Willis, Pat McAfee |
| Week 3 | Dallas Cowboys 41, Philadelphia Eagles 21 | Matthew Stafford, LeBron James, Nick Saban, Chris Long |
| Week 7 | New Orleans Saints 13, Seattle Seahawks 10 | Marshawn Lynch, Tom Brady, Sue Bird, Drew Brees |
| Week 8 | Kansas City Chiefs 20, New York Giants 17 | Jon Stewart, Michael Strahan, Josh Allen, Michael Irvin |
| Week 10 | San Francisco 49ers 31, Los Angeles Rams 10 | Al Michaels, Phil Mickelson, Draymond Green, Philip Rivers |
| Week 11 | Tampa Bay Buccaneers 30, New York Giants 10 | Bill Parcells, Kevin Hart, Condoleeza Rice, Julian Edelman |
| Week 13 | New England Patriots 14, Buffalo Bills 10 | David Letterman, Aqib Talib, Joe Buck |
| Week 17 | Pittsburgh Steelers 26, Cleveland Browns 14 | Bill Cowher, Roger Goodell, Snoop Dogg, Aaron Rodgers |
| Wild Card Round | Los Angeles Rams 34, Arizona Cardinals 11 | Larry Fitzgerald, Dwayne "The Rock" Johnson, Russell Wilson |
It was an illustrious group of guests in season one of the Manning Cast, a virtual who's who of NFL players, ex-players, and celebrity fans. Some stood out above the rest, though, so here are the 10 best Manning Cast guests on the 2021 season.
10. Charles Barkley
The Manning Cast is, at its core, two ex-athletes talking football in a more entertaining way than has ever been done before. While the concept of the Manning Cast specifically is novel, the idea an ex-player can revolutionize a television format by sheer force of personality, and talking about the game in a way fans have never heard isn't new.
Sir Charles Barkley did that for NBA pregame shows. So, who better to start the first-ever Manning Cast?
The Round Mound of Rebound didn't disappoint either. Rocking a Carl Nassib Raiders jersey, Barkley was the perfect choice to kick off a bold new format.
Barkley came in hot, talking about his NFL gambling, crushing his high school's football coaches, and calling out modern-day NBA players for complaining about fouls. And with that, the Manning Cast was up and running.
9. Michael Strahan
What makes someone one of the best Manning Cast guests? Two things that many of the best guests had in common this season are A) they have a previous relationship with Peyton and/or Eli or, B) they have television/broadcast experience.
Michael Strahan delivers on both of those qualifications.
Strahan was an NFL superstar in the same era as Peyton Manning and was teammates (and won a Super Bowl with) Eli Manning. Listening to the three of them talk was truly like sitting with three of the most fun, knowledgeable buddies you could ask for, watching football at a bar.
The running highlight of the segment was Strahan and Eli venting their frustration about how far their beloved New York Giants have fallen.
8. Aaron Rodgers
Aaron Rodgers delivered everything we've come to expect from Aaron Rodgers in the last year during his Manning Cast appearance.
The controversial QB told a lovely story about how he and Pat McAfee became friends, talked football with the Manning's on a level that no mortal human can understand, and sent the internet into a frenzy by shouting out Ayn Rand's "Atlas Shrugged" on his bookshelf.
Love Rodgers or hate him, when he's talking on TV, it's hard to look away. The Manning's did a good job harnessing that vibe.
7. Phil Mickelson
Phil Mickelson, as Pat McAfee tweeted during the golfer's appearance, "understands the assignment" of appearing on the Manning Cast. During the broadcast, it seemed like his sole goal was to roast Peyton and Eli, and he accomplished that goal.
Whether it was telling the two QBs that the Manning Cast Curse is absolutely a real thing or breaking down Eli's "cute little" golf swing, Mickelson showed off his goofy, hilarious, trash-talking person that he's cultivated in recent years on social media and during The Match.
While the Manning Cast overall makes you want to watch football with Peyton and Eli, Mickelson's appearance demonstrated there is likely no person on earth who would be more fun to play 18 with than the six-time Major winner.
6. Dwayne "The Rock" Johnson
Dwayne "The Rock" Johnson is quite simply the most pleasant, positive, and enjoyable person in all of sports entertainment.
The wrestler/actor/businessman/likely future President of the United States was just a fantastic guest to spend a half-an-hour with. He told great stories about his football days at the University of Miami and gave an incredible motivational speech to the floundering Arizona Cardinals (who definitely didn't listen).
One of the most uplifting parts of his appearance was Johnson explaining how he bought the XFL to give more football players a chance to achieve the (seemingly) one and only dream that didn't come true in his life: making the NFL.
5. Rob Gronkowski
Tampa Bay Buccaneers tight end Rob Gronkowski has no filter, making him the perfect person for a live TV broadcast and one of the best Manning Cast guests.
Gronk bragged about not practicing on Fridays because he "Red Zone Robby G, baby" and doesn't need to practice catching touchdowns. He also told the notoriously studious Peyton and Eli that he doesn't really watch film. He simply asks his longtime QB Tom Brady who to run by, then runs by them.
Gronkowski eventually walked back his film comments after getting a talking-to from head coach Bruce Arians. However, Manning Cast viewers now know the truth. Gronk runs. Gronk catches. Gronk scores. Gronk spikes. That's all there is to it, and it's fantastic.
4. Snoop Dogg
As much as you'd love to share a beer or a cocktail with many of the stars on this list, Snoop Dogg once again cemented his longtime, well-earned reputation as the one person in the world who would be the most fun to share a… well… something else with.
Snoop D-O-Double G was cool, funny, and both passionate and knowledgeable about the game of football. His connection to the game goes way back. He even runs a youth football league in the LA area that has produced NFL players, like Juju Smith-Schuster.
Also, Snoop gifting the buttoned-up Eli Manning a Death Row Records chain — "for being so hip hop" — for his birthday and the producers photoshopping the rapper into a Manning Family photo as the fourth Manning brother were two of the highlights of the entire season.
3. Marshawn Lynch
Former NFL running back Marshawn Lynch was one of the best Manning Cast guests because he was the perfect example of a former player who decided to just get loose and hang out with the Manning's on a Monday night.
The Beast Quake runner told the Manning's he took three shots of Hennessy before his appearance. "I took one for me, I took one for big bruh, and I got one for little bruh," Lynch said. That may explain why he dropped three "s****" and one "f***" during his live TV appearance.
It. Was. Awesome.
2. Pat McAfee
One of the only things that could make the Manning Cast better (and slightly less awkward) is if the broadcast had a host to play traffic cop and make the show flow a little more smoothly. The problem is, where can you find an ex-NFL player who knows Peyton and Eli and has bona fide hosting credentials?
Enter Pat McAfee.
The sports talk host would be a perfect addition to the broadcast next season if the Manning's want to enhance the show. In his appearance, McAfee led the conversation when needed but still let the brothers shine. He also told his amazing Red 18 story, which added to the broadcast.
Here's hoping the 2022 Manning Cast cast is Peyton, Eli, and Pat.
1. Tom Brady
The Manning Cast is all about NFL fans getting to spend time with two legendary QBs talking about life and football. What's the only thing better than that?
Three legendary QBs.
Listening in on a conversation between, arguably, the two best signal-callers in NFL history and the one QB to get the best of the GOAT twice was quite a treat. Watching Brady on the Manning Cast was truly a football fans' dream.
The three quarterbacks — with 11 Super Bowls between them — talked football, busted each other's chops, and had what certainly looked like a great time together. It was a true joy for fans and the pinnacle of what the Manning Cast can be, which is why Brady was the best Manning Cast guest this season.
If Pat McAfee doesn't join the Manning bros next season, maybe they will add Brady to the broadcast when he finally retires, just in time for the 20th anniversary of the Manning Cast in 2041.
Like Sportscasting on Facebook. Follow us on Twitter @sportscasting19