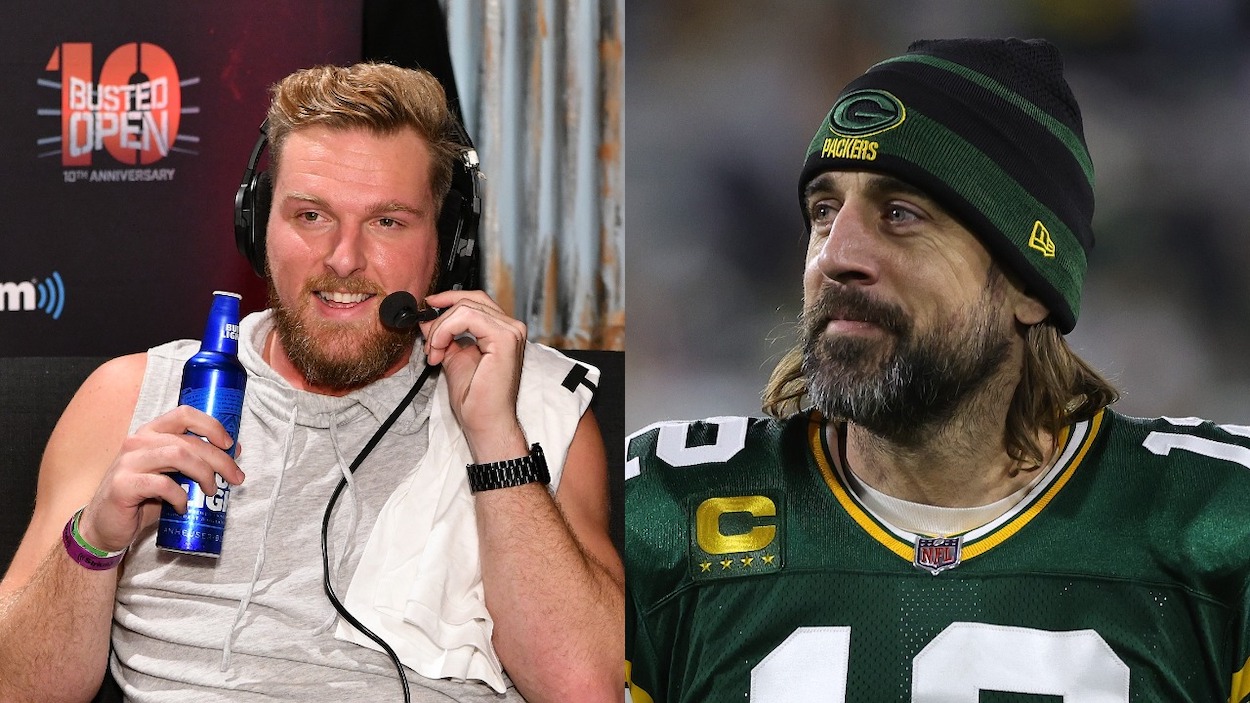 Aaron Rodgers Told the Legendary Story of How He and Pat McAfee Became Friends on Monday Night's Manning Cast: 'I Knew From That Point Forward We Were Going to Be Good Friends'
Green Bay Packers QB Aaron Rodgers joined Eli and Peyton Manning on Monday night's Manning Cast and shared a great story about becoming friends with Pat McAfee.
Green Bay Packers quarterback Aaron Rodgers is, quite simply, the most interesting man in the NFL in 2022. Love him or hate him, agree with him or disagree with him, cheer for him or cheer against him; you can't deny he's fascinating to listen to. Throughout 2021, Rodgers has joined his buddy Pat McAfee on the latter's sports talk show every Tuesday to unload whatever's on his mind. During the MVP QB's Monday appearance on ESPN's Manning Cast, Rodgers shared with McAfee's old teammate Peyton Manning and his brother Eli how the two became pals.
'Aaron Rodgers Tuesdays' on the 'Pat McAfee Show' are the most interesting hour in sports talk
On the Pat McAfee Show's "Aaron Rodgers Tuesdays," the outspoken QB has pontificated about everything from his team's front office to the media to COVID-19 vaccinations to the "Woke Mob" he believes is always coming after him.
He even gives book recommendations as part of the show's "Aaron Rodgers Book Club."
The reason the segment works so well is that McAfee and Rodgers seem to have a genuine friendship. That makes the QB comfortable enough to open up and speak his mind on a wide variety of topics.
This dynamic isn't without its issues, though.
Early in the season, "Aaron Rodgers Tuesdays" were primarily about the Packer airing his grievances with his franchise and the media (and occasionally discussing UFOs). However, that all changed the first week of November when Rodgers tested positive for COVID-19, and it became clear that he had previously lied about his vaccination status.
Since then, Rodgers has used his platform of the Pat McAfee Show to attack those attacking him about his vaccination situation. He's also shared his thoughts on science, vaccines, and the pandemic in general. And, sometimes, he even circles back and apologizes for comments he made on the previous week's show.
While Rodgers gets plenty of flak for his comments on these polarizing topics, his buddy McAfee is not immune either.
As each week passes with another Rodgers rant on Tuesday, more people — both average social media users and professional media-types — are getting upset with the former NFL punter for not pushing back on his pal enough.
Most critics don't give McAfee credit for having on pro-vaccination voices like Charles Barkley or actual medical doctors (albeit Dr. Drew Pinsky) to discuss pandemic-related issues. The main focus tends to be on the host and the signal-caller's close relationship.
Despite the recent pressure Rodgers' appearances seem to be putting on the friendship, the former Cal Bear reminisced fondly about how the two first met during a lighthearted appearance on Monday night's Manning Cast.  
The Green Bay Packers QB told the story meeting McAfee to Eli and Peyton Manning on the Manning Cast
Peyton Manning is very familiar with Pat McAfee. For three years, the Hall of Famer and the bombastic talk show host were teammates on the Indianapolis Colts. McAfee also appeared on an early episode of the Manning Cast with Peyton and Eli. The appearance produced one of the best interview segments of the show's inaugural season.
With Aaron Rodgers on the show during Week 17's Cleveland Browns at Pittsburgh Steelers game, Peyton took the opportunity to ask about Rodgers' relationship with the former punter.
The retired QB first joked that viewers thought the talk show host should replace him and Eli, making it "The McAfee Cast." Then he asked, "How did you get so close with my old teammate, Pat McAfee?" Rodgers responded, over a picture of him and McAfee posing at a golf tournament together:
It was right there at the golf tournament. We had a late dropout my buddy A.J. Hawk said, "You should get Pat McAfee." So I reached out to Pat. Pat was actually on a standup comedy tour. Came off of the tour. Joined our team. And I went to him when he got there — I'd never met him — and I introduced myself. I said, "Hey when I introduce you tonight at the welcome dinner do you mind doing a couple minutes of standup?" He goes, "No. I'm not doing that."

Aaron Rodgers on first meeting Pat McAfee
While this first awkward interaction didn't immediately point to the two becoming friends, Rodgers explained how the relationship turned around later that evening:
I was like, oh! It's one of those things where you kind of like ask something of somebody, and you're like, "Oh, crap. Why did I do that? I'm putting this guy on the spot." So [later] I'm introducing my team, and [I said], "Hey, former punter and All-Pro Pat McAfee's here." And Pat walks up on stage, takes the mic from my hands, and does 10 minutes of standup. I knew from that point forward we were going to be good friends.

Aaron Rodgers on becoming friends with Pat McAfee
Rodgers kept going, telling the Manning's about McAfee playing golf that week barefoot with rolled-up shorts. Peyton responded after Rodgers finished, summing up in the only way he could, saying of McAfee, "He's a beauty."
Rodgers now turns his focus to joining the Manning's in the two Super Bowl Club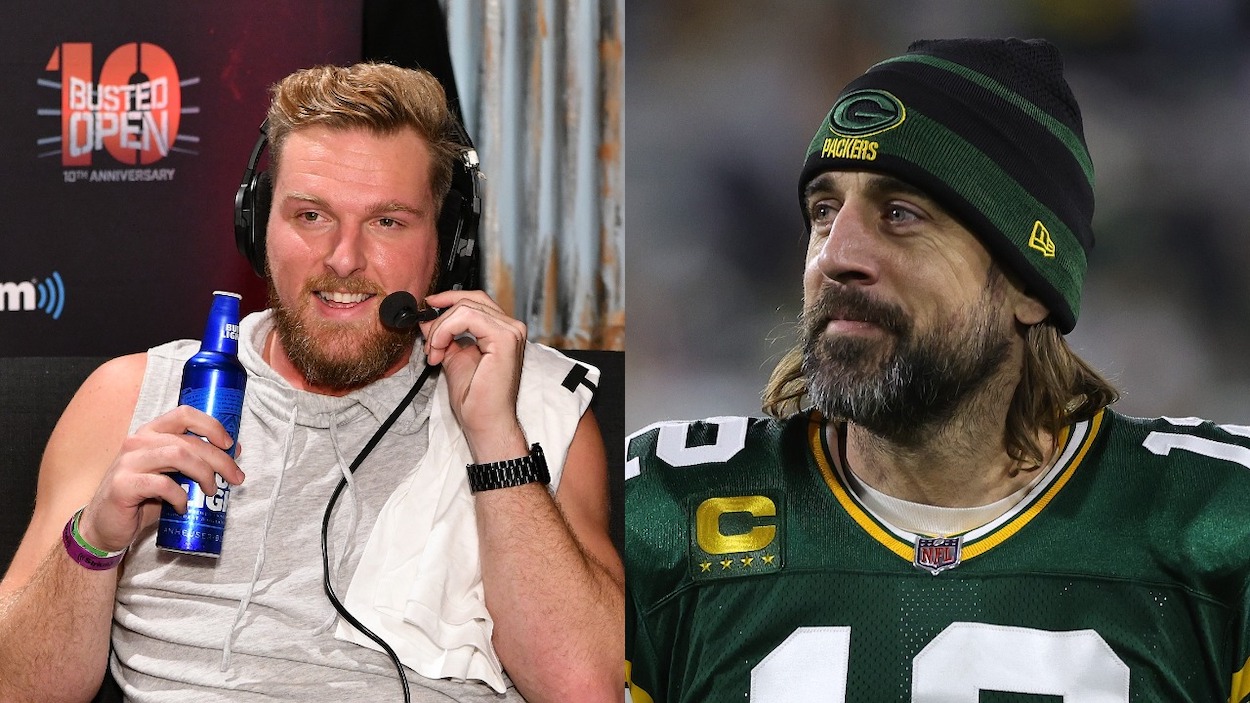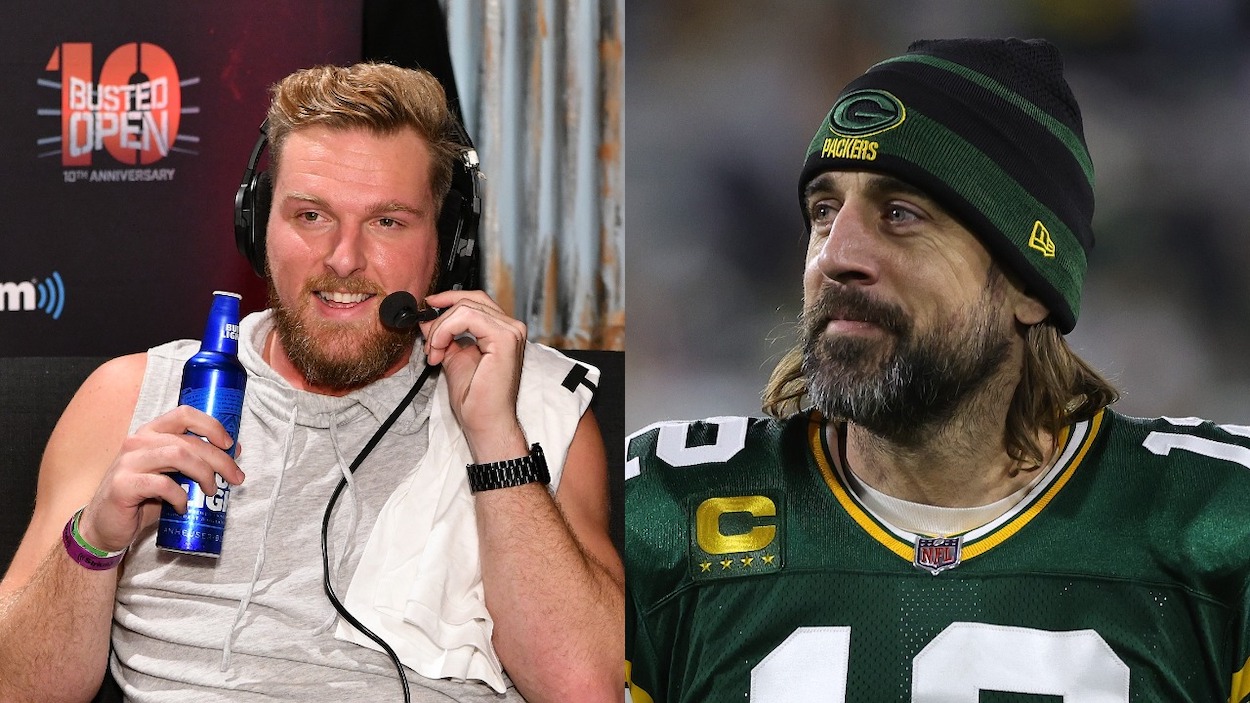 During the Manning Cast, Peyton and Eli Manning showed clips of the 2010 Super Bowl. That's when Aaron Rodgers' Green Bay Packers defeated Ben Roethlisberger, Mike Tomlin, and the Pittsburgh Steelers 31-25 to earn the reigning MVP his one and only Lombardi Trophy.
Since then, the QB has guided the Packers to eight more playoff appearances (with a ninth this season guaranteed). He's also appeared in four more Conference Championship Games. However, he hasn't managed a victory in any of those NFC finals to get back to the Big Game.
This season, at 13-3 heading into the final week of the regular season and with home-field advantage throughout the playoffs locked up, Rodgers has another great shot at his second Super Bowl.
At 38, though, Rodger's chances to join the Manning brothers as two-time Super Bowl winners are certainly running low.
His career now is currently similar to Eli's, as the two both played for just one team. This may not be good news, as the New York Giants QB won his Super Bowls at 26 and 30.
However, Rodgers can have hope looking at Peyton's career. The recent Hall of Fame inductee won his first Super Bowl at 30. He didn't win his second until he was 39. Rodger hasn't won since his 27-year-old season.  
The part that should scare Packers fans is that if their QB doesn't do it this year, he may have to follow in Peyton's footsteps and go somewhere else to do it.
Like Sportscasting on Facebook. Follow us on Twitter @sportscasting19
RELATED: When Aaron Rodgers Joined Brett Favre on the Green Bay Packers, It was the 1st Time in His Life 'There Was Someone Who Was Actually Better Than Me at Quarterback in the Same Room'