Aaron Rodgers Backpedals After Controversial Vaccine Comments: 'I Made Some Comments That People Might Have Felt Were Misleading'
Following Green Bay Packers quarterback Aaron Rodgers' last Pat McAfee Show appearance, a lot has happened. The internet went wild, the media scrutinized his every word, Pete Davidson skewered him on Saturday Night Live, and Jordan Love looked lost during a loss to the Kansas City Chiefs. 
Now that the dust has settled a little from last Friday's debacle, Rodgers came back to join McAfee for his regularly scheduled Tuesday guest spot. The embattled QB started the segment by taking a different tone than last week. However, he still shared enough to get everyone talking. 
Aaron Rodgers opened his weekly appearance on the 'Pat McAfee Show' with an apology?
Aaron Rodgers replaced his defiant tone on Friday with a much more conciliatory air on Tuesday's appearance. 
He started the interview with, if not a straightforward apology for Friday's ramblings, at least a mea culpa of sorts in which he acknowledged that he may have overstepped his bounds as an NFL quarterback by ranting about COVID-19 vaccines on a national sports talk show. 
Rodgers told McAfee and his listeners: 
I just wanted to start the show by acknowledging that I made some comments that people might have felt were misleading. And to anybody who felt misled by those comments, I take full responsibility for those comments. I'm excited about feeling better. I'm excited about moving forward and hopefully getting back with my team and getting back to doing what I do best. And that's playing ball. 

Aaron Rodgers on the 'Pat McAfee Show'
During the rest of the first half of the interview, Rodgers kept the much less aggressive tone, saying he didn't read or listen to much of what people said about him in the last four days. 
He even good-naturedly cleared up his consultation with "Dr. Joe Rogan," as McAfee called him, saying he was one of a handful of friends he talked to who dealt with COVID-19. 
Co-host and former teammate A.J. Hawk did press Rodgers as to whether he's talked to anyone who's tried to "educate" the QB or anyone to whom he needed to "clarify" his comments. Rodgers simply said he stands by his remarks on Friday. Then he again pivoted to the fact he's looking forward to getting back to football.  
Rodgers did eventually get to talk about football and Jordan Love's performance on Sunday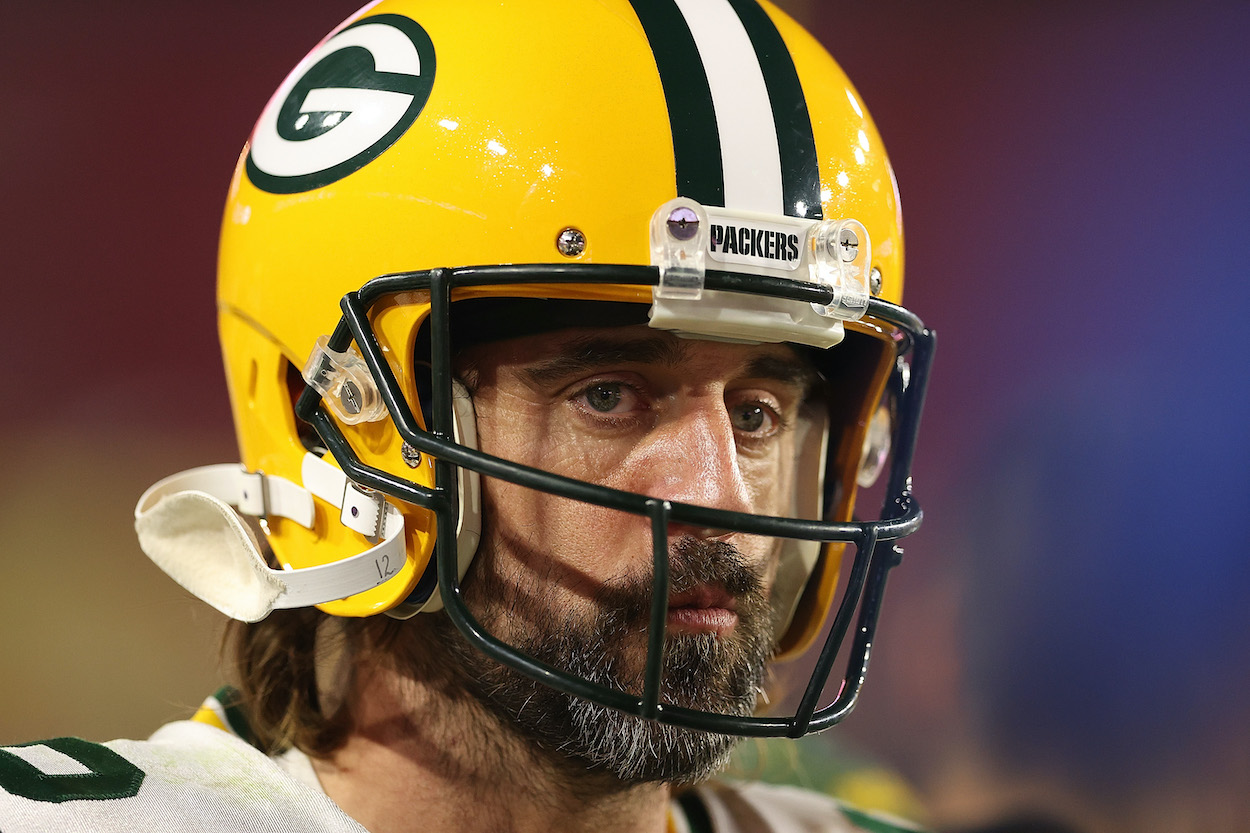 Pat McAfee did eventually turn the conversation to football, and Aaron Rodgers discussed the Packers' 13-7 loss to the Chiefs. 
Rodgers acknowledged that his replacement, second-year QB Jordan Love, was in a "tough situation," but he was "very proud" of his understudy and "the way he went about his business."
That likely isn't the average Packers fan's (or even some former player's) reaction. The possible QB of the future's performance was ugly. He only managed to go 19-of-34 for 190 yards with a touchdown and an interception in the face of KC defensive coordinator Steve Spagnuolo's constant blitzes. 
After dropping a game back off the pace of the NFC-leading Arizona Cardinals, Rodgers and the Packers will have their work cut out for them in the upcoming Week 10 matchup against the Seattle Seahawks. 
The NFC West squad got news this week that injured starter Russell Wilson would return for the Green Bay game. At 3-5, Wilson's squad is in a must-win situation against the Packers. 
As for Rodgers' return, he says he will be involved in preparation via Zoom all week. He also admitted there is "a possibility" he won't be ready to go from a health perspective. He told McAfee he still has to clear a "health hurdle" — related to his body and especially his heart — to ensure he is ready for the exertion of an NFL game post-COVID-19. 
The QB has reconciled the fact that his stance on vaccines means he will never win another NFL MVP Award
After seemingly moving on and focusing on football, McAfee circled back to the Friday appearance one last time.
"I hate to go back to the last four days," McAfee started. "How are you not going to hold a grudge? And do you know you're probably not going to win an MVP again?"
"I think that's a legitimate statement," Rodgers said, laughing at the former punter's declaration. He then gave a closing statement that put a bow on his almost-week-long saga:  
I think, first, if you find your identity in yourself, and you don't find your identity in the opinions of others, you don't need that validation and that love from other people. You can get it from yourself. And that's not being selfish. That's just learning how to, in a healthy way, love yourself and respect yourself and believe in yourself. And it was definitely tested by some of the comments I heard and saw. I'm human. I mean, stuff can definitely hurt your feelings. Look, I shared an opinion that is polarizing. I get it. I misled some people about my status, which I take full responsibility of those comments. But in the end, I have to stay true to who I am and what I'm about. And I stand behind the things that I said.

Aaron Rodgers in the 'Pat McAfee Show'
How fans and media will treat the QB once he returns to normal NFL life remains to be seen. However, McAfee is probably right that Rodgers turned off enough people in NFL circles with his anti-vax diatribe that awards like MVP are probably out of the question no matter how well he plays.
What is also true, though, is that the NFL is a meritocracy. No amount of drama, criticism, or hatred can stop Rodgers and the Packers from winning a Super Bowl if he plays well enough in his return.