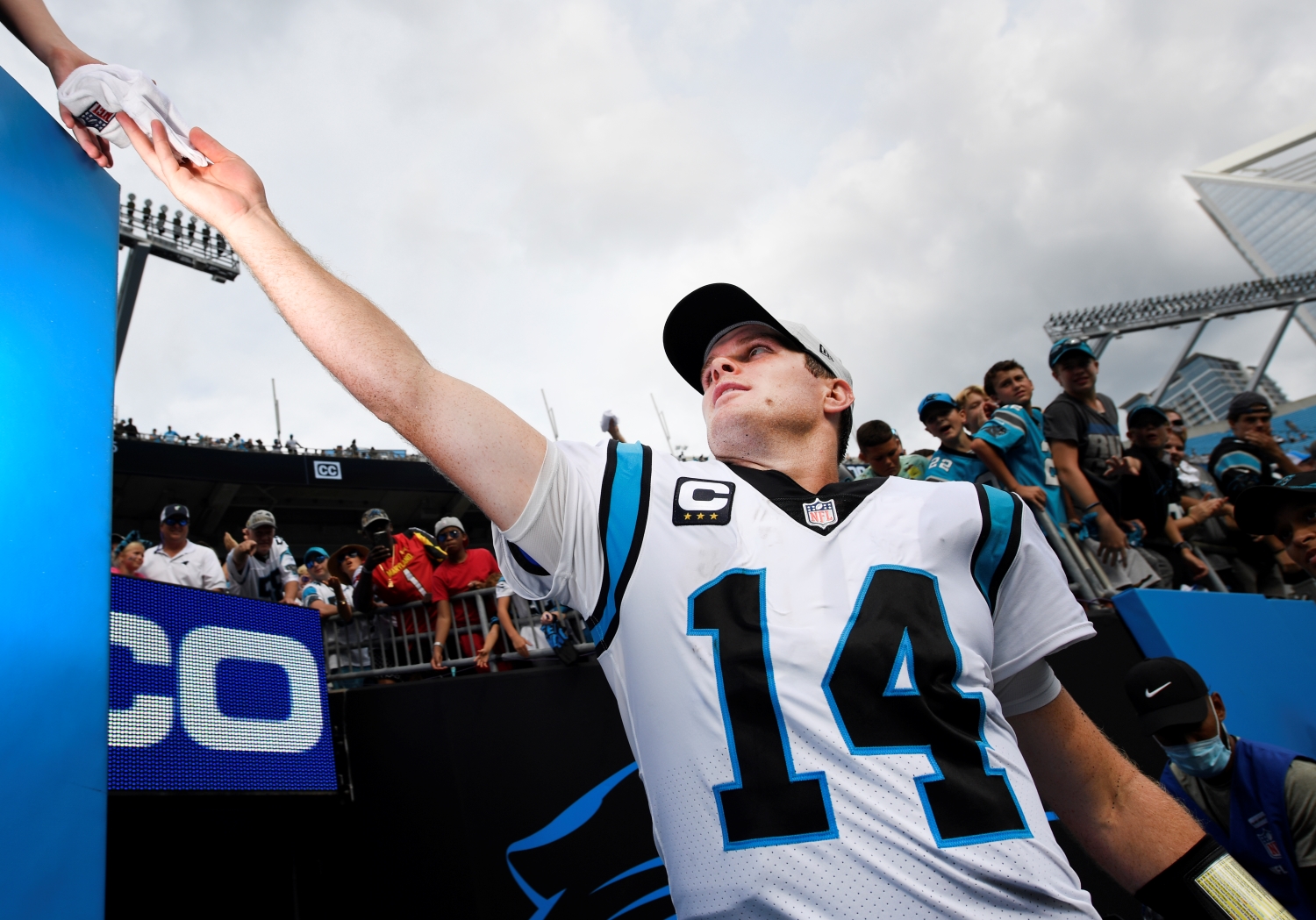 Sam Darnold Could Cause Collateral Damage for the Carolina Panthers if He Keeps Trending in the Right Direction
Will Sam Darnold's hot start continue? If the former Jets quarterback keeps trending in the right direction, the Carolina Panthers could suffer collateral damage down the line.
Sam Darnold may have fallen out of favor in New York, but the former USC star has wasted no time showcasing why he went No. 3 overall in the 2018 NFL Draft. Never short on physical talent, the 24-year-old quarterback didn't exactly have the strongest supporting cast with the Jets. In fact, one could argue he didn't have a chance to succeed due to disastrous head coach Adam Gase and an offensive line that struggled to keep him out of harm's way.
Luckily for the fourth-year pro, a much-needed change of scenery has put him in a position to not only resurrect his career but also secure his financial future.
However, if Darnold keeps trending in the right direction, he could cause collateral damage for a Carolina Panthers team that still has much to prove before it can be considered a viable Super Bowl contender.
Sam Darnold looks like a completely different quarterback in Carolina
Think a fresh start can have life-altering consequences for NFL players?
Look no further than what's going on with Sam Darnold.
After three uninspiring seasons with the Jets that included an ugly 45:39 touchdown-to-interception ratio, an awful 59.8% completion rate, and a disappointing 13-25 record, the California native got traded to the Panthers in a deal that cost Carolina 2022 second- and fourth-round picks and a 2021 sixth-rounder. While it wouldn't be fair to call it a home-run move quite yet, there's little doubt Darnold looks better than ever now that he calls the NFC South home.
The 6-foot-3, 225-pound signal-caller has taken advantage of playing in an offense that features established playmakers in fellow 2018 first-round pick DJ Moore, All-Pro running back Christian McCaffrey, and former Jets teammate Robby Anderson. Plus, he's already completed six passes to promising second-round rookie receiver Terrace Marshall Jr.
Of course, it's impossible to ignore the Joe Brady factor when discussing Darnold's hot start to the season.
With the former LSU passing game coordinator running Carolina's offense, the team's new starting quarterback has played efficient, mostly mistake-free football. Given Joe Burrow's meteoric rise under Brady's watch, it shouldn't be a total surprise that Darnold has completed nearly 69% of his throws at an average clip of 8.0 yards per attempt — both of which are well above his career averages.
However, if things keep trending in the right direction for the ex-Jet, he could cause collateral damage for the Panthers.
Darnold could cause collateral damage for the Panthers if he keeps trending in the right direction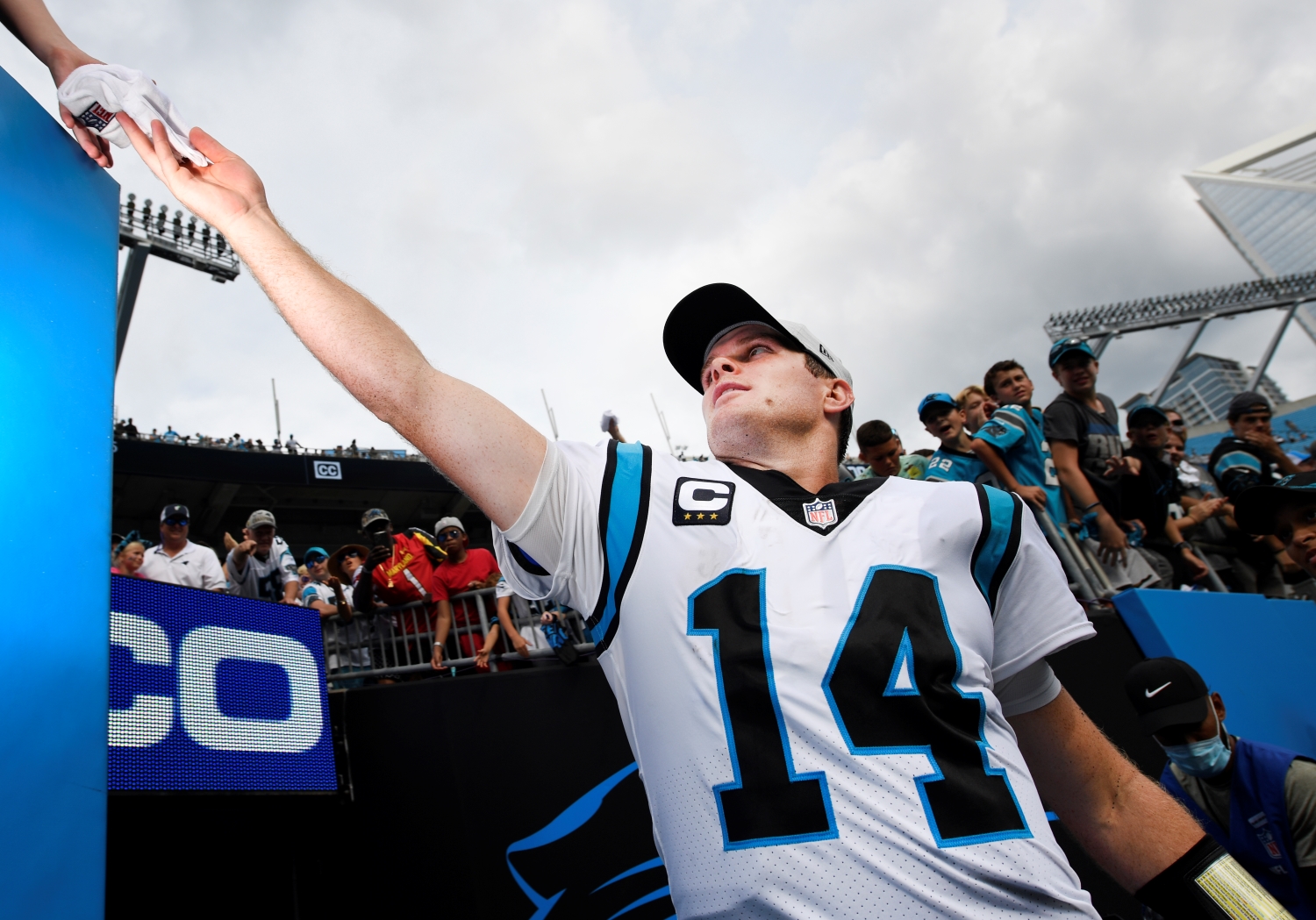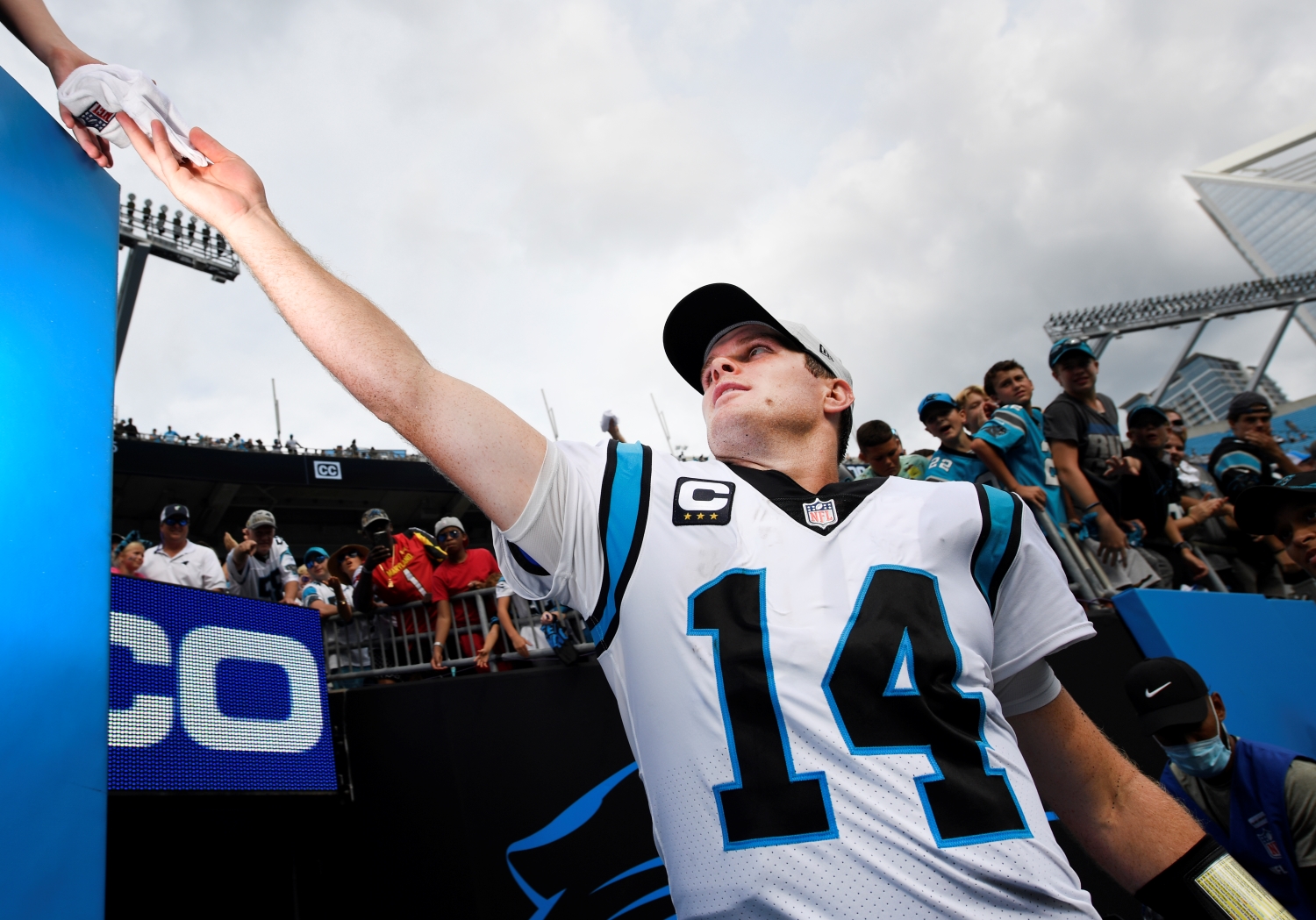 Panthers fans hope the team finally found a long-term answer at the most important position in sports by trading for Darnold. And with the way he's looked through the first two games of the season, he certainly has a chance to cement his status as the guy in Carolina.
If that happens, expect the Panthers to suffer some collateral damage.
When the team acquired Darnold this spring, Joe Brady officially assumed the responsibility of turning the talented quarterback's career around. The young offensive guru increased his own stock by coaxing solid play out of Teddy Bridgewater in 2020, but he still faces questions about whether he's ready to become an NFL head coach. Brady's value to other franchises will skyrocket, however, if he's able to help Darnold develop into an above-average starter.
The early returns look promising, so it certainly seems like the Panthers have a good thing going. As long as injuries don't strike, Darnold should continue to grow more comfortable and build chemistry with his receivers. Meanwhile, Brady can gather more data and make adjustments to maximize the abilities of the team's exciting collection of skill players.
If the experiment pays off like the Panthers hope, they could threaten for a playoff spot. At the same time, though, if Brady successfully transforms Darnold from a bottom-of-the-league starter to a quarterback who consistently delivers on Sundays, he may land a life-changing promotion from another NFL franchise, which would force Carolina to find a new coach to oversee the offense.
What does the future hold for Joe Brady and his starting quarterback?
It's only September, so it's tough to predict what the future holds. However, there's no doubt both Darnold and Brady have a lot on the line over the coming months.
Carolina's starting quarterback has an excellent opportunity to set himself up for a major payday. Darnold only has one year remaining on his rookie deal, which means he will become a free agent in 2023. A resurgent season should inspire the Panthers to lock him up on a multi-year extension. And if he falls short of expectations, the team could look to the draft or trade market to find a different solution.
As for Brady?
The soon-to-be 32-year-old doesn't have a ton of NFL experience, but he has a sharp mind and the passion for the game that attract the attention of owners and general managers around the league.
So, if Brady and Darnold remain on course and carry the Panthers' offense to new heights, the duo seems bound to break up after one year together in Carolina.
All statistics courtesy of Pro Football Reference.