Bill Belichick's Franchise-Altering Gamble Has Already Made Life More Difficult for Trevor Lawrence and Zach Wilson
Bill Belichick took a gamble by handing the Patriots' offense to a rookie quarterback. Unfortunately for Trevor Lawrence and Zach Wilson, that decision has exposed them to even more criticism.
Bill Belichick could have entered Week 1 with a former MVP leading the huddle. In fact, some expected him to stick with Cam Newton no matter what. But with the New England Patriots in desperate need of a bounce-back season, Belichick rolled the dice and went in a different direction at the most important position in sports.
Will his franchise-altering gamble lead to a playoff berth?
It's too early to tell, but the Patriots should feel encouraged about the future of the quarterback position. However, Belichick's bold decision to trust Mac Jones with running the offense has already made life more difficult for two other rookie signal-callers. And based on their respective situations, both Trevor Lawrence and Zach Wilson face uphill battles to live up to expectations at the pro level.
Bill Belichick took a risk by rolling with a rookie over a former league MVP
Even Belichick would have to admit he took a risk by completely cutting ties with Newton. After all, the former Carolina Panthers star certainly has a better track record of success than current Patriots backup Brian Hoyer. Yet instead of sliding Newton's name down the depth chart, Belichick removed it entirely.
By releasing the 2015 MVP on the day of final cutdowns, he officially went all-in on Jones, who showed impressive poise, command, and maturity during the spring and summer. Of course, swapping out the 2011 No. 1 overall pick for the 2021 first-rounder instantly put the Patriots in a disadvantageous position from an experience standpoint. Rather than having a quarterback with 139 regular-season starts under center, Belichick hitched his wagon to a rookie who started only 17 games in college.
So far, though, Jones hasn't looked out of place operating New England's notoriously complex offense. Sure, he's passed on some big-play opportunities that seemed ripe for the taking. But the first-year pro has been accurate and efficient through two weeks. Most importantly, he's protected the football and avoided making costly mistakes.
Unfortunately for two of Jones' peers, Belichick's decision to roll with the rookie has already made their life more difficult.
Belichick's franchise-altering gamble has already made life harder for the top two picks of the 2021 NFL Draft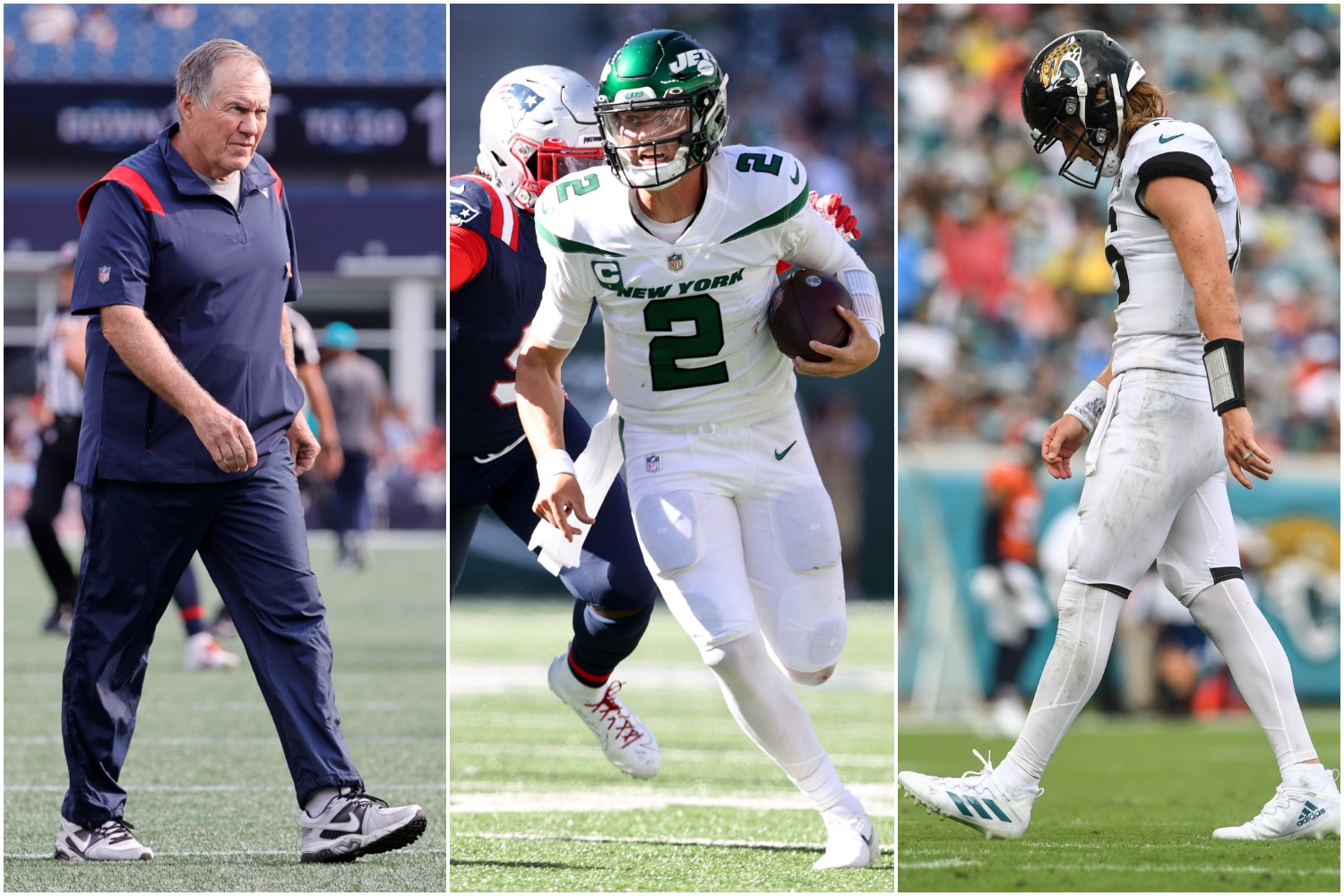 As the first two picks of the 2021 draft, Trevor Lawrence and Zach Wilson entered the league with plenty of hype and a ton of pressure on their shoulders. While both could develop into perennial All-Pros, they've experienced some major struggles out of the gate. Meanwhile, Mac Jones, the fifth quarterback off the board, has quickly validated why Belichick released Newton.
Despite his lower draft status and underwhelming physical profile, the Patriots' rookie signal-caller has vastly outplayed both Lawrence and Wilson.
And it's not even close.
Jones has completed 73.9% of his passes for 467 yards, one touchdown, and zero interceptions while averaging 6.8 yards per attempt. He owns a quarterback rating of 96.7 —  a rock-solid number that happens to be just shy of Tom Brady's career mark of 97.4.
As for Lawrence?
The No. 1 overall pick has thrown as many incompletions (42) as completions. Although he's racked up four touchdown passes, he's also thrown five interceptions, including three in his first career start. With a 57.1 quarterback rating and uninspiring 5.4 yards-per-attempt average, Lawrence has gotten off to a rough start with the Jacksonville Jaguars.
Wilson hasn't fared much better, either.
The former BYU standout got intercepted four times by Belichick's defense in a lopsided 25-6 defeat. Playing behind a banged-up offensive line hasn't helped (he's been sacked 10 times already), but there's no doubt Wilson has opened himself up to criticism by making poor decisions. His 56.1 quarterback rating and 6.7 yards-per-attempt average put him behind Jones in both categories, too.
We're only in Week 3, but it's impossible to ignore what's gone on to this point. Lawrence and Wilson have underwhelmed and done little to inspire confidence from their respective fanbases. On the other hand, Jones has made Belichick look smart for wiping the slate clean in Foxborough and gambling on a rookie's upside. And as long as the Patriots continue to get solid, mistake-free play out of their young quarterback, Lawrence and Wilson will face criticism for every errant throw or bad decision they make.
What does the future hold for Mac Jones, Zach Wilson, and Trevor Lawrence?
With 15 games to go, there's still ample time for things to change for the AFC's three first-round rookie quarterbacks. So, what does each player have to work on moving forward?
For Lawrence, it starts with taking better care of the ball and working on his timing. He clearly had a schematic advantage at Clemson that doesn't exist at the NFL level. The strong-armed, athletic passer has to improve at reading defenses, and he certainly can't afford to have more multi-interception days if he wants to justify his draft pedigree.
Wilson also needs to work on ball security and decision-making. The Patriots didn't even have Stephon Gilmore in the lineup, yet they still recorded four interceptions against the Jets' young quarterback. Turnovers destroy momentum and force the defense to shoulder a bigger burden, so Wilson must avoid giving other teams opportunities to put points on the scoreboard.
Ironically, Jones actually needs to get more aggressive as a passer over the course of the season. That doesn't mean he should go into full gunslinger mode. However, New England won't beat elite teams by dinking and dunking down the field. Jones has to trust Josh McDaniels' play-calling and be willing to take a shot down the field every now and then.
If that starts to happen, don't be surprised if the Patriots rack up bigger point totals on a consistent basis and make a legitimate push for a playoff spot.
As for the Jaguars and the Jets?
There's always next year.
All statistics courtesy of Pro Football Reference.