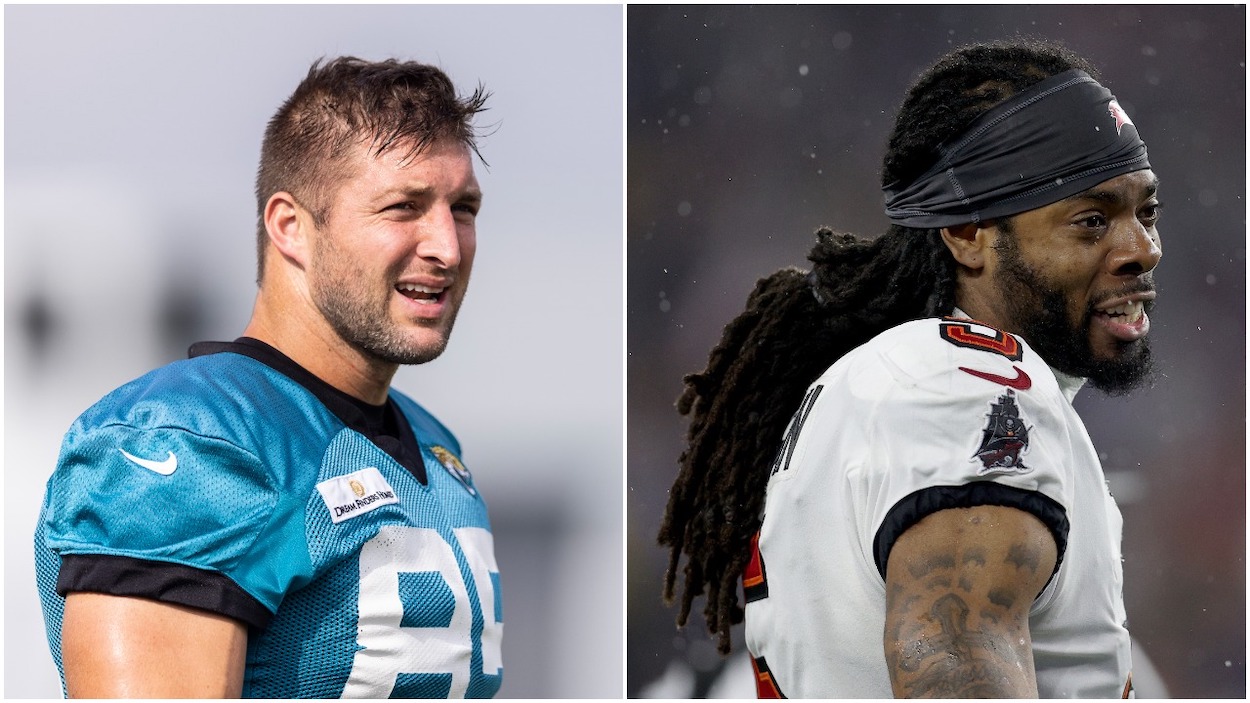 'Trump's Favorite Author' Uses Tim Tebow Being 'Black-balled' for His Religious Beliefs and Richard Sherman's Criminal Charges to Call for NFL Boycott
Tim Tebow is not in the NFL and Richard Sherman is. To some, this is a merit-based no-brainer. To others, it's a reason to boycott the league.
After several years of declining ratings that were at least partially due to the political climate in the United States and the NFL, the league's ratings are back with a vengeance so far in 2021. These numbers suggest that many people have reconciled their feelings about politics and football. However, it doesn't mean that people won't still try to score political points off the NFL.
That's exactly what happened following the Tampa Bay Buccaneers vs. New England Patriots Sunday Night Football game. Conservative author Nick Adams called for an NFL boycott, citing former quarterback-turned-tight end Tim Tebow and new Bucs cornerback Richard Sherman.
Tim Tebow is out of the NFL for good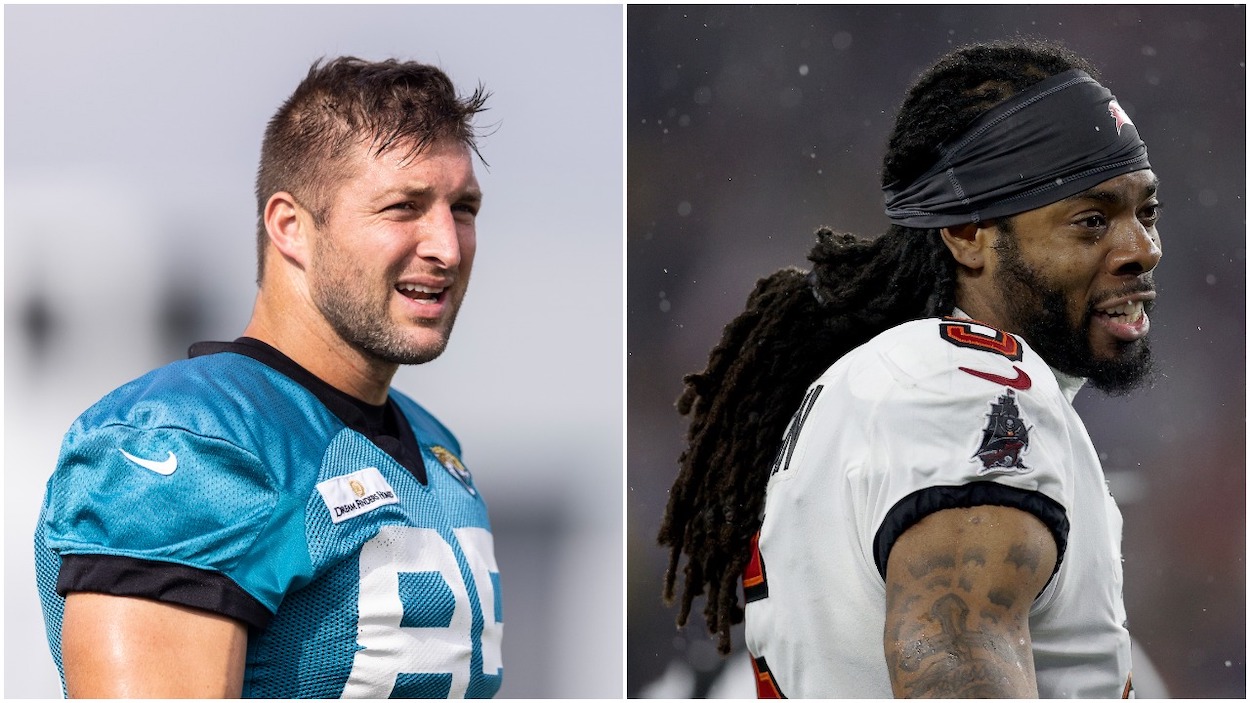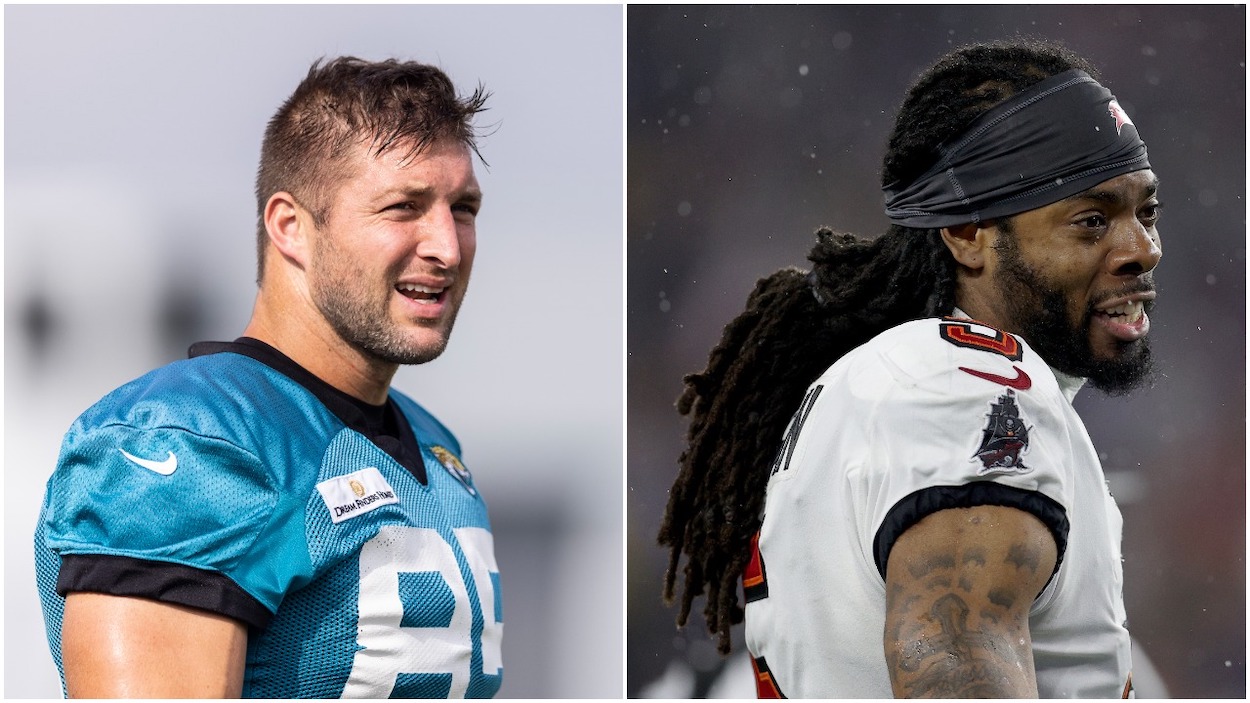 It's not a hot take to suggest that Tim Tebow is one of the best college players of all time. At the University of Florida, the 6-foot-3 quarterback played the position like few had played it before him.
He ran the ball like a fullback and threw a phenomenal deep ball with his big, sweeping lefty motion. Tebow even pioneered the goal line jump pass, a play still used in the NFL today. His skills and natural leadership ability helped him win the 2007 Heisman Trophy and national championships in 2006 and 2008.
In 2010, the Denver Broncos and first-time head coach Josh McDaniels traded up to take Tebow No. 25 overall in the NFL draft.
The problem was that his skills simply didn't translate in the pros. He wasn't big enough to run over NFL defenders and wasn't fast enough to run by them. His elongated throwing motion was too slow to deal with pro pass-rushers, and that beautiful deep ball wasn't enough to make up for his complete lack of accuracy in the short and mid-range passing game.
Because Tebow is so beloved, some fans have made the case that he wasn't given a fair shot in the pros. These Tebow-ites point to his winning record as a starter (8-6) and his miraculous overtime victory versus the Pittsburgh Steelers in the 2011 postseason. He was also a legitimate weapon in the red zone with 29 touchdowns over just 23 appearances in Denver.
All that said, his 47.9% career completion rate and 33 sacks over 11 starts in 2011 illustrate the overarching problems with Tebow as an NFL passer.
If the former Gator had tried to switch positions at 25, after two seasons in Denver and one with the New York Jets, he might have had a chance to catch on as an NFL fullback or tight end. However, he hung on to his QB dreams and, after failed attempts to play for the New England Patriots and Philadelphia Eagles, was out of the league.
Following a minor league baseball career, Tebow came back to pro football and became a tight end. As a 34-year-old trying to play a new, more physical position for the first time at the highest level, it makes sense that the Jacksonville Jaguars cut him.
Well, it makes sense to most people.
Conservative author calls for NFL boycott because Richard Sherman is playing while Tebow is 'black-balled'
Tim Tebow is a devout Christian who has always been incredibly vocal about his religious beliefs. He is the son of Christian missionaries. He wrote Bible passages on his eye-black strips in college. And, he's done an incredible amount of good work through his faith-based charity, the Tim Tebow Foundation. 
Tebow's foundation focuses on children with special and profound medical needs, orphans, and human trafficking. The organization's stated mission is to bring faith, hope, and love to children around the world, per TimTebowFoundation.org.
Neither the organization nor the former football player himself is overtly political. That didn't stop a conservative firebrand from invoking Tebow to take a shot at the NFL.
Nick Adams is a conservative author and pundit who bills himself on his Twitter bio and website as a "best selling author endorsed by President Trump" and "President Trump's favorite author."
On Monday, Tampa Bay Buccaneers cornerback Richard Sherman returned to the NFL following an offseason incident that resulted in five misdemeanor charges, including two for domestic violence (criminal trespass and malicious mischief), per the New York Times. Adams tweeted about Sherman while citing Tebow's current status.
Adams called for fans to boycott the NFL because Sherman played with pending criminal charges while the league has "black-balled" a "devout Christian" in Tim Tebow.
The reaction from NFL fans, media, and former players on social media came swiftly following Adam's tweet.
Adams' tweet drew strong reactions, and many brought up Colin Kaepernick
Like most things on social media, Adams' tweet drew strong reactions of both derision and support.
Much of the feedback that came from NFL media and players was dubious of Adams' tweet. The issues with the premise included the fact that Tebow was a below-average NFL QB — evidenced by his sub-50% completion percentage — and that Richard Sherman is a five-time Pro Bowler and three-time All-Pro.
Some also pointed out that former San Francisco 49ers QB Colin Kaepernick's situation is a more plausible example of a blackballed player.
Former NFL tight end Benjamin Watson summed up many people's feelings when he tweeted:
Love and respect Tim Tebow, even though he's a gator. But he wasn't black balled by the NFL for being a Christian. For 16 years I prayed publicly, shared my faith in interviews and even made a documentary on abortion.

Many do the same.

Blackballed?

Kaepernick, yes. Tebow no.

via @BenjaminSWatson
ProFootballTalk's Twitter account also pushed back against the notion that Tebow's religious beliefs are the reason he's not in the NFL. PFT pointed out that the league is full of players who are vocal about their Christian faith. It sarcastically tweeted, "Yes, Tim Tebow was blackballed for being a devout Christian. Indeed, the NFL contains no devout Christians and frowns upon any and all references to God and Jesus."
Adams' tweet is unlikely to change hearts and minds when it comes to opinions about the NFL. However, the firestorm around the post does show that even now that his playing days are (almost certainly) over, Tim Tebow is still a name that draws serious attention in the football world.
All stats courtesy of Pro Football Reference