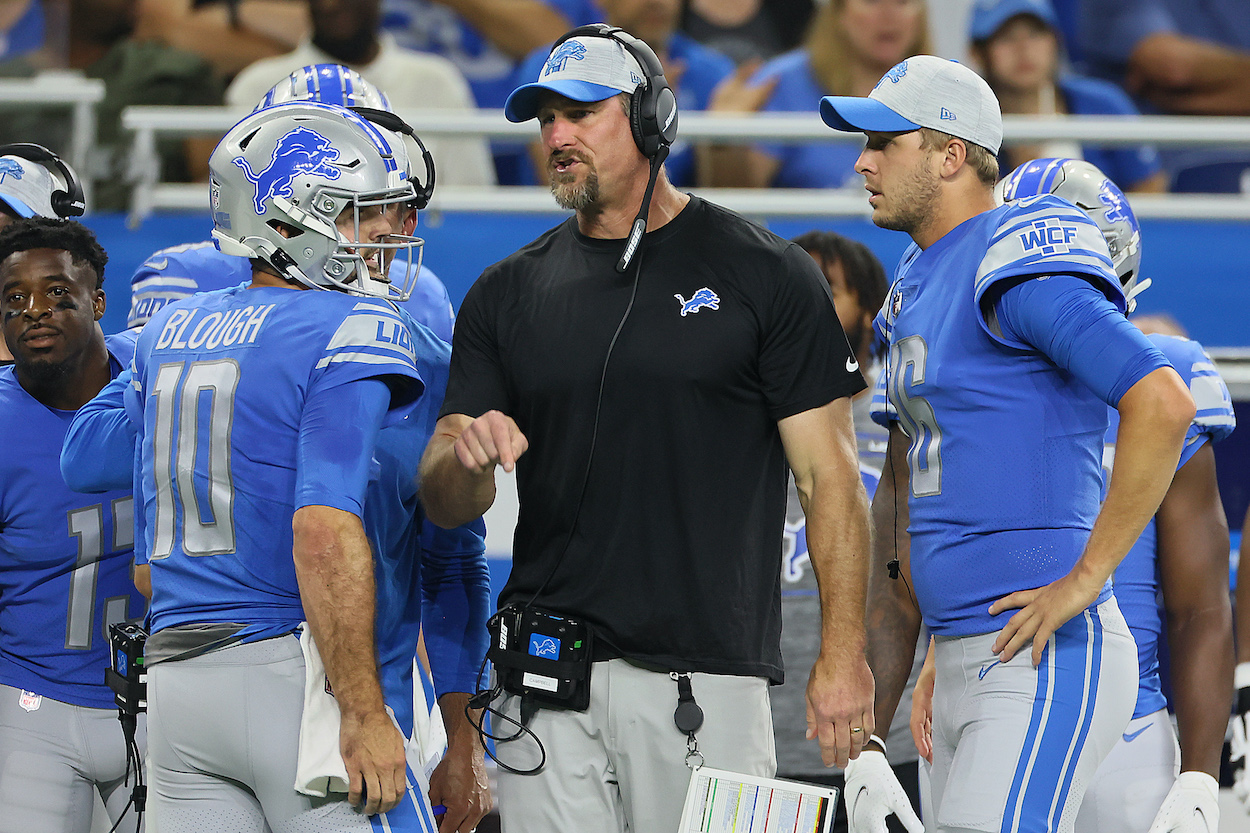 Detroit Lions Coach Dan Campbell Delivers a Harsh Warning to His QB Jared Goff After Terrible Performance: 'I Feel Like He Has to Step up More Than He Has'
Detroit Lions head coach Dan Campbell sent a strong message to QB Jared Goff after a rough Week 6 loss that could lead to Goff's benching for backup David Blough.
A little over a week ago, Detroit Lions first-year head coach Dan Campbell took to the podium after yet another improbable last-second loss and wept for his team. After a decisive 34-11 beat down by the Cincinnati Bengals in Week 6, Campbell stepped to the postgame mic with a different attitude. This time, he was angry at his team and delivered an unsympathetic message to his starting quarterback, Jared Goff.
The Detroit Lions are struggling in 2021
After trading longtime franchise QB Matthew Stafford in the offseason, no one expected the Detroit Lions to be good in 2021. However, through the first five weeks of the NFL season, the team played the role of plucky underdog rather than a basement-dwelling bottom-feeder.
In Week 1, the squad mounted a late rally to come within one score of the San Francisco 49ers, and, in Week 2, they hung with the Green Bay Packers for a half before ultimately losing 35-17. Week 3 saw them lose on an NFL-record 66-yard field goal and, after a division loss to the Chicago Bears, they lost on another late FG to the Minnesota Vikings.
It wasn't until last week that the team looked truly helpless. Joe Burrow, Ja'Marr Chase, and Joe Mixon ran wild over the Lions, and QB Jared Goff and the offense couldn't match them.
Goff was 28-of-42 for 202 yards with an interception, and the team only managed 36 total rushing yards.
This performance caused Dan Campbell to change his tone in the postgame presser. Just a week removed from emotionally praising his team's fight, the former NFL tight end took a different tact. He called out all his players for their effort and specifically sent a warning to his starting signal-caller.
Life doesn't get any easier for Campbell, Goff, and the Lions this week either. The team is headed for a Week 7 matchup with Stafford and the 5-1 Los Angeles Rams.
Dan Campbell called out his quarterback after yet another loss
The post-Lions loss Dan Campbell press conferences are becoming more entertaining than most Lions games these days. The coach wears his heart on his sleeve and pulls no punches during these postgame therapy sessions.
This week, after the embarrassing loss to the Bengals, Campbell sent a message to his struggling quarterback, Jared Goff.
When asked about the QB's performance, Campbell first said he doesn't feel like "we can accurately judge him one way or the other yet." That said, he did deliver a strong warning that Goff no doubt sat up and took notice of:
I will say this. I feel like [Goff] needs to step up more than he has. And I think he needs to help us, just like everyone else. And he's going to need to put a little bit of weight on his shoulders here, and it's time to step up and make some throws and do some things.

Dan Campbell on Jared Goff
That is far from a ringing endorsement from the head coach for the former No. 1 overall pick. And, at 0-6, Campbell's brutal honesty about his team's signal-caller situation could mean that a change is coming at some point.
Maybe even soon.
Could Campbell bench Jared Goff?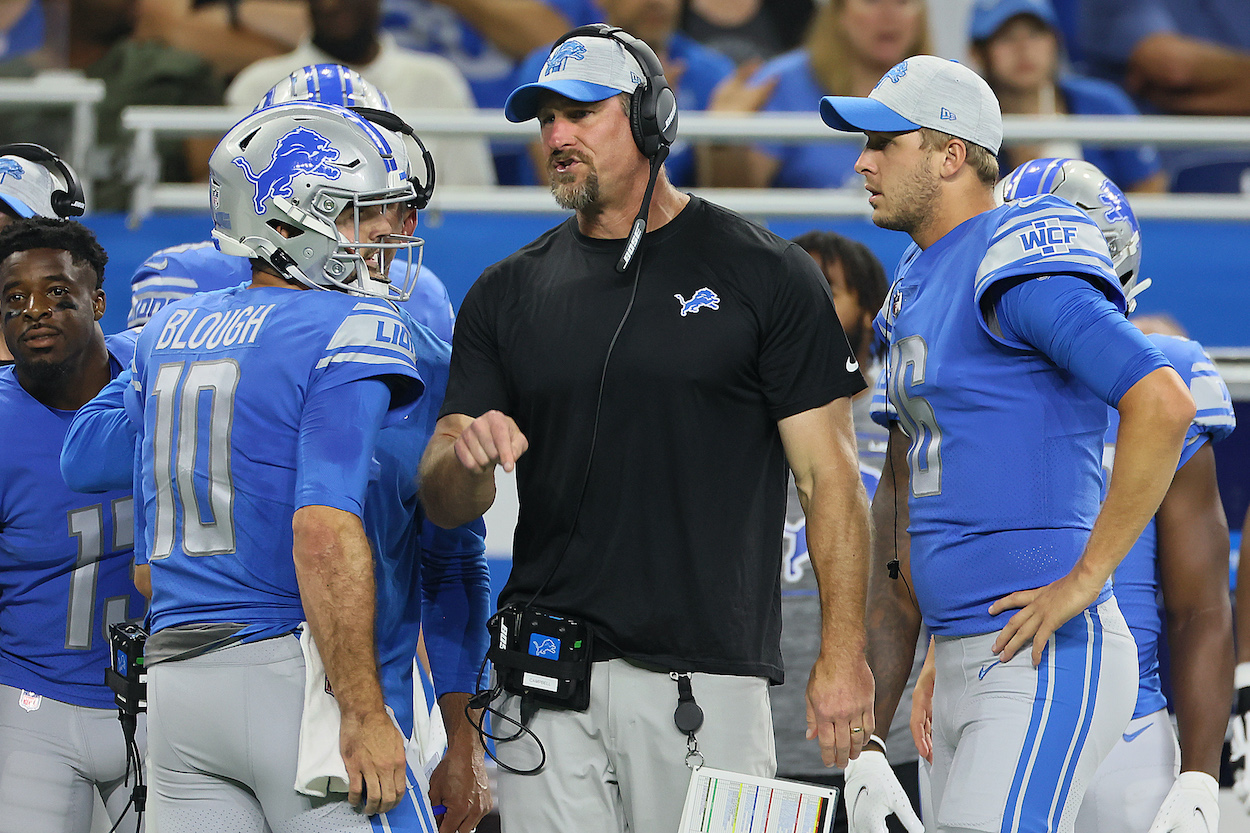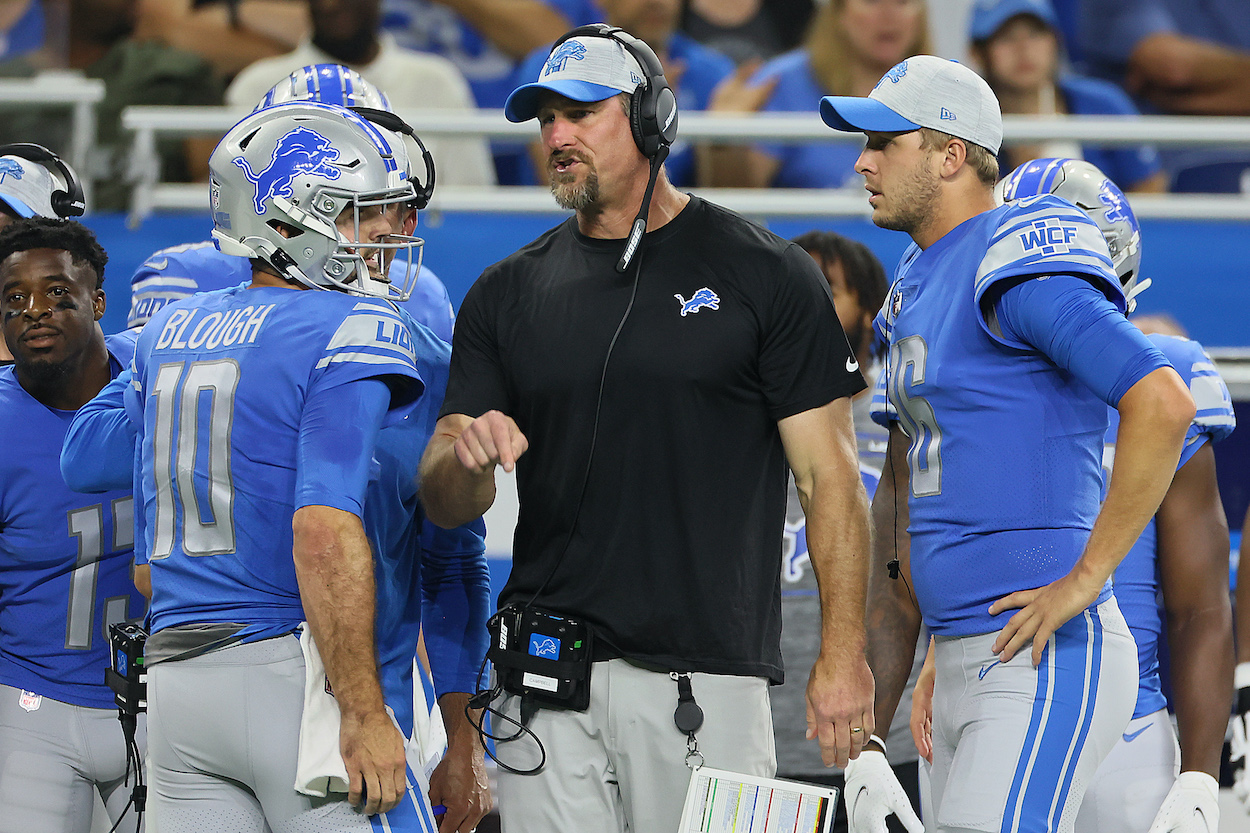 If Campbell, the Ford family, and Detroit Lions fans were completely honest, they'd likely say that the team's early-season losses were ideal.
When an organization rips it down to the studs and rebuilds, the best you can hope for is a competitive, fun team to watch that still loses as many games as possible to get the coveted No. 1 draft pick.
This describes the Lions well, right up until the Week 7 Bengals game. The Lions looked like a hopeless franchise that could achieve the worst-case scenario: breaking their own NFL record by going 0-17.
To get back to the former Lions as opposed to the latter, Campbell could turn to backup QB David Blough. The third-year passer out of Purdue came to fame this offseason thanks to his wife, Melissa Gonzalez, who competed in the 400-meter hurdles for Colombia in the Tokyo Olympics.
On the field, the former undrafted free agent did get the final five starts of the 2019 season for the Lions following injuries to Matthew Stafford and backup Jeff Driskel. In these starts, he was 94-of-174 (54%) for 984 yards with four touchdowns and six interceptions.
Blough might not be better than Goff, but the longer the zero stays as the first number of the team's record, the less Campbell and the Lions have to lose by giving the backup a shot. If Goff loses his job in Detroit, that will surely spell the end of the once-promising passer's career as an NFL starter.
All stats courtesy of Pro Football Reference