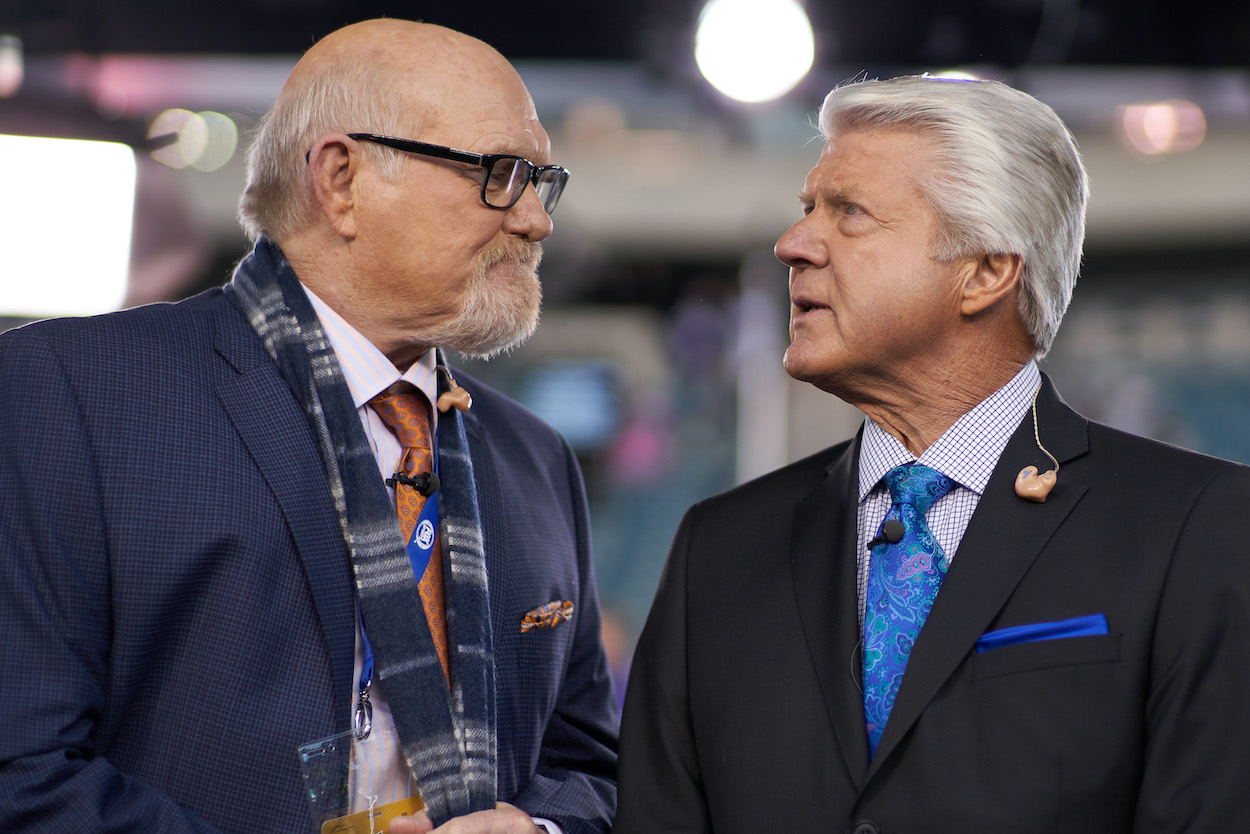 Terry Bradshaw and Jimmy Johnson Clash Over the Detroit Lions Prior to Another Heartbreaking Loss: 'They'll Fix the Not Good Part'
Terry Bradshaw and Jimmy Johnson disagreed on whether the Detroit Lions are good or not on the FOX NFL pregame show and, somehow Dan Campbell's team proved them both right.
The Detroit Lions are now 0-5 in the 2021 NFL seasons under first-year head coach Dan Campbell. This may sound bad at first, but for a franchise that hasn't won a playoff game since 1992, even slight improvement and moral victories are a step in the right direction. And that is exactly what Campbell has provided thus far. Super Bowl-winning quarterback Terry Bradshaw agrees and sung the coach's praises on the FOX NFL Sunday pregame show.
Hall of fame coach Jimmy Johnson disagreed with Bradshaw, alluding to the club's abysmal record. Then, Campbell and the Lions went out and proved both analysts right.
Terry Bradshaw and Jimmy Johnson disagreed over Dan Campbell and the Detroit Lions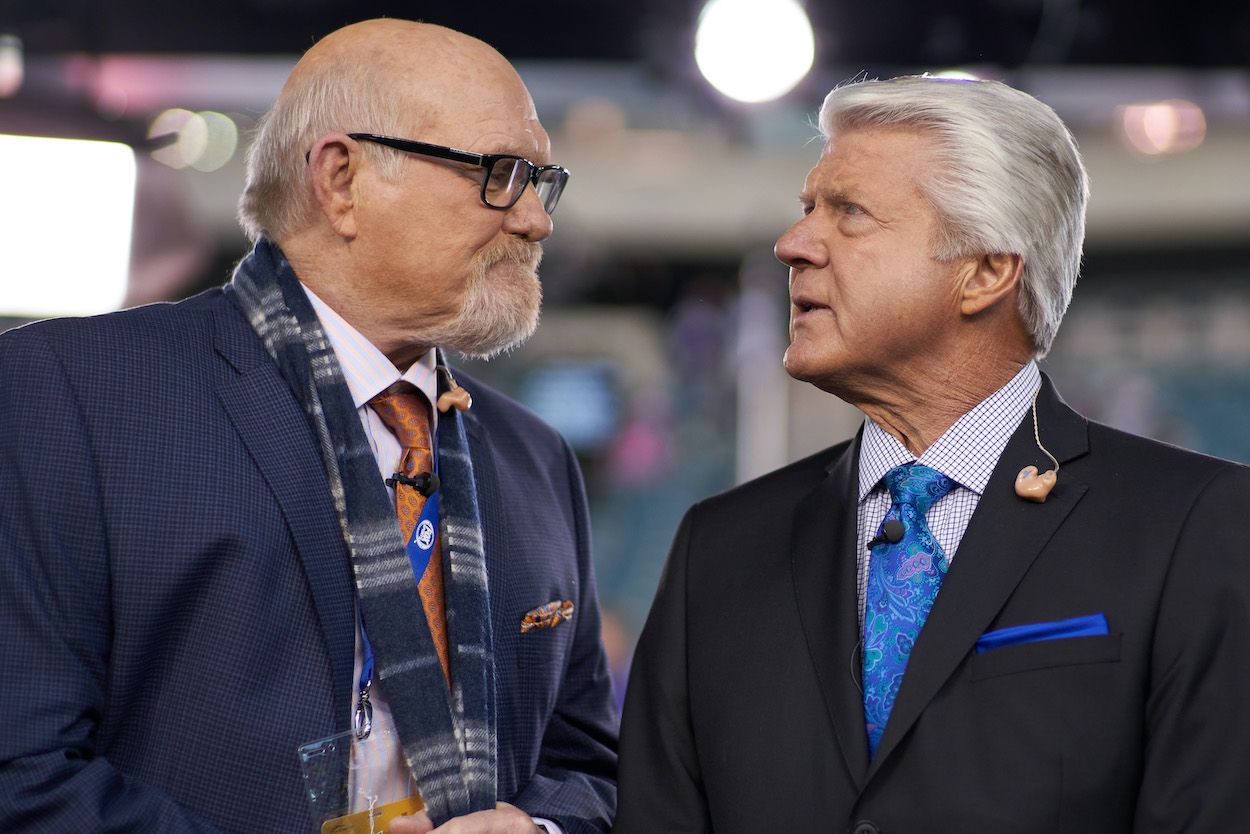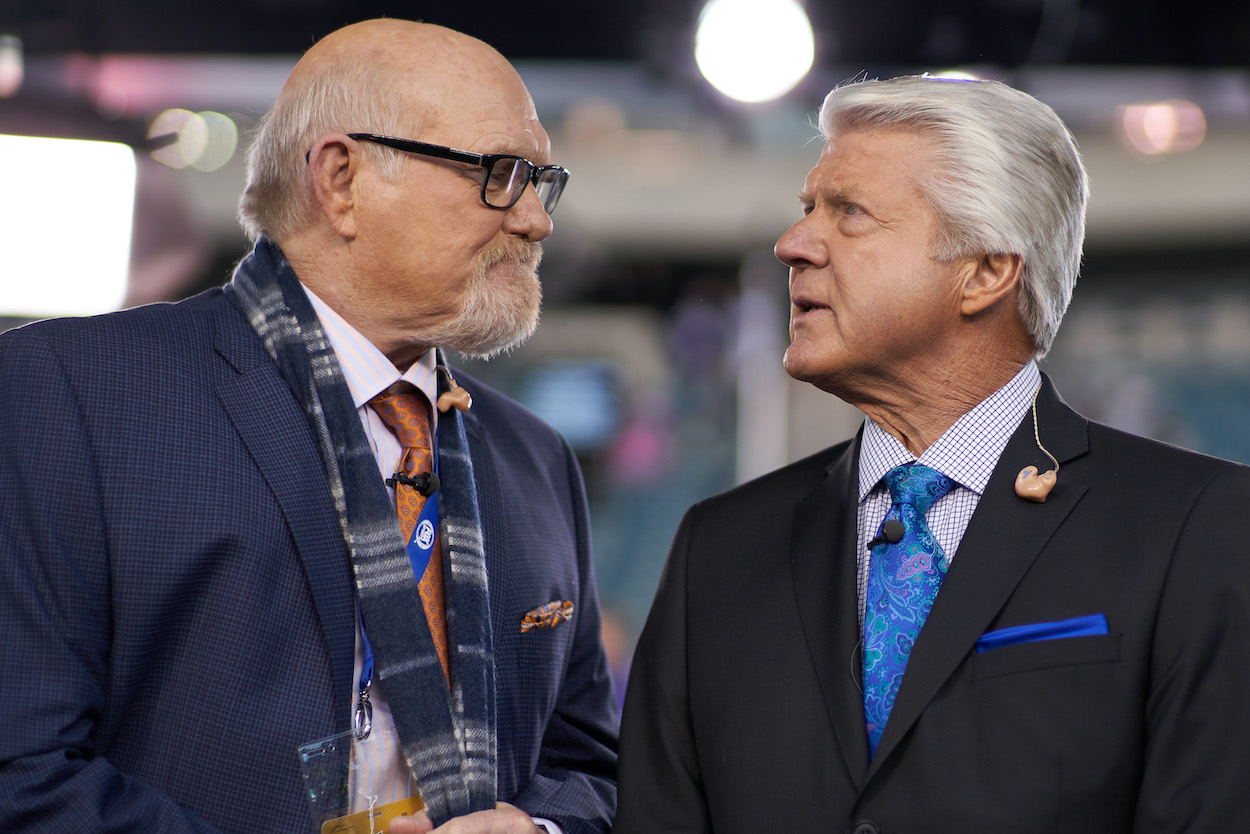 Former Pittsburgh Steelers QB Terry Bradshaw and former Dallas Cowboys head coach Jimmy Johnson are known for going at it on the FOX NFL pregame show on a variety of topics. Sunday was no exception as the two Hall of Famers went toe-to-toe over the Detroit Lions and their intense head coach.
Dan Campbell, when [the Detroit Lions] hired him and he talked about 'biting off kneecaps' I went, 'oh my God, what have they hired here?' And then, all of the sudden, they're 0-4, and you go, 'boy, what a lousy hire and what a lousy hire and what a lousy football team.' But hear me loud and clear. This team plays hard. I actually like the Lions because of Campbell's toughness. … This team plays hard, and Jimmy, as a coach, you want that no matter —

Terry Bradshaw on the Detroit Lions
Johnson interrupted and dissented by exclaiming, "You're saying they play hard, and they're tough, but they're not good!"
Bradshaw responded in the most Bradshaw way possible, countering with, "Well, they'll fix the not good part. Eventually."
Howie Long jumped in and said he agreed with Bradshaw, but Johnson seemed unconvinced.
The Lions proved both Bradshaw and Johnson right
The Detroit Lions traveled to Minnesota to take on the division-rival Vikings in Week 5. The Lions came in 0-4 but lost in heartbreaking fashion in two of those four games this season.
In Week 1, they came back from a 38-10 deficit to the San Francisco 49ers before coming up one score short after a late 23-3 run. In Week 3, Campbell's squad took a 17-16 lead with 1:04 left in the game before Justin Tucker made history with a 66-yard field goal, the longest-ever in the NFL.
Week 5 looked like it finally could be the Lions' day. They once again took a 17-16 lead late. This time, it was with just 0:37 left on the clock. However, Vikings QB Kirk Cousins hit three quick completions, and Minnesota kicker Greg Joseph kicked a 54-yard field goal to win the game for the purple and gold.
The late loss validated both Bradshaw and Johnson's points.
The Lions are, in fact, bad, and losing late like that proved it. That said, being in yet another game until the end and fighting to the finish line despite the lack of talent shows that Bradshaw is also right in a way.
Campbell was in tears after the most recent Lions' loss
While Jimmy Johnson and Terry Bradshaw could both feel good after the Detroit Lions loss, Dan Campbell decidedly did not.
The former NFL tight end took to the podium after the game and burst into tears talking about the contest and his team's performance. He said:
When you see your players give all that they have and you lose that way, it's tough. You don't want that for them. But we'll be better for it, and, there again, credit Minnesota, but we made the one mistake that cost us. And so, ultimately, we didn't do enough to win, but I was proud of them, and I love the fight they have in 'em. And I love the grit.

Dan Campbell on the Detroit Lions
Campbell is an unorthodox coach, but there is no question he has his team playing hard. And, in a time when coaches are writing emails using racially insensitive language and not flying back with the team after a loss in order to go to a bar, a genuine coach like Campbell is someone who players will respond to.
Give the Lions a few years to get over their talent deficit through the draft and, hopefully, pick a competent QB, and the team under Campbell may find themselves in round two of the postseason for the first time in 30 years.
All stats courtesy of Pro Football Reference