Troy Polamalu Reveals the 6 Words Every Pittsburgh Steelers Player Wants to Hear in His HOF Induction Speech
The Pittsburgh Steelers safety Troy Polamalu is the latest Hall of Fame inductee who wore the team's iconic black and gold. He follows a long line of legendary players who called the Steel City home during their paying days and ended up in Canton, Ohio, when their careers ended.
Polamalu roamed the defensive backfield in Pittsburgh for 12 seasons and became an all-time great Steeler. In his Hall of Fame acceptance speech, he shared with current Steelers players the six words they should want to hear from past Steelers to know they've made it into the club.  
Troy Polamalu was one of the best of a golden generation of safeties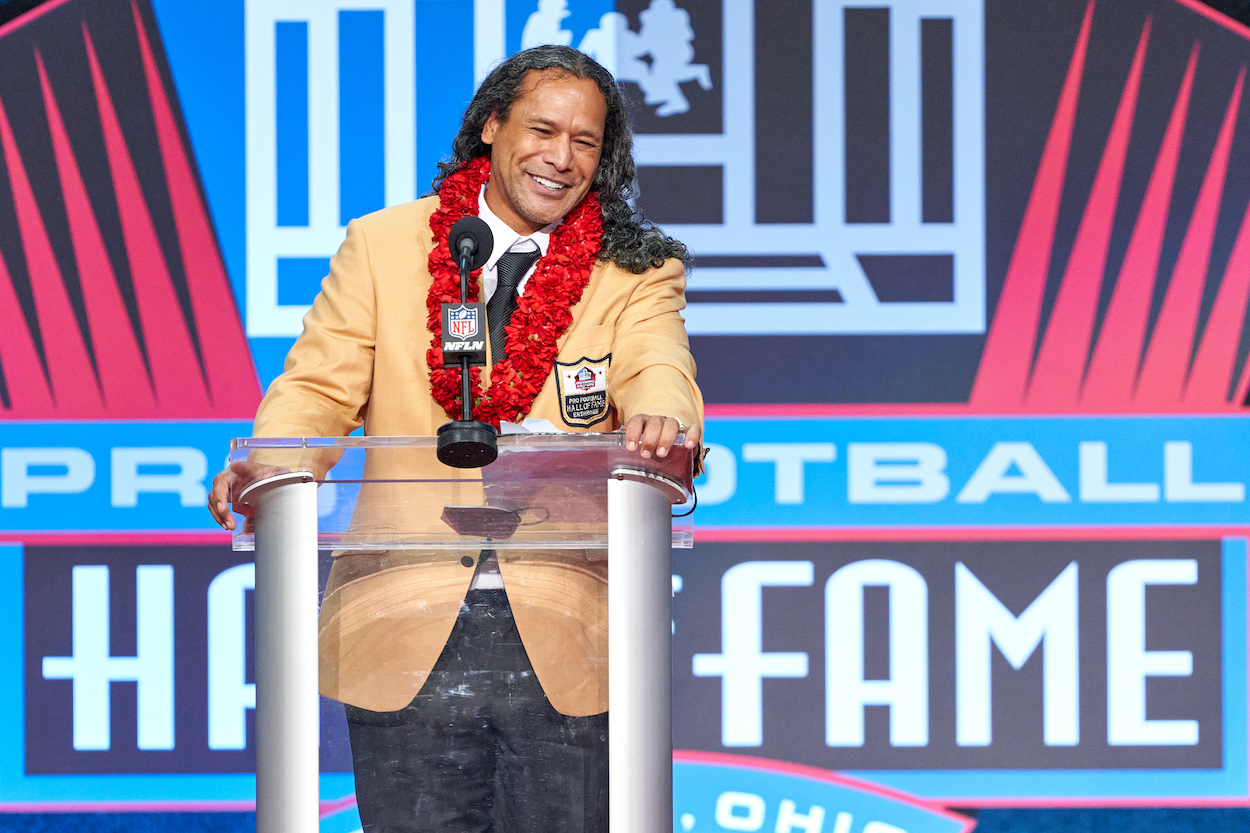 As NFL passing games developed through the 1990s, cover cornerbacks became the glamor position in the defensive backfield. That changed in the early 2000s when a group of game-changing safeties came out of college around the same time. There was Iowa's Bob Sanders, Miami's Ed Reed, and the late Sean Taylor, and, of course, USC's Polamalu.
Coach Bill Cowher and the Pittsburgh Steelers picked Polamalu No. 16 overall in the 2003 NFL Draft. Over the next 12 seasons, the safety with the instantly identifiable flowing black locks put up Hall of Fame-level stats. He finished his career with 783 tackles (56 for a loss), 12 sacks, and 32 interceptions.
Polamalu wasn't just a stats player, though. He was known for freelancing, diagnosing plays before they happened, and blowing them up. Players who lined up against him tell stories of having the perfect play called but, all of a sudden, Polamalu materialized in a spot they've never seen him before on film. And in the exact location the play was going.
This uncanny ability to be in the right place at the right time is what punched Polamalu's ticket to Canton.
Polamalu shared the six words current Pittsburgh Steelers should want to hear from the team's greats
Polamalu talked a lot about his love for the Pittsburgh Steelers organization in his speech. It is the only team he ever played for, and his love and affection for the franchise is evident.
During his speech, the former USC Trojan shared a piece of advice with all the current Steelers who want to follow in his path to the Hall of Fame. Polamalu said that, in Pittsburgh, you should look for the greats who came before you to offer six words of praise if you are truly doing things right. He said:
The only approval a Steeler should seek is to earn the approval from previous Steeler legends that have donned the back and gold, and if you really have earned their respect, they will say, 'You could have played with us.'

Troy Polamalu's Hall of Fame induction speech
If Terry Bradshaw and Lynn Swann and "Mean" Joe Green and Jack Lambert think a current Steeler could have played with them, it is the highest compliment anyone in that organization can receive.
There are a lot of Pittsburgh Steelers in the Hall of Fame
The Pittsburgh Steelers are near the top of the list in terms of NFL franchises that have the most players enshrined in Canton. The Pro Football Hall of Fame delineates between players, coaches, and executives who just played for a team vs. "Hall of Famers who made the major part of their primary contribution for any one club." Also, if "a player contributed about equally and/or in a major way to two or more clubs – he is listed in bold under both clubs."
The Steelers' 26 enshrined players put the organization third on this list of primary Hall of Famers behind only the Chicago Bears (30) and Green Bay Packers (27). The Steelers in Canton are:
Alan Faneca (1998-2007)
Art Rooney (1933-1988)
Bill Cowher (1992-2006)
Bill Dudley (1942, 1945-1946)
Bill Nunn (1968-2013)
Bobby Layne (1958-1962)
Chuck Noll (1969-1991)
Dan Rooney (1955-2017)
Dermontti Dawson (1988-2000)
Donnie Shell (1974-1987)
Ernie Stautner (1950-1963)
Franco Harris (1972-1983)
Jack Butler (1951-59)
Jack Ham (1971-1982)
Jack Lambert (1974-1984)
Jerome Bettis (1996-2005)
Joe Greene (1969-1981)
John Henry Johnson (1960-1965)
John Stallworth (1974-1987)
Lynn Swann (1974-1982)
Mel Blount (1970-1983)
Mike Webster (1974-1988)
Rod Woodson (1987-1996)
Terry Bradshaw (1970-1983)
Troy Polamalu (2003-2014)
Walt Kiesling (1940-1942, 1954-1956)
This is an incredible list of NFL greats, and any current player should be proud to be associated with them. They should be even prouder if anyone in this group ever says the magic six words to them: You could have played with us.
All stats courtesy of Pro Football Reference