Pittsburgh Steelers Legend Troy Polamalu Got His Famous Hair Insured for $1 Million
The NFL has seen some crazy haircuts over the years. In 2010, Saints cornerback Tracy Porter had the Pac-Man ghosts shaved into his hair. Former All-Pro defensive end Jared Allen wore a mullet for most of his football career. Tyrann Mathieu's signature blond dreads are one of the most recognizable hairstyles in the league today.
Yet the award for craziest hair in NFL history might just go to Hall of Fame Pittsburgh Steelers safety Troy Polamalu. In fact, Polamalu's hair became such a big part of his image that he even had it insured. Let's look at Polamalu's NFL career, before investigating his iconic hair and its costly insurance policy.
Troy Polamalu's NFL career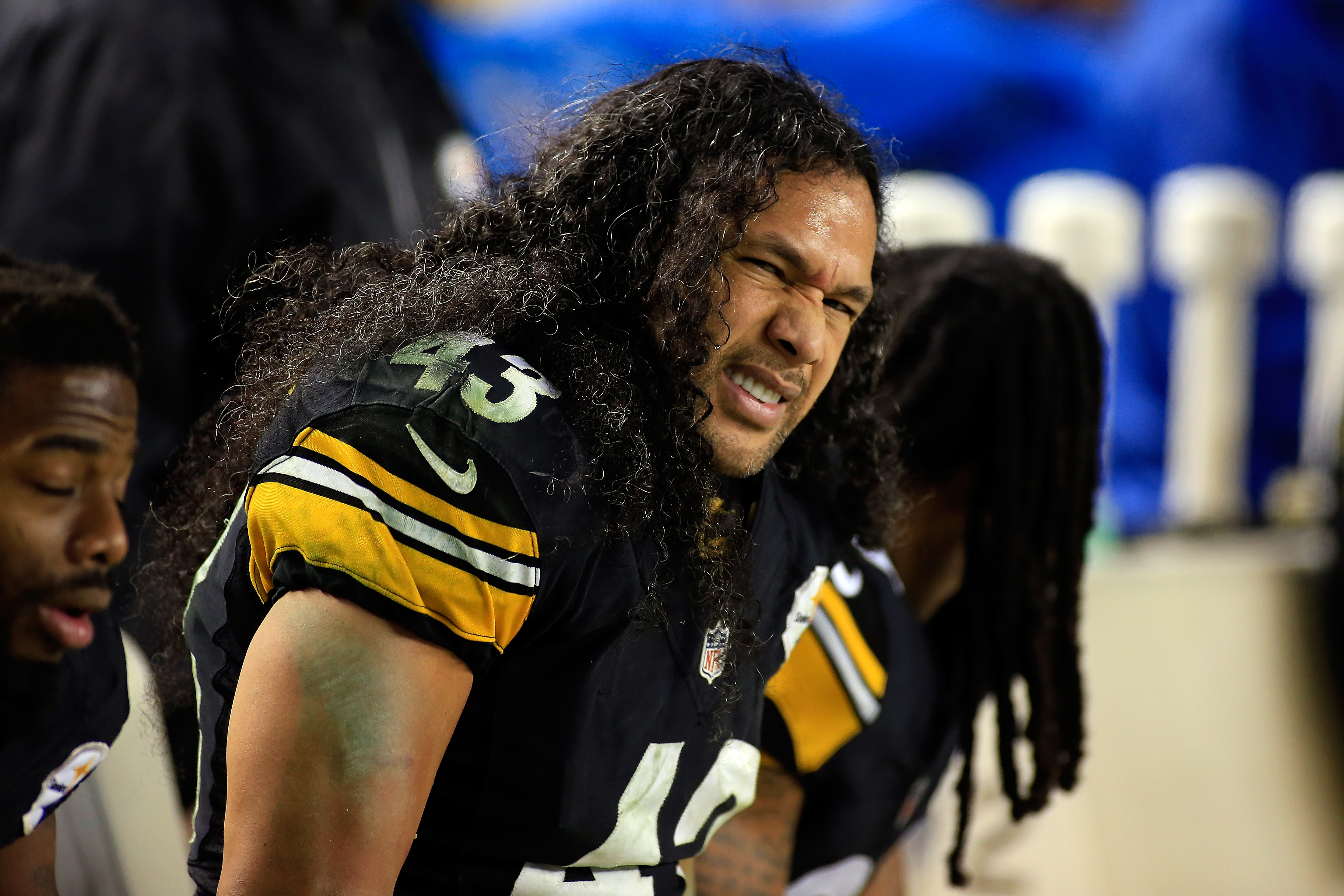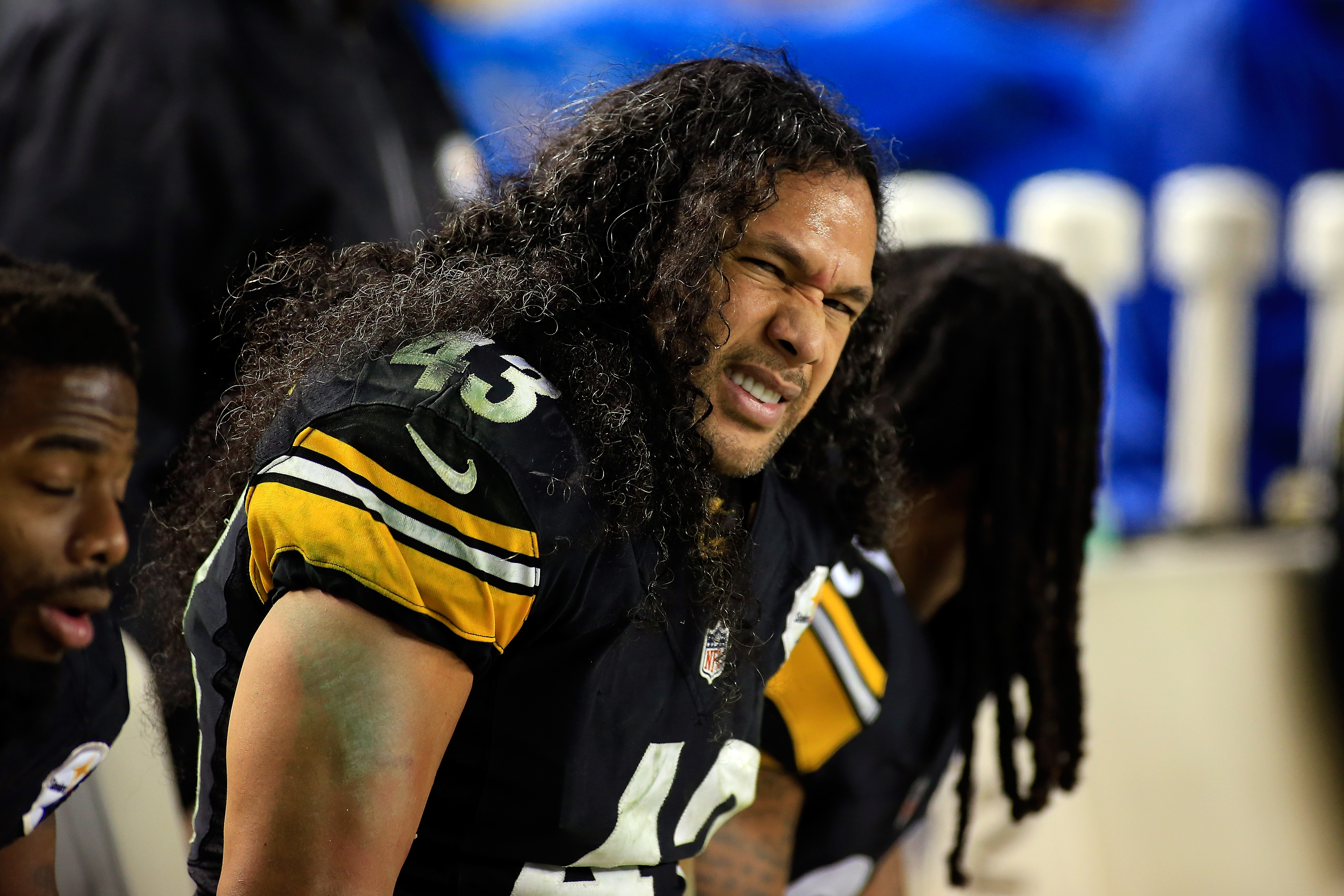 The Steelers selected Polamalu with the 16th pick of the 2003 NFL draft, after trading up from the 27th pick with the Kansas City Chiefs. The 5-foot-10 safety spent his first season coming off the bench, before taking over a starting role in 2004. That year saw Polamalu earn his first of eight eventual Pro Bowl selections.
In 2005, he earned his first First-Team All-Pro selection — a feat he repeated three more times during his career. That season saw him rack up a career-best 74 solo and 92 combined tackles, according to Pro Football Reference. In 2010, Polamalu won the NFL Defensive Player of the Year Award.
In his 12-year career with the Steelers, Polamalu played in three Super Bowls, helping Pittsburgh secure wins in two. He is regarded as perhaps the most dynamic safety ever to play in the NFL, bringing a high-energy intensity all his own. In January 2020, Polamalu was elected to the Pro Football Hall of Fame in his first year of eligibility.
Polamalu's iconic hair style
Polamalu has an American Samoan ethnic background. Historically, Samoan warriors always grew out their hair. In a 2010 interview with Beauty Geeks, Polamalu acknowledged that that cultural legacy was part of the reason he chose to grow his hair out. But he also admitted that it partly began as a "grungy stage in college," one that eventually grew into his signature look.
By 2009, Polamalu had earned a place among the most exciting and visually recognizable NFL players. As a result, the shampoo company Head & Shoulders sought him out for a sponsorship deal. That deal lasted for four years, with Polamalu starring in five commercials along the way. Then, in 2013, he signed a new sponsorship deal with Suave.
Record-setting insurance policy
Two years into Polamalu's first sponsorship deal with Head & Shoulders, the company decided they needed to do more to protect their investment. Maybe somebody at the company had seen a clip from the 2006 game where Polamalu was tackled by his hair by an opposing player on the Kansas City Chiefs. It's easy to imagine that clip striking fear into the hearts of the company's marketing department.
Whatever the reason, Head & Shoulders had soon taken out a hair insurance policy with famed insurance company Lloyd's of London. According to ESPN, that insurance policy was worth a cool $1 million. That policy soon attracted the attention of Guinness World Records, who didn't waste any time before giving it the award for the highest insured hair.
Apparently, the record still stands today. And so, apparently, does Polamalu's hair. In 2019, he returned to the small screen opposite Chiefs' quarterback Patrick Mahomes in a new commercial for Head & Shoulders. The two have subsequently starred in more commercials as part of Head & Shoulders new Take It Up to 100 campaign, as reported by People.