The 101 Greatest NFL Players by Uniform Number: 40-49
Welcome to the fifth installment of Sportscasting's 10-part series, "The 101 Greatest NFL Players by Uniform Number."
For those just joining us, what we're doing here is exactly what the title suggests. Up to this point, 101 different numbers (0, 00, 1-99) have been used over the course of NFL history, so we're simply naming the best player to wear each.
We kicked things off with the list of the greatest players to wear Nos. 00-9 and have naturally followed with the best to wear Nos. 10-19, Nos. 20-29, and Nos. 30-39. And we'll reach the halfway point in our series here as we name the best NFL players to wear Nos. 40-49.
Enjoy.
No. 40: Gale Sayers
We begin this portion of our list with legendary Chicago Bears running back Gale Sayers, who honestly does deserve this honor despite his injury-shortened career.
But we'd like to take a moment to also honor another great No. 40 in the late, great Pat Tillman, who left the NFL following the 2001 season to serve his country and was tragically killed in 2004.
As for Sayers, he played only 68 regular-season games throughout seven NFL seasons but was a First-Team All-Pro selection each of his first five years. He scored 22 touchdowns as a rookie (14 rushing, six receiving, one punt return, one kick return), six coming in one game against the San Francisco 49ers, tying an NFL record.
Unfortunately, his career was cut far too short by knee injuries, and he remains the youngest inductee in Pro Football Hall of Fame history.
No. 41: Eugene Robinson
We looked at a few options at No. 41, including Pro Bowl fullback Keith Byars and Jets Super Bowl 3 hero Matt Snell. In the end, however, we chose to go with All-Pro safety and Super Bowl champ Eugene Robinson.
Undrafted out of Colgate in 1985, Robinson played the first 11 seasons of his career with the Seattle Seahawks, two years each with the Green Bay Packers and Atlanta Falcons, and then one year with the Carolina Panthers to close out his career. In 250 regular-season games, he recorded 1,413 tackles, 7.5 sacks, 15 forced fumbles, and 57 interceptions.
No. 42: Ronnie Lott
Arguably the greatest defensive back in NFL history, Hall of Famer and four-time Super Bowl champion Ronnie Lott is our choice at No. 42. Taken with the eighth overall pick in the 1981 NFL draft out of USC by the San Francisco 49ers, with whom he played a decade, Lott played left cornerback for the first few years of his career before switching to safety in 1985.
Widely regarded as one of the hardest hitters of all time, Lott recorded 1,146 tackles, 8.5 sacks, 16 forced fumbles, and 63 interceptions, tied for the eighth-most in NFL history. In 192 regular-season games with the Niners, Los Angeles Raiders, and New York Jets, he was a 10-time Pro Bowler, an eight-time All-Pro selection, and a two-time interceptions leader.
No. 43: Troy Polamalu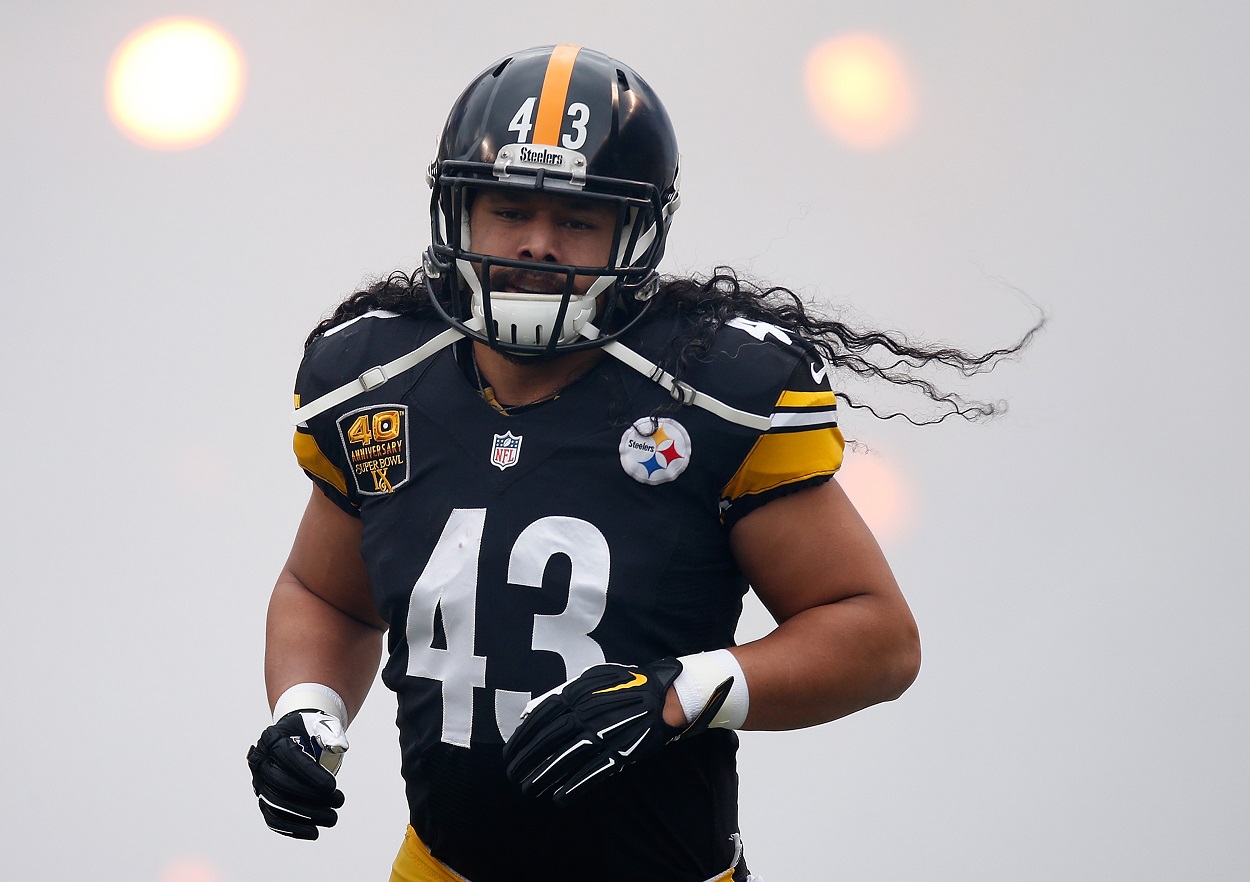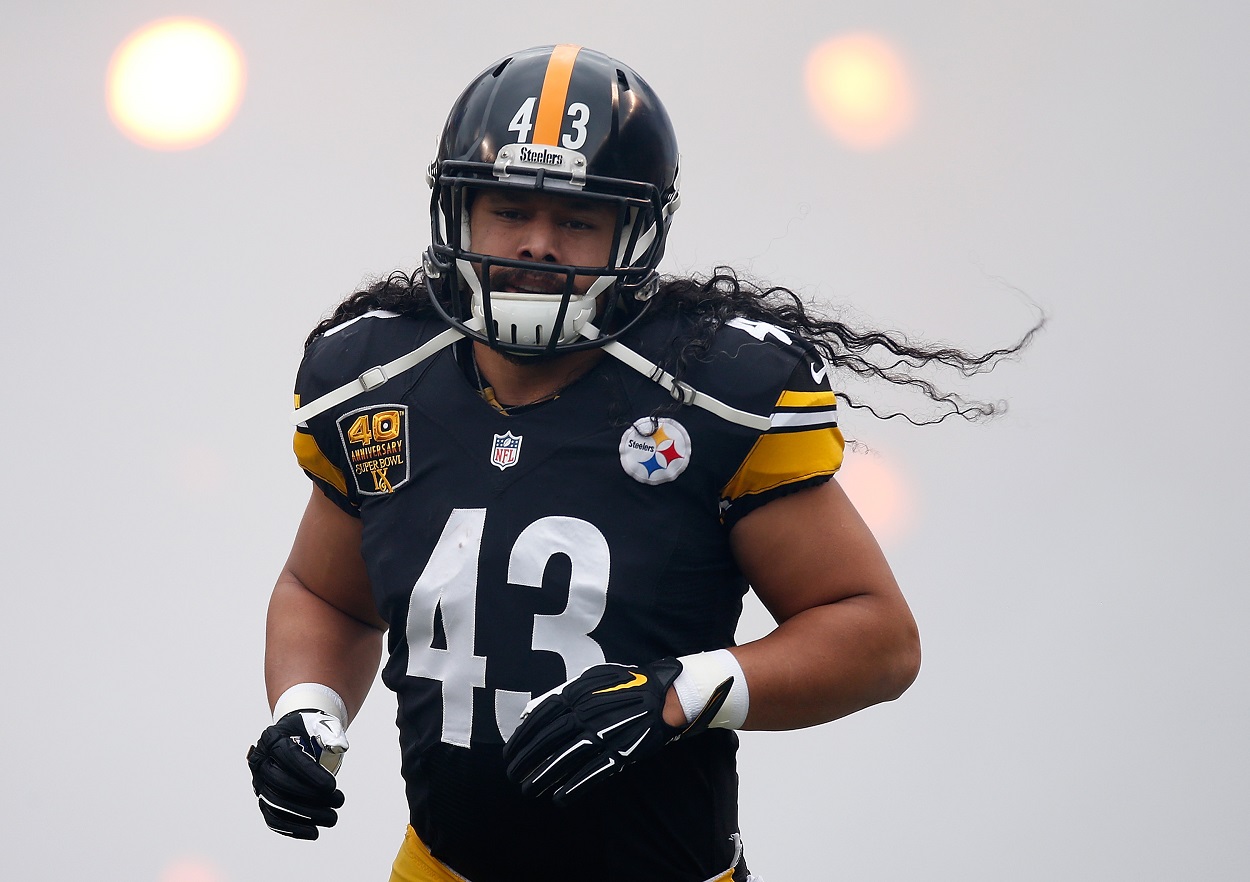 One of just two Hall of Famers to ever wear the number, longtime Pittsburgh Steelers safety Troy Polamalu is our pick at No. 43. Also out of USC, Polamalu was taken by the Steelers with the 16th overall pick in 2003 and played his entire 12-year career in Pittsburgh, winning two Super Bowl titles.
In 158 regular-season games, he recorded 783 tackles, 12 sacks, 14 forced fumbles, and 32 interceptions. Polamalu was an eight-time Pro Bowler, a six-time All-Pro selection, and was named the 2010 NFL Defensive Player of the Year.
No. 44: Dick LeBeau
No. 44 was easily one of the toughest choices we've had to make thus far. We were extremely close to going with longtime Washington running back and Super Bowl 17 MVP John Riggins, but he was just beaten out by legendary Detroit Lions defensive back Dick LeBeau.
A national champion at Ohio State, LeBeau was taken in the fifth round of the 1959 NFL draft by the Cleveland Browns but was cut during training camp. He then signed with Detroit and spent 14 seasons with the Lions.
A three-time Pro Bowler and three-time All-Pro selection, LeBeau recorded 62 interceptions throughout his career, tied for the 10th-most in NFL history.
No. 45: Emlen Tunnell
We're sticking with the defensive back theme as we roll along here as Emlen Tunnell, who played 14 NFL seasons with the New York Giants and Green Bay Packers, is our choice at No. 45.
Undrafted out of Iowa in 1948, Tunnell was the first Black player in Giants history and the first Black player inducted into the Pro Football Hall of Fame. In addition to winning two NFL titles, one in New York and one in Green Bay, he was a nine-time Pro Bowler, a six-time All-Pro selection, and recorded at least six interceptions in each of his first 10 seasons.
In 167 regular-season games, Tunnell recorded 79 picks, the second-most in NFL history.
No. 46: Tim McDonald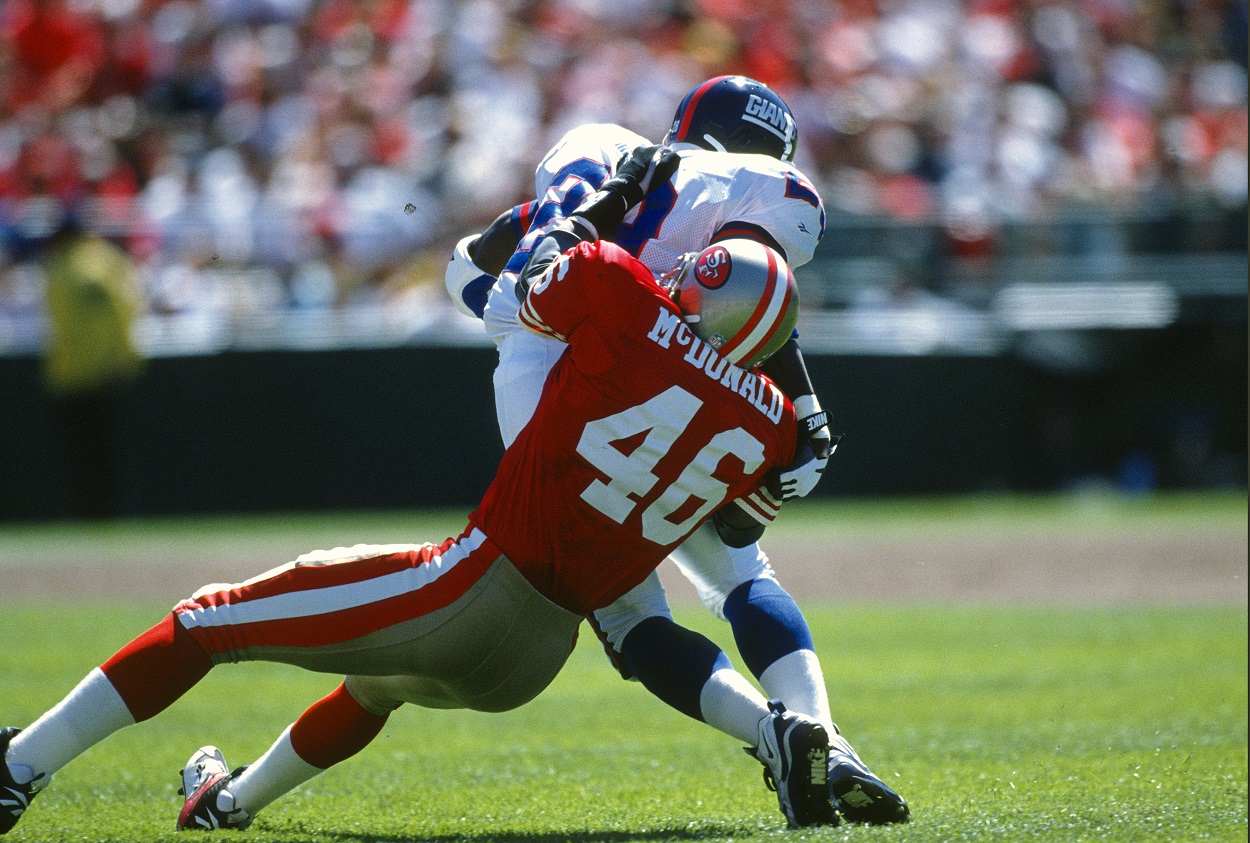 No. 46 was another tough call, and we highly considered longtime Raiders tight end Todd Christensen in this slot. But we ultimately decided on yet another defensive back out of USC, Tim McDonald.
Taken in the second round of the 1987 NFL draft, McDonald played the first six seasons of his career with the St. Louis/Phoenix Cardinals before playing the final seven with the San Francisco 49ers, who he helped to victory in Super Bowl 29.
In 191 regular-season games, he recorded 1,139 tackles, 9.5 sacks, 10 forced fumbles, and 40 interceptions. McDonald was a six-time Pro Bowler and a six-time All-Pro selection.
No. 47: Mel Blount
While we did take a look at John Lynch for this slot, the clear call was Hall of Fame cornerback Mel Blount, who won four Super Bowl titles with the Pittsburgh Steelers during his 14-year NFL career. In addition to being the first cornerback ever to be named NFL Defensive Player of the Year, Blount was a five-time Pro Bowler and a six-time All-Pro selection. He ended his career with 57 interceptions, the most in franchise history.
No. 48: Stephen Davis
We briefly considered longtime Dallas Cowboys fullback Daryl Johnston for this slot but instead chose running back Stephen Davis, who played 11 NFL seasons with the franchise now known as the Washington Football Team, the Carolina Panthers, and St. Louis Rams.
A three-time Pro Bowler and a one-time All-Pro selection, Davis rushed for 8,052 yards and 65 touchdowns in 143 regular-season games, adding another 1,494 yards and four scores as a receiver.
No. 49: Bobby Mitchell
We considered another USC defensive back at No. 49 in Dennis Smith but opted instead for Hall of Fame halfback/flanker Bobby Mitchell, who played 11 NFL seasons with Washington and Cleveland.
An all-around offensive threat, Mitchell rushed for 2,735 yards and 18 touchdowns, caught 521 passes for 7,954 yards and 65 touchdowns, and added 3,389 yards and eight touchdowns as a punt/kick returner. He was a four-time Pro Bowler and a five-time All-Pro selection.
Stats courtesy of Pro Football Reference
Like Sportscasting on Facebook. Follow us on Twitter @sportscasting19 and subscribe to our YouTube channel.
RELATED: From No. 1 to No. 32, the Greatest Player Taken With Each NFL Draft Pick