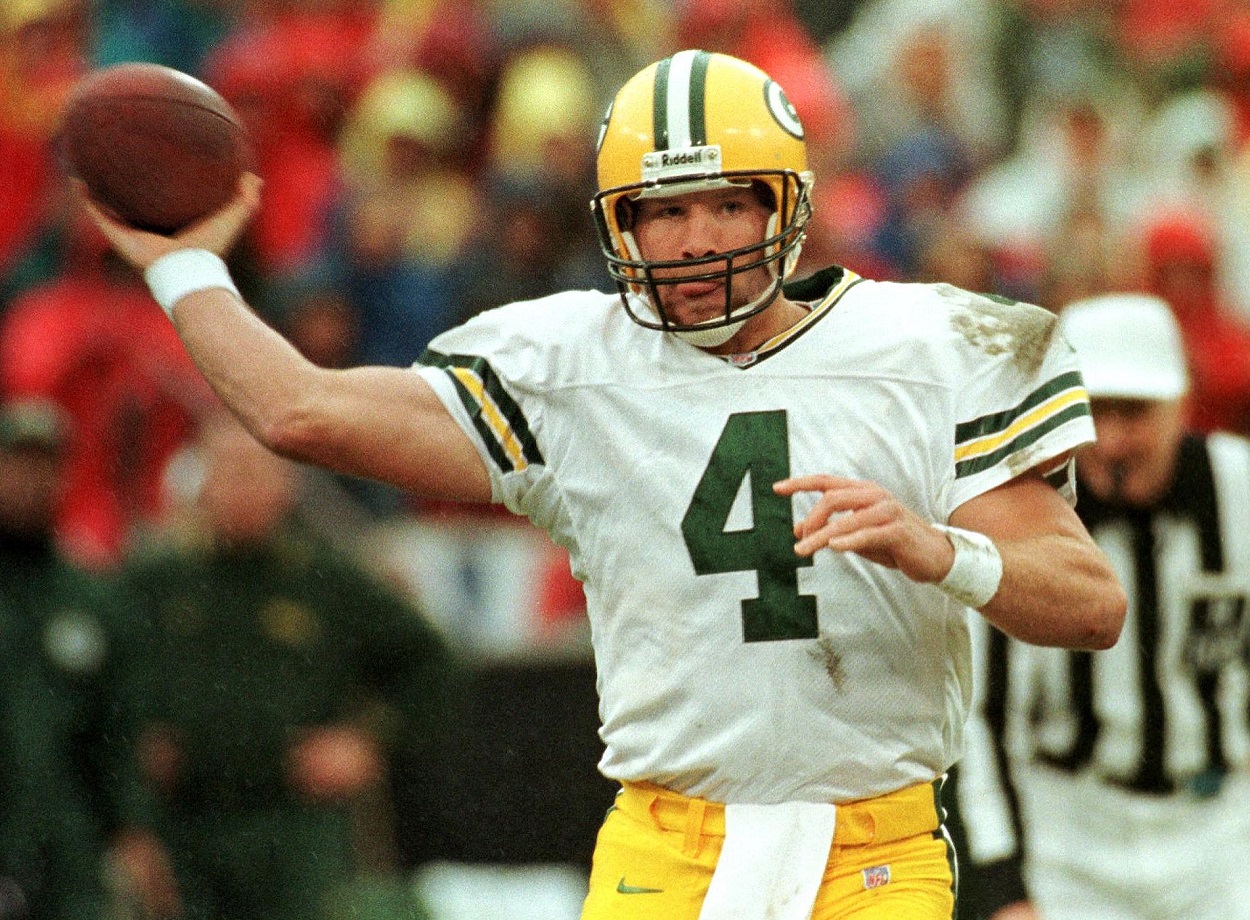 The 101 Greatest NFL Players by Uniform Number: 00-9
The first in a 10-part series, we name the best NFL players to wear jersey Nos. 00-9.
Since the NFL was founded in 1920, a total of 101 different jersey numbers have been worn. Now, you may be asking how that's possible, and the answer is quite simple. Prior to 1973, the NFL allowed players to wear 00 and 0, which a few players did.
So what we've done here at Sportscasting is put together a list of the 101 greatest NFL players of all time by jersey number. To not overload you all at once, we've broken it into 10 parts, starting here with Nos. 00-9.
So let's dive in, shall we?
No. 00: Jim Otto
No. 00 was one of the easiest calls to make as only a few players ever actually wore the number. Easily the greatest to do so was Hall of Famer center Jim Otto, who wore No. 00 in 14 of his 15 seasons with the Oakland Raiders, for whom he played from 1960 to 1974. Of course, only five of those seasons were played in the NFL, as the Raiders played in the AFL until the 1970 merger.
During his time in the AFL, Otto was a 10-time First-Team All-AFL selection, a nine-time AFL All-Star, and helped the Raiders to a title in 1967. His success continued following the merger as he was a three-time Pro Bowl selection and a three-time All-Pro selection, earning First Team honors in 1970 and 1971 and Second Team honors in 1972.
No. 0: Johnny Olszewski
As with No. 00, there weren't many NFL players wearing No. 0 either. But we have to pick one, so we'll roll with the first-ever player to wear the number, fullback Johnny Olszewski. After wearing No. 36 with the Chicago Cardinals for the first five years of his career, the Washington D.C. native took No. 0 when he joined his hometown team in 1958.
He spent three years in Washington and closed out his career, one that included two Pro Bowl selections, wearing the number for one season each with the Lions and Broncos.
No. 1: Warren Moon
We had a few options to look at for No. 1, including 2015 NFL MVP Cam Newton, but in the end, we had to go with Hall of Fame quarterback Warren Moon. After going undrafted out of the University of Washington in 1978, Moon played six seasons in the CFL with the Edmonton Eskimos, winning five Grey Cup titles, before finally getting his chance in the NFL in 1984 with the Houston Oilers.
In 208 regular-season games over 17 years in the NFL with the Oilers, Vikings, Seahawks, and Chiefs, wearing No. 1 for each, Moon completed 58.4% of his passes for 49,325 yards with 291 touchdowns against 233 interceptions.
In 1990, one of nine seasons in which he was named to the Pro Bowl, Moon was named AFC Player of the Year and NFL Offensive Player of the Year, leading the league in passing yards for the first of two consecutive seasons.
No. 2: Matt Ryan
Had Charley Trippi, who played quarterback and halfback for the Chicago Cardinals from 1947 to 1955, worn No. 2 for his entire career (he wore No. 62 from 1947 to 1951), he'd probably be our choice here. After all, he's the only player in the Hall of Fame with more than 1,000 yards passing, rushing, and receiving, and he also won an NFL title.
However, we chose to go with Matt Ryan, who would be a champion himself if the Atlanta Falcons defense hadn't blown a 28-3 lead in Super Bowl 51. But we're not here to talk about that.
In 222 regular-season games over the course of 14 seasons in Atlanta, Ryan completed 65.5% of his passes for 59,735 yards with 367 touchdowns against 170 interceptions. He's a four-time Pro Bowler, a one-time All-Pro selection, and was named NFL MVP for the 2016 season, the same year he led the Falcons to the aforementioned Super Bowl.
He'll now add to his totals as a member of the Indianapolis Colts.
No. 3: Bronko Nagurski
Easily one of the greatest players of the 1930s, Bronko Nagurski, who played on both sides of the ball for the Chicago Bears, was somewhat of an easy pick at No. 3.
A three-time NFL champion and four-time First-Team All-Pro, Nagurski was the biggest running back in the league in his day and would often drag opposing defenders down the field when running the ball. He would also occasionally line up at offensive tackle as he was just as big or bigger than most offensive linemen in the league.
Nagurski was also a top-notch linebacker in both college and the pros, which is why the best defensive player in college football is awarded the Bronko Nagurski Award.
No. 4: Brett Favre
Yet another easy call was No. 4 as Brett Favre is easily one of the greatest and toughest quarterbacks in NFL history. With 302 regular-season games played throughout his 20-year career with the Falcons, Packers, Jets, and Vikings, he's currently tied for ninth on the all-time list. Favre played 297 of those games consecutively from September 1992 to December 2010, an NFL record.
In his 20 seasons, Favre completed 62% of his passes and, ironically enough, currently sits in the No. 4 spot on the NFL's all-time passing yards list with 71,838. He's also No. 4 on the league's all-time passing touchdowns list with 508.
A one-time Super Bowl winner, Favre was also a three-time NFL MVP, an 11-time Pro Bowler, a six-time All-Pro selection (three First-Team, three Second-Team), a four-time passing touchdowns leader, and a two-time passing yards leader.
No. 5: Paul Hornung
Speaking of guys who won both an NFL MVP and a Super Bowl with the Packers, we come to our choice at No. 5, Hall of Famer Paul Hornung, who played all nine of his NFL seasons in Green Bay.
The 1956 Heisman Trophy winner at Notre Dame, Hornung was taken by the Packers with the first overall pick in the 1957 NFL draft and quickly became one of the league's top backs (he was also the kicker for a few seasons) and was named MVP in 1961. A year earlier, he set an NFL record for most points in a season with 176, which stood for 46 years until LaDainian Tomlinson broke it in 2006.
Hornung was a two-time Pro Bowler (he oddly wasn't selected his MVP season), a three-time All-Pro selection (two First-Team, one Second-Team), and helped the Packers to four NFL championships. He ended his career by helping Green Bay to a win in Super Bowl 1.
No. 6: Rolf Benirschke
Only two players to ever wear No. 6 are enshrined in the Pro Football Hall of Fame: Ray Flaherty and Benny Friedman. But as Flaherty wore it for just one season with the New York Giants in 1931 and Friedman also only sporting it for just one year with the Cleveland Bulldogs in 1927, we've gotta go with someone who wore it a little longer.
We're going to be honest with you here. Jay Cutler was in the running. But we're going with Rolf Benirschke, who was the kicker for the San Diego Chargers for 10 years from 1977 to 1986.
A 12th-round pick out of UC Davis, Benirschke was an All-Pro Second-Team selection in 1980 and was named to the Pro Bowl in 1982. He was also named the NFL's Man of the Year in 1983. When he retired, he owned the third-highest field-goal percentage in NFL history at 70.2%.
No. 7: John Elway
You certainly couldn't have been expecting anyone besides John Elway at No. 7, right? Famously refusing to play for the Baltimore Colts after being taken with the top pick in the 1983 NFL draft, Elway was traded to the Denver Broncos and became an absolute legend in the Mile High City, where he still serves as the team's president of football operations.
In 16 seasons with the Broncos as a player, Elway completed 56.9% of his passes for 51,745 yards with exactly 300 touchdowns in 234 regular-season games. He was a nine-time Pro Bowler, a three-time Second-Team All-Pro, and was named NFL MVP in 1987.
It took a lot longer than many expected. Still, Elway finally won a Super Bowl in his 15th season and went out on top with a second consecutive Super Bowl win the following year, earning MVP honors in the final game of his Hall of Fame career.
No. 8: Steve Young
There were a lot of great candidates at No. 8. We looked at seven-time All-Pro safety Larry Wilson. You've got arguably the most outstanding punter in NFL history in Ray Guy. Of course, there's three-time Super Bowl champion Troy Aikman.
But, in the end, we had to go with Steve Young, whose nine-year run as the starting quarterback of the San Francisco 49ers produced some ridiculous statistics for that period.
After beginning his career with the Tampa Bay Buccaneers and then sitting behind Joe Montana in San Francisco for four years, Young finally got his shot in 1991 as Montana missed the entire 1991 season and most of the '92 campaign with an elbow injury. And Young certainly took advantage.
From 1991 to his final season in 1999, Young was a seven-time Pro Bowler, a six-time All-Pro selection (three First-Team, three Second-Team), a six-time NFL passer rating leader, a five-time completion percentage leader, a four-time passing touchdowns leader, a two-time NFL MVP, and a Super Bowl champion and MVP.
No. 9: Drew Brees
We end our first list with the obvious choice at No. 9, Drew Brees, who played 20 NFL seasons, first with the San Diego Chargers and then the New Orleans Saints, leading the latter to a victory in Super Bowl 44, winning MVP honors.
Over two decades, Brees was a 13-time Pro Bowler, a five-time All-Pro selection (one First-Team, four Second-Team), a seven-time passing yards leader, a six-time completion percentage leader, a four-time passing touchdowns leader, and a two-time passer rating leader. In 287 regular-season games, he completed 67.7% of his passes, currently good for second on the all-time list.
Brees threw for 80,358 yards, formerly an NFL record that Tom Brady broke in 2021, and 571 touchdowns, currently second all-time behind Brady's 624.
Stats courtesy of Pro Football Reference
Like Sportscasting on Facebook. Follow us on Twitter @sportscasting19 and subscribe to our YouTube channel.