Justin Jefferson is Following in Odell Beckham Jr.'s Footsteps, Is that Good News for the Minnesota Vikings?
These days, when you compare a young wide receiver like the Minnesota Vikings Justin Jefferson to Odell Beckham Jr., it might not be a good thing. Beckham is now on his way to his third team after dramatically forcing his way off both the New York Giants and the Cleveland Browns.
However, after several relatively unproductive seasons, it's easy to forget just how exciting Beckham was when he burst on the NFL scene for Big Blue in 2014. The Vikings' young star is helping to remind us just how good the now-problematic wideout was early in his career. Jefferson just hit a milestone that is impressive but still not as good as what Beckham did early in his career.
The first three seasons of Odell Beckham Jr.'s career were excellent
Outside of Randy Moss, there isn't an NFL wide receiver who rose to national prominence quite like Odell Beckham Jr.
The No. 12 overall pick in the 2014 draft out of LSU took the Big Apple by storm in his rookie year. Beckham recorded 91 catches for 1,305 yards and scored 12 touchdowns in his debut season. He also led the in yards per game with 108.8.
The pièce de résistance of this first season came on Nov. 23, 2014, when he made a career-defining catch against the Dallas Cowboys. The diving backward, one-handed catch is still one of the most famous catches in NFL history and helped raise OBJ's profile as much if not more than his impressive stat line. 
Year two for Beckham was an improvement on his already-impressive first season. In 2015, he caught 96 for 1,450 yards with 13 touchdowns. Beckham kept up his top-of-the-league production in his third season, catching 101 balls for 1,367 yards and scoring 10 TDs. 
In 2017, Beckham broke his ankle and missed the majority of the season. From there, injury and issues with the team would plague his Giants career. Those first three seasons, though, still stand up among the best ever for the position. 
Justin Jefferson became the second-fastest receiver ever to 2,000 yards
Justin Jefferson went to LSU just like Odell Beckham Jr. The Minnesota Vikings drafted him in the first round in 2020, just like the organization did with Randy Moss two decades earlier. Like these two receivers, Jefferson also wasted no time establishing himself as one of the best pass-catchers in the game.
In his rookie season — which, with COVID-19, was unlike any season in NFL history — Jefferson dominated opponents and put up incredible numbers. Last year he produced 88 catches for 1,400 yards and seven touchdowns, leading to a Pro Bowl nod.
His sophomore season is off to a good start on a personal level as well. Through nine weeks in 2021, Jefferson has 46 catches for 632 yards and four scores. His last game, a three-catch, 69-yard, one TD performance in a last-second loss to the Baltimore Ravens, put him over 2,000 career receiving yards.
Accounting for over 2,000 receiving yards in just 24 career games is incredibly impressive. It even took his franchise-mate Moss 26 games to hit that mark.
However, there is one player in NFL history to get to 2K receiving yards quicker than Jefferson.
You guessed it.
OBJ did it in just 21 games.
Will Jefferson eventually become unhappy in Minnesota like OBJ did in New York?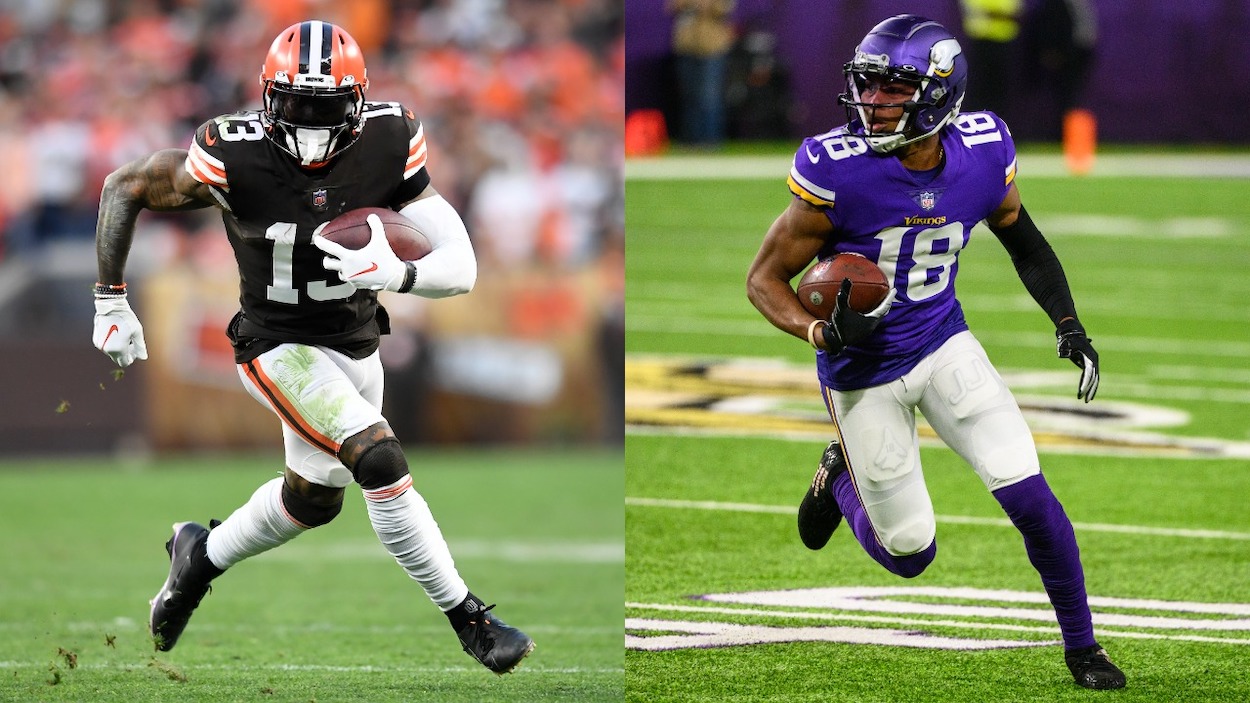 What started out as a promising marriage between an elite WR, a franchise QB, and one of the NFL's premier franchises ultimately disintegrated, leading to a trade and the Odell Beckham Jr. saga we have today.
After three personally glorious years with the Giants, Beckham became disenchanted with the coaching staff— which had changed from Tom Coughlin to Ben McAdoo to Pat Shurmur in OBJ's time there — and aging signal-caller Eli Manning.
The WR was also unhappy with the team having only one playoff appearance in his five seasons in New York, despite his contributions.
Beckham signed a massive five-year, $95 million contract extension with the G Men ahead of the 2018 season. He forced his way out of town, though, after just one year.
Jefferson has only been in the league for a year and a half. But, there are already parallels between him and Beckham from a career perspective. In addition to sharing similarly gaudy numbers, both these players have experienced losing early in their careers.
So far, Jefferson's Vikings are just 10-14.
Like with the Giants, some of this lack of success is caused by the head coach (Mike Zimmer) and quarterback (Kirk Cousins).
Cousins is likely in Minny for at least one more year (with $45 million owed in 2022),. However, there's a good chance Jefferson will have a new coach next year. If the Vikings don't rally and make the playoffs, it's almost inevitable the club will fire Zimmer.
So, Jefferson has a mediocre QB, a possible rotating door in the head coach's office, and a growing persona and (possibly) ego fueled by incredible early success. Sound familiar?
Jefferson should just keep in mind what OBJ learned the hard way. The grass is not always greener on the other side (or at the other franchise).
All stats courtesy of Pro Football Reference