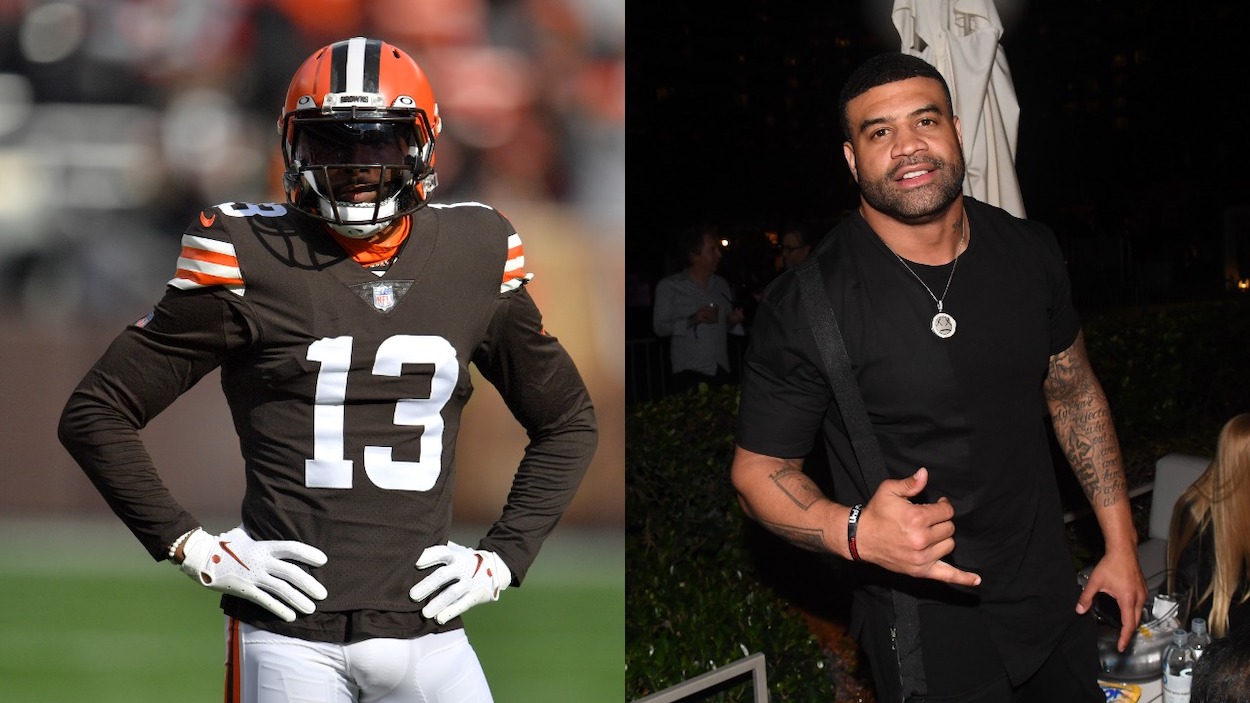 Former All-Pro Defender Crushes the Cleveland Browns for Not Using or Trading Odell Beckham Jr.: You Got the Most Talented Wide Receiver in the NFL and He Has 1 Target'
The Odell Beckham Jr. situation is coming to a head with the Cleveland Browns and many NFL-watchers, including former All-Pro Shawne Merriman, can't believe it has reached this point.
The NFL trade deadline came and went, and the biggest surprise wasn't a trade that happened. It was a trade that didn't. The Cleveland Browns and their star wide receiver Odell Beckham Jr. are obviously on a path to divorce. However, the team couldn't get a deal done at the deadline to get any compensation back for the unhappy wideout. Now, they face a decision on whether to keep or cut the pass-catcher for nothing. Some in NFL circles, like former All-Pro pass-rusher Shawne Merriman, can't understand how it got to this point. 
Odell Beckham has struggled as a Cleveland Brown 
It's no secret Odell Beckham Jr. hasn't been good in his time with the Cleveland Browns. The wide receiver who took the league by storm during his time with the New York Giants has been a shell of himself since moving to Ohio. 
Aside from his injury-plagued 2017 season, where he only played four games, Beckham averaged at least 85 yards per game and went over 1,000 yards in each season with the Giants. He also had three seasons with double-digit touchdowns. 
Beckham has missed time with injury in both 2020 and 2021. But, his averages have also slipped each year since he left New York. He averaged 64.7 yards per game in 2019, 45.6 in 2020, and 38.7 in 2021. 
This season is his worst yet. His catch percentage is at 50.0% and, in six games, he's recorded just 17 catches on 34 targets for 232 yards. He also hasn't scored a single touchdown. 
In his last game before the NFL trade deadline, a 15-10 loss to the division-rival Pittsburgh Steelers, Beckham's line was one catch on one target for six yards. 
That performance certainly seemed to signal that Beckham's time as a Brown was coming to an end.  
Shawne Merriman thinks the Browns should have traded the wide receiver if they're not going to use him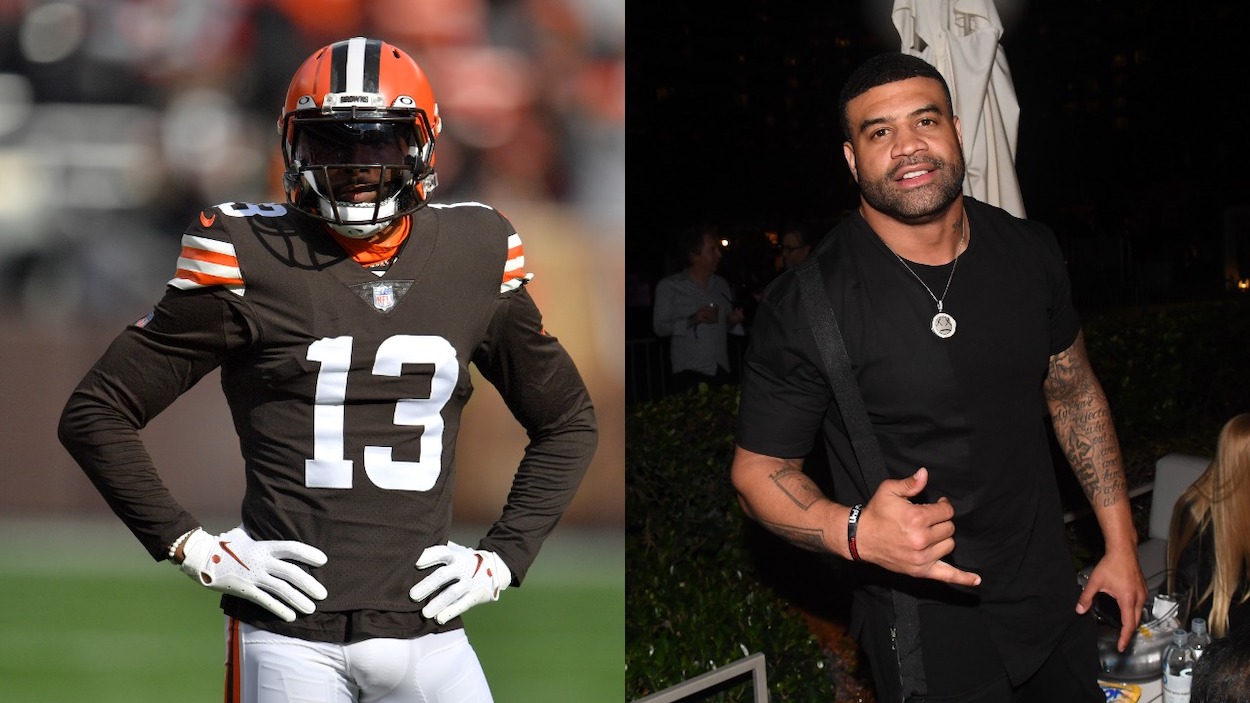 Despite the poor performance in Week 8, the NFL trade deadline came and went without a deal for Odell Beckham Jr. 
With more than half of his $15.75 million salary left on his deal, teams shied away from aggressively pursuing the former superstar. That didn't stop many in NFL circles from crushing the Cleveland Browns for not making a move with Beckham. 
Former All-Pro linebacker Shawne Merriman was one of those who came out and proclaimed that he doesn't understand what the Browns are doing in regard to Beckham. Merriman told Gambling.com: 
I was extremely shocked with that [Cleveland didn't trade Odell Beckham Jr.]. He had one target last week. You got the most talented wide receiver in the NFL, and he has one target, and you know he's beating guys one-on-one. Listen, you throw him a couple of screens or slants, you let him do whatever the hell he wants to do. You create plays for him. Targeted once? If you're going to do that, get him out of there and go get a second or third-round pick. I don't understand that. Send him to Green Bay, or send him somewhere that he's going to be utilized.

Shawne Merriman on Odell Beckham Jr.
What Merriman says makes sense. And, although there likely weren't teams knocking down the Browns' door to trade for Beckham at full price, it does seem like they should have been able to get something in return for the wideout. 
The Denver Broncos are a prime example of how to make a creative deal to get compensation for a player that is going to leave in the offseason. The Broncos traded former All-Pro Von Miller to the Los Angeles Rams for a second- and third-round pick. To facilitate this, they are paying $9 million of his $9.7 million 2021 salary. 
This isn't an ideal scenario for the Browns, but it is better than what is happening now. 
Beckham is heading into Keyshawn Johnson territory
 In the days following the trade deadline, the Browns "excused" Odell Beckham Jr. from team activities, according to NFL.com.
Since the team couldn't (or wouldn't) trade Beckham before the deadline, they now have to figure out what to do with him. He has become a distraction for a team which — at 4-4 — cannot afford any distractions if they hope to make the playoffs. 
To any longtime NFL fan, this situation is reminiscent of the Keyshawn Johnson/Tampa Bay Buccaneers feud from nearly 20 years ago. 
In November of 2003, just a little more than a half-season removed from winning a Super Bowl, the Buccaneers were 4-6, and their star receiver, Johnson, wasn't happy with his role. His relationship with head coach Jon Gruden had reached an unrepairable point as well.
During this time, he told ESPN, "Honestly, I'm very disappointed because I really wanted to win another championship with this team. I was never Gruden's guy. He never liked me. I told him I'd rather retire than play for him in 2004. But I also told him I wouldn't be a distraction, I wouldn't go to the media with it, and I didn't."
Despite trying not to become a distraction, the Johnson/Gruden feud did just that and the team, led by Gruden and general manager Rich McKay, decided that the best course of action was to send him home for the remainder of the season while still paying him his full salary and bonuses. 
In the 2004 offseason, the Bucs traded Johnson to the Dallas Cowboys for WR Joey Galloway. The controversial pass-catcher played two seasons in Dallas and one more for the Carolina Panthers before retiring after the 2006 season. 
The collective bargaining rules have changed in 2021, so the Cleveland Browns can't completely "Keyshawn" Odell Beckham Jr., but they now have to either let him back on the team or cut him, which could happen as early as Friday. 
All stats courtesy of Pro Football Reference