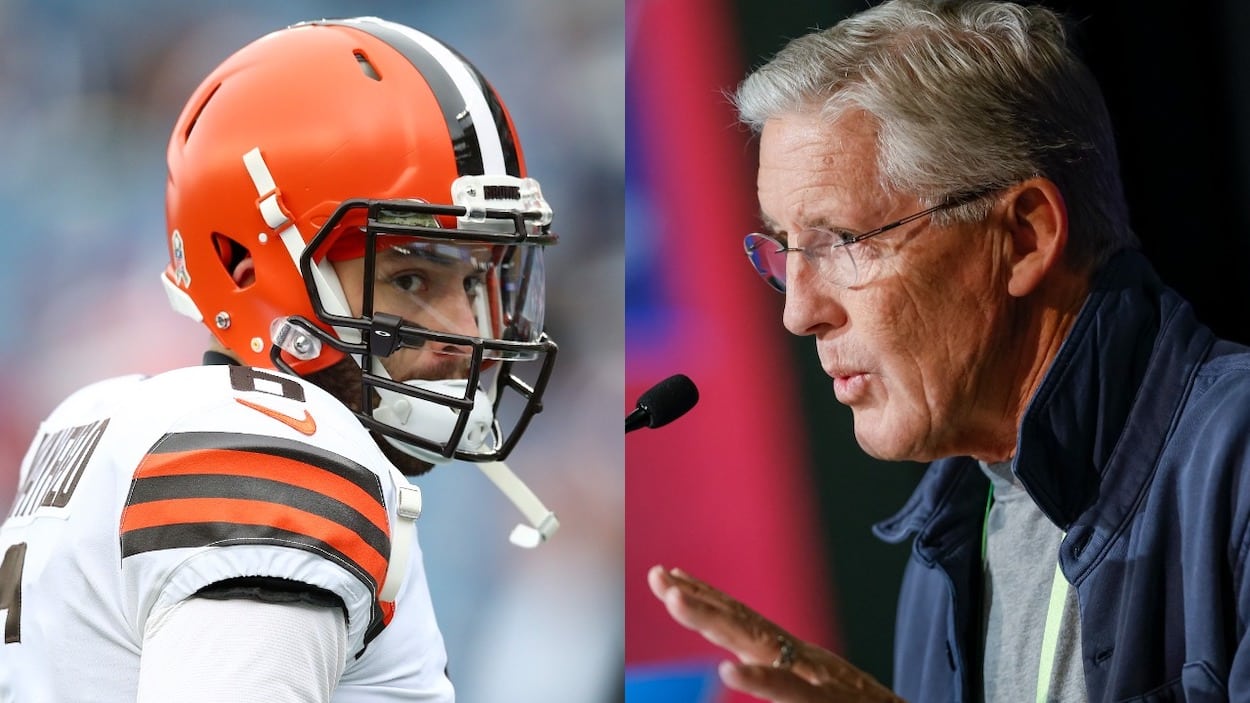 Pete Carroll Shuts Down Baker Mayfield to the Seahawks Rumors With 9 Words
While Baker Mayfield and the Seattle Seahawks might seem like a perfect match, head coach Pete Carroll recently shut rumors of a trade down.
Now that the draft is over, NFL player movement will start slowing down to a trickle. There are precious few big names left to move this offseason. However, one quarterback can still make waves in the doldrums of the offseason. That's current Cleveland Browns QB Baker Mayfield. That said, if the unhappy signal-caller does move, it apparently won't be to the Seattle Seahawks if head coach Pete Carroll is to be believed.
Baker Mayfield to the Seattle Seahawks seems like a good match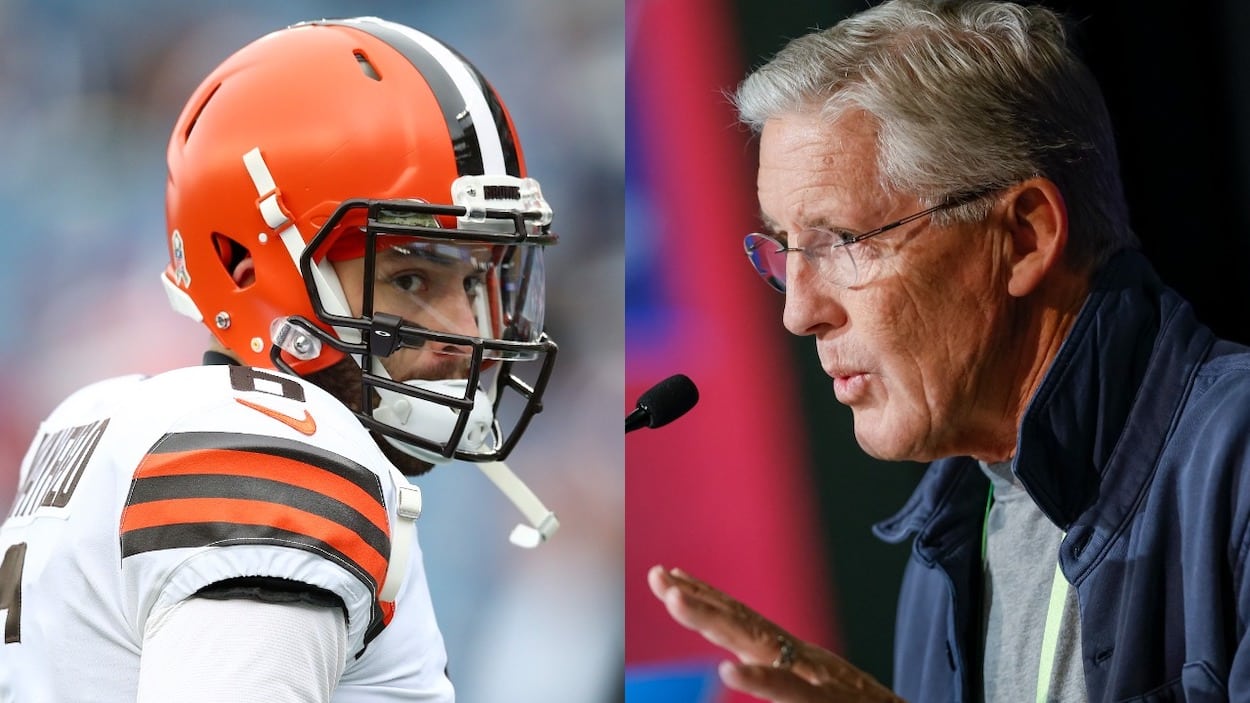 Two facts are well-known in the NFL during the 2022 offseason. Baker Mayfield is no longer in the Cleveland Browns' plans, and the Seattle Seahawks don't have a quarterback on their roster with any track record of NFL success.
As Kevin Bacon's Captain Jack Ross from A Few Good Men once said, "These are the facts of the case, and they are undisputed."
With the arrival of disgraced Houston Texans QB Deshaun Watson (and his $230 million, fully guaranteed contract) to Cleveland, Mayfield is no longer the starter. The fact that the franchise also signed Jacoby Brissett to a one-year, $4.65 million deal means that the 2018 No. 1 overall pick is no longer the backup either.
On the Seahawks side, longtime superstar QB Russell Wilson is now a Denver Bronco. The quarterbacks currently under contract for the organization are Geno Smith (13-21 as a starter), Drew Lock (8-13 as a starter), Jacob Eason (five career pass attempts), and 2022 undrafted rookies Kaleb Eleby and Levi Lewis.
In summation, Mayfield is a proven NFL QB without a true home, and the Seahawks are without a proven NFL QB. You'd think this would be a perfect match. But it's not in the cards, at least according to Pete Carroll.
Seahawks coach Pete Carroll says his team is good at QB for now
Baker Mayfield joining Pete Carroll and the Seattle Seahawks seems to make a lot of sense for many reasons, not the least of which is that the Cleveland Browns are desperate to get rid of the former Oklahoma Sooner, so it wouldn't take much in terms of draft capital to get him.
As much as outsiders may think a Mayfield/Carroll marriage might be a no-brainer, the Super Bowl-winning coach recently shut that idea down (for now) in just nine words: "I don't see us making a trade for anybody."
That sentence comes from a larger answer to a question about adding a QB like Mayfield during an interview with Carroll on Sports Radio 93.3 KJR-FM in Seattle (h/t Brady Henderson of ESPN). The 70-year-old head man said of the idea:
We're always competing. I'm not saying anything you didn't think I was going to say, but fortunately that's always been the way we've operated, and it fits again. So we're looking. I don't see us making a trade for anybody at all. I don't see that happening. But we're certainly going to continue to be open to chances to help our club, and meanwhile we're just going to be battling and competing our tails off. There's always possibilities, so we keep open to that.

Seattle Seahawks coach Pete Carroll on the team's QB situation
One of the notable things about this Carroll quote is that he says explicitly that a "trade" is unlikely. That leaves the door open for a Mayfield move if the Browns end up cutting their former starter prior to next season.
Where will Mayfield end up?
In a modern world where there never seems to be complete agreement on any topic, the fact that the Cleveland Browns must get rid of Baker Mayfield one way or the other seems to have nearly universal consensus.
If the destination isn't the Seattle Seahawks, though, where could the polarizing passer end up?
Now that the quarterback carousel is almost done spinning, there are only a few other NFL teams that still make sense for Mayfield. The Carolina Panthers could still be in play, although drafting Matt Corral makes that slightly less likely.
Another option could be the Detroit Lions. Yes, they have Jared Goff, but the franchise didn't take a QB in the draft, and an angry Mayfield could be just the kind of knee-biter head coach Dan Campbell is looking for.
Lastly, the Houston Texans are a possibility. Reports are that they really like second-year signal-caller Davis Mills. If this is the case, they wouldn't want to stunt his development by bringing in a veteran at Mayfield's level.
While it seems like a Mayfield deal is ultimately inevitable, it doesn't seem like it will happen anytime soon. This will keep the Mayfield saga in the news for the foreseeable future, for better or worse.  
Stats courtesy of Pro Football Reference. Like Sportscasting on Facebook. Follow us on Twitter @sportscasting19 and subscribe to our YouTube channel.