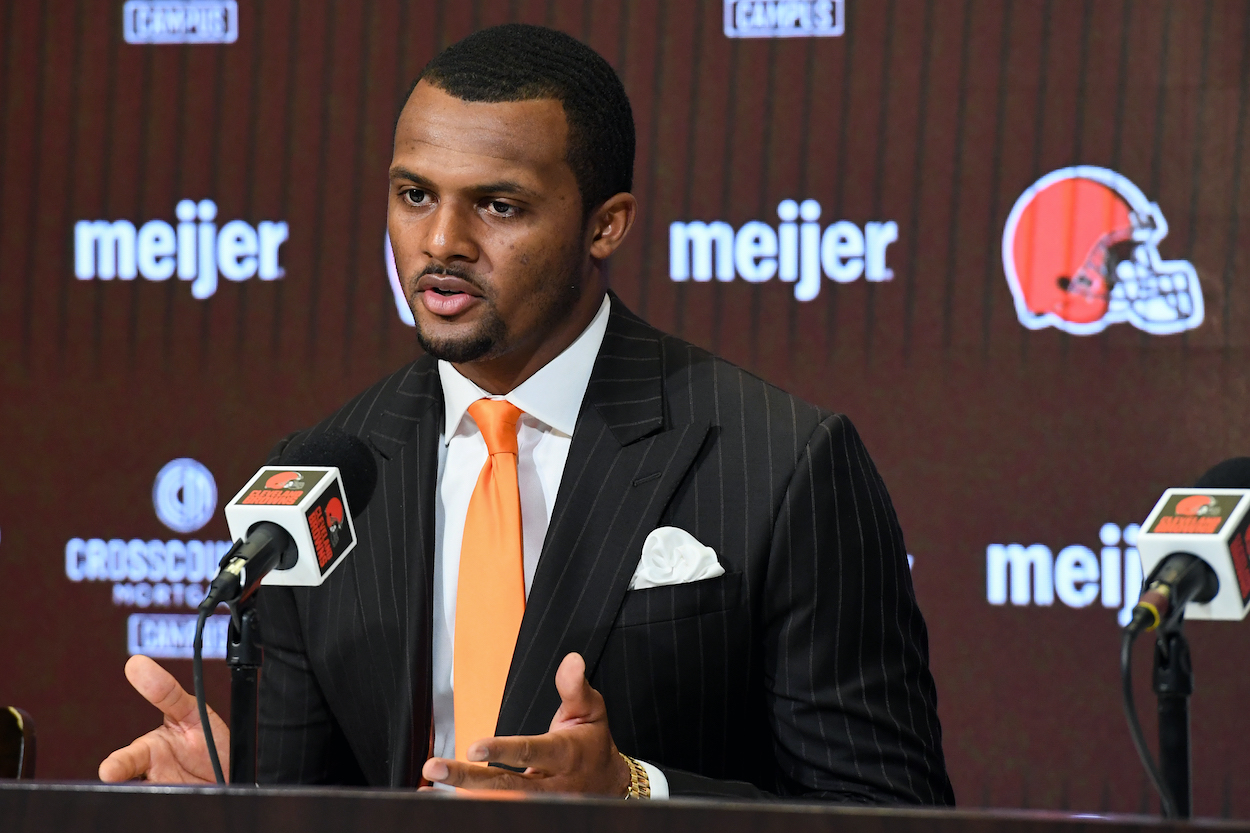 NFL Insider Jason La Canfora Destroys Deshaun Watson: 'This Guy Wanted to Get Caught'
There are plenty of people who don't like the deal the Cleveland Browns made with Deshaun Watson, and Jason La Canfora is one of them.
Cleveland Browns quarterback Deshaun Watson's alleged sexual assaults and inappropriate conduct during massages are well-documented. Although criminal charges have so far failed to stick to the recently-traded signal-caller, 22 civil lawsuits remain.
The fact that the Cleveland Browns eagerly traded for the three-time Pro Bowler — and then gave him a massive, suspension-proof deal — is rubbing some the wrong way. This includes CBS Sports NFL insider Jason La Canfora who went off on the problematic passer.
The Cleveland Browns tacitly endorsed Deshaun Watson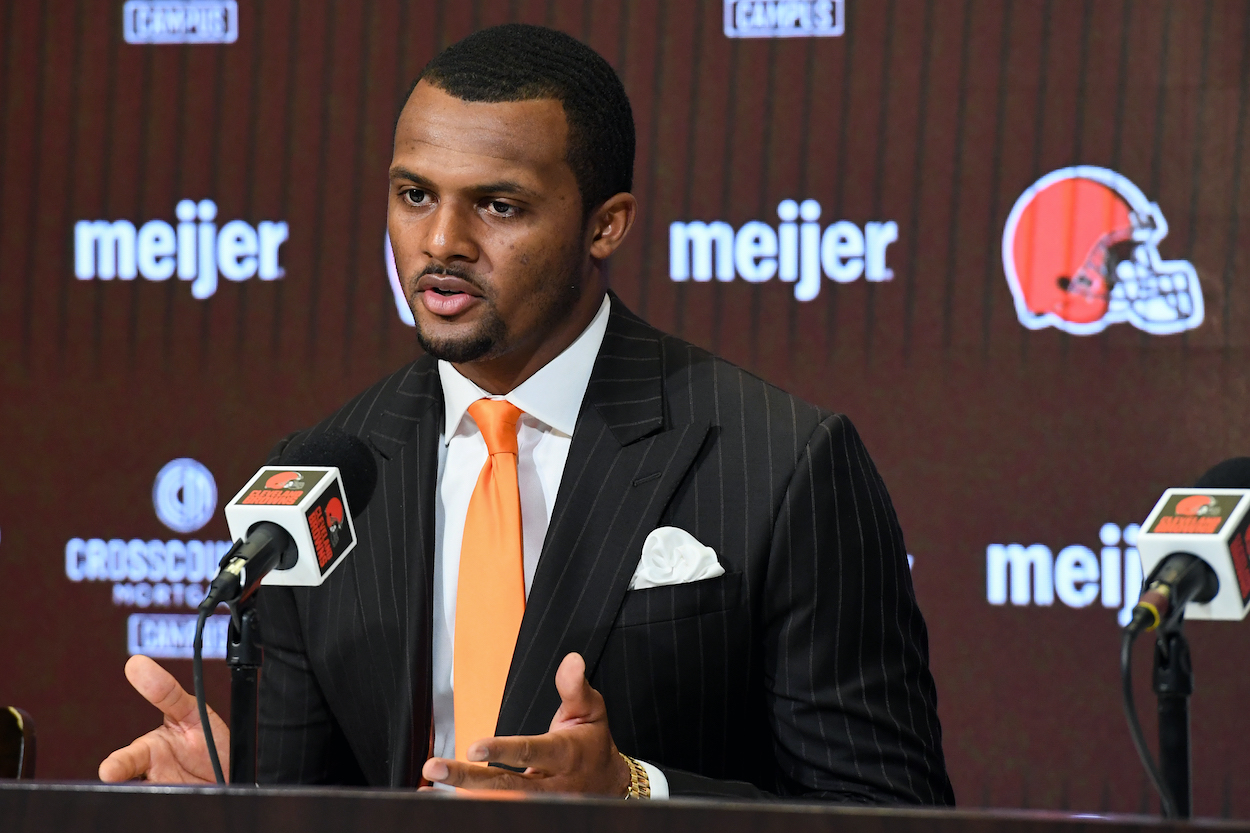 The NFL's brand of case-by-case discipline, seemingly at the whim of Commissioner Roger Goodell, makes predicting what will happen to Deshaun Watson difficult.
The closest precedent for what's going on with Watson in 2022 seems to be the sexual assault allegations against Ben Roethlisberger in 2009 and 2010. Although the Steelers QB escaped charges in both incidents, Goodell still suspended Big Ben for the first six games of the 2010 season.
No matter what happens with the 22 civil lawsuits alleging sexual assault and inappropriate conduct that Watson still faces, unless proof of a wide-ranging conspiracy against the Cleveland Browns QB comes out, Goodell will have to issue him a suspension.
The problem with that is, any punishment will hurt the Browns immensely while barely touching Watson's wallet. That's because the five-year, $230 million, fully-guaranteed contract the Browns gave Watson when they liberated him from the Houston Texans is purposefully suspension-proof.
In 2022, Watson gets a $44.9 million signing bonus and will only make $1.03 million in base salary. That means each game during a suspension will cost him roughly $57,500. That's a big difference from what would happen if the suspension came in 2023, when his base salary is $46 million. Those checks are approximately $2.5 million per game.
The entire Watson situation — along with the fervor with which the Browns are supporting him — doesn't sit well with everybody. CBS Sports NFL insider Jason La Canfora seems to be one of those who have an issue with the QB.
Jason La Canfora shared his 'armchair Ziggy Freud' thoughts on Watson 
Jason La Canfora readily admits how good a quarterback Deshaun Watson has been during his first five years (four seasons) in the NFL. However, the insider sounds like he's no longer a fan of the embattled QB off the field.
During a recent appearance on The Tony Kornheiser Show, La Canfora broke out his metaphorical psychologist's couch and gave his amateur analysis of what's in Watson's head. Needless to say, La Canfora isn't too impressed by what he thinks he found:  
Maybe I have too much armchair Ziggy Freud in me. But I feel like this guy — I don't know if he wanted to get caught or whatever. Something is badly amiss with his wiring, his decision-making. To go the lengths he went to, I think, was a cry for help. I think this guy wanted to get caught on a certain unconscious level. And I think now that he's been caught and been exposed, and he went from being one the most celebrated players in the league to someone who's going to be viewed as an absolute heel. Even to some degree in Cleveland. Someone who was thought of as pure as Cal Ripken, right? … He seemed too good to be true. Turns out he was.

Jason La Canfora on Deshaun Watson
La Canfora continued by asking rhetorically what the Watson scandal will do to his mindset and confidence moving forward with the Browns. He also said he worries how some players in the locker room will react to someone accused of so many (at best) inappropriate interactions with women or (at worst) sexual assaults.
The whole saga stinks on many levels. And while the human element is by far the most serious aspect, there is a football piece to the situation, too.
The Browns could be in both short- and long-term trouble on the field
The Cleveland Browns just committed the next five years of the franchise to Deshaun Watson with his massive contract. If the team cuts or trades the signal-caller in any of the next four seasons, it will cost the team a nine-figure dead cap hit. In 2026, it will "only" cost them $54.9 million in dead cap.
The franchise also mortgaged its future for a franchise QB, which isn't a terrible idea in a vacuum. But it did cost a lot in terms of draft capital. The Browns had to send the Texans their 2022, 2023, and 2024 first-round picks, 2023 third-round pick, and 2022 and 2024 fourth-round picks.
And, last but not least, the deal may tank the Browns' 2022 season.
Right now, incumbent starting QB Baker Mayfield and newly-signed free agent Jacoby Brissett are on the roster. The Browns are doing everything they can to trade Mayfield and avoid distraction. However, that's easier said than done.
If Watson goes out for a considerable chunk of the season, Brissett will have to start. The former NC State passer isn't a bad QB, but he's just 14-23 as a starter in the NFL. In the loaded AFC in 2022, that's just not going to cut it.
How to get help: In the U.S., call the RAINN National Sexual Assault Telephone Hotline at 1-800-656-4673 to connect with a trained staff member from a sexual assault service provider in your area.