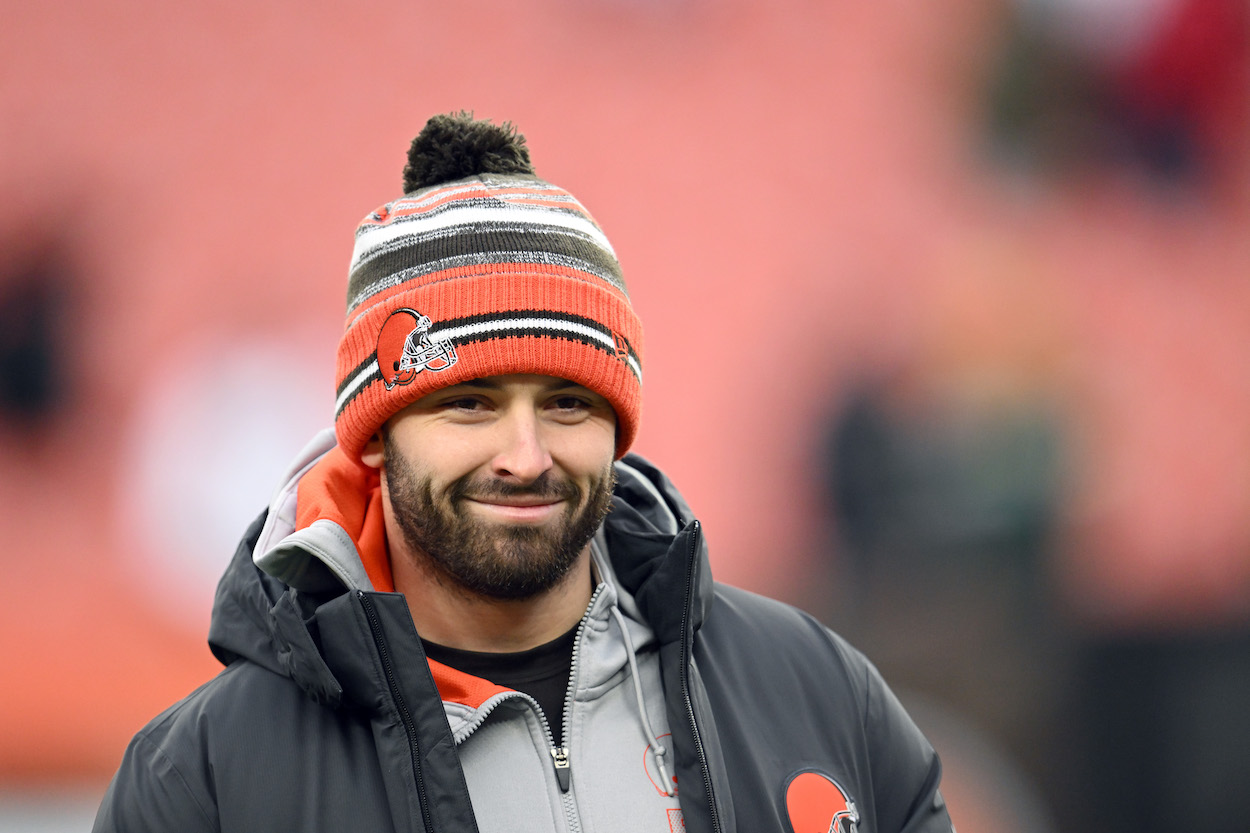 Pat McAfee Explains How Baker Mayfield's Horrible Attitude is Hurting Him
Pat McAfee believes that Baker Mayfield's bad attitude is hurting his trade value and hurting the Cleveland Browns' leverage.
Baker Mayfield is not a shrinking violet. Whether it was planting an Oklahoma flag in the middle of the Ohio State O, feuding with former teammate Odell Beckham Jr., or his many social media outbursts, the (soon-to-be-former?) Cleveland Browns quarterback never seems to be short on swagger.
However, after the Browns brought in troubled QB Deshaun Watson, effectively ending Mayfield's career in Cleveland, a dose of humility might serve him well, as sports media mogul Pat McAfee recently explained on his show.
Baker Mayfield is out with the Cleveland Browns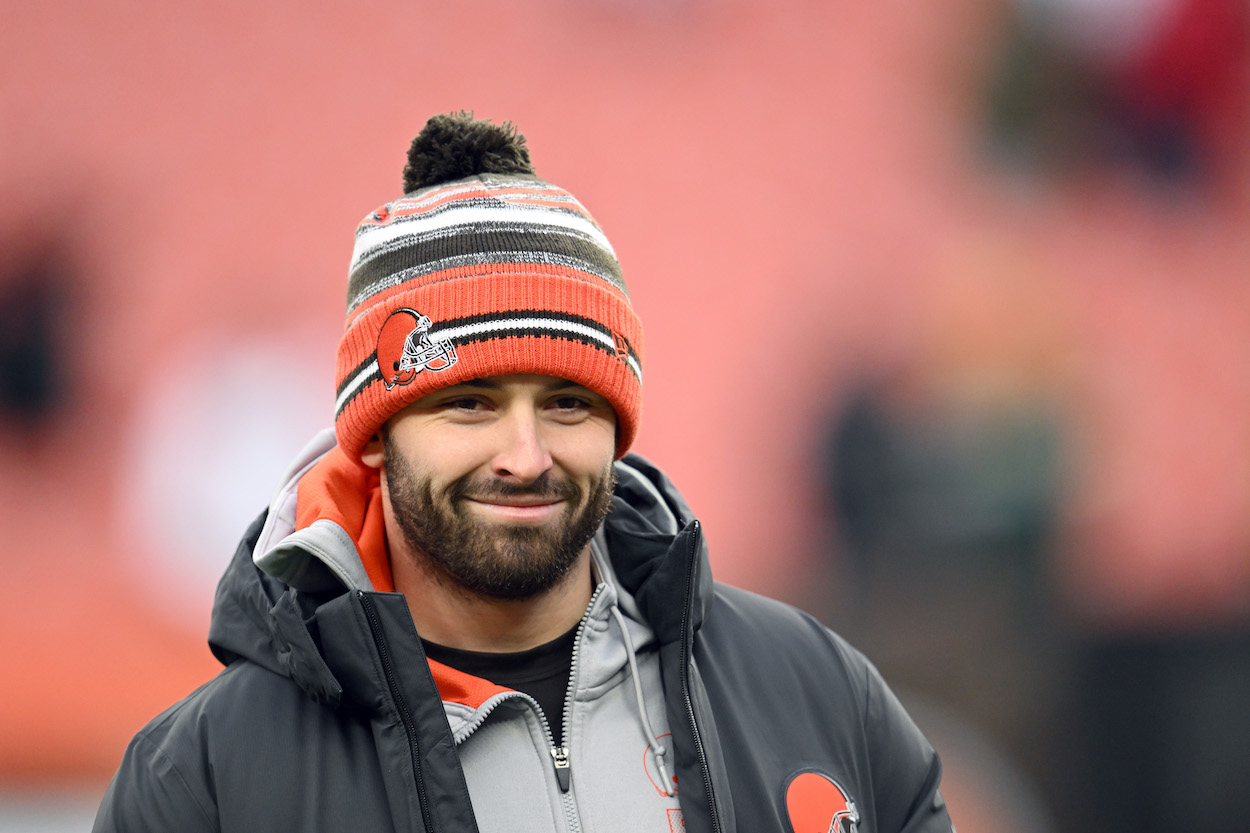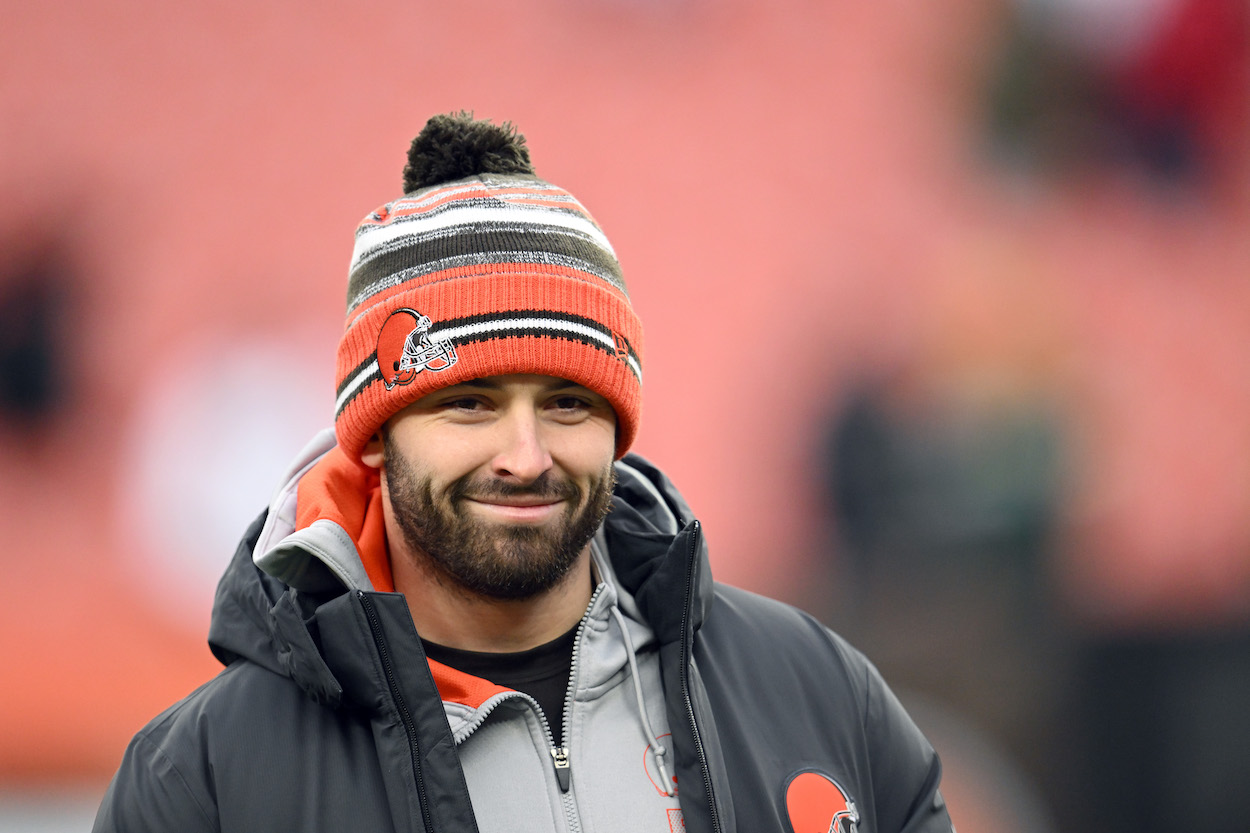 The No. 1 pick in the 2018 NFL Draft, Baker Mayfield, is heading into the final year of his rookie deal. His fifth-year option for 2022 is worth $18.8 million, but the Cleveland Browns never offered Mayfield a long-term extension like his fellow Class of 2018 QB Josh Allen got or that Lamar Jackson is currently working on.
Multiple NFL insiders reported this offseason that the Browns told Mayfield's camp that they'd be pursuing any elite quarterbacks that came on the market this offseason.
This admission caused Mayfield to, once again, take his beef to social media, where he prematurely said goodbye to Browns fans. He then demanded a trade, Cleveland said no, and then the franchise promptly turned around and traded for Deshaun Watson.
Whether the club does want to keep Mayfield or not, it may not have a choice. As Pat McAfee recently explained, NFL teams have taken note of how Mayfield has handled adversity throughout his career, and many aren't impressed.
Pat McAfee explained why the QB's attitude is hurting his chances to play somewhere else next season
McAfee recently discussed the Baker Mayfield situation on his daily sports talk show, the Pat McAfee Show. He was attempting to answer the question as to why no team has seemingly tried to trade for the 27-year-old (on April 14) yet.
To help answer that question, he talked about Mayfield's lousy attitude and how it affects NFL teams' perception of him. McAfee specifically compared the way Mayfield is dealing with adversity to the way another available QB (Jimmy Garoppolo) and a fellow Class of 2018 QB (Sam Darnold) have dealt with similar situations.
The host noted that even though both their teams have or are actively pursuing new signal-callers, both Darnold and Garoppolo "didn't say s***." McAfee then discussed how Mayfield acting differently hurts his stock:
I think that is why the Baker Mayfield thing is only going to continue to grow amongst other front offices. Because there are quarterbacks — in the same exact time as Baker Mayfield's in — that are handling situations much better than they feel he would be.

Pat McAfee on Baker Mayfield
McAfee continued to explain that, although they've been through similar adversity to Mayfield, Darnold and Garoppolo have not complained and demonstrated mental toughness and leadership despite their uncertain status as starting QBs.
The former punter did admit that Garoppolo has made a lot more money in the NFL than Mayfield ($139.7 million in career earnings vs. $51.9 million), but he stuck by his original point.
So, if teams are sour on the Cleveland QB, is there any chance he starts in 2022?
Will Mayfield be a starting QB in 2022? 
As the Cleveland Browns themselves proved, NFL teams will overlook almost anything for a quarterback the organization thinks can win them games. Due to this fact, some team will likely take a chance on Baker Mayfield at some point.
It just may not be this year.
Mayfield is one of the best 32 QBs in the NFL, although not in the top half. That, coupled with his still sub-30 age, should get him another shot in the league.
Several issues are preventing a deal from Mayfield, in addition to Pat McAfee-like concerns about his attitude.
The biggest issue is that teams around the league know that the Browns have zero leverage.
They have Deshaun Watson and Jacoby Brissett as a backup, making no room at the inn for Mayfield, especially at almost $20 million in 2022. Head coach Kevin Stefanski recently said, "I know all of us, we'd love an answer yesterday," when asked about the Mayfield saga, per Yahoo! Sports.
Unfortunately for Stefanski, no teams are biting yesterday, today, or tomorrow because any that would give Mayfield a chance believe that the Browns will have to cut him at some point before he becomes a massive distraction.
At this point, the best guess on Mayfield's immediate future is that the Browns will cut him or accept a trade where they eat the majority of his salary. While he may start a few games next season, it's doubtful a team will name him its unquestioned No. 1.
That could come in 2023 when he hits free agency, but it's not looking good for Mayfield for the coming season.
Like Sportscasting on Facebook. Follow us on Twitter @sportscasting19.